Liverpool vs. Manchester United: Racism Reignites Reds Rivalry
February 13, 2012

Shaun Botterill/Getty Images
Very few will argue that racism has no place in life, let alone football. Yet as the great Bill Shankley famously stated: "Some people believe football is a matter of life and death. I can assure you it is much, much more important than that."
There are times when circumstances occur when a game of football pales into insignificance and the more important things in life come to the forefront of people's minds. Such is football, such is the integral part it plays as a global sport, that it carries a heavy burden of expectation.
The recent racism row involving Manchester United's Patrice Evra and Liverpool's Luis Suarez, along with John Terry's alleged racist remarks toward Anton Ferdinand, have brought about a scrutiny upon football of what many believed to have been a thing of the past.
No one can deny that the racist remark uttered by Suarez toward Evra in the league meeting at Anfield earlier this season has left a bitter taste in the mouth of fans of the beautiful game. It has given Manchester United fans ammunition to voice volatile taunts to their fierce rivals.
Meanwhile, Liverpool supporters have been placed in an uneasy and awkward position by their club.
The relationship between the two clubs has been fierce and competitive since Alex Ferguson pledged to knock Liverpool off their perch. Several years and countless trophies later, Ferguson's promise has been fulfilled.
His promise has seen United surpass Liverpool's 18 league titles almost effortlessly during the Premier League era.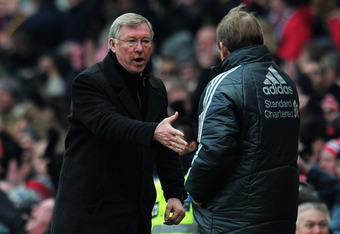 Shaun Botterill/Getty Images
The closest the Reds have come to toppling their Manchester rivals was in 2009, when Rafael Benitez guided Liverpool to second in the league, finishing four points behind Ferguson's champions. That year aside, of which the Anfield side lost only twice in the league, United have continually come out on top of their rivals to the point where competition between the two has been difficult to suggest.
While Alex Ferguson was taking United to Champions League finals, Liverpool have recently found themselves in Europe's second-rate competition or out of Europe altogether.
Perhaps the relationship between both clubs has no longer been of competition, rather of pity—to the extent that Ferguson put his arm around Arsene Wenger after humbling his young Arsenal side to an 8-2 mauling at Old Trafford.
The gulf between where Arsenal now consider themselves to be and where United are is apparent for all to see. And with Arsenal arguably in better stead than Kenny Dalglish's Liverpool, what does that say for the relationship between the most successful clubs in English history?
While no one can condone that Suarez has done—be it the racist remark or be it the refusal of a hand shake—it has merely reignited the flame between the two clubs. As United did all those years ago, Liverpool fans look over at their rivals in envy. It may have gotten to a stage where United looked back with pity.
There is no love lost between the two sets of supporters, the passion demonstrated both at home and away matches reinforces this.
The words and actions of Suarez has divided the two cities more than usual, to the point where it now boils over to the players onto the pitch. You do not need a looking glass to foresee that the war between the two clubs will take on a new edge. Albeit an unsanitary one.
The free speech curse that is social networking will ensure this. Footballers and fans colliding on Twitter will only heighten the passion of both players and supporters come match day.
The route and stance that both clubs chose to take on the matter, whether right or wrong, has backed fans into respective corners to fight for their club.
As Dalglish has reiterated, "banter" between the two sets of fans is what is expected. Booing Patrice Evra at Anfield and giving Suarez the same treatment at Old Trafford could become a ritual over the coming seasons.
For that's what fans pay money to see. Passion, not racism.