Orlando Magic: GM Otis Smith's Future Tied to Dwight Howard
February 13, 2012

Sam Greenwood/Getty Images
As the NBA All-Star game gets ready for tip-off in Orlando February 26, the anxiety builds in "O-Town".  That is when the Dwight Saga will officially take off, as general manager Otis Smith must sit down with ownership and make one of the biggest decisions in franchise history. 
What to do with superstar Dwight Howard. 
This decision will most likely determine Smith's future with the Magic, as it should. 
Smith, being named as sole general manager for the Magic in May of 2006, was handed an incredible talent in Dwight Howard, now all he had to do was get the right pieces around him. 
However, that posed a major problem for Smith, who inherited Howard in his second season as a professional.  At that time Howard was showing great promise, averaging 15.8 points and 12.5 boards per game.  From the moment Orlando selected Howard, they should have been thinking of getting the big man some help. 
In Smith's first season as GM, the team went 40-42.  The team was in a transition phase with both players and coaching. Smith hired Stan Van Gundy and signed him to a four-year deal. 
The team was also extremely young at pivotal positions on the floor, and Stan Van Gundy was in his first season of implementing his offense and defense.  Van Gundy wisely based his offense around his best talent, Howard. 
While the team was struggling on the offensive side of the ball, the team defense, which is heavily preached by Van Gundy, played well and ranked seventh in the league.
Van Gundy had his team moving in the right direction, now all Smith had to do was finish the puzzle. 
This is where Smith's down fall began. While an argument can be made that Smith did a great job of getting this team to 50 wins in his second season, and every season after. There is still major questions about his talent evaluation and the contracts he's awarded. 
Smith's first decision as GM was to give, then free agent, Rashard Lewis a six-year $110 million contract. 
Some believe Smith had to overpay to get Lewis to Orlando.  However, it can be said that Smith was more interested in bringing a big name to Orlando. While the signing was a good signing for scheme purposes, it could have been at too much a cost, and led to the cap problems Orlando is has now. 
Smith did not think about the back end of the deal, when Lewis would most likely falter in production.  Lewis is still receiving one of the largest salaries in the NBA as a result.  
Otis elected to draft J.J. Redick with his first pick as the GM.  While this was a great pick in theory, selecting the all-time leading scorer in an ACC conference that includes NBA greats like Michael Jordan, Vince Carter, Chris Paul and Grant Hill, it did not produce the immediate results needed from a first round lottery pick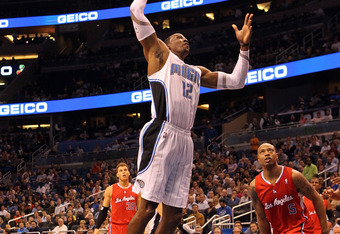 Sam Greenwood/Getty Images
The only issue is that the college game is very different from the NBA and getting Redick's college results to translate into the NBA would not prove easy.
Redick has become a great bench player and is now potentially pushing for a starting spot.  The only issue with that is that it is about five years late.
Meanwhile, Rajon Rondo was selected 21st overall.  While Orlando had a young point guard in Jameer Nelson, a GM should never be satisfied with the current roster talent and should always look for improvement.  Rondo has gone on to be an important part in Boston's recent successful run.
After the 2006 draft, Smith did not of value draft picks very much, trading them all away and leaving the Magic with only two first round picks from 2007 to 2011. 
Those first round picks resulted in Courtney Lee, who was later traded in a package to the Nets to bring in Vince Carter and Ryan Anderson, and Daniel Orton who has not sniffed the floor. 
Smith claimed Orton would've been a lottery selection the next year.  The results thus far do not show any support of this claim.  The Carter move was made about two to three years too late, as he was no longer the scorer Orlando needed.
Ryan Anderson was a nice throw in on the deal and is now a big contributor to the team.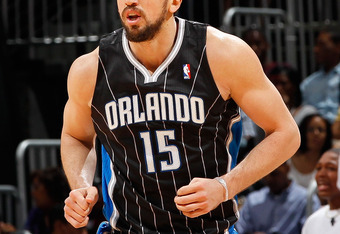 Kevin C. Cox/Getty Images
Smith must learn that the draft is a prime method to add talent to a roster.  He should go ask the Spurs how that has worked out for them. 
Another issue with Smith is his talent evaluation in free agents and trades. 
He tends to only sign players he is familiar with.  Such as Matt Barnes, Mickael Pietrus, Hedo Turkoglu, and Gilbert Arenas were all players Smith knew from being the GM in Golden State. 
Smith also signed Chris Duhon to a four-year $15 million contract this past off-season.  Now, there are trade rumors that would have Duhon as a part of the Dwight package, along with Hedo Turkoglu, to help alleviate cap space. It seems Smith does not believe Duhon is worth the contract anymore, only a year after signing him. 
One of the worst moves Smith ever made was bringing back Turkoglu.  After the finals run of 2009, he wanted a big, multi-year contract at around $10 million per year.  Smith deemed that to be too expensive for a player, who was about thirty years old at the time. 
Hedo ended up signing a five-year, $53 million deal with Toronto.  He was later labeled a "disappointment" and got shipped to Phoenix. 
In an effort to get the team into contending status, Smith elected to bring him back in 2010 via trade, sending defensive minded players Marcin Gortat, and Mikael Pietrus to Toronto.  Vince Carter and his expiring contract were also part of the deal. 
Smith could have gotten more for a large expiring contract like Carter's, besides taking on another big deal from another aged player.   
With Smith being handed a talent such as Howard, and not being able to turn the team around with either a championship or multiple NBA finals appearances, is an under achievement in itself. 
It appears at times that Smith makes decisions without seriously considering the future ramifications of trades, signings and draft picks. 
Duhon should never have been been signed to a four-year deal.  A two-year deal would have been a more likely situation to give the team open options in the future. 
Smith never should have brought back Hedo, because now, the cap situation is even worse than when Carter was on the roster.  At least Carter's contract was expiring, which is an attractive asset to teams trying to free future cap space.  Hedo is on the books for another three years, when he will be 35 years of age. 
How many 35 year olds earn $10 million a year? (not very many.) How many teams are willing to trade for a 35-year-old, making $10 million a year, and not performing to the contractual standard?  The list, if there would be one, would be extremely limited.
With Smith sending Dwight out of town, he'll most likely be writing his resignation for not getting the job done with a one of the supreme talents in the NBA.  If he could not get it done during his time in Orlando with the best big man in the game, what evidence is there that he can rebuild the team?