NBA Power Rankings: Breaking Down Every Team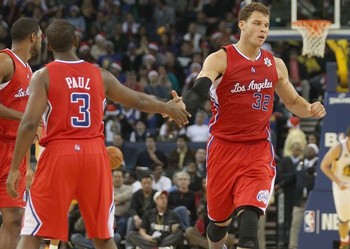 It's a Valentine's Day-themed edition of the NBA power rankings in mid-February, and the weekly ladder is seeing a lot of the color red to celebrate Cupid's day.
The Charlotte Bobcats are having a historically bad season, the Portland Trail Blazers are playing a Jekyll and Hyde routine and the Los Angeles Lakers continue to show critical flaws in multiple areas.
The "other" team in Hollywood is very much for real, but an "old" San Antonio team isn't just going to fade into the background without putting up a serious fight.
30. Charlotte Bobats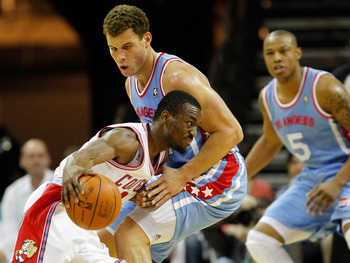 Streeter Lecka/Getty Images
Record: 3-24
Things are getting beyond ugly in Charlotte for the Bobcats and coach Paul Silas.
The team is pushing for one of the worst records of all-time, and this club is losing in blowout fashion regularly.
29. New Orleans Hornets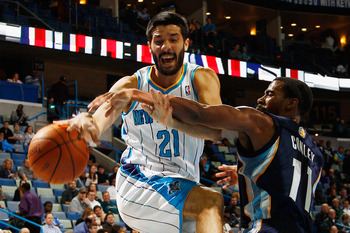 Chris Graythen/Getty Images
Record: 4-23
No Jarrett Jack (knee), no Eric Gordon (knee) and no Jason Smith (concussion) has left the Hornets scraping to put a plan together on the offensive end.
David Stern was adamant about New Orleans playing and developing its youth, but nobody said it was going to be a pretty process.
28. Detroit Pistons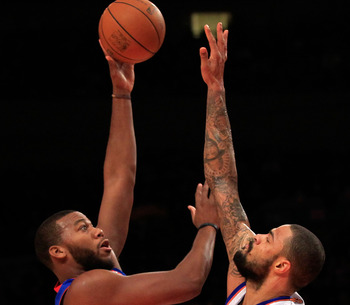 Chris Trotman/Getty Images
Record: 8-21
Greg Monroe's All-Star snub is a joke of epic proportions considering the season he's having.
Unfortunately for the Pistons, strong play from Monroe inside has been overshadowed by the fact that his supporting cast is among the worst in the league.
27. Washington Wizards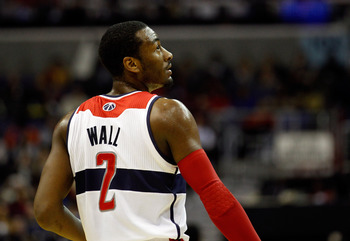 Rob Carr/Getty Images
Record: 6-22
The plan to "get out and run" under Randy Wittman is showing its ambiguity at both ends of the floor early and often for the Wizards.
John Wall knew this would be a transition year, but the team has to find more talent that fits Wall's style of play in order to take the next step forward.
26. New Jersey Nets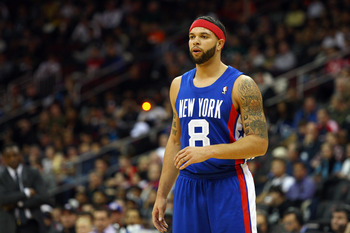 Chris Chambers/Getty Images
Record: 8-21
The Nets will get some help for Deron Williams back soon when Brook Lopez (foot) returns, but most fans are still waiting to see how the Dwight Howard trade saga plays out with the deadline about a month away.
If New Jersey can find a way to land Howard and pair him long-term with D-Will, there won't be many focusing on this season any longer.
25. Toronto Raptors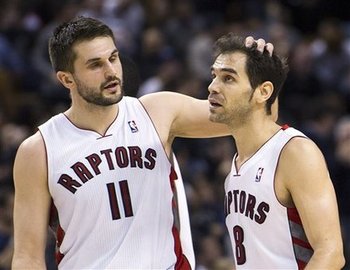 Record: 9-20
Jose Calderon has been nothing short of magnificent for the Raptors this season, but the Raptors have struggled without Andrea Bargnani (calf) in the lineup.
Expectations were never high this season for Toronto, but Dwane Casey has done a good job of teaching his brand of basketball to the club.
24. Cleveland Cavaliers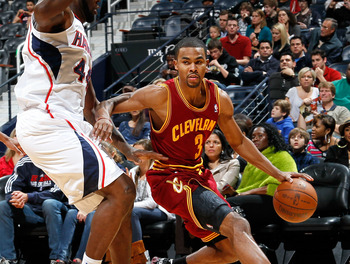 Kevin C. Cox/Getty Images
Record: 10-16
Ramon Sessions has increased his trade value with Kyrie Irving (concussion) sidelined, but the Cavs got a tough break in learning that Anderson Varejao fractured his wrist and is out indefinitely.
Cleveland doesn't have enough depth to replace the production, leadership and hustle the Wild Thing brought, and it will be interesting to see how the team responds moving forward.
23. Sacramento Kings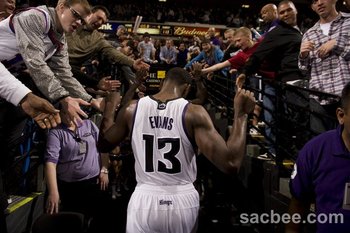 Record: 10-17
Fortunately for Sacramento, both Tyreke Evans and DeMarcus Cousins have looked like different players under Keith Smart.
There is a really intriguing mix of talent in California's capital, but the bouts of inconsistency must subside in order to find sustainable success.
22. Golden State Warriors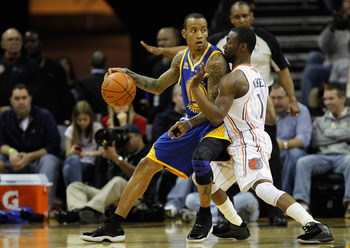 Streeter Lecka/Getty Images
Record: 10-14
Golden State doesn't have a center the team can rely upon, and that is a major problem for Mark Jackson and his quest to improve the defense.
Monta Ellis, David Lee and Stephen Curry have been consistently producing, but the volatility of Dorell Wright and an inconsistent bench has limited the ceiling of this group.
21. Milwaukee Bucks
Jonathan Daniel/Getty Images
Record: 12-15
Milwaukee has had some impressive wins, but the team also has some disappointing losses while Scott Skiles deplores an ever-changing rotation.
Drew Gooden has played well since Andrew Bogut (ankle) went down, but Stephen Jackson has been a colossal disappointment in his first season with the Bucks.
The veteran can't seem to get on the same page with Skiles.
20. Phoenix Suns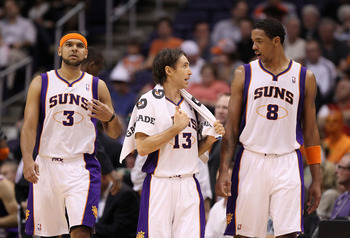 Christian Petersen/Getty Images
Record: 12-15
Steve Nash is having a ridiculous season at age 38, but he's not getting a ton of help from his teammates along the way.
Marcin Gortat has played well to date, and if both Channing Frye and Jared Dudley can continue to contribute like they have recently, the Suns could be moving slightly up the rankings before too long.
19. Minnesota Timberwolves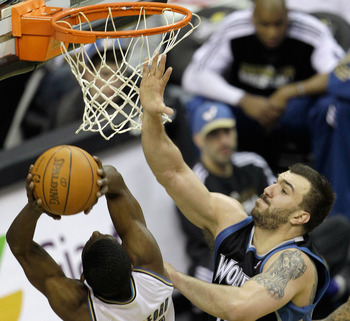 Rob Carr/Getty Images
Record: 13-15
The emergence of Nikola Pekovic has been huge for a Minnesota team that has been looking for an inside presence for quite some time.
However, Ricky Rubio has really struggled with his shot of late, and that's something the exciting rookie will have to work on if he wants to round out his game.
18. Memphis Grizzlies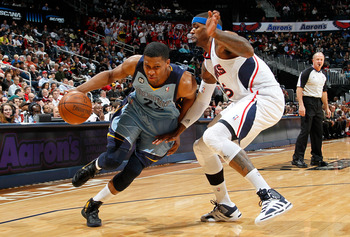 Kevin C. Cox/Getty Images
Record: 14-14
Not having Zach Randolph (torn MCL) has had a huge impact on the Grizzlies, but the real story here is about bench production.
Z-Bo's absence shortens the bench rotation, and when O.J. Mayo has an off night, there isn't a ton to be fearful of when Memphis deploys its second unit.
17. Houston Rockets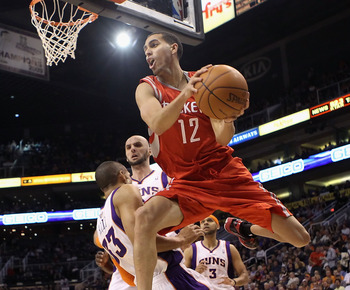 Christian Petersen/Getty Images
Record: 16-12
Kevin McHale is frustrating several with his inexplicable benching of both Kevin Martin and Samuel Dalembert of late.
Houston has good depth at point guard and on the wing, and the Rockets would be wise to use some of that talent to upgrade along the frontline behind Luis Scola and Dalembert.
16. New York Knicks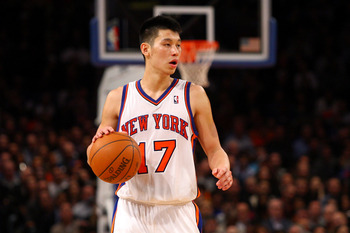 Chris Chambers/Getty Images
Record: 13-15
Jeremy Lin has led the Knicks to five straight games and has taken an immense amount of pressure off of Mike D'Antoni and his teammates in the process.
It's one of the most surprising stories in all of sports in recent memory, and Lin looks to be an excellent fit in Mike D'Antoni's system.
The real question will be just how effective he (and the team) will be once both Amar'e Stoudemire and Carmelo Anthony return to the starting lineup.
15. Utah Jazz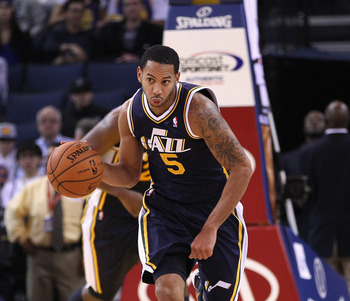 Ezra Shaw/Getty Images
Record: 14-12
Utah's hot start is no longer a topic of discussion, as the Jazz have regressed back to a point where many expected the team to stay—right around .500.
Underwhelming play from the point guard position as well as consistent struggles on the road are two areas Utah must improve.
14. Portland Trail Blazers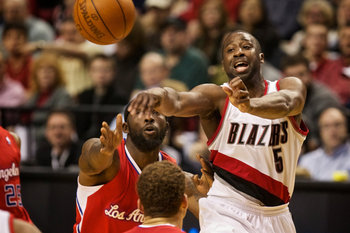 Record: 15-13
A 4-10 record on the road has head coach Nate McMillan considering some changes involving his starting lineup.
Raymond Felton has disappointed in his first season with the team, while Wesley Matthews slumping with his jumper has some clamoring for more of Nicolas Batum.
13. Orlando Magic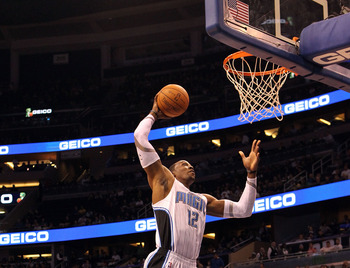 Sam Greenwood/Getty Images
Record: 17-11
Orlando has picked it up since back-to-back disappointing losses to Boston, but the Dwight Howard trade rumors continue to have an obvious impact on the team.
The decision to sign Glen Davis to such a lucrative contract remains a puzzling one, and GM Otis Smith's tenure at the helm will be emphatically defined between now and March 15.
12. Boston Celtics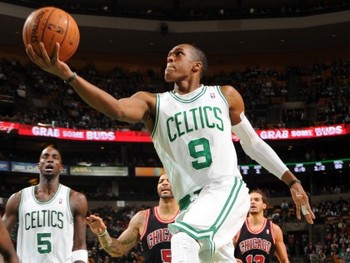 Record: 15-12
Rajon Rondo got his confidence back with an impressive triple-double against the Chicago Bulls, but the Celtics continue to get bit by the injury bug this season.
Bradon Bass (knee) and Jermaine O'Neal (wrist, knee) are both banged up, limiting the already shorthanded approach Boston has beneath the bucket.
11. Los Angeles Lakers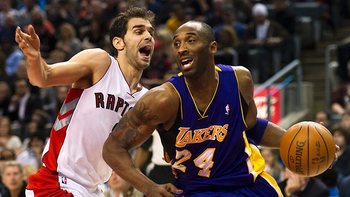 Record: 16-12
The Lakers have more than just a need for help at the point guard position—Los Angeles is getting absolutely nothing from the small forward spot.
The bench support and three-point shooting are also major concerns for a slow-footed Lakers team that has an immense amount of trouble scoring on the fast break.
10. Atlanta Hawks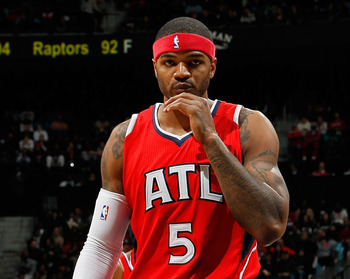 Kevin C. Cox/Getty Images
Record: 18-10
Jeff Teague has skidded a bit of late with Kirk Hinrich back in the fold, and the Hawks will have to get the starter pointed back in the right direction in order to continue the successful season.
Josh Smith has been playing very well this season and should have plenty of motivation to continue doing so considering the ridiculous All-Star snub he received.
9. Denver Nuggets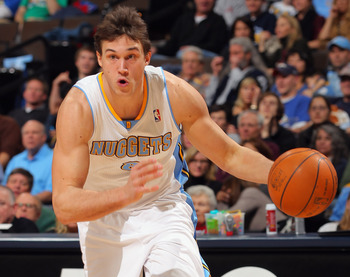 Doug Pensinger/Getty Images
Record: 16-12
Danilo Gallinari's ankle injury has been a tough pill to swallow for the Nuggets, and now, Nene is once again on the shelf with a strained calf.
Fortunately for George Karl, Denver has one of the deepest rotations in the league, but replacing Gallo's production and ability to space the floor is no easy task.
8. Dallas Mavericks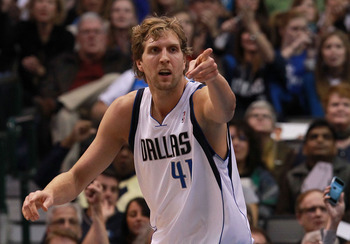 Ronald Martinez/Getty Images
Record: 17-11
The slow start to the Dallas season is a thing of the past, and although the roster is constructed differently than last season, the Mavericks can certainly still play.
Dirk Nowitzki is returning to his usual self after a rough beginning to his campaign, and that is a major reason why the Mavs have been playing a whole lot better.
7. Indiana Pacers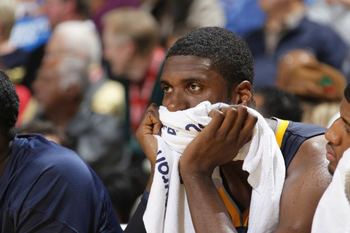 Record: 17-10
The Pacers have played 17 of 27 games on the road to date (10-7), and the early success the team has enjoyed is even more impressive when taking that into account.
Indiana should get a boost when George Hill (ankle) returns, but the Pacers could use some help behind Roy Hibbert, who has been playing heavy minutes throughout February.
6. Philadelphia 76ers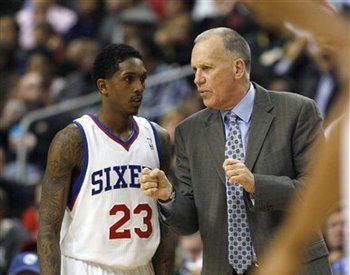 Record: 19-9
The Sixers continue to prove that the performance has not been a fluke, but it's worth noting that 18 of the first 28 games have come in Philadelphia.
Spencer Hawes (Achilles) continues to sit on the sidelines, but a valiant effort on the defensive end, incredible play from key reserves and phenomenal coaching by Doug Collins has this team really believing in its long-term abilities.
5. San Antonio Spurs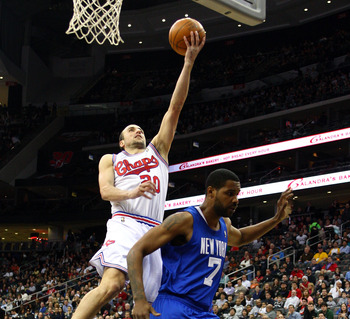 Chris Chambers/Getty Images
Record: 19-9
Remember all those predictions about how an older Spurs team would struggle in a lockout-shortened season due to the expedited schedule?
Guess again.
San Antonio played very well through January without Manu Ginobili (hand), and now that the veteran is back in the lineup, it's officially time to watch out for the immensely talented Spurs.
4. Los Angeles Clippers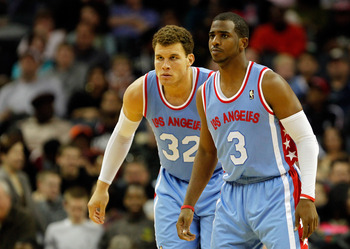 Streeter Lecka/Getty Images
Record: 17-8
Both Chris Paul and Blake Griffin have cases for the MVP Award, and despite losing Chauncey Billups for the season, the Clippers have a great deal of depth capable of stepping up.
Mo Williams and Randy Foye are good weapons to have available, and after already adding Kenyon Martin, the Clippers now have eyes for J.R. Smith.
Depth is key this season, and the Clippers are blessed to have a second unit more than capable of contributing.
3. Oklahoma City Thunder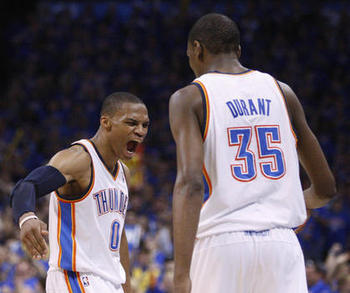 Record: 21-6
Russell Westbrook continues to get criticism for not being a "true" point guard, but he doesn't have to be in order for Oklahoma City to enjoy success.
The improved play from Serge Ibaka has been a big reason why the team is currently clicking, but the constant turnovers and lack of assists are two elements of team play the Thunder must improve upon prior to the postseason.
2. Miami Heat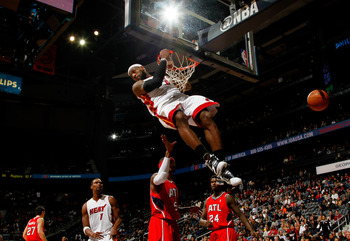 Kevin C. Cox/Getty Images
Record: 21-7
Chris Bosh has to continue to be aggressive on the offensive end with Dwyane Wade and LeBron James both in the lineup in order for Miami to be jelling in the best way possible.
The center position continues to be a serious area of concern for Miami, and key bench cogs like Shane Battier and Mike Miller must play better in order to strengthen the overall attack.
Despite the shortcomings, LeBron James' MVP season continues to be the major storyline out of Miami.
And that's rightfully the case.
1. Chicago Bulls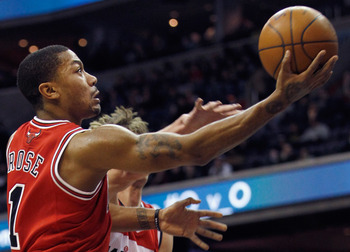 Rob Carr/Getty Images
Record: 23-7
It's nothing short of amazing to see what the Bulls have been able to do this season despite not having free-agent acquisition Richard Hamilton very often.
The team has also dealt with injuries to Derrick Rose (toe, back) and Luol Deng (wrist), which has forced each player to miss games, but the bench has really stepped up in a big way.
C.J. Watson, Kyle Korver, Ronnie Brewer, Taj Gibson and Omer Asik are all very strong assets for this Chicago club, and the arrow is pointing up for the Bulls.
Keep Reading