NBA: Why the Boston Celtics Must Be Thanking the All-Star Selectors
February 13, 2012

Whether you like Boston or not, and regardless of whether you think Rajon Rondo is a quality basketball player—nearly everyone agrees that he should have made the All-Star side.
He definitely should have at least made the reserves.
And whilst it might be easy and instinctive to cry foul, Boston fans and indeed the Celtics themselves, should thank the All-Star selectors for gifting the Celtics another shot at the playoffs.
It's no secret that Rondo is the glue that holds three-solid, but aging limbs together.
Ray Allen, Kevin Garnett and Paul Pierce are not going to get any younger, and whilst they are still more than capable of mixing it with the best in the NBA—they are not going to get any better either.
Thus it's critical that Rondo is around to assist them—literally and figuratively—in performing to the best of their ability.
Despite higher than his career numbers, his stats this season don't scream incredible, but significant nonetheless. Per game, he's currently averaging 13.1 points, 9.5 assists, 4.6 rebounds and 1.6 steals per game—again, not incredible, but definitely significant.
Once you factor in to that his defensive skills and his ability to hold this Celtics side together, Rondo's role and importance on this side is far higher than any statistics will show.
Rondo is without a doubt the best player on the Celtics' roster, and perhaps, one of the best point guards in the league. If you don't agree, just ask the Chicago Bulls.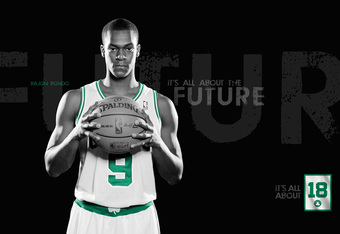 After getting snubbed for Deron Williams and Joe Johnson in the All-Star reserves, Rajon Rondo put up a lazy 32 points in a crushing win over the Eastern Conference leaders. Throw into that mix 10 rebounds, 15 assists and two steals in the space of a minute, and Rajon Rondo had what you could call a big night out.
And despite the obvious reaction to Rondo's big night, questions as to why he was an omission from the All-Star Weekend—think about what you would rather do as the Boston Celtics.
Would you rather watch your point guard put up a triple-double in a meaningless match where defense doesn't exist, or would you rather watch him do it against the No. 1 seed in the conference?
Or would you rather watch him go down in a heap in the final minute of play with a season-ending injury, or would rather watch him lead the Celtics into another playoff berth.
The answers are obvious.
With the age of Garnett, Allen and Pierce almost as high as Jeremy Lin's popularity rating, a fully-fit and on-fire Rajon Rondo is the most needed thing for the Celtics this season.
They don't need an All-Star Game, and they don't need to be right about whether their brilliant point guard should have been there or not.
All they really need is to keep winning basketball games. If they continue to play like they did against the Chicago Bulls on Sunday night, you can guarantee that that's exactly what will follow.
Read more articles by Dan here or follow him on Twitter: @dantalintyre