Los Angeles Lakers: Mediocre Road Trip Exposes Glaring Weakness at the Point
February 13, 2012

Christian Petersen/Getty Images
Let's be honest here: Do the Los Angeles Lakers, with their current roster, have a chance to go all the way to the NBA Finals this year?   
The honest answer is unequivocally no. The Lakers have more holes on their roster than a block of Swiss cheese. 
Believing this team can beat faster, better shooting teams like Oklahoma City, Portland, the Clippers or Denver in a playoff series is like believing the Flying Nun can really fly and Elmer Fudd is going to get that silly rabbit, Bugs Bunny.
Were it not for a few bounces, a couple of missed shots, a sophomoric out-of-bounds blunder and some last-second heroics, the Lakers could be flying home today 2-4 or 1-5 from their very listless Grammy road trip that ended Sunday in Toronto with a rather hollow victory. 
The game should never have come down to Kobe Bryant needing to play miracle worker in the closing minutes in order for his team to rally from four down and win a squeaker, but that's exactly what happened.  Down 90-86, Bryant hit a three-pointer, followed that up with a steal and dish to Metta World Peace and then sealed it with a 22-foot baseline jumper with just under seven seconds left in the game to ice it.
The Lakers may be the worst 16-12 team in the NBA.  They're slow, have little depth, can't shoot from the perimeter, lack consistent rebounding and get beat off the dribble, through screens and in the paint on a regular basis.
So, what's a general manager to do?  In the case of the Lakers' Mitch Kupchak, he spent Saturday afternoon scouting the UCLA-Cal game in Los Angeles, taking copious notes on some of the skill players, probably wishing he could grab a couple of outstanding guards and put them a Lakers uniform then and there.  Cal's Allen Crabbe (16 points per game) and point guard Justin Cobbs (18 points against UCLA) both look like future NBA players; in fact, they seemed better than what the Lakers have now, which is not much.
Mention a decent point guard now playing in the NBA and you can be certain Kupchak and the Buss family knows everything there is to know about the guy.  The trade deadline is March 15, but the speculation is that the Lakers would like to make a move as soon as possible.
The bigger question then becomes: What players are readily available and how can the Lakers secure their talents without blowing up their core of Andrew Bynum, Pau Gasol and Kobe Bryant?
Forget Dwight Howard.  The player I feel should now be No. 1 on L.A.'s target list is the same guy who just set a career high against the Lakers on Sunday: Jose Calderon.  The 30-year-old 6'3" Spaniard scored 30 points and handed out six assists against the Lakers, making 13 of his 18 shots, including all four from three-point range.  What's even more remarkable is that Calderon did not take one free throw the entire game.
Calderon and fellow Spaniard Pau Gasol would be a sensational duo on the Lakers, with Bryant the shooting guard, Bynum manning the low post and (fill in the blank—MWP, Devin Ebanks, Matt Barnes or trade-exception signing player) at the small forward.
Calderon has been an exceptionally steady talent since entering the NBA with the Raptors in 2005.  He makes 48 percent of his shots, including a very respectable 38 percent from beyond the arc.  He's also a deft passer, averaging 8.7 assists this season after being at 8.9 percent a year ago.
With a salary of $9.7 million, Calderon is Toronto's highest paid player and rumors suggest the team is wanting to shed its payroll.  The Lakers have a $8.9 trade exception from the Lamar Odom trade to Dallas—a slight adjustment (adding Darius Morris and a draft pick) could make this trade happen.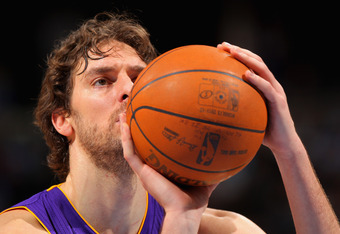 Doug Pensinger/Getty Images
Or, better yet, a simple phone call between the Kupchak and Toronto GM Bryan Colangelo.
My biggest fear is that the Lakers could trade Pau Gasol to Toronto or any other number of teams in their desperate attempt to get a killer point guard this year.  Gasol is arguably the best passer the team has and the best passing big man in the NBA. 
Since learning he was not named to this year's All-Star team, Gasol has been on a tear.  He was the reason the Lakers beat Boston and his 16 points, 17 rebounds and a team-high six assists at Toronto further emphasized that Los Angeles would be crazy to trade him.
At present, the Lakers are not a championship team.  They can improve their lot by acquiring a top point guard without relinquishing one of their top three players.
Los Angeles limped home from this road trip, their glaring weaknesses exposed by some of the league's best point guards, including Calderon, Jeremy Lin of New York (38 versus L.A.), Rajon Rondo of Boston, Jrue Holiday of Philadelphia, Devin Harris of Utah and Ty Lawson of Denver.
The NBA has become the league of outstanding point guards.  It is time the Lakers went out and got one for themselves.  Otherwise, it promises to be a very long summer.