Kansas City's Gain Is LA Angels' Loss as Broadcaster Rex Hudler Joins Royals
February 13, 2012

Rick Stewart/Getty Images
Last month, I kicked off the New Year with the op-ed piece, "LA Angels Should Rehire Broadcaster Rex Hudler to Revitalize the New-Look Squad."
In that column, I asked fans whether the Angels should rehire former Angels' broadcaster Rex Hudler and play-by-play man Steve Physioc, rehire just Hudler or just Physioc—or make no change and rehire neither broadcaster.
With 735 votes in, the poll's runaway winner was the rehire both Hudler and Physioc option (62.7 percent). The second-most popular option was the rehiring of Hudler alone (28.6 percent), followed by rehiring neither (6.8 percent) and bringing back Physioc without Hudler (1.9 percent).
All in all, 91.3 percent—or 671 out of 735 respondents—indicated that they would like to have seen the Angels rehire Hudler for what promises to be an incredibly exciting 2012 season at Angel Stadium of Anaheim.
Instead, the Angels have decided not to make any move, and as of Friday, February 10—it's too late.
Hudler has officially been signed by the Kansas City Royals as their brand-new TV analyst, a 120 games-per-season gig that will keep him a Royal through the 2014 MLB season.
After an 11-year broadcasting career with the Angels and two years of the "Rex Hudler Wonder Dog Show" on KLAA radio, Hudler will pack up his unique talents and take them to the Midwest.
Here's how Hudler broke the news on Twitter: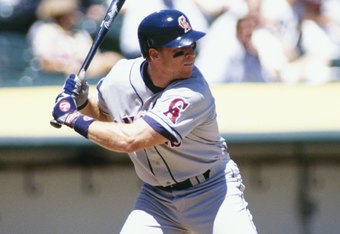 Otto Greule Jr/Getty Images
"Well, as most of you have heard, my old partner Steve Physioc and I are headed to Kansas City! That's right..."
As Hudler notes, the Royals have also tabbed Physioc for a 50-game stint, meaning Hud and Phys will reunite sometime soon at Kauffman Stadium. When he is not on TV, Physioc will call games with Ryan Lefebvre on the radio.
For Kansas City, the Angels' loss is truly Royals' VP Kevin Uhlich's gain.
Angels' fans may remember Uhlich from the Anaheim front office: He was the driving force behind placing Hudler in the Angels' broadcast booth back in 1999.
When asked why the Royals chose him for the job, Hudler responded: "They told me they want my enthusiasm in the booth."
Royals VP of Communications and Broadcasting Mike Swanson agreed: "[Hudler's] enthusiasm for the game of baseball is infectious and it translates very well on the air."
Pity the Angels didn't have the same frame of mind.
Fortunately, Angels' fans won't have to wait long to welcome Hudler and Physioc back to the Big A: Kansas City joins the Angels on opening night, Friday, April 6—the first of nine contests between the teams in 2012.
For those of us watching at home with a full-MLB package, we have a choice to make: Victor Rojas and Mark Gubicza, or Hudler and Physioc?
I, for one, can't wait to hear the Wonder Dog back where he truly belongs—at Angel Stadium in Anaheim, California.