Indianapolis Colts Must Avoid Brett Favre Scenario with Peyton Manning
February 13, 2012

Al Messerschmidt/Getty Images
Brett Favre and Peyton Manning have a few things in common. Both will almost certainly become first-ballot Hall of Famers, both had immense consecutive starts streaks in the NFL and both are from the South.
Here's one the Colts don't want to add to the list: they both had long, drawn-out breakups from the teams where they became superstars.
Read the comments section of this article and it becomes abundantly clear that Indianapolis has a problem on its hands. Their fans are willing to openly admit they support Manning above the team.
Uh oh.
Do you remember back when Green Bay had just about had enough of Favre's antics? They sort of tangoed back and forth, both sides trying to win the media's favor (sound familiar?).
Do you remember what the fans were like at that first training camp? They showed up in droves, as always.
They were wearing their No. 4 jerseys, as always.
With Aaron Rodgers' virtually non-existent resume, and the Packers seemingly giving up on winning, the fans were out to show how they felt. And they meant business.
But here we are four years later, and Rodgers has himself an MVP trophy. He brought the Lombardi Trophy back to Green Bay last year. The fans? They love him.
All because he won.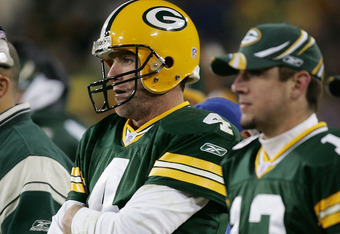 Jonathan Daniel/Getty Images
What if he hadn't?
Would the fans have abandoned the team? Would they have stopped showing up to the games? Would they still be wearing their raggedy Favre jerseys?
Probably.
Now let's look at the Colts' situation. And let's be honest here, it's bleak.
Before Manning showed up, before Peyton's Place was built and he had brought home four MVPs of his own, what was the state of the Colts?
Bad. Really, really bad.
The Colts had few fans. The RCA Dome was quiet, and opponents used the racetrack-like turf to shred them each and every week. After all, they landed the No. 1 pick that got them Manning.
Indianapolis was a basketball city. It was a stock-car city. It was an "anything but the Colts" city.
And then the Messiah arrived.
Manning injected life into a franchise that would probably be in Los Angeles if not for his arrival. He put people in seats that had long sat empty and cold. He gave them hope, and then results.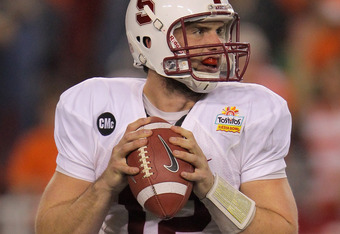 Doug Pensinger/Getty Images
He won.
Just as Green Bay was up in arms about Favre, so too are Indy's fans defensive about Manning. He's their hero.
If the Colts lose Manning, they will have a very short time to make it right with the fans. In his first year as a starter, Rodgers threw for over 4,000 yards and 28 touchdowns.
Is Andrew Luck going to do that?
Favre left Rodgers one of the most dynamic and explosive offenses in the league with Greg Jennings, Donald Driver and a young, healthy Ryan Grant.
Manning would be leaving Luck with a post-it note reading "Good luck, kid."
The Colts' top two receivers are likely gone next season. The offensive line is in shambles. The running back position is a who's who of injury-prone underachievers.
Defense? A perennial joke. Special teams? Among the worst in the league.
Fact is, even if Luck is the next Manning, we might not even recognize it for a few years simply based on the talent that isn't surrounding him.
Take one look at Sam Bradford and you'll see what a lack of talent can do for you.
If the Colts let this situation become the Favre Saga: Part II, they are going to lose more than games.
They are going to lose fans.
A lot of them.