NFL Draft 2012: Why Baltimore Ravens Should Take a Chance on Vontaze Burfict
February 13, 2012

Christian Petersen/Getty Images
Going into the 2012 NFL Draft, the Baltimore Ravens top priorities are at the center, guard and linebacker positions. At all three positions the Ravens have players that will likely be gone soon whether that be through retirement or free agency.
Sure there are solutions in free agency that could provide quick fixes, But it can provide a ton more security to draft a player that could potentially have a position on lockdown for an entire decade.
Although the offensive line issues are very important for the Ravens, it's the position of linebacker that is their most pressing need. And they happen to be in luck considering that the top linebackers usually go late in the first round which is where the Ravens will be drafting this year.
Who they will draft is very much up in the air as several players could lay claim to being the best linebacker available.
One player that is constantly getting linked to the Ravens in mock drafts is Vontaze Burfict. The junior out of Arizona State might be the most physically talented linebacker in this year's class. He is celebrated for his violent style of play that often results in ridiculously hard hits against opposing players.
His explosiveness is demonstrated by his tendency to simply go for a blow-up hit and inflict more pain on his opponents. Judging from his facial expressions, he actually seems to really love hurting other people.
That kind of intense approach to football can often make a good defender a great one.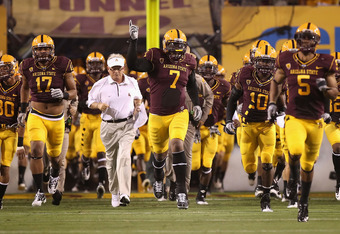 Christian Petersen/Getty Images
With those kinds of skills, Burfict looks like the kind of player that could really blossom as a Raven. And in a year where the Ravens are looking to draft his successor, it's very interesting that one of the available players shares some similarities with Ray Lewis.
Like Lewis when he came out of college, Burfict is a slightly undersized player with a mean streak.
The potential for Burfict to be amazing in the NFL is definitely there—especially on the Ravens given what their needs at linebacker are.
Yet there is a chance that they pass on Burfict should they have the opportunity to draft him.
The reason Burfict has been scaring teams is the commonly cited "attitude problems." He struggles to control his emotions and frequently gets out of control on the field. His emotions have often led to personal fouls and dumb penalties that hurt his team.
For Burfict to succeed in the NFL. he's going to need to go to a team with a strong locker room. If not Burfict could become like Ndamukong Suh and James Harrison who are two of the most frequent visitors to Roger Goodell's office.
On the wrong team, he could give head coaches headaches and create serious drama in his own locker room.
The Ravens have the strong kind of locker room that could take on someone like Burfict. Their defense has leaders in future Hall of Famers Lewis and Ed Reed. Their defense is frequently among the NFL's best which is evidenced by the multiple Pro Bowlers every year.
If Burfict came to Baltimore, he could fill a void at inside linebacker that would be created if Jameel McClain leaves in free agency. Moreover, Lewis will not be playing too much longer so Burfict could even turn out to be his ultimate replacement.
The potential is there for him to take over for Lewis and their production at middle linebacker not to run off too much. 
One or two seasons with Burfict learning under Lewis could do him wonders. Lewis is clearly one of the greatest linebackers in football history and he has become quite a mentor in his later playing days. The players that he mentor's aren't even limited to his team as there is a long list of opposing players he has mentored, such as LaDainian Tomlinson and Patrick Willis. 
It makes sense that Burfict could fit in well with the Ravens. Even if he were to disappoint, they could cut ties with him easily. An example of this is their second-round pick Sergio Kindle from two years ago, who after suffering an injury hasn't had any meaningful NFL games.
Yes there are reasons to be scared of taken the risk on Burfict. But ultimately it looks like this is one of those times where the reward outweighs the risk.