Kentucky Basketball: 5 Bold Predictions for Wildcats' Final Stretch Run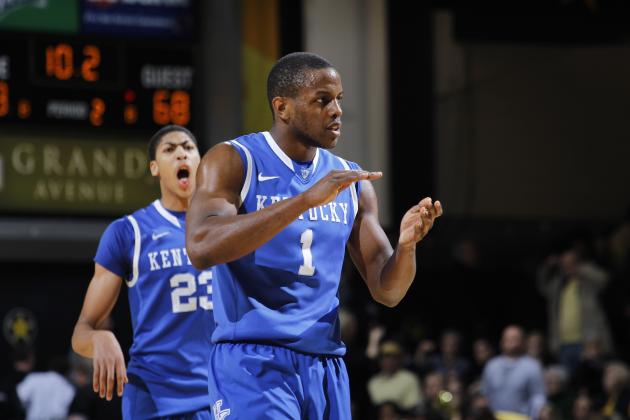 Joe Robbins/Getty Images

Bold predictions may be hard to come by for a team that is 25-1. What hasn't been done by this Kentucky team? What more could be done in their games leading up to the SEC and NCAA tournaments?
Fresh off a 69-63 against Vanderbilt, this young team has shown they have the mettle to take the best shots from a high-caliber team on the road. Two more tests remain at Mississippi State and at Florida, but the Vanderbilt win speaks volumes as to how far this team has progressed.
Continuing to improve will be John Calipari's biggest obstacle in the coming weeks. Could this team be peaking too soon? That may be Big Blue Nation's biggest worry heading into March.
Looking ahead, Kentucky should extend their home win streak to 51 games.
But that prediction is weak. These predictions are bold.
Begin Slideshow

»
Andy Lyons/Getty Images

This may be considered the "least bold" of these predictions, but there is still a chance Kentucky can lose one of their next five.
Out of those five games, only two are on the road, but those two are against teams ranked in the top 25 who will pose serious threats to Kentucky's perfect SEC record. Mississippi State matches up well with Kentucky inside, and Florida will play much better than their Feb. 7 massacre.
The other three games are against Mississippi, Vanderbilt and Georgia in Rupp Arena. Something about a home win streak makes me think those games won't be a problem.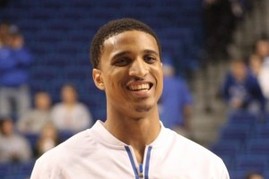 In the 39 minutes he has played this year, Twany Beckham has not scored.
There's no real basis for this prediction. Beckham has only shot once all year and hasn't seen the court more than nine minutes in a game.
But there is still hope.
Games against Mississippi and Georgia have blowout potential, which is potential for Beckham to play. He's got the ability to put the ball in the basket. Have faith, Big Blue Nation.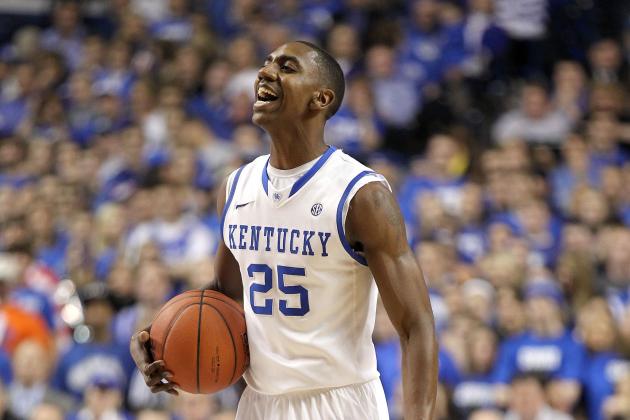 Andy Lyons/Getty Images

Marquis Teague's first double-double came against Florida, 25 games into the season. Against Vanderbilt, he was two assists away from his second.
Teague has improved more than any other player on this Kentucky team. Once a scapegoat for Kentucky's stagnant offense, he is now the linchpin of Kentucky's dynamic offense.
The question now is, what will Teague do as an encore to his best assist-to-turnover ratio game of his career?
Two double-doubles are not too much to ask, and Teague should be able to deliver.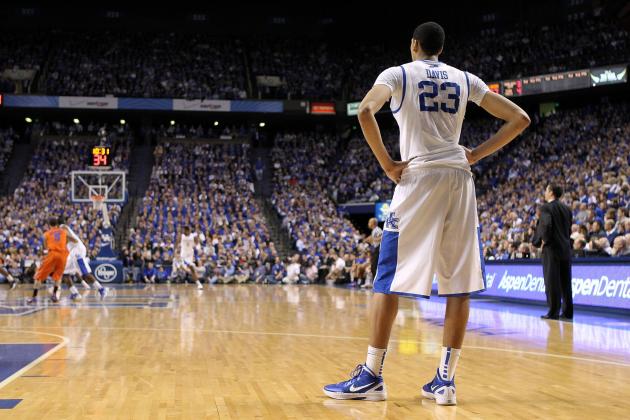 Andy Lyons/Getty Images

Anthony Davis has flirted with the triple-double six times this year. Six times, Davis has been within three blocks of a triple-double.
The ever elusive ninth and 10th block are the only things that have held Davis back.
Only once before has a Kentucky Wildcat recorded a triple-double. Davis has the skill to be the second, and it would be another great accomplishment for one of the best freshmen in Kentucky basketball history.
Joe Robbins/Getty Images

The NCAA record for blocked shots in a single year by one team sits at 315, set by the 2003-2004 Connecticut Huskies. Those Huskies played 39 games en route to a national championship.
Kentucky has played 26 games and has 243 blocked shots—an average of just above nine per game. With five games left, Kentucky would have to block 14.4 shots per game to tie the record in the regular season. Not going to happen.
If Kentucky makes it to the SEC Championship, that will be four more games played. In nine games, Kentucky would have to block eight shots per game to tie the record. At their current rate, Kentucky would easily break that mark.
Couple the SEC tournament with the NCAA tournament, and Kentucky has a chance to shatter the record. Kentucky has a chance to play 10 tournament games this year. At nine blocks per game, Kentucky could end the year with 378 blocks, crushing the current record.
Anthony Davis may break Jarvis Varnado's SEC record of 170 blocks in a season. Davis is at 127, averaging 4.9 per game. If he continues with that average, he would break Varnardo's mark in nine games.
We are witnessing one of the most prolific shot-blocking teams in history. Records will be broken, it is just a matter of time.