Ben Roethlisberger, Pittsburgh Steelers Brass Need to Get on Same Page
February 13, 2012

Joe Robbins/Getty Images
The Pittsburgh Steelers season has been over for about a month now, and we have already experienced more drama than anyone can ask for in an offseason.
Unlike previous years when players experienced some off-field issues in the offseason, this year's drama is stemming from the Steelers' brass and Ben Roethlisberger.
Everything has centered around the Steelers' quarterback and how the offensive coordinator situation was handled. Despite Mike Tomlin saying that he anticipated that Bruce Arians would return next season, Arians was not brought back (via Steelers.com)
In fact, Arians retired, only to be hired as the Indianapolis Colts offensive coordinator a little over a week later (via ESPN).
Even before the Arians situation came up, Roethlisberger went on the offensive, saying that he did not want any change with the offense.
We've got something special here, Roethlisberger told the Pittsburgh Post-Gazette. We've got a lot of great young players. As long as they don't get crazy and change the offense -- that can really set you back -- the sky is the limit for this team.
Art Rooney II did not feel that they would reach the "sky" with Arians as coordinator.
After the season, Rooney felt that the Steelers needed to score more on offense and felt that Roethlisberger needed to "tweak" his game.
Between these comments and Arians departure, Roethlisberger had some questions for the Steelers' president.
When I get back, I'm going to go up to Mr. Rooney's office and ask him what he wants from me, what he wants from this offense, because I think that's a viable question for him, Roethlisberger told the Tribune-Review while at the Pro Bowl.

He's our owner and our boss, so I really would like to know kind of what he wants and where he sees our offense going because I'd like to tell him where I see us going.
After a search, Rooney and Tomlin felt that Todd Haley was the man to lead the Steelers offense.
Out of all of the potential candidates, Haley was the one who brought up the most questions as to how he and Roethlisberger's relationship would work.
Haley is the opposite of Arians, who was a friend of Roethlisberger's. He will not be afraid to get in the face of any member of the Steelers—including Roethlisberger—and that may have been one of the reasons why he was hired.
One of the "tweaks" that Rooney wants from Roethlisberger is for him to take less sacks. As he gets older, his body will not recover as quickly, and the Steelers need him on the field if they are going to continue to compete for championships.
Haley is the type of coach who will correct Roethlisberger when he takes unnecessary risks.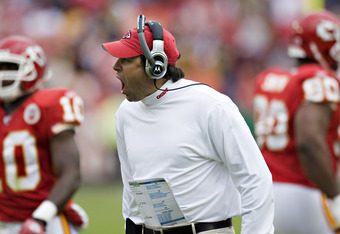 Wesley Hitt/Getty Images
But before these two even get that far, Haley and Roethlisberger have to meet.
The two did not meet last week when Haley was introduced as offensive coordinator, and it has not been reported whether or not the two have had discussions yet.
Whatever Rooney's and/or Tomlin's agenda is with the offense, they need to clearly communicate it to their quarterback. Right now, it appears as though the owner has one plan, the head coach another and the quarterback is left clueless in it all.
As an outside observer, it is clear that Haley was brought in for a reason and that was to gain control of the offense with his "in your face" style of coaching.
That may rub Roethlisberger the wrong way.
I've gotten a lot of calls and texts and emails from people around the league, both good and bad about him, Roethlisberger said told the Pittsburgh Post-Gazette. I've heard a lot of things and I'm looking forward to meeting him and forming my own opinion.
Before even meeting with him, Roethlisberger sent out another preemptive strike about the direction of the offense and that is one that he does not want a change.
I hope we don't have to start over and, if we do, you know what, here we go. Let's do it. We'll do it. We're not going to complain about it. But I would hate to have to set certain guys back who are doing so well right now.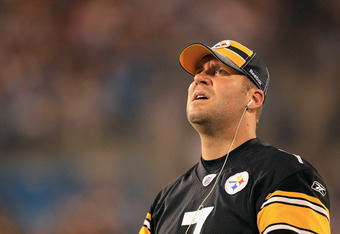 Streeter Lecka/Getty Images
Call me crazy, but the direction of the offense is something that could have easily been discussed with Rooney and Tomlin the instant that they knew Haley was going to be hired.
Instead, Roethlisberger is left in a cloud of mystery and the Steelers brass is trying to prove a point, or just failing to communicate.
The end goal of the coordinator changes is to improve the offense so they can maximize their talent and get back to the Super Bowl. But with the lack of communication going on right now, have the Steelers set themselves back and created some hard feelings?
That we do not know, but at some point the Steelers and Roethlisberger will need to clearly establish the direction of the offense and the sooner it is done, the better.
Follow me on Twitter @ChrisG_FC