2012 MLB Fantasy Baseball Shortstop Rankings
February 13, 2012
Denis Poroy/Getty Images
Not unlike Derek Jeter and A-Rod (on a smaller scale) joining forces, the Miami Marlins have two of the elite shortstops. Here are the Lester's Legends 2012 fantasy baseball Shortstop rankings.
1. Troy Tulowitzki, Colorado Rockies: My top-ranked shortstop last year holds onto the top spot thanks to a .302-81-30-105-9 line. I'd like to see 100 runs, but given his other numbers it's hard to complain.
2. Hanley Ramirez, Miami Marlins: It was a lost year of sorts for Han-Ram with his meager .243-55-10-45-20 line. I expect him to bounce back, especially with Jose Reyes joining the lineup. Plus, he's moving to third base, which enhances his value.
3. Jose Reyes, Miami Marlins: Was he a contract-year wonder? Hard to say. It's also hard to argue with the .337-101-7-44-39 line he posted.
4. Starlin Castro, Chicago Cubs: He's turning just 22 next month. He has already posted two .300 seasons. His run total jumped dramatically to 91 and he provided a solid amount of RBI (66) and SB (22). He has arrived.
5. Asdrubal Cabrera, Cleveland Indians: Easily the biggest surprise of the position. He smacked 25 HR after totaling 18 in his first 387 games. Regression is a possibility, but I wouldn't bet against him.
6. Jimmy Rollins, Philadelphia Phillies: Can he stay healthy again? That is a concern at 33, but he was just one of two players (Cabrera) with 15-plus HR and 15-plus SB.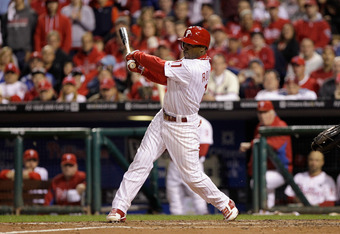 Rob Carr/Getty Images
7. Elvis Andrus, Texas Rangers: If he could get his average close to .300 he'd likely move into the top-five discussion. You know he's going to score runs in Texas' offense. He could easily lead the position in stolen bases.
8. Erick Aybar, Los Angeles Angels: Posted a solid .279-71-10-59-30 line. Albert Pujols' presence should help.
9. Alexei Ramirez, Chicago White Sox: Ramirez doesn't dominate any category, but he typically gives you solid numbers across the board. I expect his batting average and stolen base total to increase.
10. Derek Jeter, New York Yankees: Jeter pressed en route to 3,000 hits. He killed it in the second half, though, posting a .327 average and a .811 OPS.
11. J.J. Hardy, Baltimore Orioles: Led all shortstops with 30 HR. He combined for 50 in 2007 and 2008, so it's not a fluke. He flopped in 2009 and 2010 and hasn't played 130 games since 2008, so he is a slight risk.
12. Dee Gordon, Los Angeles Dodgers: Swiped 24 bases in 56 games. He should also be in the running for most SBs at the position.
13. Jhonny Peralta, Detroit Tigers: Has averaged 18.3 HR and 79.6 RBI over the past seven years.
14. Emilio Bonifacio, Miami Marlins: Stole 40 bases last year. Has eligibility at SS, 3B and OF. He didn't do much besides steal, though.
15. Stephen Drew, Arizona Diamondback: He only played half a season and is recovering from an ankle surgery. Still, he has been a productive player in the past and if healthy should be again. 
16. Yunel Escobar, Toronto Blue Jays: Career .289 hitter so he'll help in that category. He can also give you OK run, HR, and RBI numbers.
2012 Fantasy Baseball First Base Rankings
2012 Fantasy Baseball Second Base Rankings
2012 Fantasy Baseball Third Base Rankings
2012 Fantasy Baseball Catcher Rankings
2012 Fantasy Baseball Outfielder Rankings