NBA All-Star Game: Handing out Mid-Season Awards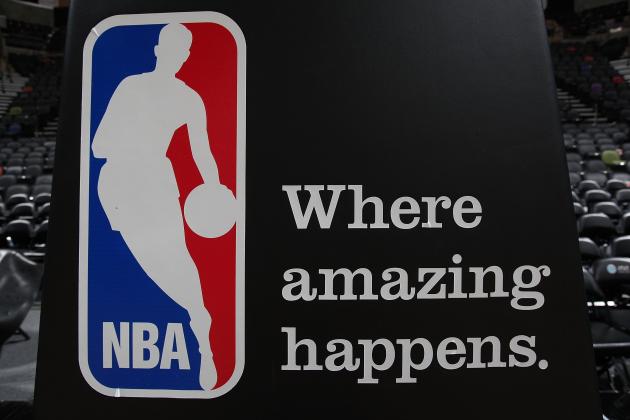 Ronald Martinez/Getty Images

As the All-Star game approaches, the NBA is having an entertaining season, despite playing a shortened schedule. Some of the teams have looked sluggish, while others have played inspired basketball.
Now it's time to give out midseason awards to some of the best, and the worst, players and teams for the first half of the 2011-2012 NBA season. Some of these awards are end of the year awards given by the NBA, but some include the biggest snub from the All-Star game and which coach may will be fired by the end of the season.
Begin Slideshow

»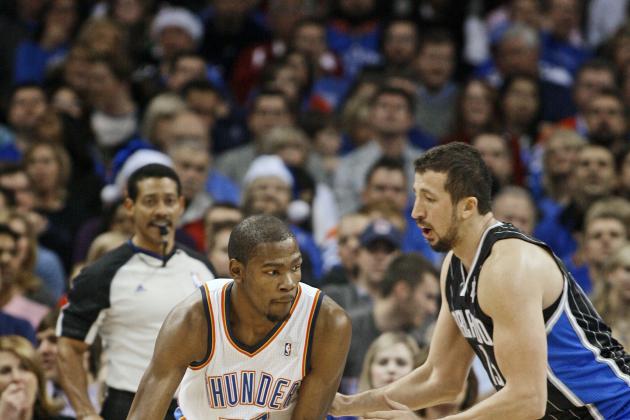 Brett Deering/Getty Images

With the best winning percentage, 77 percent, in the hardest conference, the Oklahoma City Thunder are definitely the best team in the league. The Chicago Bulls and Miami Heat are both having phenomenal years as they lead the Eastern Conference, but the West is a different kind of animal.
The Thunder has two of the best players in the league in Kevin Durant and Russell Westbrook, as well as James Harden, who will probably win the sixth-man of the year award. One of the strengths of the Thunder is its team chemistry, as all the players get along and genuinely like each other.
While there have been questions about who gets the ball at the end of the game, as long as Westbrook can learn to understand that Durant is the best scorer on the team, things will be okay.
Even though it is early, the Thunder are in the best position to make the NBA Finals. The fact that they have been so good while competing in the Western Conference makes them the top team so far.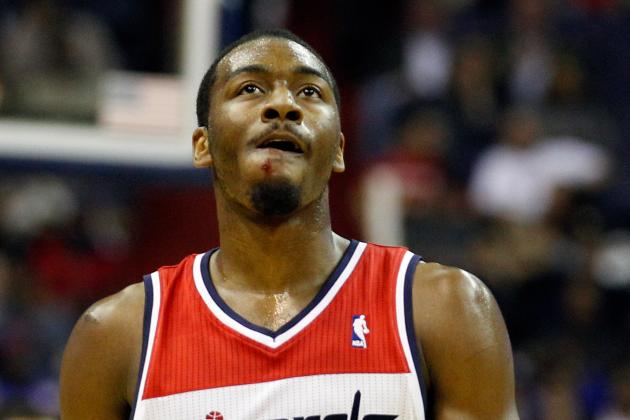 Rob Carr/Getty Images

While John Wall was supposed to lead the Wizards to a decent record this season, they are third to last in the entire NBA.
After the Chris Paul trade, New Orleans began its rebuilding year knowing they could go nowhere this year, but the Wizards were at least going to contend in the Eastern Conference.
With Javale McGee being his usual on-again, off-again crazy self and Wall only starting to hit his stride as of late, the Wizards are off to a slow start. Wall was also supplanted by both Kyrie Irving and Ricky Rubio as the young and exciting guard. Now that Irving and Rubio are the hot new point guards, Wall is going to have to earn his keep as a premier player.
One stat that especially stood out is that McGee is shooting 47 percent from the field goal stripe. To put that in perspective, his field goal percent would rank as one of Shaquille O'Neal's worst ever.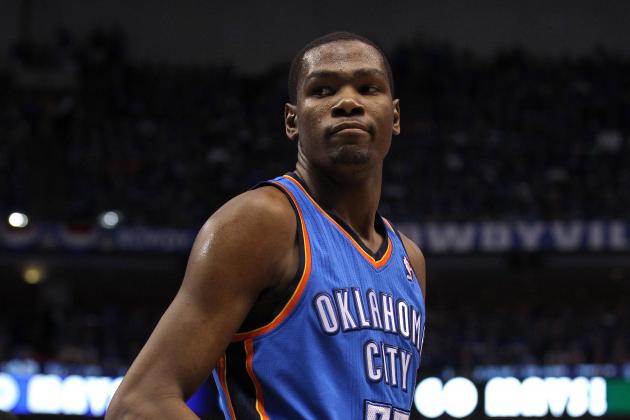 Ronald Martinez/Getty Images

There are possibly four or five players in the NBA who have a chance to capture the Most Valuable Player award, and so far LeBron James seems to be the favorite. Kevin Durant however is having just as good a statistical year as James, but is more important to his team than James is to his.
Both players are averaging a little more than eight rebounds, and James scores more than two more points a game than Durant does. Durant get the vote though, because of the impact he has had to the Oklahoma City Thunder.
At this point in the shortened season, the best player on the best team is getting the nod for MVP, and I would not be surprised if he is not hoisting up the Larry O'Brien trophy at the end of the year.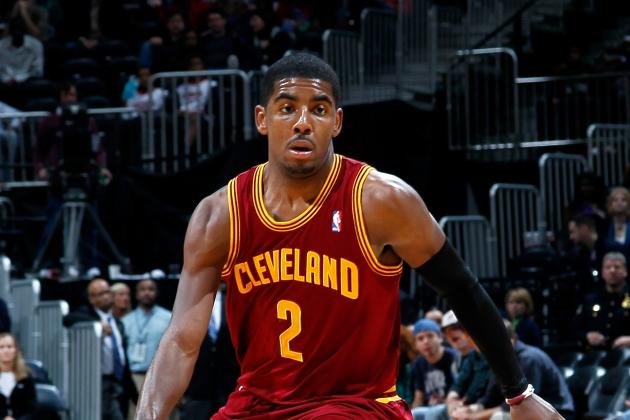 Kevin C. Cox/Getty Images

This was by far the easiest selection to make, as Kyrie Irving is having a terrific first year for the Cleveland Cavaliers. Selected first overall, even though there were some questions about his lack of experience at Duke, Irving has taken the league by storm and is almost a lock at this point to win the Rookie of the Year award.
Even though Ricky Rubio is also having a great year as a rookie, Irving is simply playing on a higher level than anyone else. He is averaging 18 points per game to lead all rookies, and is shooting almost 50 percent from the field. He has added another wrinkle to his game, as he is also averaging 5.1 assists, and is showing that he can be a solid point guard, and not just a scorer.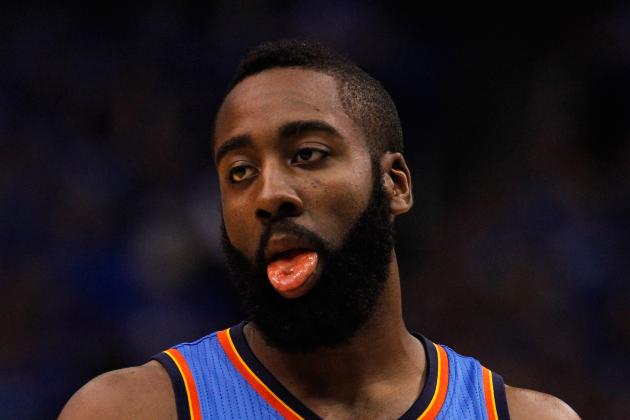 Tom Pennington/Getty Images

Even though he starts the game on the bench, James Harden is still the 24th highest scorer in the league. With the second unit of the Thunder not having much of a scoring threat, Harden has been kept with them, and the energy he brings off the bench is game-changing.
Averaging 16.8 points a game, Harden has become one of the most consistent players for the Thunder, and has become a major part of their offense. Even though he starts as a reserve, Harden plays a starters amount of minutes and is always in the game in the fourth quarter.
While Mo Williams and Lou Williams have made strong cases for themselves as Sixth-Man of the year, Harden takes this award easily.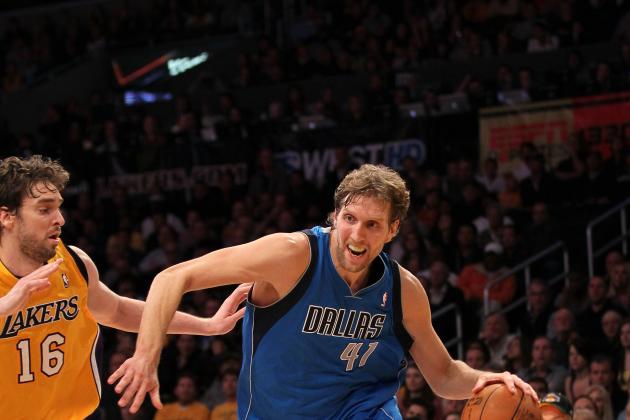 Stephen Dunn/Getty Images

The Mavericks have been the most surprising team this season for a variety of reasons.
Being the defending champions, the Mavs were supposed to be a title contender this year, but after Lamar Odom and Dirk Nowitzki got off to slow starts, they looked to be in rebuilding mode.
In one of the more surprising moves this offseason, the Mavericks let Tyson Chandler and J.J. Barea both leave, two key pieces in their title run last year. With Deron Williams rumors swirling, the Mavericks seem to be waiting for next year to make a run. And yet, they are still in fourth place in the Western Conference.
While it was surprising that the Mavericks got off to such a slow start this season, the more surprising thing is how high up in the rankings they are. If Odom can start to produce and Nowitzki turns his game up by playoff time, the Mavericks may be poised to make a deep run in the playoffs, and that would be the biggest surprise of them all.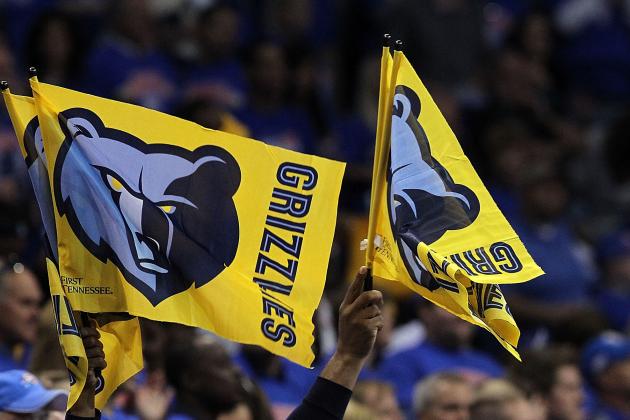 Ronald Martinez/Getty Images

Even though they sit one game out of the last playoff spot, the Memphis Grizzlies are poised to make a comeback during the second half of the season.
They currently have six players averaging in double figures, led by Rudy Gay with 18.6 ppg and Marc Gasol with 15 points and 10 rebounds a game. One big help will be the return of Zach Randolph in the upcoming weeks. Randolph has been out with a knee injury, and has only played in four games this season.
O.J. Mayo is always on the trade block for Memphis, and if they can turn him into some depth on their bench, then the Grizzlies should be able to make a late push and make the playoffs.
Kevin C. Cox/Getty Images

When a team loses one of its best players for an extended stretch of the season, there is almost always a drop off in the quality of play, and usually a decrease in wins. After Manu Ginobli went down after only five games this season, many were thinking the Spurs dynasty was headed downhill.
Popovich made sure the exact opposite happened, as the Spurs currently sit in second place in the Western Conference. Tony Parker has played himself into being a top-ten player in the league, and Tim Duncan is having his usual consistent season.
While Doug Collins has the Philadelphia 76ers playing with intensity and passion every night, Popovich has taken a team that is supposed to be on its way out, and injected the right amount of youth to balance the aging stars who have championship backgrounds.
Don't be surprised if the Spurs end up with one of the best records in the league, and with a healthy Ginobli, Popovich may once again be making a deep playoff run.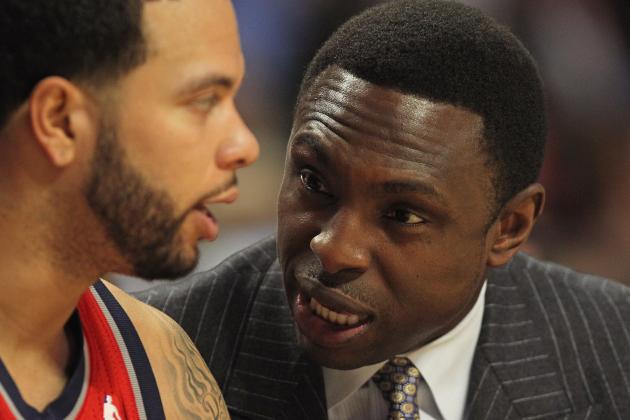 Jonathan Daniel/Getty Images

If the Nets do not land either Dwight Howard or another marquee free agent, Avery Johnson will probably be fired. None of that is his fault of course, but someone needs to take the blame and that either falls on the star player or the coach.
Speaking of the star player, if Howard does not commit to Brooklyn, there is a great chance Deron Williams will be jumping ship for a more talented NBA team. If this happens, the Nets are left with a few good pieces, but not a core of special players to build around.
While Johnson is a good NBA coach, he is simply not producing wins. If Howard decides to take his talents to a different team, Johnson may have to find one as well.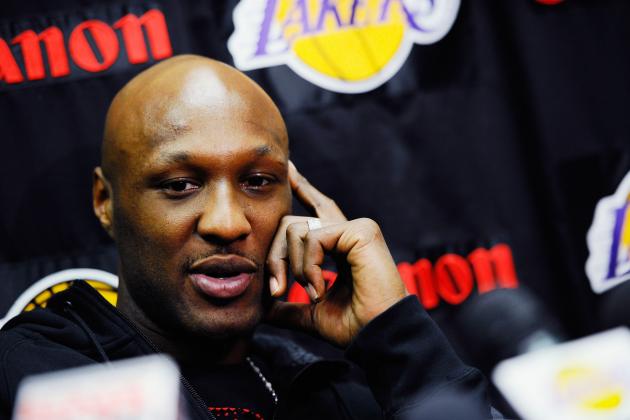 Kevork Djansezian/Getty Images

After winning the Sixth-Man of the Year award last season and being traded to a new team, many thought that Lamar Odom might have a slight drop off in his production. No one expected that it would be this bad.
Odom is currently averaging career lows in points, assists, rebounds, steals and really every category you can think of. His field goal percentage is under 40 percent for the first time in his career as well.
Odom just can not seem to adjust to the playing style of Dallas, and being behind Dirk Nowitzki on the depth chart won't help him gain any minutes either.
If there is a silver lining, it is that Odom has recorded a career low in turnovers, which shows that there may be hope for him yet. Coming into the season out of shape, it has taken time for Odom to get back to playing ability. While I wouldn't expect him to compete for the Sixth-Man of the Year award again this year, I would not be surprised if Odom's emerging play helps the Mavericks to a deep playoff run.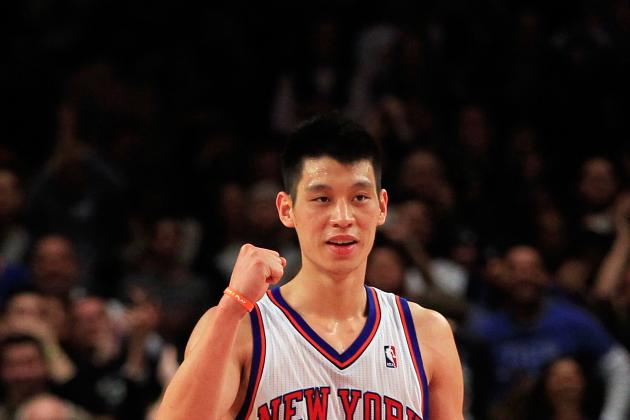 Chris Trotman/Getty Images

While DeMarcus Cousins is having a breakthrough year for the Sacramento Kings, this award is already gift wrapped for Jeremy Lin.
Linsanity has taken off as a national phenomenon, but behind the nicknames and the countless jerseys sold is some solid play by Lin. Lin is averaging 25.0 ppg as a starter to go along with 9.5 apg, and has reinvigorated a listless Knicks team.
Whether Lin has actually improved since last year in Golden State, or if his talent was simply found by the Knicks is up for debate. There is no debate however that Lin has been cut and sent to the D-League by multiple teams, and now he hears MVP chants from some of the toughest fans in all of sports.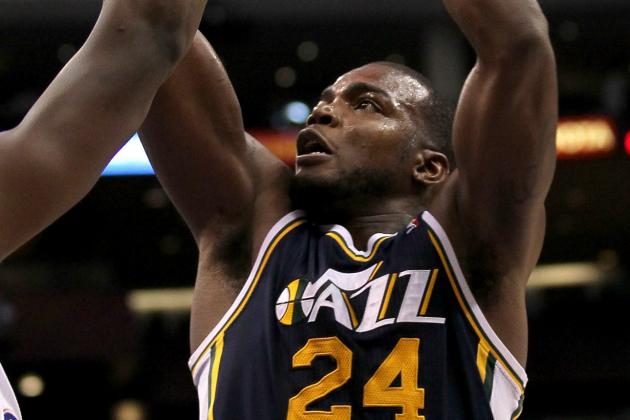 Stephen Dunn/Getty Images

To be honest Paul Millsap doesn't belong in the All-Star game. The hard-working, scrappy player would be the only one playing defense and going for offensive rebounds.
That being said, Millsap has proven this year that he is worth the accolades of an All-Star game appearance. Averaging 15.8 points and just over nine rebounds. He is also averaging 3.3 offensive rebounds, truly showing his physical style of play.
With power forward becoming a key position in the league, even if Millsap does not get an All-Star bid in the next few years, he has proven that he is in the elite category of forwards in the game today.
Honorable mentions go to Josh Smith, Kyle Lowry, Brandon Jennings and Rudy Gay.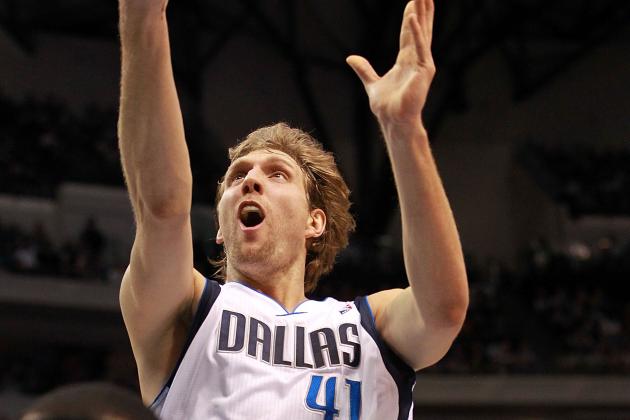 Ronald Martinez/Getty Images

As last seasons Finals MVP, Nowitzki got in to the All-Star game this year on his name recognition alone. Averaging his lowest point and rebound total in 12 years, Nowitzki has simply not produced up to his usual standard.
In the last few games, Nowitzki has turned it on, but this year there are more deserving people to grab an All-Star shot. Pau Gasol, Rudy Gay, Paul Millsap and Al Jefferson are all having better years than Nowitzki is.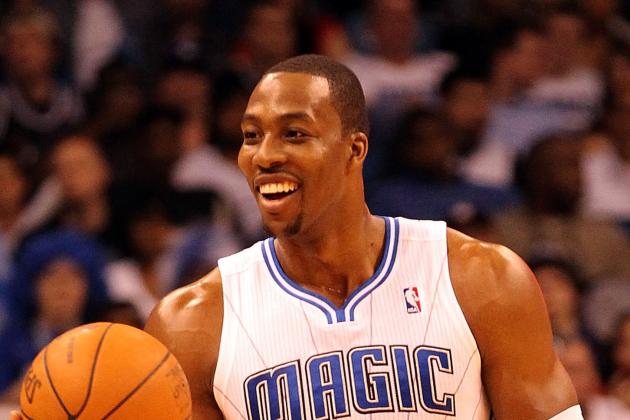 Sam Greenwood/Getty Images

While at this point in the season Serge Ibaka has been a better shot blocker, Howard will undoubtedly pull through with this award. Currently fourth in blocks and fifth in blocks per game, Howard is also pulling in 15.3 rebounds a game, one rebound a game better than second place Kevin Love.
While the blocks have been slightly down, Howard still represents the biggest presence in the paint as he alters many shots a game. Ibaka is definitely a major threat to Howard's title, and I have no doubts that he will win the award in the near future.
The rebounding and block totals coupled with his dominating presence however will have Howard winning this award for the fourth straight year.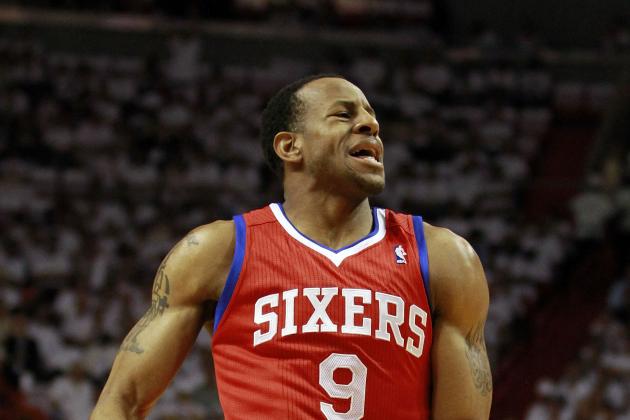 Marc Serota/Getty Images

Iguodala was recently chosen as a reserve for his first All-Star game appearance of his career. The game is packed with high profile scorers and shot blockers, but Iguodala got in on his toughness and defense.
Always a threat for a triple double, Iguodala tried to become the 76ers main option on offense in years past, but this year he has accepted his role, with great results. Always a tough defender on the perimeter, Iguodala has embraced the role of defensive leader and occasional scorer, and the 76ers have flourished.
Always asked to guard the teams most prolific scorer, Iguodala is recognized around the league as one of the toughest people to play against. The Defensive MVP is almost always given to a big man, but when it comes to the perimeter, no one patrols it as well as Iguodala.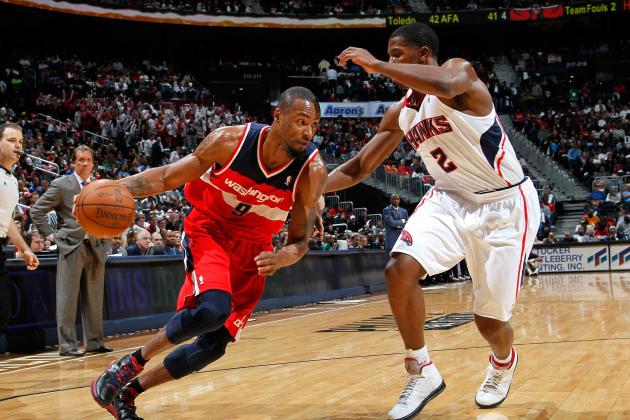 Kevin C. Cox/Getty Images

Kobe Bryant has the highest contract in the league, but is also leading the scorer in the league. Rashard Lewis has the second highest contract in the league and needless to say he is not one of the leading scorers.
Averaging 7.8 points and 3.8 rebounds would be good for a role player, but not for Lewis who is owed over 19 million dollars this season.
If the Wizards will regret not using their amnesty clause on Lewis has yet to be seen, but the fact is that his caliber of play has not lived up to the dollar signs he is being payed.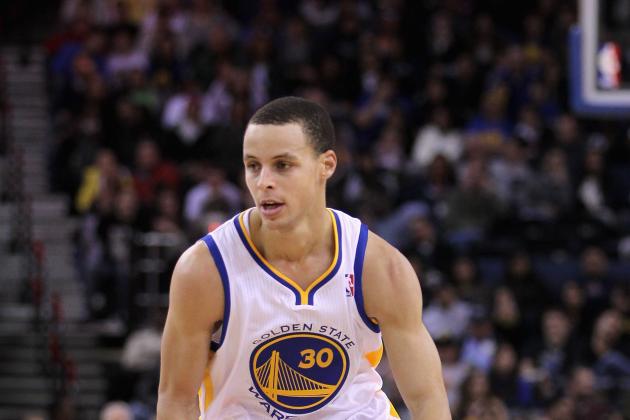 Ezra Shaw/Getty Images

While it is hard to call any NBA player underpaid, there are some that outperform the contracts they are on. Russell Westbrook and Marc Gasol are both underpaid, but Stephen Curry is playing way better than what he is being paid.
Drafted in 2009, Curry is still playing on his rookie contract which pays him just under three million a year. The runner-up Rookie of the Year is averaging 16.9 points per game while dishing out six and half assists.
There is no doubt that Curry is due a pay raise soon, but for now he is outperforming his rookie contract by a big margin.
Mike Ehrmann/Getty Images

The probable Defensive Player of the Year is widely known to be wanting out of Orlando. The Magic can offer Howard the most money, so there is always the chance that he will stay, but if he doesn't he is the biggest free agent pickup by far this year.
Without Howard, the Magic would not be an elite team, but his presence alone makes them a challenger i the Eastern Conference.
If Howard does end up choosing another destination besides Orlando, that team would automatically be a contender. At this point, he has numerous superstars he could team up with to try and win a championship with, and NBA fans are holding their breaths hoping it will be them.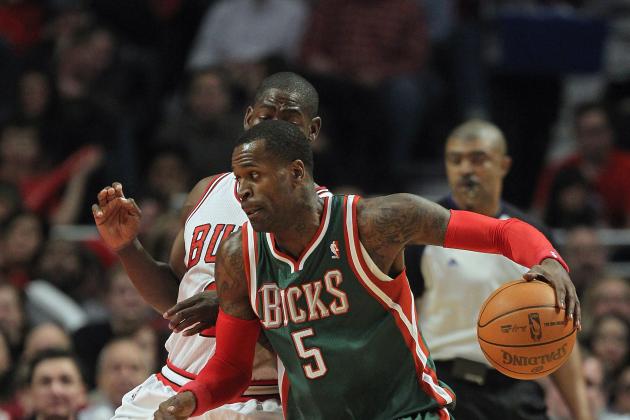 Jonathan Daniel/Getty Images

Stephen Jackson has not bought into Scott Skiles system, and as a result he has seen his playing minutes plummet.
He has talked openly about wanting to join both the New Jersey Nets and Orlando Magic.
Being a scorer than needs a lot of shots to operate Jackson would have a tough time getting traded to any team, plus his salary is not seen as worth it for the 33-year old. If he got amnestied by the Bucks, the Nets and Magic may take a look at him as an option to compliment their other stars.
As it stands right now though, a trade for Jackson would only end up hurting a team's salary cap as well as their chemistry.