Building the Ultimate NFL Fullback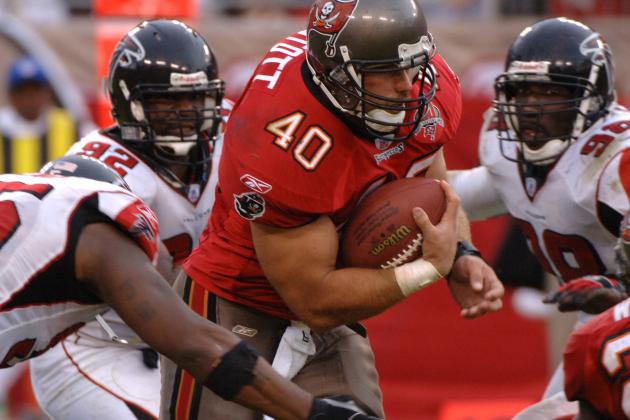 A. Messerschmidt/Getty Images

With the slow but steady transition in offense over the last few decades—each year the balance switches further away from the running game, towards the passing game—the fullback position has suffered.
Some might go as far as saying that they are a dying breed, headed for extinction.
But there are plenty of traditionalists who cherish the "old" style of football: I-formation, two tight ends, running the ball between the tackles. And who knows, maybe 10 or 15 years from now, it'll be Eric Dickerson's rushing record, not Dan Marino's passing record, that is repeatedly under assault.
If that's the case, expect a fullback to play a big role.
But even if it's not as the lead blocker for a great runner, the fullback still has plenty of value. The great ones have versatile skills sets: blocking, running, pass protecting, catching passes, etc.
I've put dreamed up the perfect fullback, cobbled together from some of the alltime greats and their key strengths.
Here's the Frankenstein-esque result.
Begin Slideshow

»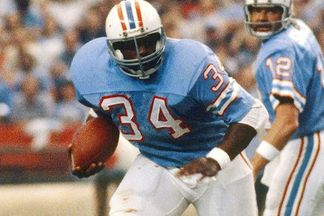 Career: 1978-1985
Teams: Houston Oilers, New Orleans Saints
Highlights: one NFL MVP, three rushing titles
In today's NFL, speed isn't a necessity for a fullback. They don't carry the ball enough for that to outweigh strength, vision and blocking ability.
But back in that bygone era, when fullbacks carried the ball far more often than they do today, speed certainly did matter. And Earl Campbell, the enormous and lightning-quick runner from the University of Texas and then the Houston Oilers, was the standard.
He repeatedly outran defensive backs, even in the open field.
The only problem with a fullback who runs this fast? He wouldn't stay a fullback for long.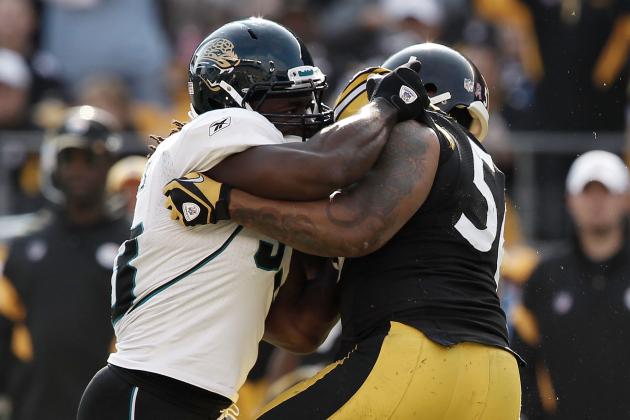 Jared Wickerham/Getty Images

Career: 2004-present
Teams: Jacksonville Jaguars
Highlights: one Pro Bowl
The weight room is part of strength and Jones fits the bill there: 400 lb. bench press, 545 lb. squat and a 360 lb. power clean, according to MuscleProdigy.com.
But how Jones applies those numbers is what makes his strength ideal.
Maurice Jones-Drew and Fred Taylor have each had multiple outstanding seasons running behind Jones.
And as a runner—although he doesn't carry the ball often—he applies that strength, especially near the goal line. How else do you explain his 25-carry, 106-yard, one-touchdown effort against the great Ravens defense back in Week 10 of the 2005 season?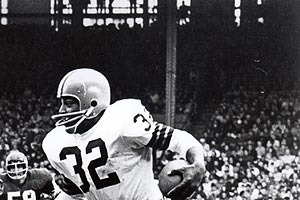 Career: 1957-1965
Teams: Cleveland Browns
Highlights: three NFL MVPs, eight NFL rushing titles
A no-brainer here.
In the "olden days," there were some great fullbacks who were their team's primary ball carrier: Bronko Nagurski, Jim Taylor, Larry Csonka, Franco Harris, John Riggins, etc.
But Brown leaves them all in the dust and very well might have been the greatest ball carrier in NFL history.
The perfect blend of speed, size, strength, and—perhaps most importantly—durability: 2,359 carries, never missed a game.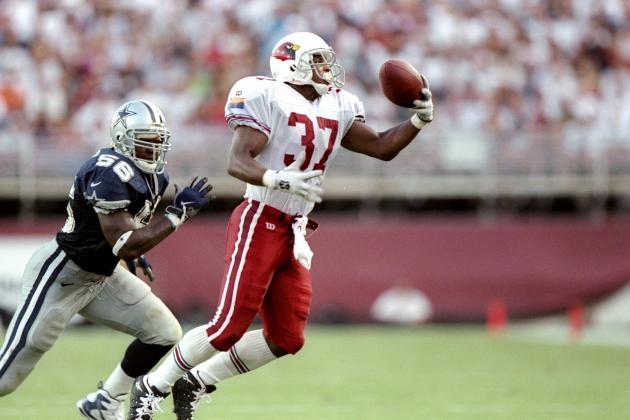 Brian Bahr/Getty Images

Career: 1990-2003
Teams: Phoenix/Arizona Cardinals, Washington Redskins, Buffalo Bills, New England Patriots
Highlights: three Pro Bowls, one All-Pro selection, NFL record for catches by a fullback
One hundred and one catches as a running back? Two hundred catches in a two-year stretch? Crazy.
Centers played on perpetually bad offenses in Arizona, Washington and Buffalo, with very limited passing games, but he was eminently reliable and made some dazzling catches.
Think about it this way: He had more catches than Steve Largent, Shannon Sharpe and Michael Irvin, each a Hall of Famer.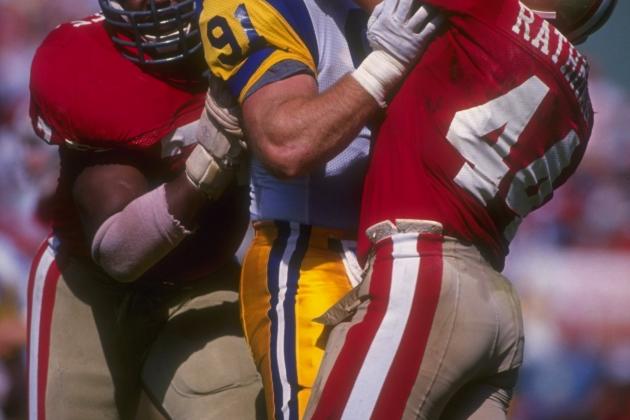 Otto Greule Jr/Getty Images

Career: 1986-1994
Teams: San Francisco 49ers, Los Angeles Raiders
Highlights: two Super Bowl rings
Rathman was a great all-around fullback. He was a reliable pass catcher, had his moments as a goalline/short yardage runner and helped Roger Craig and Ricky Watters have a few great seasons.
But that 49ers offense relied on the pass and that West Coast system, often featuring split backs. When Rathman wasn't running to the flats as a safety valve for Joe Montana, he was in the backfield as essentially a sixth offensive lineman.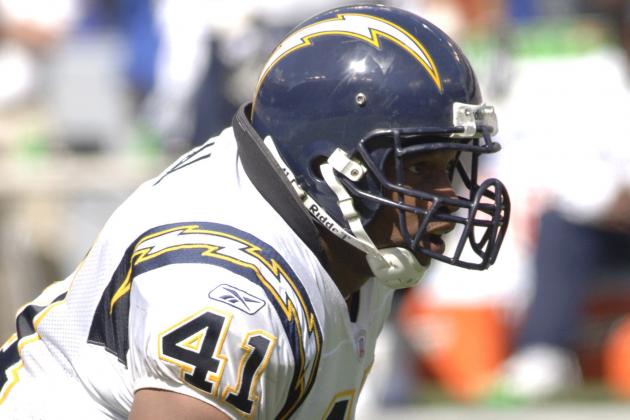 A. Messerschmidt/Getty Images

Career: 1993-2008
Teams: New Orleans Saints, New York Jets, Tampa Bay Buccaneers, Tennessee Titans, Cincinnati Bengals, San Diego Chargers, Baltimore Ravens
Highlights: four Pro Bowls, two All-Pro selections
The term "system player" absolutely never applied to Neal.
He blocked for the Jets, and Adrian Murrell rushed for 1,000 yards. Two years later, he moved on to the Titans and led Eddie George's convoy all the way to the Super Bowl. After Tennessee, he spent two years in Cincinnati, paving the way for Corey Dillion's back-to-back 1,300-yard seasons.
But the best was yet to come: He signed with San Diego to pair up with a young running back named LaDainian Tomlinson: During the five years Neal was there, L.T. averaged 97 rushing yards per game.
Sure each of those backs were great talents, but they all reached the peaks of their career running behind Neal.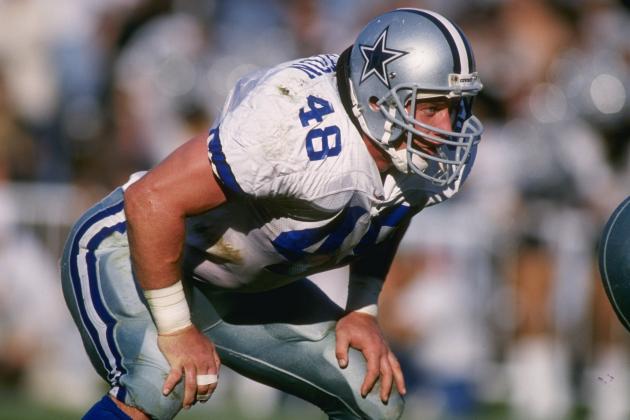 Stephen Dunn/Getty Images

Career: 1989-1999
Teams: Dallas Cowboys
Highlights: two Pro Bowls, two All-Pro selections
Lead blocker for the NFL's all-time leading rusher, pass protector for a Hall-of-Fame quarterback who threw to a Hall-of-Fame wide receiver. That's ultimately Johnston's greatest legacy. Well, that and three Super Bowl wins in four seasons.
But Moose knew where the holes as ball carrier where, knew where the holes for the pass rush were and even (occasionally) knew where the holes were in the opponent's zone coverage.
That takes exemplary vision and understanding of what's going on around him.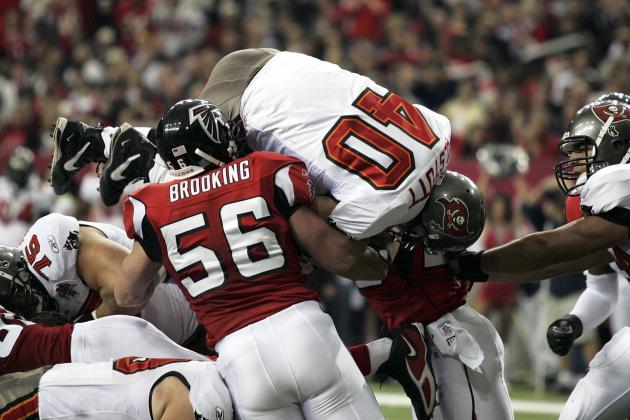 Doug Benc/Getty Images

Career: 1996-2006
Teams: Tampa Bay Buccaneers
Highlights: Six Pro Bowls, four All-Pro selections
Mike "You're In Good Hands With" Alstott was a jack of all trades.
He was a fine receiver out of the backfield, did a masterful job opening holes for Warrick Dunn, Michael Pittman and Cadillac Williams and had a tremendous knack for carrying the ball near the goal line, especially leaping over the pile.
And as one of the few consistent faces on the Bucs offense—quarterbacks, running backs, wide receivers and linemen repeatedly changed for the Bucs—Alsott was a great leader, and that's why his number was retired in Tampa.