AJ Burnett: 4 Factors Yankees Pitcher Would Bring to Pittsburgh Pirates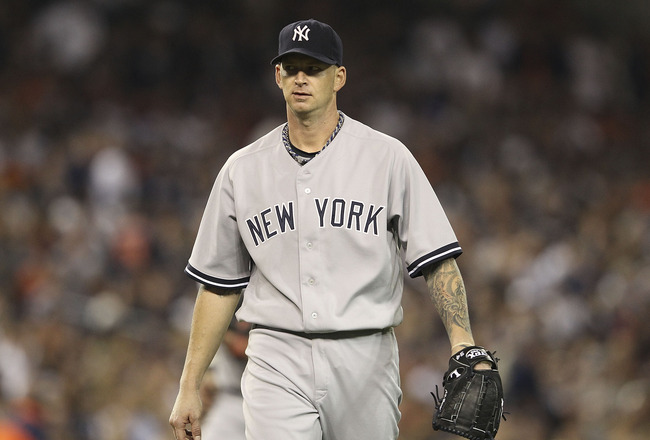 Leon Halip/Getty Images
According to an ESPN.com report, the Yankees are currently shopping A.J. Burnett to four teams, one of which happens to be the Pittsburgh Pirates.
The Yankees are looking to move the much-maligned starter for two reasons. First of all, there's simply no room for him in their starting rotation. As it stands now, the top four rotation spots are essentially locked down. That leaves Freddy Garcia, Phil Hughes and the aforementioned Burnett to battle it out for the fifth and final spot.
Secondly, Burnett is horrendously overpaid. He's owed $33 million over the next two seasons—far too high a price tag for a pitcher who has posted a 5.00-plus ERA in each of the last two seasons. Compare that to a guy like Freddy Garcia, who comes at a fourth of the price and whose numbers trump those put up by Burnett last season.
Apparently, the Yankees are willing to swallow more than half of the money owed to Burnett.
While four teams remain in the hunt for Burnett's services, the Pirates are the only team whose name has been released to the public.
If the Pirates should land the 6'4" right-hander, here are four things that he'll bring with him to Pittsburgh.
Enjoy.
4. A Frustrating Lack of Consistency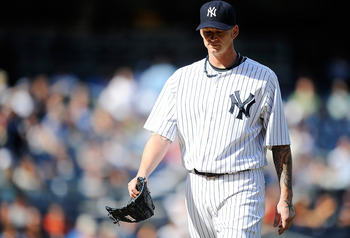 Patrick McDermott/Getty Images
Since breaking into the big leagues with the Marlins in 1999, Burnett has often been viewed as the picture (pitcher?) of inconsistency.
While that label may or have been applied too judiciously early in his career, it certainly hasn't been since he joined the Yankees in 2009. During his three years with the Bronx Bombers, he's shown promising flashes of dominance (such as his nine-pitch, three-strikeout inning against the Marlins in 2009) but has failed to maintain that success over an extended period of time.
He began the 2010 season on a hot streak, compiling an impressive 6-2 record. However, it wasn't long before the bad Burnett made his expected return. He would finish the 2010 season with a 5.26 ERA—by far the worst mark of his 13-year career.
In 2011, he posted another ERA over 5.00, prompting Yankees' management to search for possible suitors in the trade market to dump some of Burnett's big salary on.
Who knows? Maybe a move to a smaller market—with less media attention and lower expectations of success—will rejuvenate Burnett's quickly declining career. Maybe he'll finally tap into the deep well of potential that has gone unused thus far. Maybe he'll finally find some much-needed focus, win the Cy Young with a sub-2.00 ERA and lead the Pirates to their first playoff appearance since the early '90s.
Maybe pigs will fly. Maybe there's a species of undiscovered winged serpents living in my woodshed. Anything's possible.
3. A Lot of Strikeouts, but Too Many Walks and Errors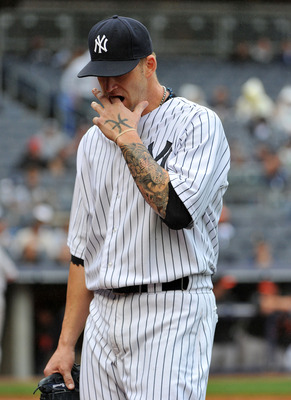 Christopher Pasatieri/Getty Images
A.J. Burnett's bipolar tendencies are best encapsulated in last season's strikeout, walk and error totals.
In 2011, he ranked 10th in the American League with 8.18 strikeouts per nine innings. At the same time, he allowed 83 free passes (second in the AL) and committed five errors in only 38 chances (most in the AL). He also led the league in wild pitches with 25.
If Burnett is going to have any success as a Pirate, the one area that he'll need to improve in is the walk column. It's difficult to succeed as a major league pitcher as is, but the job becomes exponentially more difficult when one begins handing out a high number of free passes.
Strikeouts are flashy. Ladies love them as much as they love the long ball, so I am told. But if a pitcher fails to balance high strikeout totals with the ability to control his pitches, he'll never become a top-tier pitcher at the major league level.
I suppose that's the story of Burnett's career.
2. A Recognizable Name to a No-Name Pitching Staff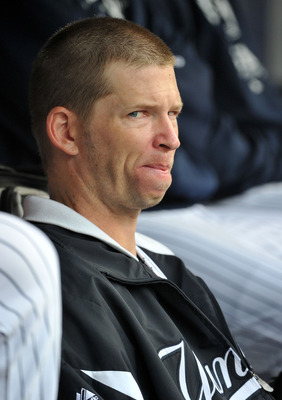 Christopher Pasatieri/Getty Images
Can you name a member of the 2011 Pirates starting rotation?
Kevin Correia.
OK, can you name two?
No.
Well, you may have guessed Paul Maholm. But unless you live in Pittsburgh, probably not.
If Burnett hops on the Pirates' ship, he'll be their most well-known starter since, well, Oliver Perez, for what's it's worth. That's debatable, of course. Feel free to start that debate in the comments section.
Burnett has enough talent to become the Pirates' ace. There's no doubt about that. He also brings some big-game experience to the table, which could come in handy if the Pirates make a push for the NL pennant. This is a plausible scenario, considering the fact that most baseball "experts" are expecting the NL Central to be weakened by the departure of Pujols and Fielder.
If nothing else, he'll increase merchandise sales. Methinks there will be many a Pirate fan donning black A.J. Burnett shirt-jerseys should this trade go through as planned.
(In case you were wondering, Charlie Morton, James McDonald and Jeff Karstens were the other pitchers on the Pirates' rotation last season.)
1. Watchability, for Better or for Worse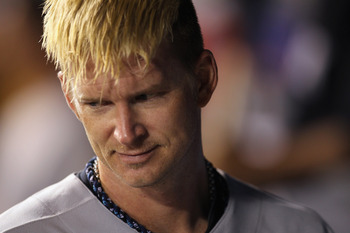 Jamie Squire/Getty Images
Whether he's mowing through an opposing lineup like a tractor barreling through thin brush, or self-destructing like a drunken member of The Bad Girls Club, A.J. never fails to garner a high level of viewer attention.
Ill-fitting similes aside, the Pirates could certainly use a big-name guy like Burnett to boost their TV ratings and ticket sales. While both increased last year, thanks to the Pirates' early-season success, the end-of-season numbers still ranked near the bottom of the league. The addition of Burnett would likely cause those numbers to climb even higher, especially if the Pirates manage to become competitive in a Fielder-and-Pujols-less NL Central.
After all, isn't watching a pitcher give up a grand slam after drilling three consecutive batters in the back just as compelling as watching him strike out 14 or so batters?
If nothing else, Burnett will give Pirates fans another player to direct their collective cursing at.
Keep Reading

Pittsburgh Pirates: Like this team?