West Coast Colision: 2012 WCC Tournament Breakdown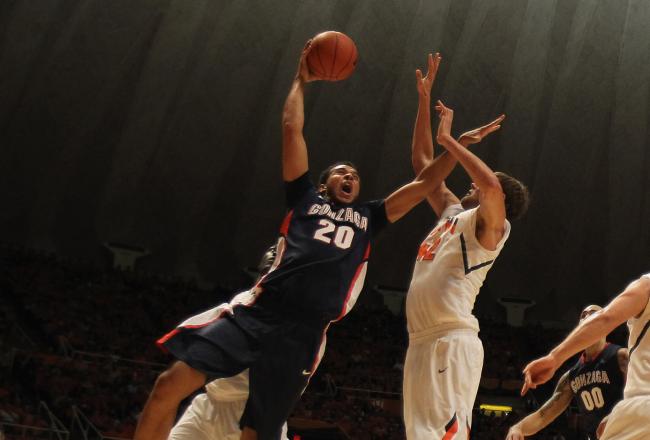 Can Gonzaga Win the WCC Tournament Again?
Jonathan Daniel/Getty Images
The Shakedown
The West Coast Conference made another strong appearance during the 2011-2012 regular season. A conference that has boosted it's image little by little for years made a genius move by adding BYU this year. What was always a one, maybe two bid conference, could potentially be a three team representative come tournament time this year. The WCC has my vote for the most exciting conference tournament in the first fleet (conference tournaments from Feb 26- March 3). With three major contenders and some fantastic sleepers, this conference is up for grabs.
The Breakdown
1. Saint Mary's 25-5 (14-2 WCC)
Like Gonzaga and BYU, St. Mary's stumbled a bit down the stretch. An injury to superstar Matthew Dellavadova (15.4 ppg, 6.5 apg) really slowed the Gaels down in their last few games. St. Mary's grabbed the automatic NIT bid for the WCC by locking up the conference crown against Portland Thursday night. While St. Mary's should be a tournament team, don't be surprised if they don't take home the hardware for the conference tournament. The Gaels will benefit from a first and second round bye, but as we have seen in the past, (Big East Tournament) that's not always a good thing.
2. Gonzaga 23-5 (13-3 WCC)
Gonzaga grabs the number two seed out of the West Coast Conference this year. This is the first season since 2000 that the Bulldogs have not claimed at least a share of the regular season crown. The No. 2 seed will also ensure that Gonzaga will not play a game until the semifinals of the conference tournament. With Mark Few at the helm and the three headed monster of Pangos, Harris, and Sacre, Gonzaga is still one of my favorites to win the conference tournament.
Who Will Win the WCC Tournament?
3. Bringham Young 24-7 (12-4 WCC)
BYU concludes their first season in the WCC by grabbing the three seed. An impressive first go around for the Cougars could not only earn them a NCAA tournament bid, but conference tournament championship in their first season. Despite an early slip up to Utah State, four of BYU's losses have come against current Top 25 teams. No Jimmer Fredette, no problem as seniors Brandon Davies (14.9 ppg) and Noah Hartsock (16.8 PPG) have carried the Cougars this year. BYU may not have to win the WCC to get into the tournament, but I do they think they may need to get to the championship game to secure a bid.
4. Loyola Marymount 19-11 (11-5 WCC)
Loyola Marymount may be the hottest team coming into the WCC tournament. LMU has won seven of their last nine games including a Bracketbuster game against Valporaiso (Horizon League Regular Season Champion). Watch out for this LMU team as they can play great basketball against top tier teams. The Lions have knocked off No. 25 St. Louis, No. 20 UCLA, and No. 16 St. Mary's this year and are my sleeper team to have a chance at winning their conference tournament.
5. San Fransisco 18-12 (8-8 WCC)
The Dons of San Fransisco grab the number five seed for the second consecutive year in the WCC. They also come into the conference tournament red hot. The Dons have won six of their last nine games. Their three defeats during that stretch are by combined 10 points. Like Loyola Marymount, don't be surprised to see this team make a run in the conference tournament.
Highlights from St. Mary's vs BYU Earlier this Season
6. San Diego 12-17 (7-9 WCC)
The drop off in the WCC begins with San Diego. The Tereros have done a nice job this year with beating the teams that they are expected to beat but have struggled against the top tier teams in the conference. Because of the format of the WCC tournament, San Diego could potentially win one game but I don't see them getting any further than that. While this year won't be the year for San Diego, they do have nine freshman on their current roster. The Tereros WILL be a contender in the future.
7. Pepperdine 10-18 (4-12 WCC)
After a decent 7-5 start to the 2011-2012 season, the Waves of Pepperdine have completely become undone. The Waves have lost 13 of their last 16 games. Pepperdine may give San Diego a run in the six vs seven game, but I wouldn't be surprised if they don't.
8. Portland 6-23 (3-13 WCC)
The Portland Pilots limp into WCC tournament with a 3-13 conference record. Like San Diego, their only hope at getting a win in the conference tournament will be their first round game against Santa Clara. The Pilots have been destroyed in most of their games against the top four teams in the league, a sure recipe for conference tournament disaster. Better luck next year Pilots.
9. Santa Clara 8-21 (0-16 WCC)
Santa Clara failed to win a game in the conference during the regular season. However, I think the Broncos take their early season momentum from wins over Villanova and New Mexico and win a game in the WCC tournament.
The Takedown
Here is how I see the WCC tournament playing out.
Opening Round
No. 9 Santa Clara over No. 8 Portland
Second Round
No. 5 San Fransisco over No. 9 Santa Clara
No. 6 San Diego over No. 7 Pepperdine
Quarterfinals
No. 5 San Fransisco over No. 4 Loyola Marymount
No. 3 BYU over No. 6 San Diego
Semi-Finals
How Many NCAA Bids will the WCC Get?
No. 1 St. Mary's over No. 5 San Fransisco
No. 3 BYU over No. 2 Gonzaga
Championship
No. 1 St. Mary's over No. 3 BYU
West Coast Conference Champion: St. Mary's (27-5 7 Seed in NCAA tournament)
he Final Buzzer
It will be very interesting to see how many teams the WCC ends up with in the NCAA tournament. In a league that has built their resume substantially in the past 10 years, I don't see this year being one in which any of the NCAA bids makes a deep run. Whether they get one, two, or three, I think it will be a tough first weekend for the WCC as none of them will make it to the Sweet 16 in 2012.
This article is
What is the duplicate article?
Why is this article offensive?
Where is this article plagiarized from?
Why is this article poorly edited?