What Rex Ryan Needs to Change to Lead Jets to Super Bowl
February 13, 2012
Rob Carr/Getty Images
The last time I checked, two AFC Championship game appearances do not equal a Super Bowl win. So I think it is fair to say that all Rex Ryan has brought the New York Jets is a lot of talk without much substance. If Rex continues down his path, he will never lead the Jets to their second Vince Lombardi trophy. 
Rex's problem does not lie with the defense. Ryan is a great defensive coordinator, as he has shown when he held the position with the Baltimore Ravens from 2005 through 2008. During his tenure, his defense ranked fifth, first, sixth and second overall in the league.
Ryan also received Assistant Coach of the Year awards from Pro Football Weekly and the Pro Football Writer's Association.
Since coming to the Jets, he transformed a 16th-ranked defense to the NFL's top unit in 2009. Last season, the Jets defense ranked third and this season, it was ranked fifth.
Rex is one of the brightest defensive minds in the NFL today. His problem does not lie with the defense, it lies in interfering with the offense. It also lies with his enamoration of his stars as well as his failure to control the locker room.
"It looks scary," Ryan said. "You have that group out there and then you have Dustin (Keller) at your tight end and either Shonn Greene or (LaDainian Tomlinson) in the backfield — that's what we've been waiting for."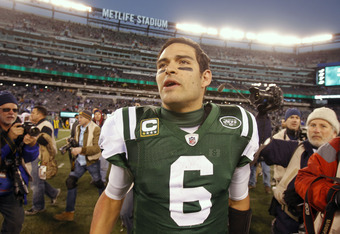 Rich Schultz/Getty Images
That is how Rex described the offense after a practice in the preseason. The group he was referring to was newly acquired Plaxico Burress, soon-to-be locker room cancer Santonio Holmes and Derrick Mason.
Just who's to blame for bringing in Burress and Mason? Was it general manager Mike Tannenbaum or Rex's decision? I choose to believe it was the former as Ryan has spoke glowingly of Plax in the past and has a prior relationship with Mason from his days in Baltimore.
Why would Rex bring in an out-of-the-league, 34-year-old receiver in Burress in favor of the younger Braylon Edwards, who had already developed a chemistry with Mark Sanchez, becoming the QB's favorite deep target?
Edwards led the team in receptions and receiving yards just a season ago.
Ryan and Tannenbaum also let Jerricho Cotchery go and replaced him with Mason. Cotchery was Sanchez's favorite target in his rookie season.
Talk about setting your young QB up for disaster.
Not only did Rex strip Sanchez of his weapons, he also put him on a short leash. After starting the season 2-2 with more of a pass-friendly offense, Ryan switched back to the ground-and-pound game.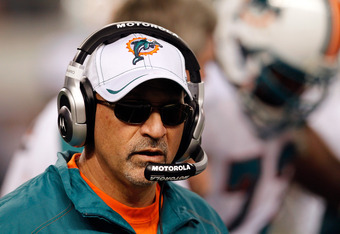 Tom Pennington/Getty Images
First of all, was there a need to move away from the successful ground-and-pound game in the first place? Second of all, if you do the switch, shouldn't Rex have given Sanchez a little more time with the new offense?
Such is Rex. Rex needs to change his philosophy with the offense. He needs to pick an offensive coordinator and let him run with it. Hopefully, he has found that with new OC Tony Sparano.
Sparano is more of a run-first coordinator with head coaching experience, and he seems like the perfect fit as he has better credentials than former offensive coordinator Brian Schottenheimer. Sparano could also challenge Rex if he tries to stick his nose in the offense, where it doesn't belong.
I'm not saying Rex should not be involved at all. He should be in the know, but he should not be calling plays or changing offensive philosophies in the offseason, much less after four games.
For Rex to lead this team to a Super Bowl, he needs to take a step back from the offensive side and focus more on defense.
He also needs to get control of his locker room. How can any successful head coach not have the ''pulse" of his team?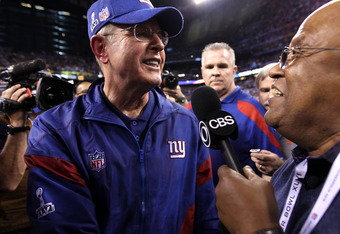 Jamie Squire/Getty Images
How could Rex have not seen the problems between Santonio Holmes and Mark Sanchez? Was he busy writing up another speech guaranteeing a Super Bowl or how much better the Jets were than the New York Giants?
It may be time for Ryan to keep his mouth shut next season in the public and save his brash talk for the locker room.
Rex does not have to throw his whole approach to coaching away, he just needs to tweak it. He doesn't need to look that far for an example of a coach who tweaked his disciplinarian approach and went on to win two Super Bowls, his second coming this past season.
Tom Coughlin's military-like style was wearing thin with his players five years ago until he got some help from Kurt Warner on how to tone it down and better connect with his players.
Ryan may have to go the other direction. The Jets players may not need a coach who is just their buddy, but rather a buddy and a disciplinarian.
Then, he just might lead to lead the Jets to a Super Bowl.