Predicting Where Kobe Bryant Finishes on All-Time Scoring List
Chris Chambers/Getty Images

Kobe Bryant was supposed to decline this season. He was supposed to finally succumb to old age and start the process of handing the reins over to Andrew Bynum and the other good players on the Los Angeles Lakers.
Since when has Kobe ever done exactly what he was supposed to?
Instead, he's leading the NBA in scoring with 29.4 points per game thus far in the 2011-2012 campaign while almost single-handedly keeping the Lakers afloat.
Recently, he passed Shaquille O'Neal on the all-time scoring list, a milestone that must have been particularly satisfying. That means only four players now have scored more points than Bryant.
When it's all said and done and Kobe finally calls it quits, there won't be any.
Begin Slideshow

»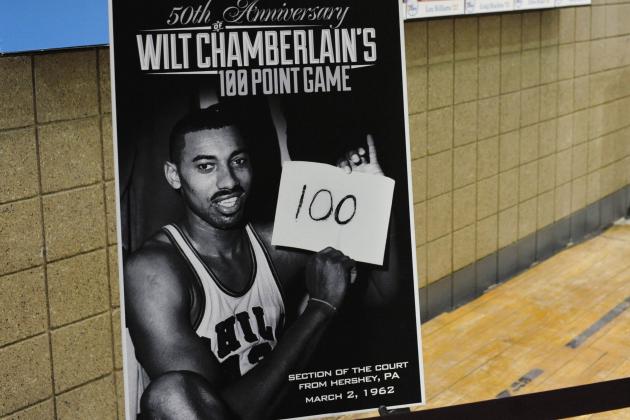 Howard Smith-USA TODAY Sports

At the time of this writing, Kobe Bryant has scored 28,662 points, good for fifth place on the all-time points leaderboard.
The next man he has to pass is none other than the first great scorer in the history of this beautiful game: Wilt Chamberlain.
Throughout his illustrious career, the big man scored a grand total of 31,419 points, putting him 2,757 points ahead of Bryant.
Assuming conservatively that Kobe averages 20 points per game, he would need to play another 138 games to surpass the former Los Angeles Laker. Since that's a conservative points per game estimate and it would still only take Bryant a little less than two seasons to pass Chamberlain, it's safe to say he'll move up to at least No. 4.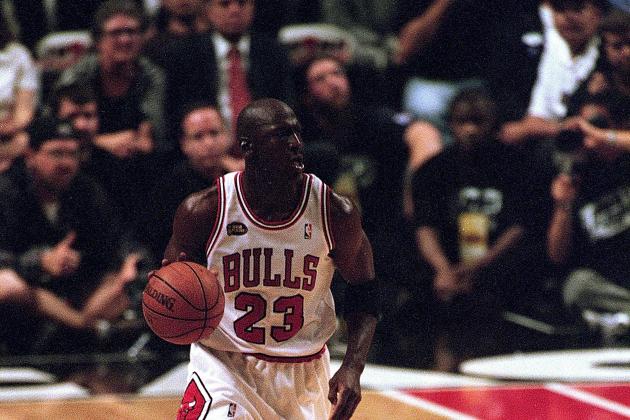 Jonathan Daniel/Getty Images

Kobe Bryant has always wanted to one-up anything and everything that Michael Jordan did in his career.
Not many things would be sweeter than passing the greatest player of all time on the scoring leaderboard, but there's still quite a bit of work left to do before Kobe can move up to No. 3 on the list.
Since MJ amassed 32,292 points in his legendary career with the Chicago Bulls and Washington Wizards, Kobe would need to score 3,630 more points to tie Jordan.
Using the same 20 points per game estimate, which I maintain is too low, it would take Bryant 182 more games to reach this goal. Assuming he plays 35 more games this season and 74 each during the 2012-2013 and 2013-2014 seasons, Bryant would be able to retire at 35 and be No. 3 on the scoring leaderboard.
That still doesn't seem like too big of a stretch.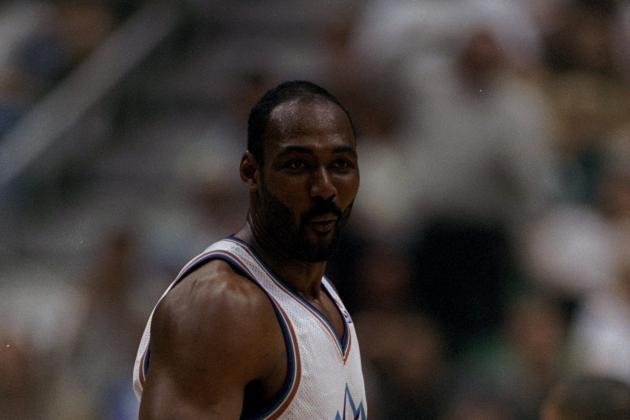 Todd Warshaw/Getty Images

Now this is where it gets a little bit tougher since Karl Malone is significantly ahead of Michael Jordan on the ladder.
The Mailman played in the NBA until he was 40 years old and remained productive at an elite level up through that final season. As a result, he was able to score a ridiculous total of 36,928 points in his unfortunately ringless career.
As many points as our hero in question has scored thus far in his incredible NBA journey, he's still 8,266 points behind Malone.
If we use the same 20 points per game pace that we've been using over the past two slides, it would take Bryant 414 more games to surpass Malone. If he plays 35 more games this season and then 70 games per season for the rest of his career, he'd have to play six more seasons after this one.
That would make him retire at age 39 after the 2017-2018 season.
But then again, Bryant has averaged at least 25 points per game during 11 of the last 12 seasons and he's scoring 29.4 points per contest this season. If we assume that he puts up 25 points per game instead of just 20, he'd only have to play 330 more games and he'd get to retire one season earlier.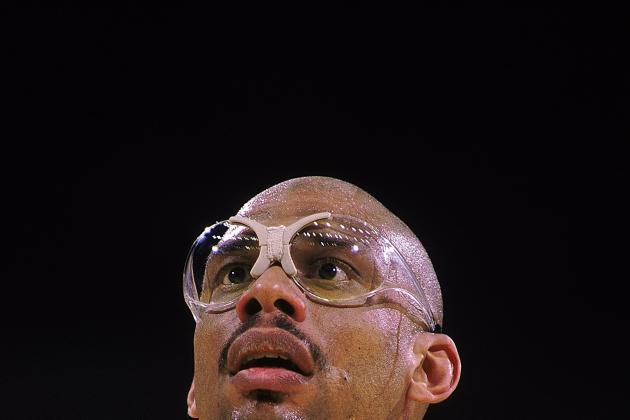 Tim DeFrisco/Getty Images

If passing Karl Malone is tough, passing Kareem Abdul-Jabbar is nearly impossible. But if anyone can work his way past the former Los Angeles Laker, it would be the current star of the same team.
The master of the sky hook, Kareem entered the league as a 22-year-old and immediately scored 28.8 points per game before leading the NBA in scoring each of the next two seasons. He ended up playing until he was 41 and never missed significant time because of any injury.
The combination of his skill, longevity and unstoppable shot helped Abdul-Jabbar score more points than anyone else in basketball history: the supposedly-untouchable mark of 38,387 points.
Right now, Kobe Bryant is still a staggering 9,725 points behind the all-time leader.
If we assume the 20-points-per-game pace, Kobe would have to play another seven seasons of 70 games per year. That would leave him retiring at age 40 after the 2018-2019 season.
However, if we assume the 25 points per game pace, Kobe would only have to play another five seasons of 71 games per year. That would leave him retiring at age 38 after the 2016-2017 season.
It would be hard to do, but I think he'll get there. The next few slides will explain why.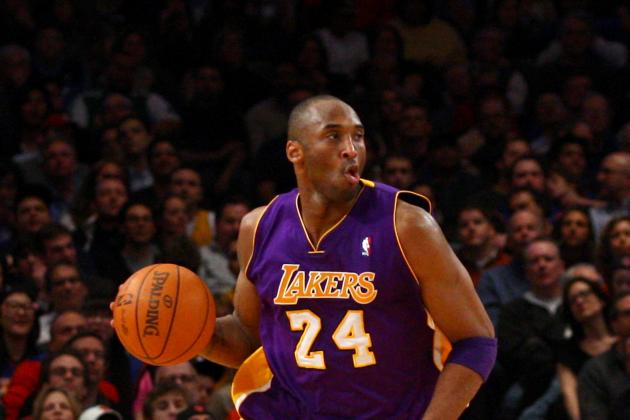 Chris Chambers/Getty Images

It's hard to believe when you see the Black Mamba flying the air for another rim-rattling dunk, but Kobe Bryant is actually aging.
He's been in the league since the 1996-1997 season, which he played at the ripe young age of 18 years old. Now, Bryant is 33 and playing his 16th season at the NBA level.
Going into this season, I actually thought age would become a factor for Kobe. But as he loves to do, he's proved me and all the other doubters completely wrong.
Bryant's scoring average of 29.4 points per game is his highest in the category since he led the league in scoring as a 27-year-old in 2006-2007 at a clip of 31.6 points per contest.
A combination of the highest usage rate of his career (other than the 2005-2006 campaign) and a ridiculous skill set has really helped Kobe to mitigate the inevitable downturn in his athletic abilities.
It's obviously tough to play late into your 30s, but throughout the years,great players have done so. Ray Allen currently is, and the players that Bryant is chasing did as well.
As you'll see on the next two slides, age won't really be too much of an issue for Bryant.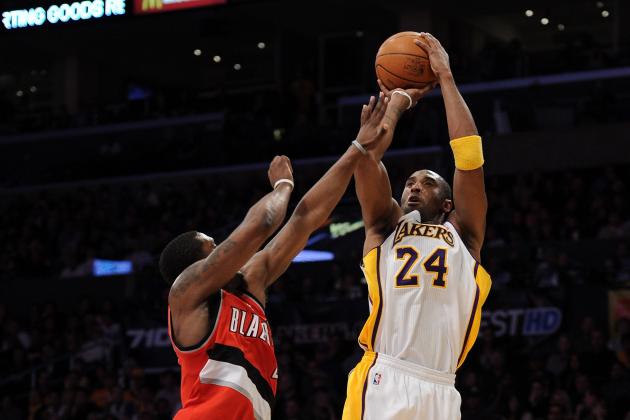 Harry How/Getty Images

Part of the reason that Kobe Bryant has been able to stave off Father Time thus far is his changing skill set.
While young Kobe relied on his athleticism and the powers of his afro to dominate the opposition, older Kobe is becoming craftier and just simply more skilled.
Just as Michael Jordan added a fadeaway to his arsenal as he aged and Kareem Abdul-Jabbar continued using his unfair sky hook, Bryant has added shots to his game. This season, the weapons of choice seem to be face-up jumpers and ridiculous spinning jump shots that result in fadeaways. The degree of difficult for Bryant's game is off the charts, but somehow he consistently hits his shots.
Here's a sampling of Facebook messages that I sent to a friend during the Los Angeles Lakers' battle with the New York Knicks:
"Do you think Kobe realizes that the shots he attempts are too difficult or does the I NEED TO CATCH KAREEM though trump everything else. Not that it matters since he hits them all."

"Watching Kobe is hilarious sometimes. Goddamn. Kobe is just incredible."

"Holy **** how did he make that!?!?!"

"How good is Kobe?"
Kobe's skill set has advanced to a point that he's going to be able to continue to score at an elite level deep into his 30s.
Although he's still making the vast majority of shots he attempts at the rim, Kobe is starting to take less attempts there. This season, he's only attempting 3.2 shots per game in that area of the court, down from 3.5 the season before. From 2007-2010, he averaged 5.1, 5.1, 4.4 and 4.9 shots per game at the rim, respectively.
Meanwhile, his shots from the 10- to 15-foot range and the 16- to 23-foot range are as high as they've ever been. The latter category took a particularly large jump as he's now attempting 8.7 shots per game from the 16-23-foot range and making 44 percent of those attempts, both of which are higher than any other year since the 2006-2007 season.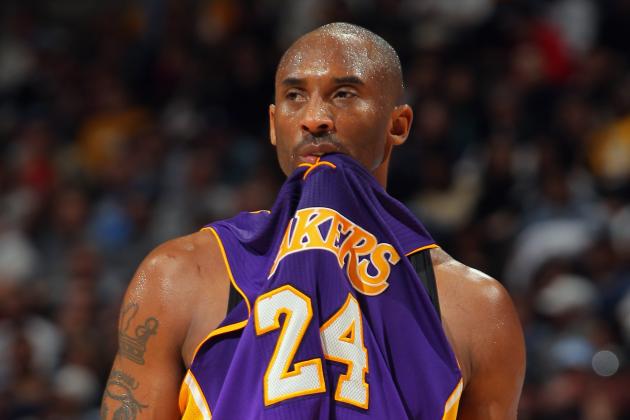 Doug Pensinger/Getty Images

Perhaps the biggest factor of all is motivation, and that's not something that No. 24 is lacking in. Not at all.
Although Kobe Bryant has stated that a sixth ring is the biggest motivator left in his basketball career, there's no doubt he wants to be the record-holder in one of the most prestigious statistics in all of basketball.
A student of the game, you can be sure Kobe knows exactly how many points Kareem Abdul-Jabbar scored and exactly how long he has to play to get there.
This man lives basketball. He sleeps basketball. He eats basketball. He dreams basketball. He think basketball. He loves basketball. He (insert verb)s basketball.
Kobe Bryant without a purple and gold jersey on simply isn't Kobe Bryant anymore. He's going to want to continue to play in the NBA as long as his body will hold up.
Until he gets that sixth ring, which doesn't look to be happening soon unless the Lakers make a major move, Kobe is going to keep playing with his unrelenting drive and passion.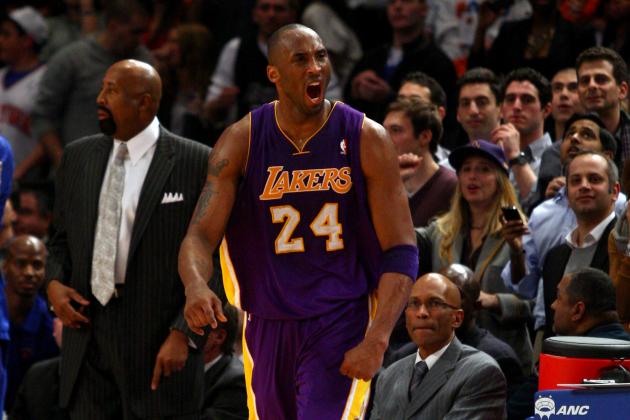 Chris Chambers/Getty Images

So what exactly would Kobe Bryant need to do to catch Kareem Abdul-Jabbar? I've been operating under the 20-points-per-game and 25-points-per-game guesses thus far, but I'm actually going to use more realistic estimates on this slide.
The following chart shows exactly what Kobe would need to do to become the all-time leading scorer in NBA history:
| | | | | | |
| --- | --- | --- | --- | --- | --- |
| Year | Age | PPG | GP | Seasonal Points | Behind Abdul-Jabbar |
| 2011-2012 | 33 | 28.0 | 38 | 1,064 | 8,661 |
| 2012-2013 | 34 | 26.0 | 80 | 2,080 | 6,581 |
| 2013-2014 | 35 | 25.0 | 78 | 1,950 | 4,631 |
| 2014-2015 | 36 | 25.0 | 77 | 1,925 | 2,706 |
| 2015-2016 | 37 | 23.0 | 75 | 1,725 | 981 |
| 2016-2017 | 38 | 21.0 | 75 | 1,575 | 594 ahead |
Are any of those numbers really that unrealistic?
Its going to be tough for Kobe to maintain his current pace of 29.4 points per game, but would you really doubt that he can continue to score 28 per contest for the rest of this season? By playing 38 games, he'd be taking part in all but one Lakers' games this season.
Ever since the beginning of the 2005-2006 season, Bryant has played at least 73 games and he's played in all 82 three separate times over that span.
As his motivation and desire continues to burn away at his insides, there's no way that anything less than a broken leg or arm would keep this guy off the court for more than a single game. I am assuming he avoids those major injuries, but Bryant has swatted away the pesky injury imp time and time again.
There are a hell of a lot of assumptions made here, but I wouldn't be at all surprised if Kobe didn't hang up his sneakers until he was basketball's all-time leading scorer.