2012 NFL Draft: Why Buffalo Bills Will Select Melvin Ingram in First Round
February 12, 2012

Andy Lyons/Getty Images
I have a feeling that the 2012 NFL Draft is going to be one of those April Christmases that presents the Buffalo Bills with a lot of options. In fact, it might be unsettling to fans knowing that there may not be one unanimous clear-cut choice when the Bills are on the clock.
Sitting at pick 10 in the first round, Buffalo will certainly have a chance to land an immediate-impact player. The question is, who?
They need help at WR; Justin Blackmon could be available.
They need help on the offensive line; Riley Reiff, Jonathan Martin and/or Mike Adams might be sitting there for the taking.
They need help at corner; Dre Kirkpatrick is solid, and what if Morris Claiborne drops?
And they need help rushing the passer; even if Quinton Coples is gone, prospects such as Melvin Ingram, Courtney Upshaw, Devon Still and Nick Perry have promising futures. 
So how do the Bills decide what to do with their first-round pick?
Obviously, much of their decision will be decided by what other teams choose to do ahead of them in the draft. My expectation is that elite talents like Blackmon (WR), Reiff (OT), Martin (OT), Coples (DE) and Claiborne (CB) will all probably be gone by the time Buffalo makes its selection.
If that's the case, the choice comes down to two players, in my opinion: Melvin Ingram and Courtney Upshaw.
Here's why Ingram gets the nod.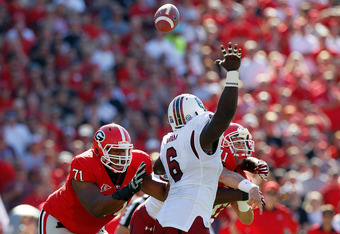 Kevin C. Cox/Getty Images
Both players are skilled pass-rushers and both have similar builds. Ingram is 6'2", 276 pounds while Upshaw is 6'2", 265 pounds.
Both are experienced with decorated collegiate careers from quality programs.
Both players help address a need for the Bills.
The primary difference between these two prospects is that Upshaw is primarily suited as an OLB for a 3-4 defense while Ingram is a bit more versatile and can contribute at multiple positions. For this reason, Buffalo will pull the trigger on Ingram with the 10th overall pick.
Ingram's versatility is achieved by his combination of speed, power and athleticism. According to TFY Draft Insider, there is speculation that Ingram will run his 40 time in the 4.6 range, which would be impressive for his size. If this were to happen, TFY's writer suggests that the former Gamecock "will skyrocket up boards."   
Rotoworld calls Ingram "the draft's most versatile pass rusher, capable of playing linebacker, end, and tackle." This kind of versatility will be extremely attractive to Buffalo, who desperately needs an answer to their problem of getting to the quarterback.
Ingram could be used as a 4-3 DE for the Bills and could also bounce outside as a 3-4 OLB when the team uses its hybrid fronts. 
Even more, with All-Pro DT Kyle Williams and former second-round pick DT Torell Troup both returning from injuries, Ingram's ability to slide over to DT will be valuable for Buffalo in case one or both of these players misses time.
Bills' lead journalist Chris Brown believes that Ingram "has every bit the power to his game as Upshaw and might offer more speed and athleticism."
This is not to take anything away from Courtney Upshaw. He is a unique talent who will have immediate success in the NFL. Unanimously ranked as the top OLB prospect this year, his talents would be embraced at the Ralph, and I'm sure his former teammate Marcell Dareus will be pushing hard for him to be the Bills' first-round selection.
But this debate is a matter of splitting hairs, and if we split the hair between these two young players just right, it might suggest that Ingram is actually the better fit for what Buffalo is trying to do defensively.
Either way, come April, Bills fans should be able to agree on one thing: If the Bills take one of these players, they will get themselves one heck of a pass-rusher.
Follow me on Twitter: @JoshCembellin