NFL Draft 2012: 10 Prospects That Scouts Will Be Watching Closely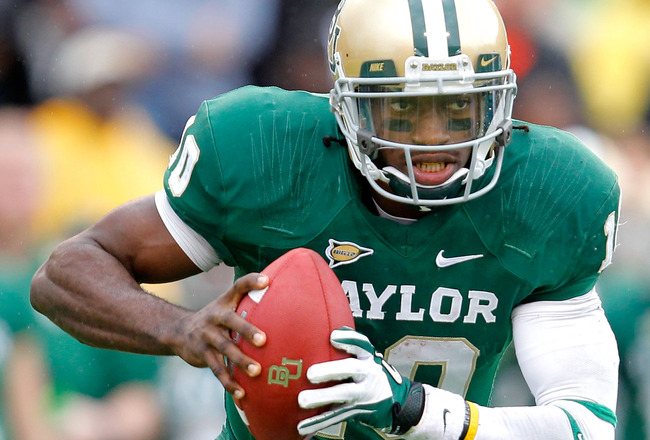 Sarah Glenn/Getty Images
The NFL Scouting Combine is coming up soon.
For some players, like Andrew Luck, Robert Griffin and Trent Richardson, the combine isn't as important.
But for players on the bubble, it can be the difference maker, and of course, it's those bubble players that the NFL scouts will be the most interested in.
Here's a list of 10 such players that Scouts will be expecting big things from at the combine, and watching closely.
1. Vinny Curry, DE/OLB, Marshall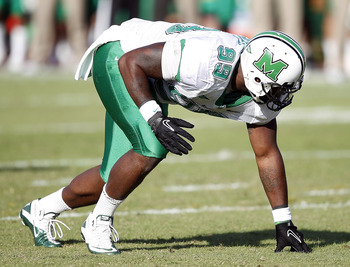 Bob Levey/Getty Images
Vinny Curry had a fantastic season, had good measurements at the Senior Bowl weigh-in and then had a good (but not dominant) Senior Bowl.
Curry is one of the prospects I've had my eye on for awhile now, and I find myself rooting for him to do well. He had 40 tackles for loss in his last two years as a starter and 23 sacks.
That's a lot of production.
He mostly played lower level competition though, so that hurts him a little.
Still, he had a good showing at the Senior Bowl, and will probably be taken in the late first round right now. However, another good weigh-in at the combine and a good performance could boost him up even higher.
On the flip side, a bad day would knock him down to the second round.
2. Russell Wilson, QB, Wisconsin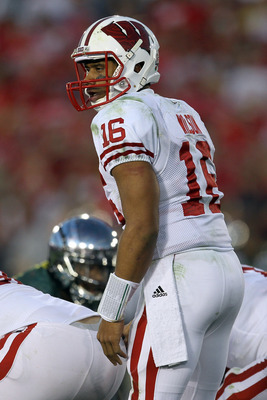 Stephen Dunn/Getty Images
Russell Wilson had a great season and a postseason that's been just as good so far.
He was great in the Rose Bowl, despite his team's loss, he had a pretty good weigh-in for a guy everyone already knew was short (good weight, reach and hand size) and he looked great every time he was on the field in the Senior Bowl.
He's already elevated his stock quite a bit, but the Combine presents him yet another opportunity to help himself. If he gets a great 40 time, shows good poise and touch in throwing drills and does well on the Wonderlic, he'll be even more hyped.
Of course, the problem he can't get past is his height.
At 5'10 and 1/2" tall, he's too short for any team to risk taking in the first or early second round.
However, if he does well at the Combine, I wouldn't be surprised if someone grabbed him as early as the second round as an interesting developmental prospect.
3. Mike Adams, OT, Ohio State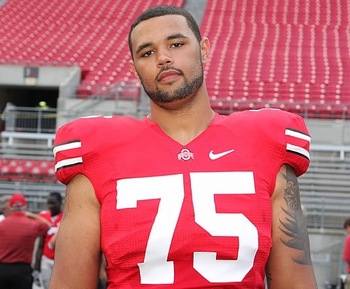 Mike Adams is a bubble player right now, but the bubble is top-15 or top-25, so I doubt he's complaining much.
Adams was thought to be a mid-second round selection until the Senior Bowl, where he exploded.
Almost no one got past him.
He regularly shut down opposing pass rushers on both speed rushes and bull rushes. While he didn't bump up his stock past Riley Reiff or Jonathan Martin, he firmly placed himself in the first round.
Scouts will be watching him at the Combine to see if the magic continues.
If it does, he could end up being this year's Tyron Smith.
4. Isaiah Pead, RB, Cincinnati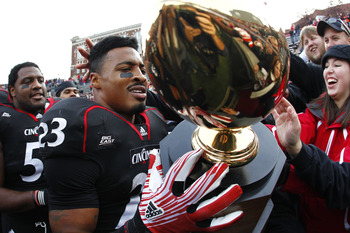 Tyler Barrick/Getty Images
Cincinnati had a pretty good season, and if they hadn't lost their starting quarterback near the season's end, they probably would've won the Big East (their only loss before that was to a full-strength Tennessee team on the road).
Of course, the lion's share of their offense was running back Isaiah Pead.
Pead rushed for over 1,000 yards in both 2011 and 2010, not to mention nearly getting there in 2009 as a sophomore.
Pead slowed down near the end of the season and lost some stock, but he had a great Senior Bowl, even winning the MVP trophy (which certainly worked wonders for Christian Ponder last year).
Scouts will want to know which Pead they'll get by selecting him—the one who looked great at he Senior Bowl, or the one that looked slow and weak at the season's end.
5. Kendall Reyes, DT/DE, Connecticut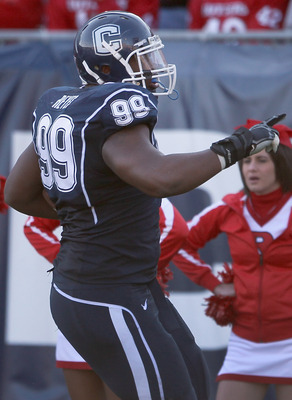 Elsa/Getty Images
Rounding out the list of players who did well in the Senior Bowl is Kendall Reyes.
Reyes had a great season, but nothing that would make him look like anything other than a second or third rounder.
Then Senior Bowl week came around.
Reyes was unstoppable. Nearly every offensive lineman that matched up with him was beaten. He was great.
Now, it could be he's lazy, it could be that the rest of his team was no good and made it tougher for him, it could be a lot of things that made him look so much better in the Senior Bowl than in the regular season, but we don't know.
It's something scouts will be looking for. If he does well at the Combine, it will remove a lot of doubts and could push Reyes into the top of the second round.
6. Whitney Mercilus, DE/OLB, Illinois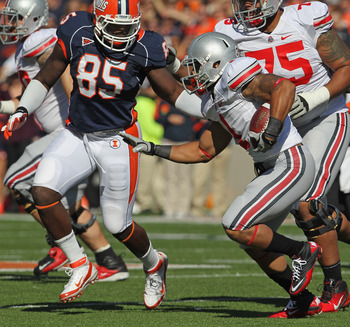 Jonathan Daniel/Getty Images
Whitney Mercilus had an FBS leading 16 sacks and 22 tackles for loss this season. That'll get some attention right there.
I've seen him compared to Jason Pierre-Paul and Aldon Smith quite a bit, but I've also heard people say he isn't nearly the athlete that they were.
Well, the Combine will be his chance to prove them either right or wrong.
There's no question that Mercilus can get to the quarterback. I've also heard that he is a high-motor player, and the fact that he put in such a tremendous effort in 2011 after losing part of a finger gives some credence to those rumors.
If he looks like an athletic player at the combine, he could very well be the first defensive end off the board.
7. Melvin Ingram, DE, South Carolina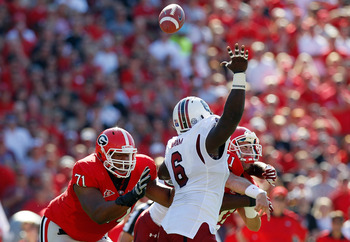 Kevin C. Cox/Getty Images
Melvin Ingram started out this season in the shadow of teammate Devin Taylor, but it soon became clear that Ingram was the far better player.
Ingram is powerful, relentless, and hard working. He's also got enough size (276 lbs.) to play a 4-3 defensive end, despite his short height and reach.
He's been mocked as high as No. 12 because he's the complete package (minus the height and reach thing), but he'll need to keep that up at the Combine.
NFL Scouts from teams picking in the top-15 have to have no questions about a player's abilities if he's a little undersized. They'll want to keep seeing Ingram light it up.
Of course, he's been nothing but stellar so far; I don't see why he'd be anything less at the Combine.
8. Dre Kirkpatrick, CB, Alabama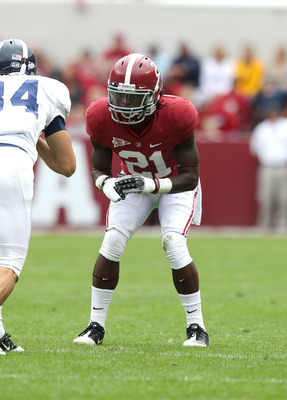 Mike Zarrilli/Getty Images
After he was arrested for possession of marijuana, Dre Kirkpatrick's stock went down a little, but it wasn't a serious offense, so it won't hurt him that much.
However, the arrest along with a less than stellar performance at the Combine will.
Kirkpatrick had no interceptions this season, which is alright as he had nine broken up passes and wasn't often tested by opposing quarterbacks. However, that lack of production means that scouts will be watching him extra close for any weaknesses in his game.
If those weaknesses show up in the Combine drills, then scouts will be tempted to pass on him when draft day rolls around.
9. Vontaze Burfict, ILB, Arizona State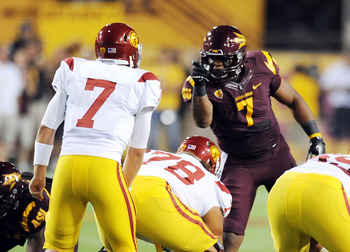 Norm Hall/Getty Images
Vontaze Burfict had a very strong start to the season, but finished weak. You can bet that scouts will be watching him to try to understand why.
Personally, I think a big, athletic linebacker like Burfict will blow the Combine away and reassert himself as a top pick in the draft, but we don't know that yet.
At the beginning of the season, Burfict was being called "the next Ray Lewis," by everyone who watched him. If NFL scouts see that there's still some truth to that, then he'll be a top 10 pick once again.
If he does less than great, he probably won't boost his stock too much.
10. Robert Griffin, QB, Baylor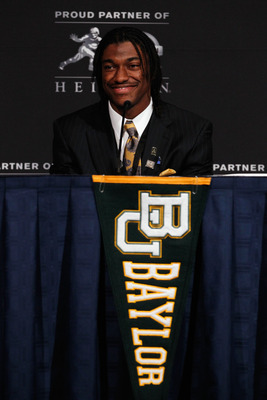 Jeff Zelevansky/Getty Images
Teams aren't going to be watching Robert Griffin to see if they want him—they'll be watching to see just how badly they want him.
Griffin does have a special mix of talents: accuracy, a pretty big arm, fantastic speed, great discipline and intangibles, and of course, he is clutch.
Right now, the favorite to land Griffin is the Cleveland Browns because they have the highest pick among quarterback needing teams and because they have two first round selections.
Of course, the Redskins will be interested too, and their scouts will be watching Griffin to see if he's the kind of guy they'll sell the farm for.
The same goes for the Seahawks, the Dolphins and the Chiefs.
One of these teams will get Griffin. The question is which one, and how much are they willing to give for him?
Keep Reading