Should the New England Patriots Pursue Reggie Wayne in 2012 Free Agency?
February 13, 2012
Ronald Martinez/Getty Images
From a deep class of receivers in the 2012 NFL draft, to a group of free agents brimming with talent, the New England Patriots will have plenty of chances to add firepower in the passing game.
Count Colts receiver Reggie Wayne is among those willing to join the team. Karen Guregian of The Boston Herald spoke to NFL Network analyst and former Patriots linebacker Willie McGinest, who said that Wayne would welcome the opportunity. 
McGinest, now an NFL Network analyst who did terrific work during Super Bowl week, cited an on-air chat with free agent-to-be receiver Reggie Wayne of the Colts.

"It came up in the conversation would he ever want to play for the Patriots," McGinest said. "He smiled and said, 'Who wouldn't want to play there?'"
To be fair, that's not exactly a groundbreaking statement for Wayne to make. The list of players that don't want to play for the Patriots is probably shorter than the list of players that do. 
It's not a question of whether or not the Patriots have the resources to invest. They have some spare change under the salary cap, estimated to be over $20 million. Re-signing Wes Welker should be the Patriots' biggest priority, but ESPN Boston's Mike Reiss doesn't think that should be a problem.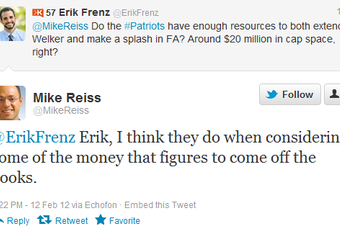 So none of that figures to be a problem with Wayne, and though his price tag would typically be a bit too high, this year's draft and free-agent classes are stocked with wide receivers. None of this year's free-agent wide receivers figure to pull in as much money as they might normally.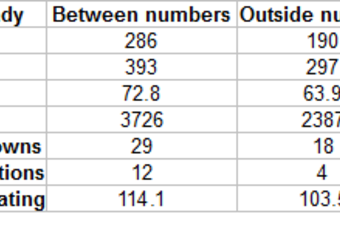 While there might be some better options available—Rams wide receiver Brandon Lloyd immediately comes to mind—Wayne would be a nice add to a Patriots offense that could use to stretch the field horizontally.
The questions from this perspective are twofold: the age, and the system.
At 33 years old, what does Wayne have left? He has carried the burden for the Colts in the receiving game for years, and the tread may be beginning to wear thin.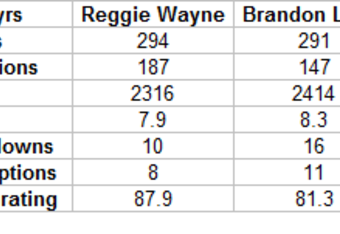 Tom Brady, admittedly, has always done his best work with veteran receivers that can come in, quickly learn the system and learn to play all the different receiver positions—X, Y, Z—and all the route combinations.
None of that is an issue with Lloyd, who was a great receiver under Josh McDaniels' tutelage with both the Denver Broncos and St. Louis Rams. Wayne is a smart receiver, but nothing quite beats experience in the system—and successful experience at that.
While it may not be an issue for Wayne, it's much less certain than with Lloyd. And he wouldn't be the first veteran receiver to fall flat on his face in New England. Just ask Joey Galloway or, dare I say, Chad Ochocinco.
Still, any wide receiver that can get the defense's eyes off the middle of the field would be a nice add for the Patriots.