NFL Draft: Ranking the Five Biggest Busts of All Time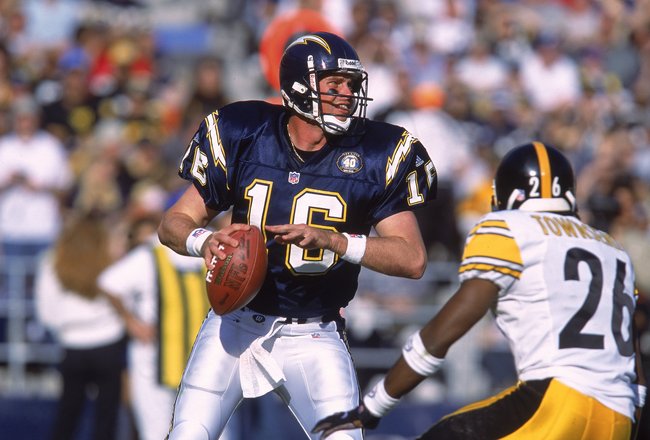 QB Ryan Leaf looks to throw the ball against the Pittsburgh Steelers
Stephen Dunn/Getty Images
With the draft rapidly approaching, it is about time to unveil the list of biggest draft busts. Gems are found in the draft—Tom Brady in the sixth round, for an example—but busts occur year after year and could thwart a team's revival for several seasons.
As we look through very, very significant draft busts that stung their teams for years, you'll see why it is smart to think before you draft.
Honorable Mentions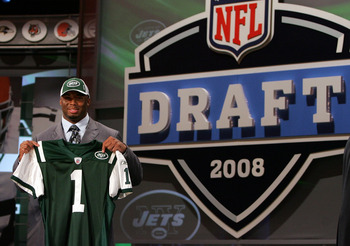 DE/OLB Vernon Gholston At The Radio City Music Hall
Jim McIsaac/Getty Images
3. Quarterback Joey Harrison (3rd Pick Overall, 2002 Detroit Lions)
Harrison was a star at Oregon, but landed on Matt Millen's poorly structured roster. He ended up becoming a journeyman in the NFL. He was decent while he played in the National Football League but was not worthy of a first round pick at all.
2. Running Back Curtis Enis (Fifth Pick Overall, 1998 Chicago Bears)
Enis was phenomenal at Penn State. He had massive size, strong power and speed written all over him. He was going to be a boom or bust but ended up as the latter. Enis had so much potential, but it didn't work out for him in the NFL.
1. Defensive End/Outside Linebacker Vernon Gholston (Sixth Pick Overall, 2008 New York Jets)
Gholston was forecasted to be the future of the struggling Jets defense. The former Buckeye played a measly three seasons for the Gang Green, and the Jets wasted a normally useful pick. The zero-sack pass rusher now is a member of the Chicago Bears.
Five: Tim Couch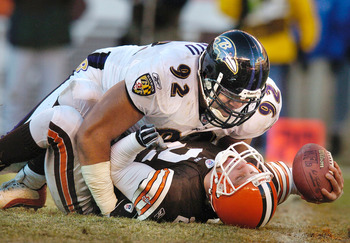 Browns QB Tim Couch Getting Hammered
David Maxwell/Getty Images
5. Quarterback Tim Couch (First Pick Overall, 1999 Cleveland Browns)
Like every other bust mentioned on this list, Couch was a star quarterback in his college days. After deciding not to pick Donovan McNabb, the Browns were debating whether to take Couch or Akili Smith. Although McNabb is on the decline, he is 10 times better than the other two quarterbacks.
If the Browns made the right choice and selected McNabb, they would be in playoff contention consistently, even if McNabb isn't as good as he used to be. The Browns still have problems at the quarterback position and need to draft Robert Griffin III or else they will have made another bad quarterback draft choice.
Couch had a rough beginning for the Browns but got them into playoff contention for a season. However, Couch got wrecked with injuries and was later outplayed by backup QB Kelly Holcomb.
Four: Akili Smith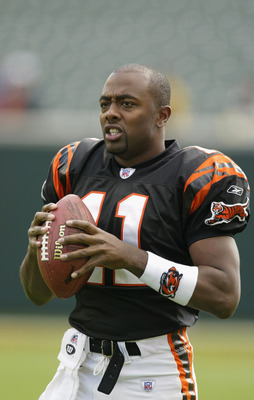 QB Akili Smith without his helmet
Tom Pidgeon/Getty Images
4. Quarterback Akili Smith (Third Overall Pick, 1999 Cincinnati Bengals)
Akili was flat out bad in the NFL. He was worse than Tim Couch and shouldn't even be compared to McNabb. He went on to play in the CFL and hasn't played since 2007. He had a three year stint with the Bengals before going to the Packers in the offseason and the Buccaneers a different offseason.
He was in the National Football League for only six years. That is horrific for Top 10 pick standards. He also scored below 15 on the wonderlic test. The wonderlic is being debated of whether it should be used, but it indicated a bust and should continue its existence.
Smith is currently starting up his coaching career.
Three: Charles Rogers
WR Charles Rogers While Playing For Detroit
A. Messerschmidt/Getty Images
3. Wide Receiver Charles Rogers (Second Pick Overall, 2003 Detroit Lions)
Charles Rogers wasn't a bad player. He had tremendous speed and even more potential. However, five games into his rookie season, he broke his collarbone and was out for the season. In the season opener the following season, he got injured and was out for the season again.
While Rogers was injured, he got caught up with drugs. They clearly took a toll on him, as his 4.3 speed decreased immensely. He was going to be something special but ruined his chances by a simple decision.
Andre Johnson was taken one pick after him.
Two: Ryan Leaf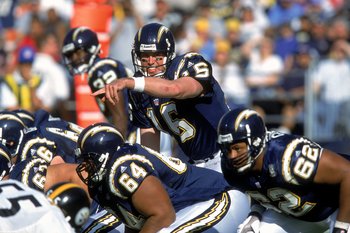 QB Ryan Leaf calling signals at the line
Stephen Dunn/Getty Images
2. Quarterback Ryan Leaf (Second Overall Pick, 1998 San Diego Chargers)
The Colts had the first overall pick that year and were seriously considering Leaf over Peyton Manning. The big debate that very spring was whether to draft Manning or Leaf. Evidently the Colts were right.
During a game against the Kansas City Chiefs, Ryan was 1-for-15 and had an abysmal five turnovers. Don Banks said Leaf "was a guy that was woefully immature." I agree with Banks 100 percent. Leaf completely destroyed himself on and off the field.
Leaf even had a moment when he yelled at a camera man. He read a written apology the next day, but immediately after, he crumpled it into a ball and threw it behind him. He had red flags all over him.
One: JaMarcus Russell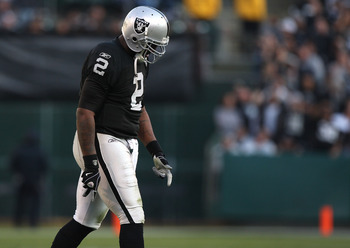 QB JaMarcus Russell Hangs His Head
Jed Jacobsohn/Getty Images
1. JaMarcus Russell (First Overall Pick, 2007 Oakland Raiders)
Russell came into the league with a $61 million contract. That is a ton of money for a player who has never even played in the NFL.
From day one, his career spiralled downward. He had fumbles, picks and had an even worse work ethic. He was lazy, sloppy and seemingly didn't care. He got caught up in drugs off the field. His weight bloomed up into the 300s, also.
Russell had way too much money for that young of a person. The new collective bargaining agreement thankfully restricts rookie salaries so busts aren't as negative as they have been in the past. Russell currently is a free agent.
Keep Reading