Jeremy Lin's Friendship with Former NBA Star Yao Ming Has Benefited Him
February 12, 2012

Rob Carr/Getty Images
New York Knicks point guard Jeremy Lin's friendship with former NBA star center Yao Ming has really helped him learn how to handle the fame and pressure of American pro basketball.
"I talk to Yao after every game," Lin said via the New York Daily News. "He's taken me out to eat every time we're in the same city. He's obviously a role model and a big brother to me and we keep in touch all the time."
If there's someone who knows what it's like to be the face of the NBA for your country, it's Yao, who has done an unbelievable job in growing the sport in China and across the continent of Asia. 
Even though Yao was forced to retire due to foot injuries last summer, he still finds himself in the basketball world as owner of the Shanghai Sharks in China and he actually tried to sign Lin to his Sharks team while the NBA was in the midst of a frustrating lockout, sources told Fox Sports.
Even though the two are on opposite sides of the globe, Yao keeps tabs on Lin and wants to know how he's doing.
"Yao cares for [Lin's] well-being,'' one person familiar with the relationship said. "He's that kind of guy.''
It's great that Lin has someone like Yao who knows the pressures of being a superstar on a global level that can help him grow and learn on the court as well as off of it. 
As Lin continues to impress his teammates, coaches and fans with his spectacular play, the expectations will grow immensely and any failures will magnified greatly under the microscope of New York City.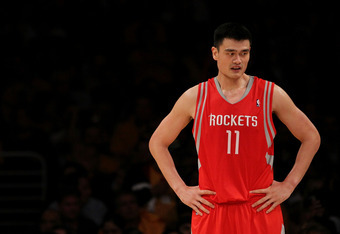 Jeff Gross/Getty Images
Having a role model like Yao will help Lin handle these expectations and pressures, so it's great that they keep in touch on a regular basis.
Too often we think of athletes as being the role models and we forget that even the popular stars like Lin can really be effected positively by having a role model of their own.
Yao has done so much for basketball around the world and his role in helping Lin become a great player will certainly help grow the sport even more.