FC Barcelona: 10 Reasons They Can Still Catch Real Madrid in La Liga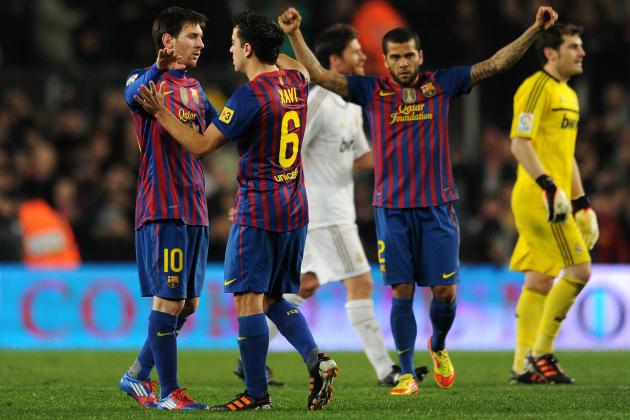 Jasper Juinen/Getty Images

Josep Guardiola's squad find themselves in an unusual situation. For three seasons they have been pointing and laughing in the rear-view mirror at a Real Madrid team that just seemed incapable of beating them in La Liga.
For the first time, however, Barcelona are doing the chasing.
Real Madrid took advantage of Barcelona's utterly atrocious performance against Osasuna to open up a veritable chasm of 10 points between them and their only rivals to another La Liga title.
It is almost natural to want to throw in the towel when one's team is so far behind. However, one thing we have learned from this Barcelona side is their tendency to defy all predictions and perform just when everyone decides that they have no hope left.
Here are 10 reasons why all is not lost.
Begin Slideshow

»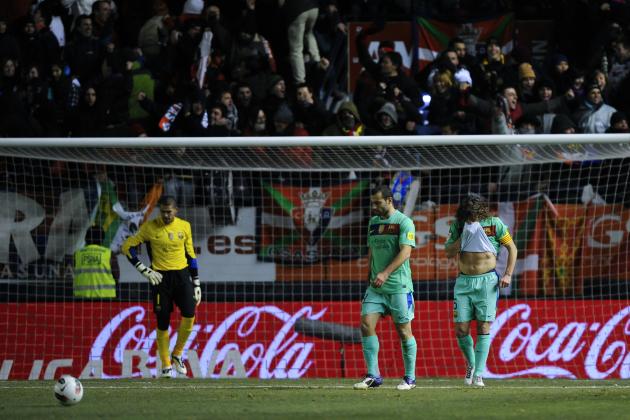 David Ramos/Getty Images

How bad can it get, really?
When a team has Xavi, Andres Iniesta, Lionel Messi and all the other brilliant players who understand each other so well, how much worse can the form get?
The answer to this: It can't.
Based on the insipid performances of the past month and a half, the only way is up for Barcelona. They can only improve from here.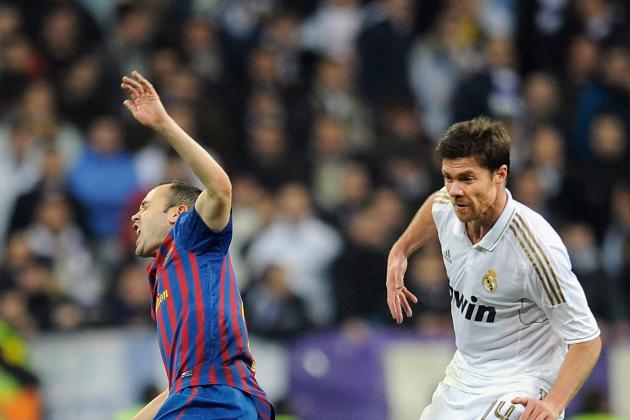 Denis Doyle/Getty Images

Andres Iniesta. Sergio Busquets. Pedro Rodriguez. Alexis Sanchez. David Villa.
This is just a subset of players who have been out of action in the last one month.
Add to this the constant niggles faced by Carles Puyol and even an injury to super sub Adriano, and we can see just how badly depleted Barcelona's squad is.
The good news is that Busquets and Iniesta are on the road to recovery. Both featured against Bayer Leverkusen, with Busquets playing for the full 90 minutes. Also, Pedro is working his way back to full fitness. Villa is the only remaining long-term injury on the list, since Ibrahim Afellay could be cleared to play by March.
As these important players return from their injuries, we can expect to see a return of the fluency that Barcelona have been lacking in the last month and a half.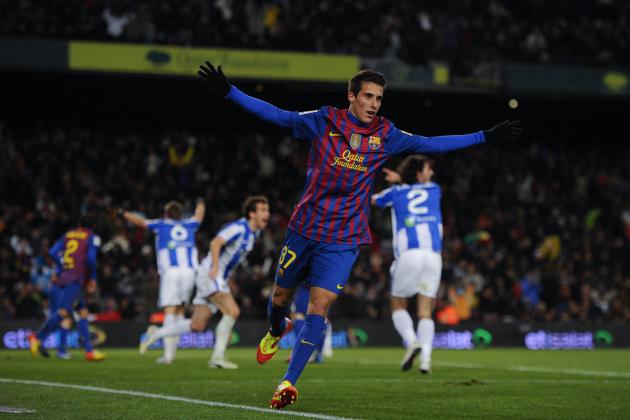 David Ramos/Getty Images

Against Osasuna on Saturday, Barcelona played an abysmal 90 minutes of football. However, three players could come out of that match with their heads held high: Thiago, Isaac Cuenca and Cristian Tello.
While Thiago and Cuenca are now full members of the first team, Tello is still officially a Barcelona Atletic player. However, these three youngsters have stepped up and showcased some brilliant football when the team needed them.
With Barcelona's attack severely depleted in the last few months, Tello and Cuenca have shown just how good they can be on Barcelona's flanks. Meanwhile, Thiago has proven that he can replace either Sergio Busquets or Andres Iniesta in midfield with the same level of comfort.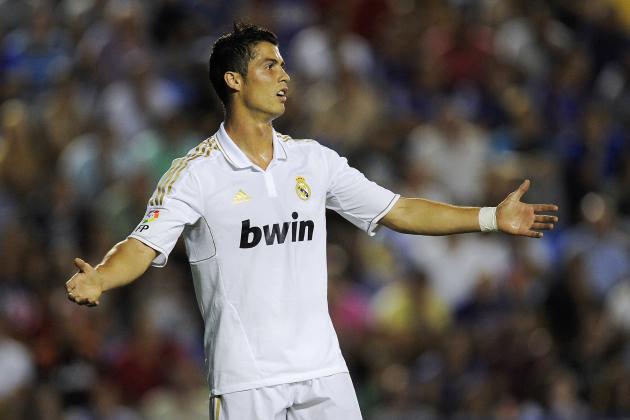 David Ramos/Getty Images

While Real Madrid give the impression of an invincible team, blitzing past every team not called FC Barcelona, they do have some very tough fixtures coming up where they are likely to drop points.
Matches against Villarreal, Atletico Madrid, Valencia and even Espanyol are perfect platforms for Real Madrid to drop some points. And if they have not sealed the title by April 22nd, they face three nightmare matches in a row, with visits to the Camp Nou and Athletic Bilbao's San Mames interspersed by a home fixture against Sevilla.
Real Madrid look almost invincible, but this facade has a chance of collapsing any time. When it does, Barcelona must be ready to pounce.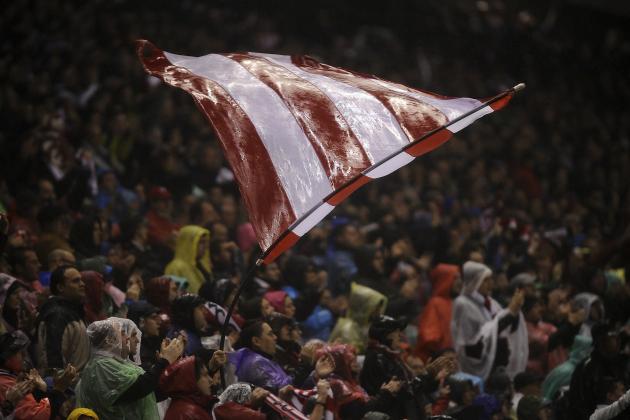 David Ramos/Getty Images

Barcelona have already faced Villarreal, Valencia, Real Madrid and Athletic Bilbao in away fixtures. They have also faced the hostile crowds at Real Sociedad and Getafe.
Now, Barcelona's toughest away trips are against Sevilla and Atletico Madrid. Other than these potential quicksand matches, Barcelona have no glaringly difficult away fixtures till the end of the season.
With the toughest away matches done and dusted, Barcelona must take on their remaining opponents with confidence and look to get all three points in every match.
David Ramos/Getty Images

Lionel Messi can transform a lost cause into a winning one on his day. He has shown this innumerable times in the past.
Now, he will have to display his superhuman performances week in and week out to lift Barcelona out of the mire they find themselves in. He will have to lead from the front with his outstanding performances to motivate the rest of the team to perform to their lofty potential.
So far, this season has statistically been Messi's best so far. He is scoring at just below a goal per game with 38 goals in 39 appearances. This will mean absolutely nothing, however, if he is unable to win the team trophies that Barcelona covet every year.
Messi has been under par and out of luck in the past few matches, but his goal and overall brilliant play in last night's Champions League match against Bayer Leverkusen could be a sign of changes to come.
If he hits his stride, there is nothing Barcelona cannot do.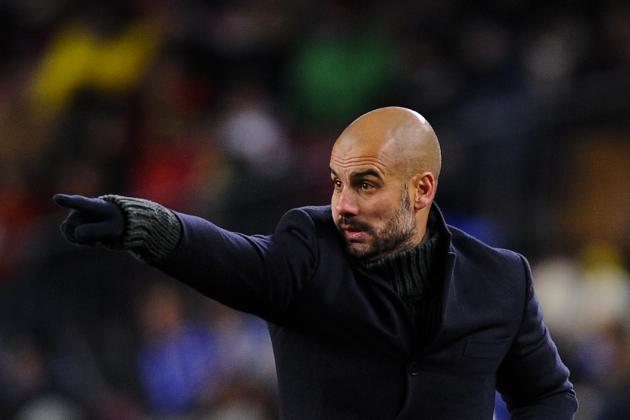 David Ramos/Getty Images

Josep Guardiola has a frightening trophy cabinet. He has also created the best Barcelona team in history out of the ashes of Frank Rijkaard's last days in charge.
The least Barcelona fans can do in these slightly troubled times is to trust the man from Santpedor.
Guardiola will want to maintain the superb performances that his team have displayed over the past three seasons. The situation that Barcelona find themselves in right now is the perfect opportunity for him to cement his name as one of the finest football managers of all time.
Guardiola is undoubtedly the man to pull Barcelona ahead of Real Madrid. He has been doing it for three seasons. This is the time for Cules to put all their faith in their best manager of all time.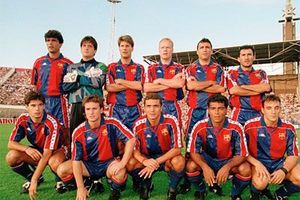 There are two things the current Barcelona team have yet to achieve. They can still win two consecutive Champions Leagues, and they can also win four consecutive La Liga.
The second record was set by John Cruyff's "Dream Team" way back in 1994.
The current Barcelona side have outmatched Cruyff's by their success in continental competitions. Their domestic performances, however, are missing the crown jewel of the fourth consecutive Liga trophy.
To etch their names into immortality, they must at least equal this record set by their forbears.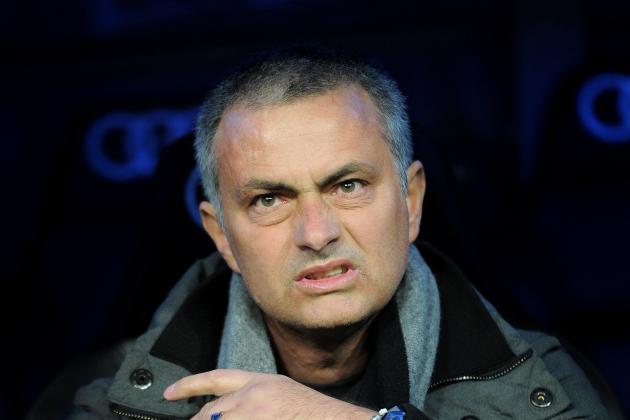 Jasper Juinen/Getty Images

Real Madrid manager Jose Mourinho and Barcelona have a—shall we say—rocky relationship. There is little doubt that losing La Liga to the Portuguese's team is certainly not a prospect Barcelona will relish at all.
Barcelona have shown amazing motivation whenever they have come face-to-face with Mourinho and Real Madrid. They have dominated almost every head-to-head encounter so far, even in periods of poor form. Obviously, the team steps it up a notch every time they go into a direct encounter with Madrid.
Now, they have to extend this same motivation to every league match of the season, because each match is like a direct encounter with Real Madrid. Barcelona simply cannot afford to relax in any match if they are to snatch the La Liga trophy away from Jose Mourinho.
A "pasillo" or "guard of honour" is a footballing tradition wherein a team which has mathematically sealed the league title is honoured before kickoff in every remaining match.
Barcelona made a pasillo for Real Madrid on May 7, 2008. The performance that followed was categorically slammed by the Guardian: "After giving Real a guard of honour, Barça followed up with a display so complete in its patheticness, so utterly gutless, that it summed up their season."
If Barcelona go more than 15 points behind Real Madrid, they will be subjected to the ultimate humiliation the next time the two sides meet. They will have to give Jose Mourinho's team a pasillo. That will take a lot of living down to recover from.
For the sake of Cules worldwide, and for themselves, Barcelona will have to step up their performances. Otherwise, come April 22nd, one might witness more than a few sobs in Catalunya.