EPL : Where Do Liverpool Go After Defeat to Manchester United?
February 13, 2012

Alex Livesey/Getty Images
While Luis Suarez did not shake Patrice Evra's hand in the prologue to the much anticipated showdown between Liverpool and Manchester United at the weekend, the media, too, did nothing else but accrue brownie points for focusing more on the five seconds of the meaningless ritual rather than the football match itself.
Having said that, this was not a match that lived up to its billing, and it was pretty much a one-sided affair even if the scoreline of 2-1 to Manchester United proved otherwise. The performance from Liverpool was mediocre at best with only Luis Suarez and Craig Bellamy providing some fight in derby matches such as this one. So, where does Liverpool go from here?
For starters, there is a fifth round FA Cup clash with Brighton at home Anfield giving Liverpool an almost guaranteed progression. The weekend following that is the much awaited trip back to Wembley stadium and also for some silverware since winning a dramatic penalty shootout in the FA Cup final of 2006. Following defeat to United, Liverpool also saw Chelsea, one of the challengers for fourth place, drop all three points against the other half of Merseyside - Everton. Newcastle were battered at White Hart Lane against a Spurs side that have more than a little swagger about them this season while Arsenal came from behind to win it late at Sunderland. The win for Arsenal got them level on points with Chelsea, which means that Liverpool still are only four points off fourth spot even after dropping five out of the last six available points.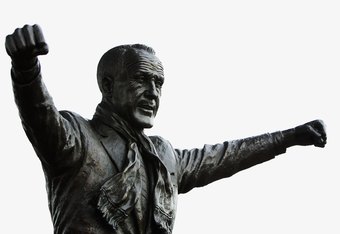 Laurence Griffiths/Getty Images
With things going the way they are, I think it is more appropriate to term this vying as the "crawl for fourth" instead of race, just as it happened a few years ago. All this bodes well for Liverpool getting chance after chance by teams not cementing fourth position and Champions League qualification for themselves. With Liverpool facing Arsenal at home in its next Premier League fixture, chances are that they will close the gap to fourth considering the inconsistencies of a ransacked Chelsea side. But will Liverpool be able to take advantage of their fixture list and faltering competitors?
Things at the weekend did not give out a rosy picture at all to answer the aforementioned question in a yes. Given the build-up to this tense meeting following the completion of Suarez's ban and the event of him facing his accuser Evra, Kenny Dalglish decided to maybe take a point away from home and get this fixture out of the way without too many repercussions. This stance in my opinion was the wrong one.
Time and time again, managers go into a match to get a point, but it is very hard to get back into the match even with attacking substitutions once a defensive team falls behind on the score-sheet. This is what exactly happened at Old Trafford and Liverpool could not change the game to get a result, contrary to the attacking outlook in the corresponding fixture at Anfield earlier in the season when Chicharito scored the equaliser. That day, heads did not drop and players went in search of a winner that they could have tried and succeeded at Old Trafford, as well.
Which begs the question - why did Dalglish not go all out to win the match? This is a team that has won away at Arsenal, Manchester City and Chelsea (twice) this season, so there should never have been a tag of underdogs placed on them. Besides, more than 100 million was spent to play more attacking football and remove the tag of underdogs going into matches with the top teams. The signings may not be working, but if Dalglish himself does not have faith in them, then how does one expect them to believe in their abilities?
The loss might have dented Liverpool's confidence that was garnered admirably over the last few weeks. With the media adding fuel to fire and saving no punches to accumulate more turmoil over the club, it is time for the players to respond like they did after half-time at Istanbul. Much of the current squad was not there, but some senior players who need to take responsibility now were present. Perhaps a rerun of a well compiled short movie of the same shall go a long way in instilling in these new players that players at Liverpool Football Club do not drop their heads and give in to defeat until the final whistle. Still everything to play for in the season, and it is very much in the hands of the players where they want to lead the club after their disappointment and insult from the last match.