15 Ways Kharma Can Be the Most Important Diva of All Time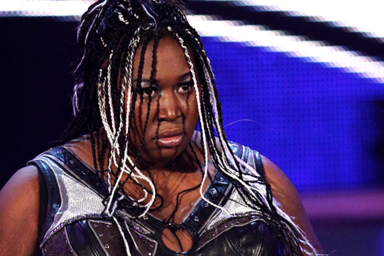 picture courtesy of wwe.com
Kharma made her return at the Royal Rumble and became the third female contestant to take part.
She also was able to eliminate some of the male contestants which shows that the WWE is serious about making her a real competitor in the female division. There is no one else that looks like Kharma and she could change that part of the company in a matter of months.
If Kharma has her way, she could reshape the state of female wrestling in the WWE to the point that she would become the best of all time.
It might even have stronger effects then that.
All it would take is for the right things to take place and for Kharma to take the brass ring and run with it.
Begin Slideshow

»
Kharma just radiates a type of energy that exists nowhere else in the WWE.
Not in the female division.
Not in the male division.
It doesn't even exist outside the company.
She is a spectacle that comes around only once in a while. Some could say she is trying to replicate Chyna's appeal, but that is a weak argument.
Kharma has a presence that is her own and while she may have found inspiration in those that came before her, she is a unique entity.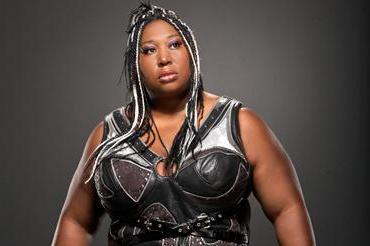 picture courtesy of wwedivas4u.com
While most diva's dress in a way that makes fans think they are about to head to the beach, Kharma is dressed for battle. Her very attire mimics that of the gladiators and doesn't show a hint of sexuality.
That isn't to say that it doesn't pronounce here gender, but she isn't walking into the fight to make friends.
That is the way it should be.
There is nothing wrong with noticing a beautiful woman. I'm sure there are female fans who enjoy watching the male wrestlers, but having the wrestlers walk out in some of the "ring gear" they have in the past borders on ludicrous.
While wrestlers like AJ and Natalya will be fine thanks to their technical ability, divas like Alicia Fox can't really sell themselves as direct competition to Kharma.
There are only two females who can come close to matching Kharma's size, Tamina and Beth Phoenix. Those two women look physically close to Kharma's size and can psychologically get fans to support a match between the two.
But divas who don't have top-notch technical ability can't sell the match the same way and won't be able to match the size of Phoenix or Tamina.
With neither hook they will be left on the outside looking in.
That isn't to say they can't have a purpose, it just won't be inside the ring.
The WWE does need eye candy. Even though it is used for both genders, it is easier for females to watch wrestlers they enjoy and who are talented in the ring.
To get attractive women in the ring and still keep a physique that a large amount of males find attractive is a little more difficult. It is possible, but it won't happen everyday.
Kharma's dominance in the WWE will leave a few women without a chance to be wrestlers, though they can still contribute to the company.
Valets have been used to not only present wrestlers in a current light, but also in story angles to help build characters and give them a purpose.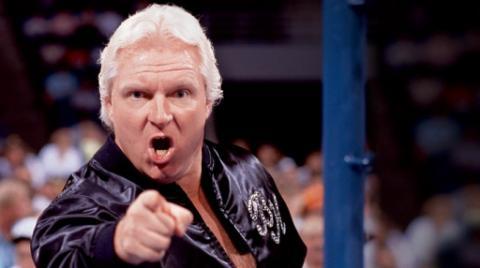 picture courtesy of illegalforeignobject.com
This is a stretch and would have to happen just perfectly.
If the butterfly effect was real and Kharma could impact the WWE enough for this to be real, it would not only give the company a few more people it could employ, but it would help wrestlers.
There are plenty of talented performers who just can't perform on the mic, but have the skills and the intensity needed to push that talent to the top.
Plus, it gives the WWE a varied feel that has been lost in it for far too long.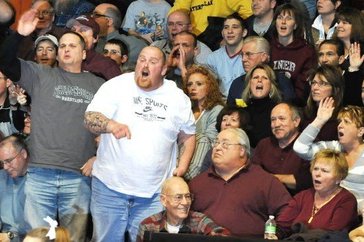 picture courtesy of lehighvalleylive.com
Not everyone is 6'4".
Not everyone looks like a model.
Not everyone is going to be able to keep healthy and physically keep in shape or be the kind of athlete who can wrestle.
If Kharma can influence the reintroduction of valets and managers then in essence she will also influence the ability for those who can't wrestle to still be a part of the dream.
Young men and women who would once have had to give up on their dream can still walk down the ramp to theme music and get cheered or booed.
And that will give fans even more to enjoy.
Can readers remember what the difference is between a title match and a non-title match in the diva division?
How about what a number on contenders match is like?
It comes out in a blurred ball at the end and nothing stands out.
Kharma is a real threat to the title and as long as the belt is held by someone like Beth Phoenix or Natalya, the feud will mean something.
And Kharma will fight for the belt.
She wouldn't have been brought to the WWE for any other purpose.
Mark A. Wallenfang/Getty Images

Vince McMahon is the final decision maker on what appears in the WWE. Anything that appears on his shows is OKed by him.
It is easy to then say that he doesn't like the divas division because of the lack of matches and time it gets every week on SmackDown and Raw.
Kharma could change that. She is not only a talented wrestler, but holds a certain segment of the wrestling communities interests.
She could make him push the division farther and give it more notice.
As much as parents shouldn't let wrestlers be role models for their kids, that isn't going to stop children from looking up to them. They are larger then life athletes who seem like superheroes.
Kids are going to respond to that. They always have and they always will.
Kharma could be the kind of role model that doesn't teach little girls that they need to dress in skimpy outfits and sexualize themselves.
There are enough things that will try to teach them that.
The WWE doesn't need to be another source as well.
Kharma could get the WWE to risk a chance with more talent from the other promotion. She was a large part of the Knockouts division in TNA and if she wins the title, she could change the WWE's stance on taking on talent from them.
She wouldn't be the first female to do it. Gail Kim was.
But Kim never had a serious impact in the company or in the division the way Kharma might. If Kharma can attract some serious attention, she could also get those in the WWE to think twice about not taking TNA talent.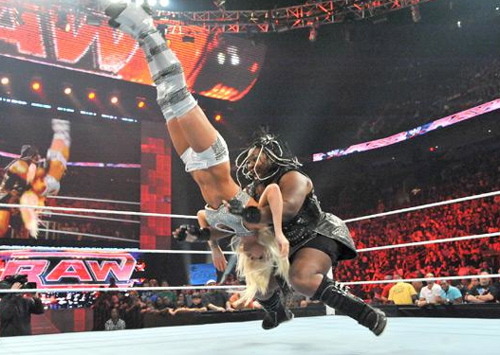 picture courtesy of theinfamousjcity.com
The WWE didn't always treat women's wrestling like a sideshow. There have been times when it was taken seriously, but even then it has been sexualized to some extent.
Kharma could make the division take a turn that it hasn't seen in years and keep it going in that direction. The WWE could have real wrestling for women without making everything a show that is meant solely for male enjoyment.
It would be a refreshing change of pace.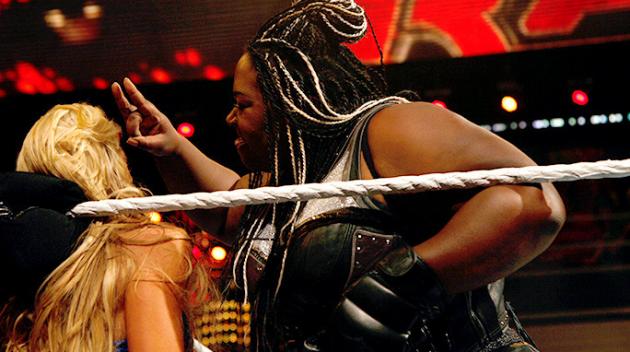 picture courtesy of kharma-source.fanfusion.org
Aside from the potential side effects she could have, Kharma could make the WWE show a little deeper with fans looking forward to what the divas division does next.
There could be actual story angles that fans would want to see play out and follow.
The WWE is in a rebuilding process and this could help them gain new strengths that they never had before while also giving the shows the ability to not over-saturate fans with the same characters every single week.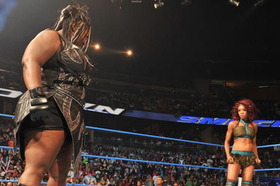 picture courtesy of ring-rap.com
Many times the WWE likes to put wrestlers in stereotypes. It could be racial or it could be putting a wrestler like Kharma in a comedic relationship with another wrestler for laughs.
This doesn't have to be terrible, but at this point it is something fans have seen too much of.
Kharma could stop these stereotypes and just be a dominant wrestler who breaks smaller women. Even if the WWE decided to twist her character, they wouldn't need it to be in the same trite ways that have been done in the past.
Kharma could be different.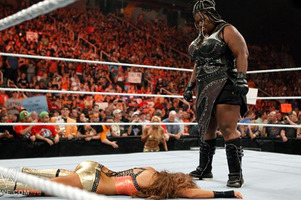 picture courtesy of lethalwow.com
Kharma is 34 years old. In the WWE that is usually when a diva is ending here time at the top.
Many times this is something that male wrestlers face as well. Getting older means not being able to do the same things that once came naturally to an athlete.
Women get pushed out the door a little faster because while men don't have to wrestle and look attractive, women usually do.
Kharma is already reaching that traditional limit, but if she makes a real statement, she could push past it.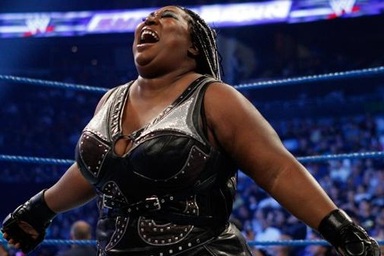 picture courtesy of wrestlinggold.blogspot.com
There will almost always be a limit on how high a woman's star can rise in the WWE. Some have become almost as big as their male counterparts, but never past them.
Kharma may not be the female to break that cycle, but if she rises to the same level then she will be able to reach the same standard without having the same look and feel of the other divas that came before her.
If she can do that, she will easily the best modern diva.
And if she can even influence half of the things put in this article, she will have a case for being the best of all time.
Matthew Hemphill writes for the MMA and professional wrestling portion of Bleacher Report. He also hosts a blog elbaexiled.blogspot.com that focuses on books, music, comic books, video games, film and generally anything that could be related to the realms of nerdom.