Vanderbilt vs. Kentucky: No. 1 Wildcats Survive Road Test Against Commodores
February 12, 2012

Joe Robbins/Getty Images
Just about anyone that follows Kentucky basketball knew that the Wildcats were going to get tested in Nashville on Saturday night. Vanderbilt always plays UK well when hosting them in their impossibly strange arena.  
Vanderbilt's three-point shooting got hot late in the second half and their perimeter defense was solid throughout. Fortunately, Anthony Davis' great defense and Marquis Teague's great game management helped the Wildcats to hold on for a 69-63 win.
The Good
– Marquis Teague showed his continued maturity, this time managing a very tough game on the road. He had eight assists (which actually should have been 10 if not for some easy missed shots) against only one turnover. He also showed his abilities on offense by cutting into the lane and making mid-range jumpers and floaters for 13 points.
The more that Teague trusts his ability to makes baskets, the more opportunities that defenses will give him to dish the ball to his teammates for easy points.  
– Doron Lamb, who started off cold in the first half, ended up hitting some big shots down the stretch, finishing with 16 points off 6-of-13 shooting.
– Despite getting called for some questionable fouls, Anthony Davis continued to guard the lane, making some key rejections in the latter part of the second half and finishing with seven total blocks to go along with 15 points and eight rebounds.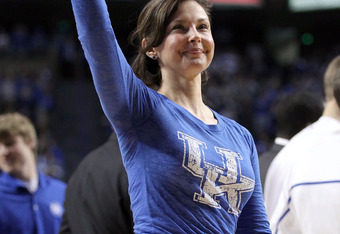 Andy Lyons/Getty Images
– Terrence Jones was dominant in the first half, scoring 14 points.
The Bad
– Unfortunately, Jones did not score in the second half. He did, however, continue to fight and claw for rebounds (nine) and blocked shots (four).
– Kentucky had a tough time penetrating Vanderbilt's zone defense, which looked like it was going to keep the Wildcats from continuing their strange streak of games with at least one three-point shot made to 815. The streak was kept alive when Darius Miller hit the Wildcats' first three-pointer of the game with 10:40 to go in the second half.
Kentucky finished the game 3-of-14 from beyond the arc.
– Michael Kidd-Gilchrist had what could definitely be considered an off night, scoring only four points and missing shots that he normally could make in his sleep. To Kidd-Gilchrist's credit, he continued to fight hard under the basket for rebounds and played great defense.
– The bench hasn't been much of a factor for the Wildcats the past two seasons, but tonight was definitely their worst showing in a while. Kyle Wiltjer only played 12 ineffective minutes and Darius Miller struggled throughout with missed shots and foul trouble.
The Weird
– Some Vanderbilt fans (allegedly) designed shirts for tonight's game with the phrase UK2GAY, parodying UK2K from two years ago. After GLAAD heard about the offensive shirts and issued a press release denouncing them, they were removed from the cafepress.com store.
One would think that the "Harvard of the South" would be a little more creative than to use homophobic insults to taunt their opponents.
– Vanderbilt did not want UK fans showing up on their campus' college game day...or even in the building entirely. Some fans reported that they told anyone entering the lower level with UK gear would be ejected.
– Vanderbilt's John Jenkins does more acting work to try and draw fouls than Duke's entire starting lineup combined.
– Ashley Judd was at the game...and she's still gorgeous.