2012 NFL Mock Draft: Complete First-Round Picks with Pro Projections
Chris Trotman/Getty Images
Another Monday and another mock draft. This early in the year, mocks are as much about pinpointing needs and gauging where different players are in the beginning stages of the draft process.
As such, there's always a lot of different opinions—almost as many opinions as there are mock drafts. And there are enough of those to make you go blind.
This week, as we look at the first round of April's 2012 NFL draft, I've been tasked with not only telling you why I like a player but either comparing them to a current NFL player or talking about what kind of impact they might have in their first year.
For many of the first-rounders—especially the early half—the answer most often had better be "a big one."
Let's see who fits that profile.
1. Indianapolis Colts: Andrew Luck, QB (Previous Mock: Same)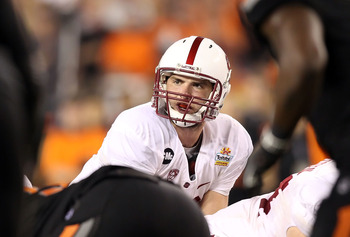 Christian Petersen/Getty Images
As I said last time out, this is a no-brainer pick and barring a complete change of circumstances or a monster trade—neither of which I expect—Luck will be a Colt on day one of the 2012 NFL draft.
Certainly, if the team can fix the offensive line and get their receivers healthy, Luck could have a huge impact on the offense this coming season. However, it is more likely that this team struggles to protect him and he has some issues in year one.
Luck will not fix everything about this team—he doesn't play defense and can't run the ball between the tackles, for example. He's a huge first step and he should have some success in his rookie year, even if it takes a few seasons to get the tools around him to help him reach his full potential.
2. St. Louis Rams: Justin Blackmon, WR (Previous Mock: Same)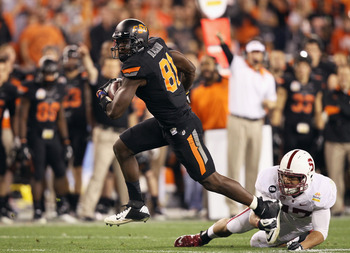 Christian Petersen/Getty Images
As with Luck and the first pick, this one is close to a no-brainer.
I still contend that USC's Matt Kalil is just as solid a pick here but Rams quarterback Sam Bradford needs a playmaker at wide receiver in the absolute worst way. Brandon Lloyd could come back, but how long a solution is that for a young quarterback?
No, Blackmon may not be A.J. Green, but he's a very talented wide receiver who would make a huge difference immediately for the Rams. Blackmon can line up outside or work the slot, and his presence will free up the other receivers to have some success.
I believe Blackmon would have a huge positive impact on this offense and team. Will he fix everything? No, not close. He'll make a tremendous difference for Bradford from day one, though, and that's a step forward.
3. Minnesota Vikings: Matt Kalil, OT (Previous Mock: Same)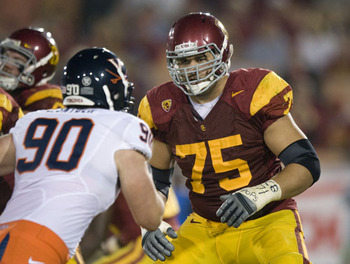 Courtesy CNN/SI
Things stay the same with Kalil to the Vikings, based on the fact that the Minnesota line is in desperate need of repair.
Right now, it seems as though the team is going with Christian Ponder as their quarterback so they'd better make sure he's upright.
Kalil has done an outstanding job of keeping USC quarterback (and likely future early 2013 draft pick) Matt Barkley standing and safe.
Kalil is polished enough to come right in and be effective. He can't make up for the whole line, but he's the first step in giving Ponder the best chance to succeed.
4. Cleveland Browns: Trent Richardson, RB (Previous Mock: Robert Griffin III)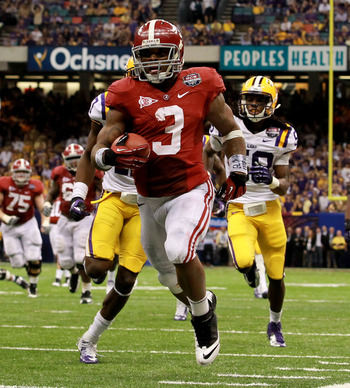 Ronald Martinez/Getty Images
Last time out, I had Griffin going here. This week, I'm heading in a different direction.
While Griffin looks to be a tremendous talent and normally running backs don't go this high anymore, Richardson is a special back—the best to come out in the draft since Adrian Peterson.
Meanwhile, it sounds more and more like the Browns will stick with Colt McCoy for at least another year. They could still keep Peyton Hillis as well, but I still feel he's gone and Richardson is a much more well-rounded (and ultimately likely to be cheaper) back.
Just because running backs tend to go late first or early second doesn't mean a potential elite back won't go early. The Browns will take a hard look at all positions, but I feel that a talented back like Richardson will help make a big difference for McCoy.
I've mentioned Adrian Peterson in comparison before and in my opinion, the comparison still fits. Richardson can step in and make a big difference by pulling the defense away from the receivers and helping keep the pressure off his quarterback.
5. Tampa Bay Buccaneers: Morris Claiborne, CB (Previous Mock: Trent Richardson)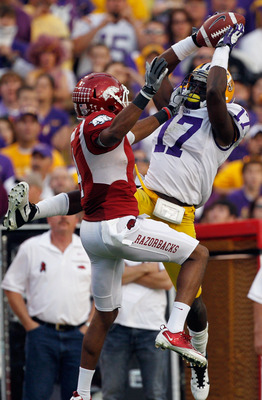 Chris Graythen/Getty Images
Even before I put Trent Richardson to the Browns, I was changing this pick. Since my last mock, the Bucs hired former Rutgers head coach Greg Schiano and the moment that happened, I felt the focus of any Tampa Bay draft was going to shift.
If Richardson is here, sure, they might still grab him for all the reasons I mentioned last time, but I believe that Schiano is going to make some big changes in the defense first and foremost.
The corners for Tampa have some issues. Ronde Barber is getting on in years and Aqib Talib has yet to play a full season both because of injury and off-field issues. Even when he's on the field, he's only somewhat effective.
Then again, he's hinted he could retire, which would be an even bigger mess, as there is really nobody else on the roster who Claiborne isn't far better than.
A bonus would be the ability to have Barber mentor Claiborne for at least a season, helping his transition from college star to NFL player. I still like the comparison to Green Bay's Charles Woodson, and he'd get there faster if Barber could be there to show him the way.
6. Washington Redskins: Robert Griffin III, QB (Previous Mock: Morris Claiborne)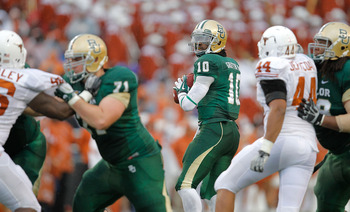 Sarah Glenn/Getty Images
I'm not doing trades in this mock, but I wouldn't at all be surprised if the Redskins traded up for Griffin.
There's a long way to go in the draft process, but after Luck and Griffin, there are no franchise quarterbacks worth an early pick. Texas A&M's Ryan Tannehill is close and there are plenty of folks who'd argue he could go in the early first round, but I'm not one of them.
The Redskins have tried for several years to fix the quarterback position with the NFL equivalent of Bondo, and the results are a lot like what happened when my friend did that with his mid-'70s Chevy Nova.
Let's just say it wasn't pretty.
Griffin is a versatile quarterback, able to make plays with his legs as well as his arm. I compared him to Cam Newton last mock and again, it stands—a guy who can throw better than some give him credit for, a hard worker, a leader and a dangerously athletic player.
Griffin would face some issues starting for the Redskins (for example, who is he throwing to when Santana Moss is hurt or covered?) but they have a solid defense and Griffin would step in and instantly make the offense better than Rex Grossman, Donovan McNabb or John Beck has.
It'd probably be a rough season, but Griffin would be able to step in and have a positive impact right away.
7. Jacksonville Jaguars: Quinton Coples, DE (Previous Mock: Same)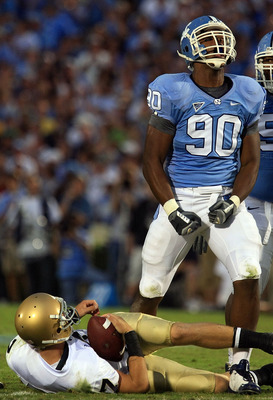 Scott Halleran/Getty Images
The Jaguars have multiple needs and I've seen some mocks with a wide receiver going here but in my opinion, unless it's Justin Blackmon, it's not worth a top-10 pick.
Not that guys like Baylor's Kendall Wright or Notre Dame's Michael Floyd aren't good—they are. They're not worthy of that high a draft pick, though, and there are plenty of good wide receivers to be had in the second round.
Meanwhile, I'm still sold on Coples in general and going here specifically. The Jaguars need a pass rush and Coples can get into the backfield and create a disaster for the opposing offense.
I'd expect Coples to step in and contribute right away. At first, I think he might catch offenses a bit off guard, but even when they adjust, he could have a positive impact.
When protection shifted in Coples' direction, that would free other members of the defense to get in the backfield and disrupt plays.
8. Carolina Panthers: Michael Brockers, DT (Previous Mock: Dre Kirkpatrick)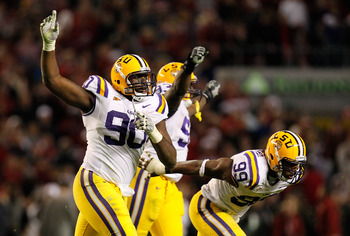 Kevin C. Cox/Getty Images
Last mock, I had Devon Stills of Penn State as the first defensive tackle off the board. This time, I have Brockers. Really, they're very close in my mind, and I think either one could go first and both carry some risks.
Brockers hasn't had a ton of high-level success—just one year with some really good talent around him.
Still, he's got a great combination of size, speed, athleticism and strength, and while he doesn't have a ton of experience, he looked like he did quite often last season.
He lined up at the nose tackle, as well as the 3- and 5-technique last season, and the Panthers could move him around depending on what they wanted to do.
The Panthers defense was awful last year and they need someone who is outstanding in run stopping and has the potential to be great in pass defense as well.
Brockers could step in pretty quickly and shore up a bad defense, giving the offense a little help by keeping the opposing offense in check.
Sure, he'd need help—but he'd be a great first step.
9. Miami Dolphins: Riley Reiff, OT (Previous Mock: Same)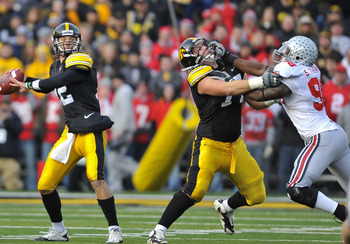 David Purdy/Getty Images
Like most teams in the top 10, Miami has multiple needs to fill. I'm a big proponent of building the offensive line early on in a rebuilding process, and there are no quarterbacks here worth the spot in my opinion.
This is assuming they don't have Peyton Manning, in which case a quarterback is irrelevant. Whether they have Manning, Matt Moore or some free agent, they need to keep him upright.
Reiff is an excellent tackle and as I pointed out last time, adding him to Mike Pouncey would go a long way to making this offensive line able to protect their newest signal-caller.
I mentioned Bryan Bulaga last time out, and I still like the comparison. He's a very good player who can step right in and make a difference from the very first snap.
10. Buffalo Bills: Courtney Upshaw, OLB/DE (Previous Mock: Same)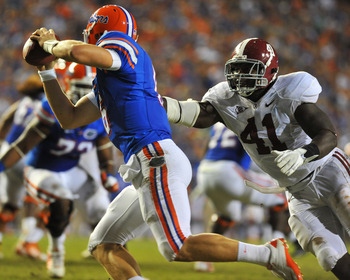 Al Messerschmidt/Getty Images
The Bills need a pass-rusher pretty badly at this point, and shifting to a hybrid defense which will utilize the 4-3 pretty frequently only makes that point more critical.
Upshaw can roll at outside linebacker in a 3-4 or switch to defensive end in a 4-3. The Bills are looking to swap to a 4-3 at least part-time, so that versatility could be important.
Hand up or hand in the dirt, Upshaw will bring some heat to a defense which sorely lacks it right now. I compared him to LaMarr Woodley last time out and that works for me still.
Upshaw's presence would be great for two reasons—first, because he'd be able to get at the quarterback on his own and second, because the attention he would get as the season progressed would free up other defenders.
His presence would generate plays even when he wasn't doing it personally.
11. Kansas City Chiefs: Devon Still, DT (Previous Mock: Same)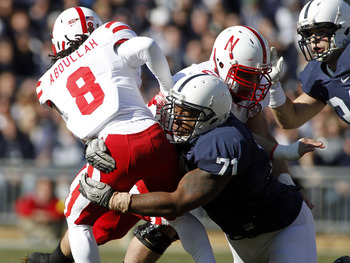 Justin K. Aller/Getty Images
We're still waiting on the coin flip for this spot (as we are for Carolina/Miami), but let's just pretend it happened with the Chiefs here and the Seahawks next.
I'm leaving Still here because the Chiefs need a new nose tackle, since Kelly Gregg is eleventy-billion years old and not nearly as effective as the defense requires.
His speed and explosion off the snap make Still a huge addition to the Chiefs front seven, and he is also adept at plugging the gap against the run. If need be, Still could slide over to defensive end and play the 5-technique as well.
Still would be able to step in immediately and replace Gregg, something that would continue to build a strong defense on a very solid foundation.
12. Seattle Seahawks: Melvin Ingram, OLB (Previous Mock: Michael Brockers)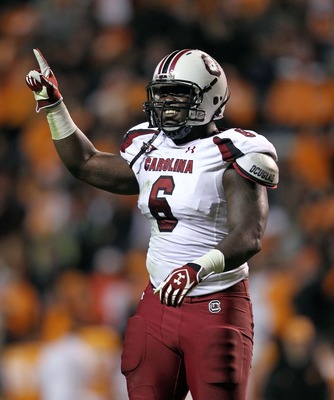 Andy Lyons/Getty Images
Brockers is gone earlier in this version than the last, but the Seahawks will stay on the defensive side of the ball and grab Ingram, a guy some have as the best OLB in the draft.
I like him a little less than that, but that doesn't make him any less a great pick here.
The Seahawks are going to lose at least one linebacker to free agency, and Ingram would not only be able to step in at linebacker, but in a pinch could work at defensive end as well.
He easily has the speed to come off the outside edge at linebacker and would be a big help in this up-and-coming defense.
His impact could be huge, especially in a still-weak NFC West. While San Francisco has played much better and the offensive line has held up well, both the Rams and Cardinals have serious issues protecting the quarterback.
This is a pick which could make the difference in the NFC West title race, giving the defense another weapon to make things very difficult for their division rivals.
13. Arizona Cardinals: Jonathan Martin, OT (Previous Mock: Same)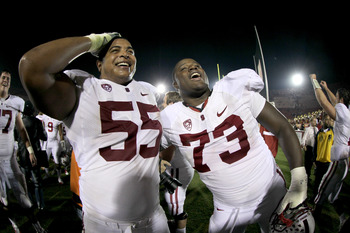 Stephen Dunn/Getty Images
As I was just saying at pick No. 12, the NFC West has some offensive line issues. The Cardinals can't keep anyone upright nor open holes very often for their ground attack.
Martin protected Andrew Luck's blind side very effectively and is able to protect the passer and blow open holes for a running back with equal effectiveness.
I mentioned Jeff Otah last time out, and I actually have come to think that Martin could be better than that by a big stretch.
At this point, the Cardinals are desperate for O-line help, and Martin would be a very good foundation to build on going forward.
14. Dallas Cowboys: Alfonzo Dennard, CB (Previous Mock: Same)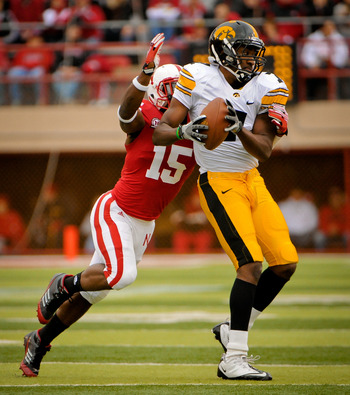 Eric Francis/Getty Images
The Cowboys need help in the secondary, and Dennard is simply the best cornerback available here. Dennard plays very physical and can get a hold of the ball.
Dennard loves the challenge of taking on the best receiver in an offense and the Cowboys need that swagger when matching up against the likes of Hakeem Nicks.
He's the type of player who will make you think twice about coming onto his field once he's laid a hit on you.
The Cowboys need a player in the secondary who is capable of controlling the top receiver in an offense, and Dennard will be someone who quickly changes the face of what has been a struggling Cowboys secondary.
15. Philadelphia Eagles: Luke Kuechly, ILB (Previous Mock: Same)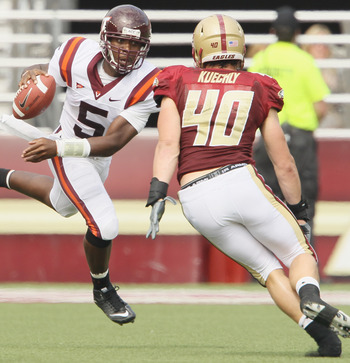 Elsa/Getty Images
I could see some concerns with this pick, as Kuechly is undersized, and Eagles fans have had to live through a season of undersized Casey Matthews struggling in the middle of the field.
Really though, the only similarities here might be size, as I was never a fan of Matthews on film while Kuechly has impressed me repeatedly.
He has the instincts and athleticism to be where the ball is going and make plays. Kuechly would shore up the middle of the field and stop the bleeding against the run, but he could also disrupt passing lanes and crossing routes.
Kuechly's size might not be prototypical, but he makes plays which cause that to be irrelevant. I likened him to James Laurinaitis last time out, and I stand by that. Undersized, under-appreciated and overlooked, but not for long once he steps on the field.
16. New York Jets: Zach Brown, OLB (Previous Mock: David DeCastro)
Geoff Burke/Getty Images
The Jets have a host of needs, from offensive line to safety. Until Mark Barron ended up with surgery for a double hernia, he was going to be my guy in this mock, but there's no way the Jets roll the dice on a mid-first-round pick who won't be available for the combine or his pro day.
It's not as if they can't go in another direction.
They also desperately need someone to generate some pressure on the quarterback, and Brown has the speed to come off the edge and get into the backfield early and often.
There are very few directions that would truly shock me with this pick, but the way this mock is falling out, this makes the most sense. Brown could step right in and, paired with guys like last year's top pick Mo Wilkerson, create a lot of pressure on opposing quarterbacks.
17. Cincinnati Bengals: Janoris Jenkins, CB (Previous Mock: Same)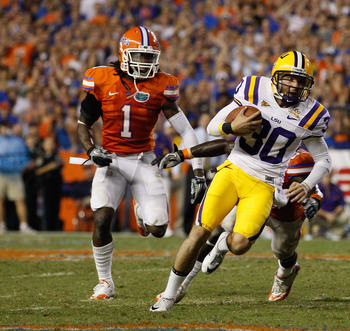 Sam Greenwood/Getty Images
This is the first of a pair of picks, this one coming courtesy of the Carson Palmer trade with Oakland.
Nothing has changed since the last mock—it's still too early for the No. 2 running back and while the offensive line could use some more help, the secondary needs it sooner.
Putting aside the off-field issues which got him banished to North Alabama, Jenkins is a baller. He has tremendous instincts, can react to a play quickly and has the closing speed to disrupt a play.
He's solid in run support as well, a bonus in a division with Ray Rice and Rashard Mendenhall in it.
Jenkins seems to have genuinely learned from his mistakes. If the Bengals can keep him focused, he'll be able to step in and improve the secondary instantly.
He'll make opposing quarterbacks think twice about tossing the ball his direction in a way Pacman Jones and Nate Clements don't.
It's a passing league—you need a good secondary. Jenkins can put the Bengals one step closer to that.
18. San Diego Chargers: Mike Adams, OT (Previous Mock: Melvin Ingram)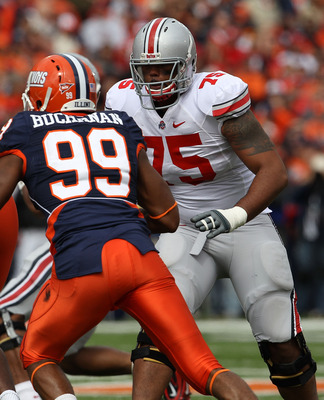 Jonathan Daniel/Getty Images
Another change, as Ingram is long gone in this version. This change may have happened anyway, though, as Jared Gaither could leave in free agency, Marcus McNeill's neck injury is so bad he might retire and Kris Dielman's concussions may force him to do the same.
The Chargers offensive line has had issues for a long time. Adams is pro-ready and can play left or right tackle if need be. He's a big guy, but he is agile and quick for his size.
Bringing Adams in will help stabilize the line immediately, and while more needs to be done to make it truly effective, Adams can step in and play from day one.
19. Chicago Bears: Kendall Wright, WR (Previous Mock: Same)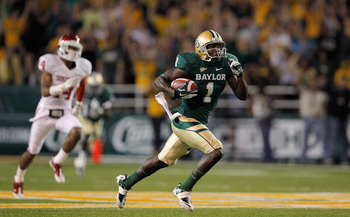 Sarah Glenn/Getty Images
Many Bears fans disliked this pick the first time out, but I'm not changing it. Sure, there are a lot of holes on this team, but Jay Cutler needs someone to throw to.
Devin Hester will never be a great receiver; if he was going to, it would have happened by now. Earl Bennett is a solid receiver, but that's about it.
Height was an issue for folks in the last mock, but you should stop focusing on the height and start focusing on the speed and separation Wright gets—the tremendous hands that haul in balls, the dynamic run-after-the-catch ability.
All things the Bears lack on offense if the ball isn't in Matt Forte's hands.
Wright is probably the best vertical receiver in this class and Cutler needs that. I get the love for Michael Floyd, by the way, but while he has skill, some injury and off-field issues make him a little riskier than Wright.
Wright would step into this offense and make a huge difference for Cutler.
20. Tennessee Titans: Whitney Mercilus, DE (Previous Mock: Same)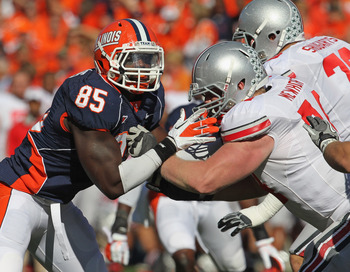 Jonathan Daniel/Getty Images
Mercilus has a high ceiling, coming off a season where he led the NCAA in sacks. He's an athletic guy who just seems to find a way to be in the right place at the right time.
He's coming off a single great year, which makes him a bit of a risk. However, he has tremendous potential. That's why last time I said his ceiling (which is to say his upside or potential) is a guy like DeMarcus Ware.
That's his potential—what he could do if he works hard and stays focused. I think he has a fair chance of reaching it, but as I said, he's short on history.
At 20th, I believe him to be a lower-risk bet than if he'd gone earlier.
21. Cincinnati Bengals: Lamar Miller, RB (Previous Mock: Same)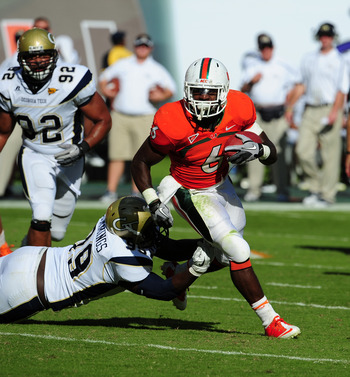 Scott Cunningham/Getty Images
With the second of their two first-round picks, the Bengals are in the position to improve their backfield by selecting Miller. While not the tallest running back, Miller is big and well conditioned, able to gut it out between the tackles but also to break away in the open field.
As it gets colder in the AFC North, the Bengals would be happy to have a young guy who can grind out the clock and the bad weather, getting some pressure off quarterback Andy Dalton.
Miller could step right in and be effective, especially if Dalton can keep playing the way he did his rookie year. Defenses couldn't just key on Miller, and his presence would mean they couldn't just key on Dalton and the passing game either.
22. Cleveland Browns: Michael Floyd, WR (Previous Mock: Same)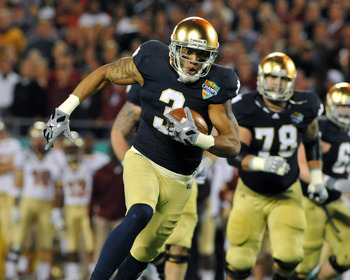 Al Messerschmidt/Getty Images
With their second pick in the first round (thank you, Atlanta Falcons), the Browns continue to improve the offense by adding a talented wide receiver with a few off-field issues that will keep him from going too much earlier in April's draft.
From an on-field standpoint, Floyd is a very good receiver, able to adjust to the ball and make a good catch on a throw that is off target.
He can get separation against press coverage, though he's not going to have an easy time running past NFL corners. I see him body catch a bit too much, but that's something that can be fixed.
The big question is, were his three DUI arrests since 2009 merely immaturity, bad luck or something else? Regardless of the reason, teams will have to get some frank answers from Floyd to decide if the talent outweighs the risk.
At 22nd, I think it definitely does. As I said last time, think Anquan Boldin—a tough, physical wide receiver who will sacrifice himself for a tough catch.
23. Detroit Lions: Dre Kirkpatrick, CB (Previous Mock: Lavonte David)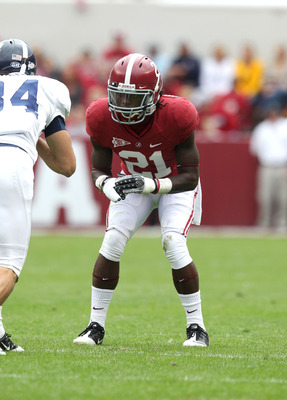 Mike Zarrilli/Getty Images
I didn't have Kirkpatrick going in the first round last time out, and whether that was the flu or just me missing, I can't say. However, the more I look at him, the more I think he'll land somewhere in here, and Detroit has a pressing need to improve that secondary.
I had Lavonte David here last time, but as I thought about it since, I don't know that the Lions are that interested in changing their "tough guy" image. He's a good fit but not a great fit, and frankly, cornerback is a much bigger concern.
Kirkpatrick mostly played man in college, something he should be equally effective doing at the pro level. He has shown flashes of ability in zone as well, and has shown both the ability to bat balls away and the strength and "my ball" mentality to win a jump ball from a receiver.
Quite simply, he's a playmaker, and adding him to the secondary would make the Lions defense even tougher to deal with. I think his adjustment to the NFL would be pretty smooth, especially with a front seven pressuring the quarterback the way the Lions front seven can.
24. Pittsburgh Steelers: David DeCastro, OG (Previous Mock: Cordy Glenn)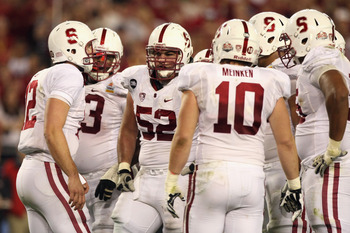 Donald Miralle/Getty Images
Don't get me wrong—I like Cordy Glenn. I also like Outback Steakhouse on occasion. I will not, however, go to Outback when I can have Morton's.
That's the difference here. Glenn is solid but unspectacular. David DeCastro? He's the prime cut.
An Outland Trophy finalist, DeCastro was the fellow the Cardinal ran behind nine out of 10 plays as well as being a great pass-blocker.
The theory in Pittsburgh right now is that new offensive coordinator Todd Haley will be bringing back the ground-and-pound that once made the Steelers so fearsome.
I'll believe that when I see it (because it's the same thing we've heard many times before), but the offensive line has been an issue, and the team does need to improve its run-blocking.
DeCastro will step in and be able to lead the way for Rashard Mendenhall and Isaac Redman to be even more effective than they have been before.
25. Denver Broncos: Jerel Worthy, DT (Previous Mock: Same)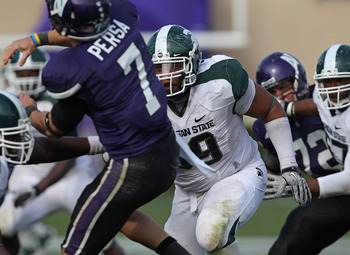 Jonathan Daniel/Getty Images
Cornerback is an option here, but despite the need, I don't love the next man up. Running back is also a need, but they can wait a bit longer and get a some equally solid backs to complement Willis McGahee.
Worthy can be a bit inconsistent, but with Elvis Dumervil and Von Miller attacking the outside, he should be able to shore up the nose tackle position which lacked size (and ability) last season.
With Doom and Miller, Worthy has the potential to step right in and clog up the middle, perhaps even freeing up the ends to get into the backfield even more frequently.
I'm pretty sure nobody in the AFC West wants to see that.
His inconsistency may rear its ugly head a bit during Worthy's rookie year, but once he gets his feet under him, Worthy would be in the position to have a very productive season.
26. Houston Texans: Dontari Poe, DT (Previous Mock: Same)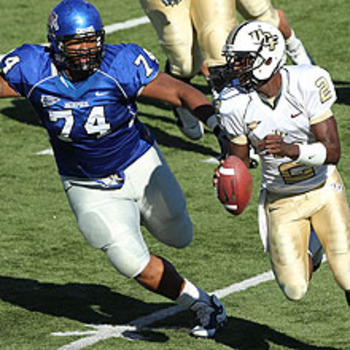 Poe has the size and strength to clog up traffic in the hole, and he'll be able to occupy blockers so that guys like Brian Cushing can get into the backfield or engage the ball carrier.
This should also create the opportunity for a rush to come in from the outside, as blockers are engaged in the middle of the field.
The Texans need a nose tackle, and Poe should be able to step right in to free up other players and stop up the middle of the field.
27. New England Patriots: Fletcher Cox, DT (Previous Mock: Same)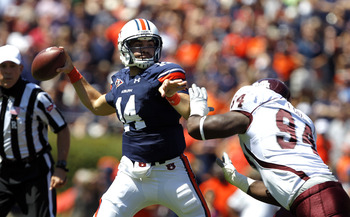 Butch Dill/Getty Images
I remain befuddled by how the NFL manages to let the Patriots get a pair of early picks every single year, yet here we are with the first of two picks at the end of the first.
The Patriots did a lot this year with a pretty shoddy defense, even in the Super Bowl. Yet that doesn't mean they shouldn't fix it as soon as possible.
Cox explodes off the snap, his speed allowing him to get at the gaps and clog up running lanes. He already has pretty good size and strength, but he's not done growing and could add another 10 pounds or so to his frame, which will only help him improve in run defense.
He's also fast enough to bring pressure from the outside.
Cox is a versatile player, able to start as a defensive end or a tackle, and you know the Patriots like versatility.
He'd be able to step right in and help this defense—and this is a guy whose potential we've only just glimpsed.
28. Green Bay Packers: Nick Perry, DE (Previous Mock: Same)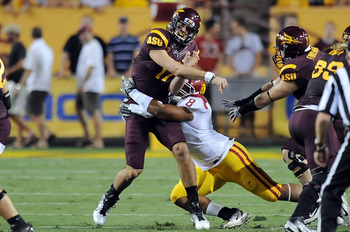 Norm Hall/Getty Images
The Southern Cal product could fit into the Green Bay defense in several ways. Another very versatile player, Perry spent his time at defensive end, but could easily jump to linebacker across from Clay Matthews.
The Packers haven't been able to find a linebacker who could really take advantage of the mismatches Matthews creates, so I wouldn't be surprised at all if that's what they did.
Either way, Perry will help create more pressure on opposing quarterbacks as well as give the Packers more depth on defense, something they always seem to need.
29. Baltimore Ravens: Vontaze Burfict, ILB (Previous Mock: Same)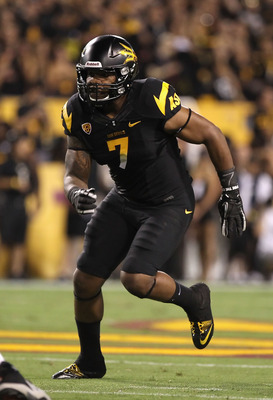 Christian Petersen/Getty Images
As I alluded to last time, this is a great fit. How much longer will Ray Lewis continue to play?
It's hard to say, but bringing in a young man who could replace him down the road would be a good idea, especially if you could get Lewis to spend some time sharing his experience and wisdom.
Burfict plays with a real mean streak, which is good until he lets his emotions run away from him, which can result in bad plays and flags.
Again, Lewis being active when Vontaze comes into the league would only help him to reach his full potential.
30. San Francisco 49ers: Alshon Jeffery, WR (Previous Mock: Same)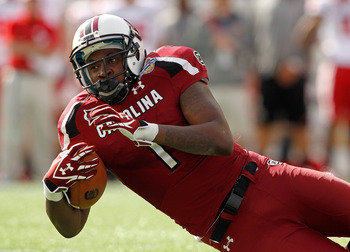 Mike Ehrmann/Getty Images
I thought about a cornerback or safety here but didn't see anyone I loved—especially with Barron's aforementioned double hernia.
So I'll stick with Jeffery, a physical, versatile wide receiver who can make tough catches in the red zone but also has the speed to go long.
It's entirely possible that Jeffery moves back up the boards (a disappointing junior year dropped him quite a bit) with some good workouts pre-draft, but as long as he's here, the 49ers should pick him up.
With another receiver pulling defenders away, Michael Crabtree might finally find consistent success while Vernon Davis might actually be even more effective, since the defense can't just key on him.
31. New England Patriots: Stephon Gilmore, CB (Previous Mock: Andre Branch)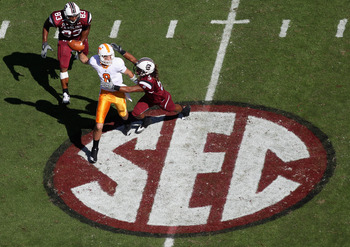 Streeter Lecka/Getty Images
First, like most people, I firmly believe the Pats manage to trade this (or the earlier pick) into more picks.
If, by some chance, they keep both, I think they try to get themselves some secondary help, continuing to build the defense back to respectability.
I'm a tad higher on Gilmore than many, but he really does fit the profile of the type of player the Pats love.
He's a dedicated, hard worker who makes sure he knows the opposition's tendencies and foibles. He hits hard, is a fierce run defender and can make plays on the ball both to create a turnover or just kill a play.
Gilmore isn't the biggest or fastest corner out there, but he's the type of tough, blue-collar player that the Pats seem to like.
I could see him coming in and setting up shop at one of the corners pretty quickly, and given the quarterback issues in the AFC East, he could have a field day in divisional matchups.
32. New York Giants: Cordy Glenn, OG (Previous Mock: Zebrie Sanders)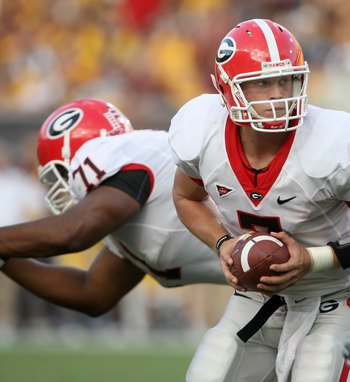 Stephen Dunn/Getty Images
The Giants offensive line is aging a bit, and as part of their success has been the play of the offensive line, it's prudent to start thinking ahead.
Glenn is a solid guard and since we're talking about a Super Bowl-winning team, they have the luxury to take on a guy who they don't have to throw into the fire immediately. He can also slip into the tackle spot if need be.
This was not a great running team (ranked 32nd with just a 3.5 YPC average) last season and Glenn, even on a part-time basis, should be able to help improve that.
Keep Reading