2012 NFL Draft: 5 Players the Green Bay Packers Must Target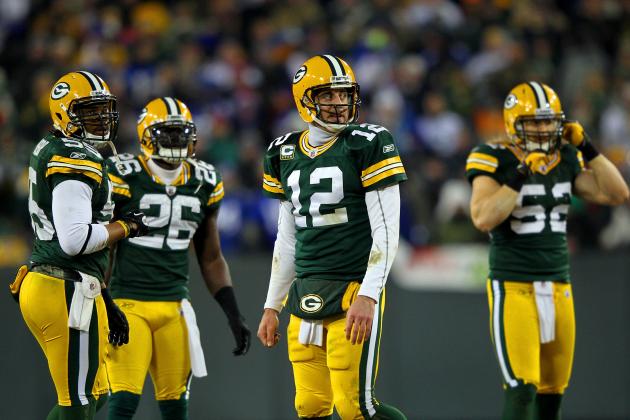 Jamie Squire/Getty Images

The Green Bay Packers have one goal heading into this year's NFL Draft. After putting together a mind-blowing offensive season this past year, it is safe to say that their offense will continue to put up points against any opponent in 2012.
However, what remains the chief concern for all Packers officials and fans is the play of the defense. They were simply not good enough to win the Super Bowl last year. Their drop off from 2010 to 2011 was quite remarkable. In order to compete for the Lombardi Trophy next season, they must improve their defense at all positions.
Luckily, there are many quality defensive prospects available in this year's draft, and the Packers are primed to take full advantage of their picks. They have the leadership and experience on the defensive side of the ball to be great, but, if they play like they did this past season, all that talent will be for naught.
If the Green Bay coaches are able to successfully integrate these new defensive players into their system, watch out for the Packers come playoff time. Here are five players that the Packers must target in the upcoming draft to ensure that they are well-equipped on both sides of the ball.
Begin Slideshow

»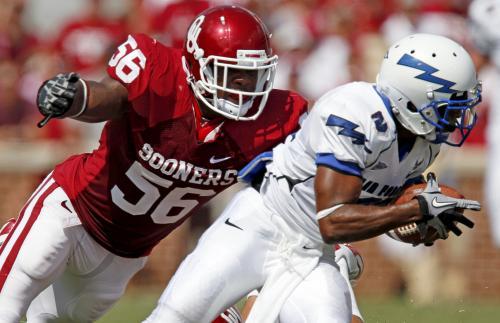 The Sooners defensive star possesses great strength and speed at the linebacker position. He has shown his ability to close on the QB and enjoys great awareness on the field.
He would benefit the Green Bay Packers—if they were to select him—and become a great complement to Clay Matthews and A.J. Hawk. His pass-rush abilities would take pressure off the safeties and cornerbacks when they are matched up in single coverage as well.
If he can learn from Matthews and become more effective dropping into pass coverage, he will provide the Packers with a much-needed defensive spark. He would be a very wise selection in either the first or second round of this year's draft.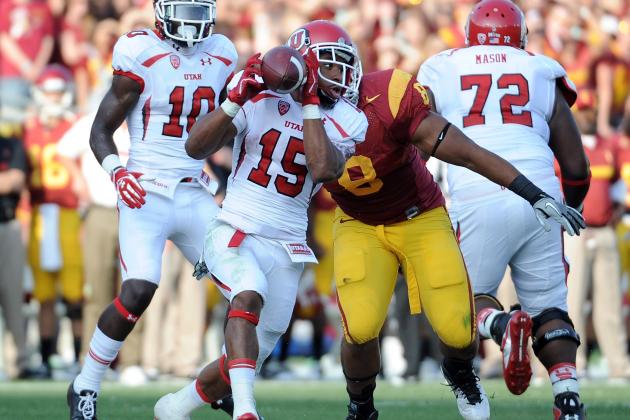 Harry How/Getty Images

At 6'3" and 250 pounds, the defensive end from Southern California would be a great addition to the Green Bay Packers defense. B.J. Raji did not have a great season in 2011, and their defensive line was often invisible. Many quarterbacks enjoyed way too much time in the pocket against the Green Bay pass rush.
Adding a high draft pick to the defensive line will drastically improve the Packers as a team. Their defense was suspect all season, but Aaron Rodgers and the offense were so effective that their defensive struggles were often overshadowed and underplayed.
If Perry is able to add some muscle and improve his quickness off the line, he could be a great selection for the Pack.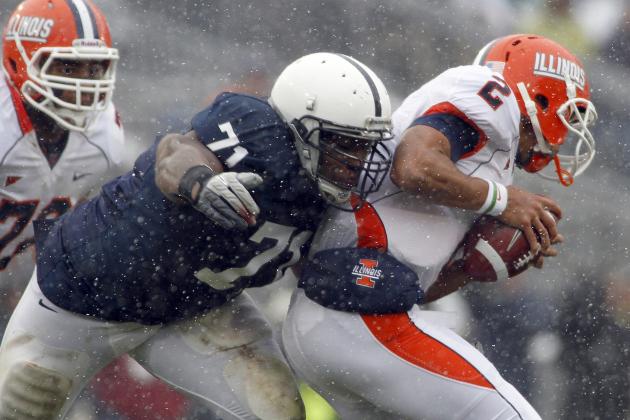 Justin K. Aller/Getty Images

Another solid defensive end who will pay dividends for Green Bay, Devon Still is hoping to bring his confidence and performance from the college game into the pros. He is a monster, weighing 310 pounds and standing tall at 6'4". His consistency and quickness have been questioned, but his presence on the defensive line is quite impressive.
Still possesses solid technique, so becoming integrated in to the Green Bay scheme should not be too much of a concern. Further, he is great at tackling inside runners—another issue that haunted Green Bay fans all season.
His tendency to get behind the line of scrimmage and tackle runners for a loss must look attractive to Packers scouts. Setting up second (or third) and long situations will create opportunities for the DB's to come up with more interceptions.
The Green Bay Packers should heavily consider drafting Devon Still in either the second or third round of the draft.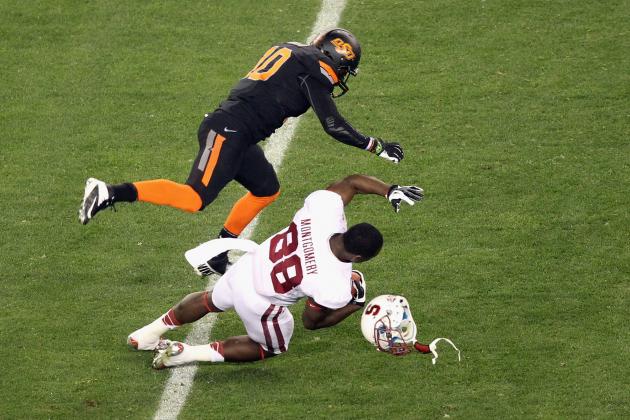 Christian Petersen/Getty Images

This past year in Green Bay, the safeties did not have their best season. The loss of Nick Collins proved devastating, and there seemed to be more holes in the Packers secondary than a slice of Swiss cheese.
Mike McCarthy is hopeful that Collins will return at 100 percent next season, but that is no guarantee. Selecting Markelle Martin out of Oklahoma State in this year's draft would be a smart move to add some depth to the safety position. He was named to the All-Big 12 First Team for his play with the Cowboys this past season.
One of his biggest attributes is his tackling ability, which would at least be a start to erasing the nightmare of that long Hakeem Nicks touchdown in the divisional round. There are many strong offensive teams in the NFL who are after a good young safety to shore up a struggling secondary.
If the Packers can secure Martin in the third or fourth round, it will be a step in the right direction for their defense.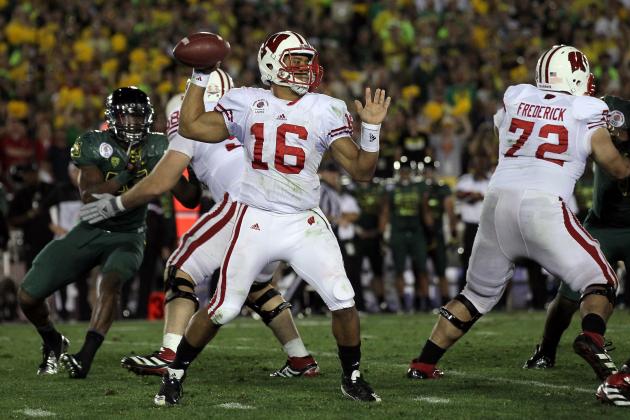 Stephen Dunn/Getty Images

With Matt Flynn almost certainly on the move this offseason, the Packers are going to need to draft a quality young backup to learn under Aaron Rodgers. Rarely does Rodgers sit out, unless the Packers have already clinched a bye or as precaution after a concussion.
The last two seasons have shown that Matt Flynn was able to fill in for Rodgers and put up impressive numbers. The Packers have an incredible offensive system so, if they can secure a quarterback with proven success at the college level, they will be able to develop the next great backup.
Russell Wilson from Wisconsin may very well be that next great backup. He already plays in the same state as the Packers, so the late draft selection makes sense. He has been touted as a player with a strong arm and the ability to make plays with his feet.
That sounds very familiar to the current starting signal caller at Lambeau Field. Wilson is a very accurate passer, completing around 73 percent of his throws. He also led his Badgers to the Rose Bowl this past season.
The Packers would be smart to use one of their later draft picks to select the next quarterback they plan on developing under Aaron Rodgers.