Chicago Bulls vs. Boston Celtics: TV Schedule, Live Stream, Spread Info & More
February 11, 2012

Elsa/Getty Images
The Boston Celtics have lost two straight games, including a bad loss to the Toronto Raptors on Friday, and things don't get any easier for the green when they host the Chicago Bulls at the TD Garden on Sunday afternoon.
The Bulls come into Boston fresh off a dominating 31-point rout of the Charlotte Bobcats on Friday night despite star point guard Derrick Rose not playing due to injury.
Chicago beat Boston in the two team's only meeting this season back in January with a comfortable 88-79 win at the TD Garden, and will look to continue the Celtics' troubles against elite teams.
Let's look at everything you need to know about this awesome NBA matchup!
Where: TD Garden, Boston, Massachusetts
Watch: ABC
Live Stream: NBA League Pass
When: Sunday, Feb. 12 at 3:30 p.m. EST
Listen: 850 AM WEEI 
Betting Line: TBD
Key Injuries (from USA Today)
Update: Sunday, Feb. 12 at 2:13 p.m. ET
According to K.C. Johnson of the Chicago Tribune, Derrick Rose will not play against the Celtics on Sunday.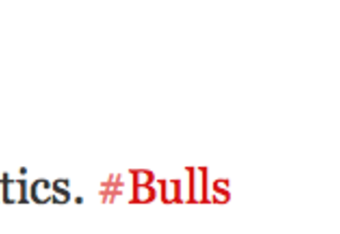 Celtics center Jermaine O'Neal is questionable for Sunday's game with a shoulder injury.
Celtics guard Avery Bradley is probable for Sunday's game with a shoulder injury.
Bulls guard Derrick Rose is questionable for Sunday's game with a back injury.
What They're Saying
Derrick Rose doesn't know if he'll play Sunday against the Celtics in Boston, saying via the Chicago Tribune:
"I really don't know," Rose said about Sunday. "When I wake up, I usually can tell. I'll probably know by the time I wake up."
The Celtics know they have to be more consistent, and Avery Bradley told NECN:
"We need to be us, be consistent every night," Boston's Avery Bradley told CSNNE.com of the general mood among the players inside the locker room following the loss. "We need to know what we're doing on offense, know what we're doing on defense. And we just need to be more consistent and play the same every night." 
Key Matchup: Center matchup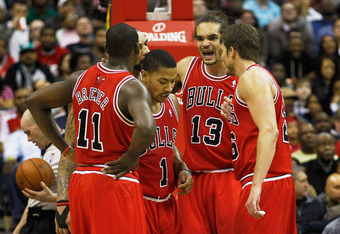 Rob Carr/Getty Images
The point guard battle will be very important even if Derrick Rose does not play Sunday, but the battle at center will be very interesting to watch.
If Jermaine O'Neal does not play because of a shoulder injury, then I expect Chris Wilcox to start in his place, which will in turn weaken the Boston bench since Wilcox is so effective as a big man off the bench.
Not having enough depth to go against Bulls center Joakim Noah is not ideal because he brings so much energy to Chicago and makes you work for everything.
Prediction: Bulls win 95-91
The Bulls have too much depth and athleticism to lose to the Celtics, even if Derrick Rose cannot match up against Rajon Rondo at point guard.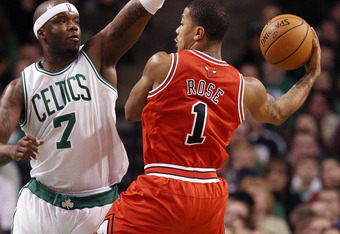 Elsa/Getty Images
Chicago has too much depth in the front court, and will own the boards against a Boston team that ranks dead last in the NBA in rebounding.
The Celtics were awful against the Raptors on Friday night and were making uncharacteristic mistakes and turned the ball over too much. Against a great defensive team like the Bulls, the Celtics cannot shoot themselves in the foot and must be efficient in the half court.
If Rose plays, there is no chance the Bulls lose this game.