Previewing the Final Round at the AT&T Pebble Beach National Pro-Am
February 12, 2012

Harry How/Getty Images
The AT&T Pebble Beach National Pro-Am comes to a close on Sunday and the final round could provide us an exciting finish.
South Korea's Charlie Wi at 15-under(-par) has been sitting atop the leaderboard since round one. He leads Ken Duke by three shots and Tiger Woods by four.
In a tie for fourth place, six shots behind Wi, are Phil Mickelson, Dustin Johnson, Hunter Mahan, Kevin Na and Brendon Todd.
One shot behind that group in a tie for ninth place are Padraig Harrington, Ricky Barnes and Bob Estes. 
At first glance, you have to agree that it looks like it's Charlie Wi's tournament to lose. But if we have learned something from the previous final rounds this year (and throughout history) is that no lead is safe—especially when you have two unlikely players atop the leaderboard, who have never won a PGA Tour tournament before. 
Wi, 40 years old, is ranked 175th in the world. His previous lonely finish lower than 50th place at this tournament was a T14 in 2009. And this year, he came into the tournament with two straight missed cuts and a T54 at the Humana Challenge.
Duke, 42 years old, is ranked even further down at 258th in the world. He only made the cut at this tournament back in 2004 when he finished T54 and had missed the cut his last three times here. 
However, Wi and Duke have been by far the most consistent players in the first three rounds, and other than Woods, no one else is near them in the leaderboard.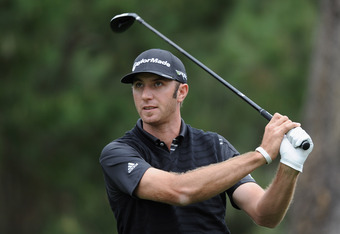 Harry How/Getty Images
Yet, the biggest question that comes to mind is, can any of them hold the big names behind them?
The two best American players in recent history, Tiger Woods and Phil Mickelson, for starters are the two immediate challengers in the group playing just before them.
Two-time Pebble Beach winner Dustin Johnson is in the group before Woods and Mickelson. Feeling the pressure already?
Wi has been on top of the leaderboard for all three rounds. He shared it on opening day with Dustin Johnson and Danny Lee, but he has maintained a three-shot lead the past two rounds.
The last time Wi lead into a fourth round in the PGA, he lost the tournament to a surging David Toms.
He has played two bogey-free rounds thus far, but neither went at the Pebble Beach course. So even if he repeats his three-under(-par) on Friday at Pebble Beach, it might not be enough to win the tournament.
Duke's best round of eight-under(-par) was at the Pebble Beach course on Thursday. In fact, that score is remarkable considering it was made on his charge on the most difficult part of the course, the back-nine.
Now you must be asking yourself, can they do it with the pressure of having everything at stake on Sunday?
We know Woods has been there, done that. He's shown flashes of greatness lately, as he did with his surge on Saturday where he got to withing three shots and had plenty of chances down the stretch to make up some more ground.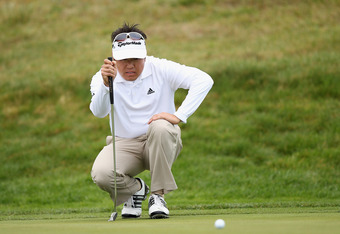 Ezra Shaw/Getty Images
The question with Woods is, can he finally put it together in time for another great run on Sunday? 
One thing that can help Woods is playing with Mickelson in the same group. The same goes for Mickelson, although his climb is steeper, being six shots behind. 
But the competitive juices can flow in this pairing, and if anyone could make a remarkable comeback and win this tournament, it is Woods or Mickelson. They could feed off each other and put the pressure on the far less-proven Wi and Duke.
This is where the combined 18 major wins weigh in heavily.
Another player who has a lot of ground to do, but that could definitely get there, is Dustin Johnson. 
He is back at his favorite golf course, where he posted his nine-under(-par) round on Thursday. The course is also the site of his finishing rounds when he captured back-to-back this tournament title in 2009-10.
Johnson is a player fit for this course, and if he gets going early, he might not stop until the winning ceremony.
From the rest of the players, Harrington, Mahan and Na have been playing on streaks at a time. None has been able to keep it going for a full round. They would need more than that on Sunday to contend for the win.
Take for example Harrington on Saturday. He was completely in the mix in solo second place at 12-under(-par) with five holes to go. Then he made back-to-back bogeys and a double-bogey to fall back down the rabbit hole and to even-par for the round.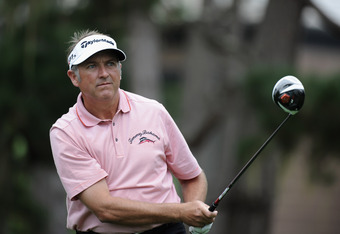 Harry How/Getty Images
Reality is, it all comes down to Charlie Wi coming back to the group a little and any of them making a surge to take it away from him.
But if Wi plays anywhere the way he has so far, he will be raising the winning trophy at a PGA Tour for the first time.
My take is that it might not happen. I fully expect Woods and Johnson to make a run for the title on Sunday and either one of them to win the tournament.
Woods' second take in a row at the Pebble Beach course will benefit him, especially the way he played the back nine. 
While Johnson should once again dominate the par-five holes, he will post a low round score that could propel him for his third win in four years.
Make sure you are watching the final round on Sunday. If you don't you might miss on yet another improbable finish.
For a complete listing of the tee times you can click here.
LEADERBOARD THROUGH ROUND 3
| | | |
| --- | --- | --- |
| Pos | Player | Total |
| 1 | Charlie Wi (ROK) | -15 |
| 2 | Ken Duke (USA) | -12 |
| 3 | Tiger Woods (USA) | -11 |
| T4 | Phil Mickelson (USA) | -9 |
| T4 | Dustin Johnson (USA) | -9 |
| T4 | Hunter Mahan (USA) | -9 |
| T4 | Kevin Na (USA) | -9 |
| T4 | Brendon Todd (USA) | -9 |
| T9 | Padraig Harrington (IRE) | -8 |
| T9 | Ricky Barnes (USA) | -8 |
| T9 | Bob Estes (USA) | -8 |
If you want to review the complete leaderboard you can click here.
Coverage
TV - CBS 3:00-6:30 pm EST
Sirius XM - 12:00-7:00 pm EST