Chicago White Sox: 6 Guys Who Hope to Make the Roster This Spring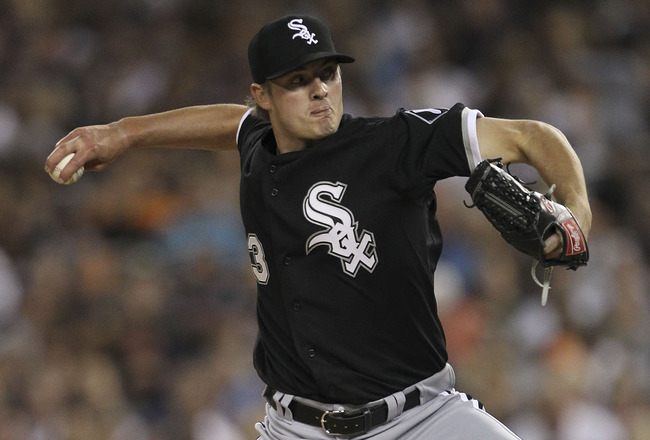 Leon Halip/Getty Images
As the start of spring training draws closer for the Chicago White Sox, there are several young faces who are eagerly anticipating the opportunity to show what they've got and possibly earn a spot on the 25-man roster.
With several veterans gone from last year's squad, there are going to be some roster spots that are there for the taking.
While the starting lineup and rotation are set for the most part, there are still spots up for grabs off the bench and in the bullpen.
If the White Sox decide to carry only 11 pitchers to start the season, then they will have five bench spots open. But if they go with 12 pitchers, then the bench number drops to four. However, unless something drastic happens, two of those bench spots will belong to Brent Lillibridge and Tyler Flowers, which would then leave only two or three spots.
Lillibridge was a super-sub off the bench last year and can play both the infield and outfield. Flowers was solid when A.J. Pierzynski was out for a stretch last season and seems to be in line to take over when Pierzynski is done.
As far as the bullpen, the only guys who are guaranteed to be there are Matt Thornton, Jesse Crain and Will Ohman—so that leaves either three or four more spots there.
Either way, there looks to be six spots open on the 25-man roster; and assuming the Sox decide to start the season with an 11-man pitching staff, here's a look at six guys who are looking to fill those spots.
Addison Reed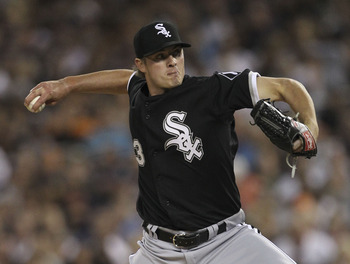 Leon Halip/Getty Images
With the departure of Sergio Santos to Toronto, the closer job for the White Sox is now open.
The top candidate for the job may be lefty Matt Thornton—however, he struggled when getting an opportunity in that role in 2011.
If it's not Thornton, then young righty Addison Reed may get his shot to close at the big league level. Reed, who was drafted by the Sox in the third round of the 2010 amateur draft, was called up last September and finished with no record or saves and a 3.68 ERA in six appearances.
However, in the minors Reed shot up the ranks quickly, as he started 2011 in Single-A ball and finished at Triple-A Charlotte. His combined ERA in four minor league stops at Single-A, Single-A-plus, Double-A and Triple-A was 1.26, and he totaled five saves while giving up only 43 hits in 78.1 innings.
Now that Chris Sale has moved into the rotation, it really comes down to Reed, Thornton or possibly Jesse Crain.
It should interesting this spring to see if Reed has the stuff to become the next dominant closer on the south side; but whether he's the closer or not, my guess is that he will be in the White Sox pen to start the season.
Dylan Axelrod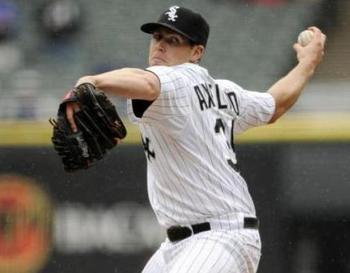 Axelrod was a September call-up for the White Sox last season and was pretty solid in his short stint.
In three starts last fall, he went 1-0 with a 2.89 ERA and recorded 19 strikeouts in 18.2 innings pitched—this was after he went a total of 9-3 with a 2.69 ERA between Double-A Birmingham and Triple-A Charlotte.
If he has a solid spring, he has a good shot at gaining a roster spot this year as a middle reliever. However, he will have some competition, which among others includes young right-hander Nestor Molina who was acquired in the Sergio Santos deal with Toronto.
Zach Stewart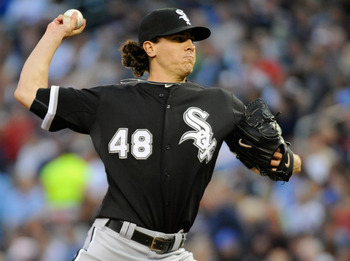 Hannah Foslien/Getty Images
Stewart came to the White Sox last year along with Jason Frasor from the Toronto Blue Jays in exchange for Edwin Jackson and Mark Teahen.
Frasor has since gone back to the Blue Jays, but Stewart remains.
At the time he was traded to the Sox, he had only three starts in the major leagues and was 0-1 with a 4.86 ERA. And while he showed signs that he may have the stuff to stick at the major league level, Stewart's numbers with the Sox were not that impressive: In 10 appearances—which included eight starts—he finished 2-5 with a 6.22 ERA.
Despite the numbers, Stewart still has a good shot to make the 25-man roster as a middle reliever—or possibly a starter if something unforeseen happens—with a good spring training.
Eduardo Escobar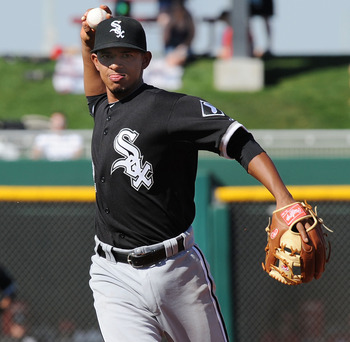 Norm Hall/Getty Images
Escobar has been on the rise in the White Sox system over the past three seasons and he may finally get his shot to make the major league roster this spring.
He was called up last September and saw minimal action, as he hit .286 in seven at-bats.
However, in a full season at Triple-A Charlotte, Escobar hit .266 with four home runs and 45 RBIs, but more importantly had another solid season defensively at shortstop and second base.
For three straight seasons, Escobar has been named the White Sox best defensive minor league infielder by Baseball America and has been compared to Ozzie Guillen and Omar Vizquel—which is pretty high praise.
His bat has always been the thing holding him back; but after a good year in Charlotte last season, he may finally be ready to make the jump to the big leagues.
Escobar should make the team as a utility man behind Ramirez and Beckham if he has a strong spring.
Delwyn Young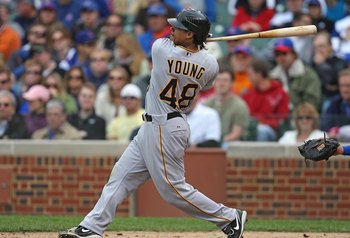 Jonathan Daniel/Getty Images
Delwyn Young just recently signed a minor league contract with the Sox in January and has a legitimate shot at making the Opening Day roster.
Even though Brent Lillibridge is probably the White Sox fourth outfielder, he also plays the infield; so the Sox will probably keep another outfielder—which is where Young comes in.
The switch-hitting Young has 344 games of major league experience with the Dodgers and Pirates including playing a career-high 124 games for Pittsburgh in 2009. He has a career batting average of .258 with 17 home runs and 81 RBIs.
Although he spent all of 2011 in Triple-A for Philadelphia, Young has the MLB experience that many of the other outfield candidates do not have. Guys like 2009 first-round pick Jared Mitchell, Brandon Short and Jordan Danks will all be in the mix in the outfield, but at this point Young has probably the best shot to stick with the team.
Osvaldo Martinez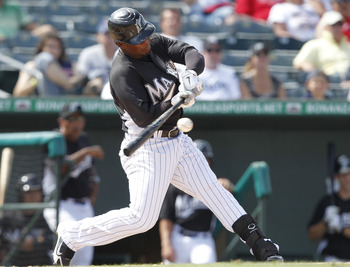 Joel Auerbach/Getty Images
Martinez came to the White Sox this offseason along with pitcher Jhan Marinez as part of the deal that sent former manager Ozzie Guillen to the Miami Marlins.
In 71 major league at-bats with the Marlins, Martinez is a .258 hitter with no homeruns and three RBI's.
He has a decent shot to make the roster because of his ability to play both shortstop and third base.
The White Sox are going to need another option at third base behind Brent Morel and Martinez may fill that role. If Eduardo Escobar makes the roster it will be as a shortstop/second basemen and Lillibridge hasn't played much third in his career so that leaves a possible opening for Martinez.
If he makes an impression during spring training, he may find himself on the Opening Day roster.
Keep Reading

Chicago White Sox: Like this team?