2012 NFL Draft: Best-Case Scenario in Each Round for Minnesota Vikings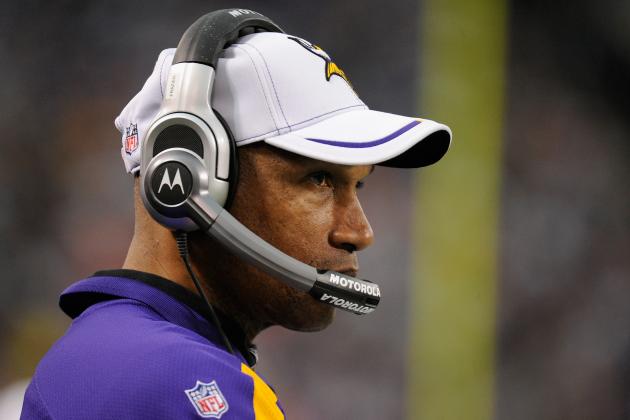 Hannah Foslien/Getty Images

A good draft for the Minnesota Vikings is absolutely critical for their success in the 2012 season.
It wasn't so much that the Vikings were as putrid as their 3-13 record indicated in 2011, it was that there were certain pieces of the puzzle, huge pieces, that were missing.
Percy Harvin was a one-man show on the Vikings' offense, and the same goes for the defense with Jared Allen.
I mean, how many teams can say they went 3-13 and still sent a player to the Pro Bowl? The talent is there, just a few more pieces need to be added.
The 2012 NFL Draft is about two-and-a-half months away, and the Vikings need to be doing some hardcore planning and outlining as to how they are going to assemble the perfect draft class. Minnesota is in a position where just a few elite players out of the draft could completely turn this team around in 2012.
So, without further adieu, here is the best-case scenario for the Minnesota Vikings in each round of the 2012 NFL Draft.
Begin Slideshow

»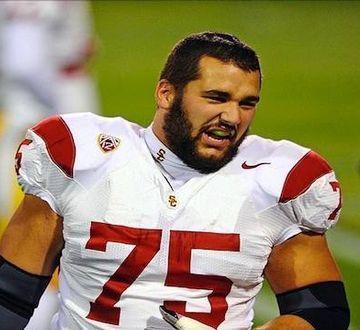 Not to the shock of anyone, the best-case scenario for the Vikings in the first round is to draft left tackle Matt Kalil from Southern Cal.
The Minnesota Vikings have had one of the worst offensive lines in the NFL for the last two seasons. With Steve Hutchinson aging quickly, and injury prone, he may not even return for the Vikings in 2012. That would leave them with only Anthony Herrera and Phil Loadholt as the only two players worth mentioning on the offensive line for the Vikings.
It's no secret that a major upgrade is needed on the offensive line, and Matt Kalil would be the one to provide that upgrade.
Unfortunately for Minnesota, St. Louis sits right in front of them with the second pick in the draft. It is unknown what the Rams plan to do with that second pick, but many experts have predicted the Rams to nab Matt Kalil with the second pick.
Hopefully, for the Vikings sake, Kalil is still on the board at No. three, because if he is, there is no doubt that they will draft him.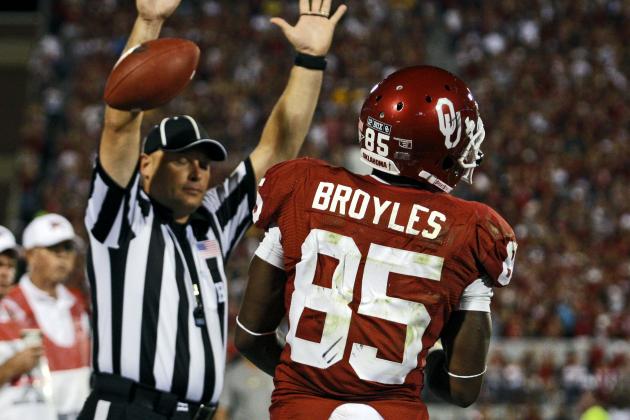 Brett Deering/Getty Images

There are some very talented receivers in this year's draft class. Justin Blackmon leads that group of talented receivers, but he will be gone in the first round.
Predicting who will fall where isn't an easy task, because the draft can throw some curve balls you never seen coming; just ask the Vikings about who they selected 12th overall last year.
Assuming that receivers like Justin Blackmon, Michael Floyd, Kendall Wright and Alshon Jeffery will all be gone in the first round, the Vikings' best-case scenario would be to select Ryan Broyles.
Broyles was an extraordinary athlete at Oklahoma, gaining over 4,500 yards receiving and 45 receiving touchdowns.
Vikings quarterback Christian Ponder needs another threat at receiver other than Percy Harvin, and I believe Broyles could provide that.
If Alshon Jeffery is surprisingly available at this point in the draft, then the Vikings' best bet would be take him because of his big body and ability to make huge plays down the field. Broyles isn't a bad secondary option, although.
Mike Ehrmann/Getty Images

The Vikings are in dire need of secondary help. Cedric Griffin and Antoine Winfield are both very injury prone, especially Winfield who will be 35 years old this year.
Every time Griffin and Winfield go down, Asher Allen and Benny Sapp aren't going to suffice, they just aren't, so the Vikings must draft a young, talented corner.
The best-case scenario in the third round is for the Vikings to draft Janoris Jenkins from Northern Alabama. At this point in the draft, top corners Morris Claiborne, Dre Kirkpatrick, and Alfonzo Dennard will be gone.
The downside of Jenkins are his multiple run-ins with the law. Jenkins was arrested twice at Florida, and was cited for possession of marijuana. The first time he was arrested, police had to use a taser on him after a fight he got into escalated.
On April 23, 2011, Jenkins was dismissed from Florida's football program. He went on to finish his college football career at Northern Alabama.
This would be a good selection for Minnesota, only if Jenkins can stay out of trouble.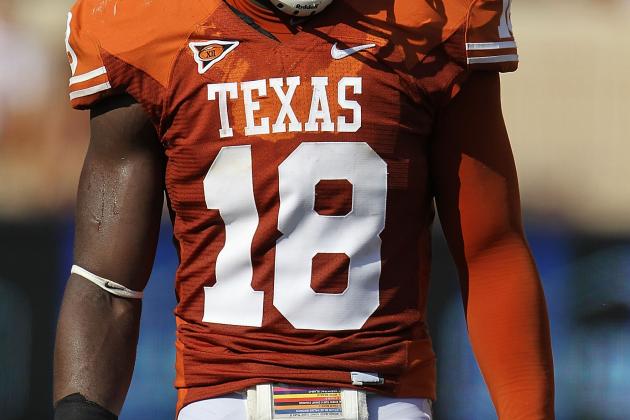 Ronald Martinez/Getty Images

With E.J. Henderson's contract expiring, and with him being 32 years old, the Vikings may want to consider selecting a linebacker in the middle of the draft. While the linebacker position isn't necessarily of high priority for the Vikings, it's still an issue that needs to be addressed.
Best-case scenario for the Vikings in the fourth round would likely be Emmanuel Acho from Texas. Acho was an All-Big 12 linebacker in 2011, and he is the brother of Arizona Cardinals linebacker Sam Acho, who also attended the University of Texas.
Acho was solid at Texas, and in 2011 had 102 tackles, 13.5 tackles for loss, three sacks and five PBU's.
Both E.J. and Erin Henderson for the Vikings are free agents. The Vikings' best bet is to resign E.J. Henderson, let Erin Henderson go and draft Emmanuel Acho in the fourth round.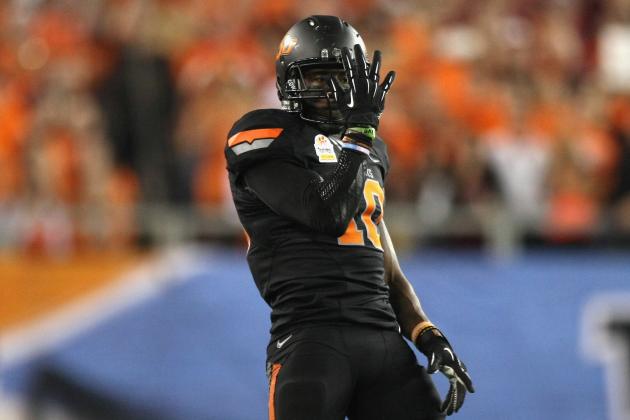 Donald Miralle/Getty Images

The Vikings need a safety almost as bad as they need a corner.
Husain Abdullah is a pretty solid safety for Minnesota, but the only other safety that's even worth mentioning is Jamarca Sanford.
Just like linebackers, safeties aren't the highest priority for the Vikings this draft season, but once again, the point of emphasis to improve in all aspects definitely exists.
With that said, the Vikings should look to select a safety as the draft hits the home stretch in the fifth round.
Best-case scenario here: Markelle Martin. Martin didn't blow you away as a statistical giant at Oklahoma State, but he definitely made his presence known; then again, 65 tackles and nine PBU's for a safety definitely isn't bad.
Martin has excellent awareness, patrolling the deep secondary like a center fielder; he also isn't afraid to get physical with his opposition.
If the Vikings can land Martin, that would be another young, fresh piece to the defensive puzzle.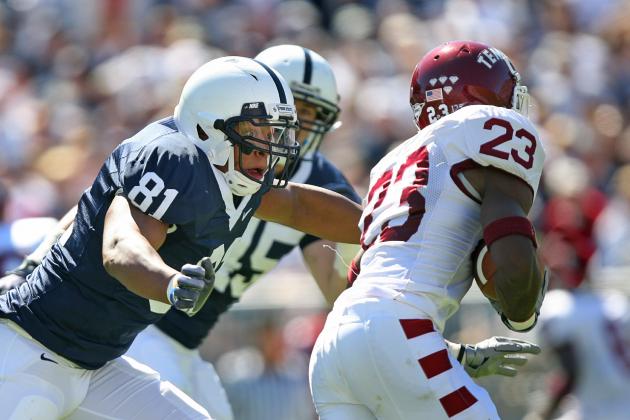 Hunter Martin/Getty Images

At this point in the draft, it's mop up duty. Really, you are trying to round out your draft class the best you can.
For the Vikings, the best-case scenario here would be Jack Crawford, defensive end from Penn State.
The Vikings need a good defensive draft here. The offense has good weapons, and only needs a few pieces added to it. The defense struggled mightily in 2011, due to a bad secondary mostly.
While Minnesota's defensive line is actually quite decent, it wouldn't hurt to add some depth, and Crawford could do well in that depth.
Crawford had 40 tackles in his senior season at Penn State, along with seven-and-a-half tackles for loss, and six-and-a-half sacks. He really showed up in the Nittany Lions' last three games against Nebraska, Ohio State, and Wisconsin, recording four sacks.
The defensive line for the Vikings is relatively young, and Crawford would add to that good, young depth.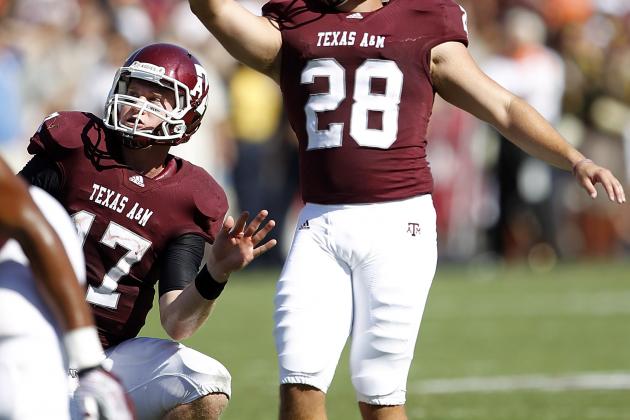 Bob Levey/Getty Images

Don't be so shocked, because it really isn't that surprising. Vikings Kicker Ryan Longwell is 37 years old and has played 15 seasons in the NFL, who knows how much longer he'll be kicking.
So, best-case scenario here for the Vikings: Randy Bullock.
Fortunately for the Vikings, it isn't very common for kickers to be drafted in the NFL. The Vikings could land a top-notch kicker in Randy Bullock.
In 2011, Bullock hit 25 of 29 field goals at Texas A&M, and won the Lou Groza Award for the nation's best kicker.
It's always the picks that people label as insignificant that turn out to be the most worthy. Like that one Tom Brady guy, selected 199th in the 2000 NFL Draft, and has three Super Bowl rings.
In no way, shape or form am I comparing a Rookie kicker to Tom Brady, just saying that selecting a kicker late in the draft isn't hurting Minnesota, and it may be a good selection for them in the future when Ryan Longwell retires.