Ohio State Football 2012: 5 Bold Predictions for Urban Meyer and Ohio State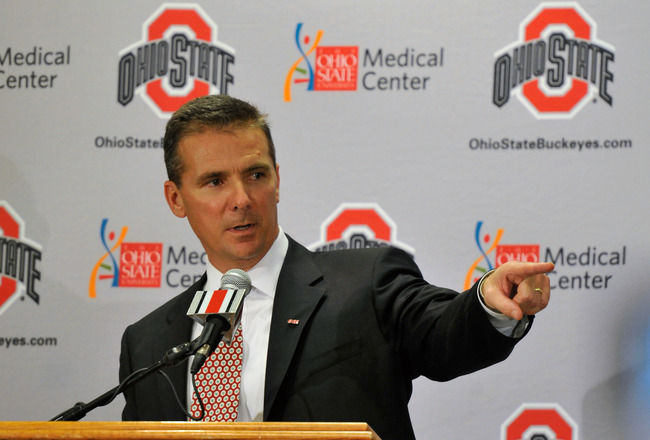 Jamie Sabau/Getty Images
Since Urban Meyer took the job at Ohio State, there has been a lot of excitement in Columbus and throughout Buckeye Nation.
Coach Meyer brings a tremendous track record of success on an off the field. Meyer is a proven recruiter as well as field coach. He has already made an immediate impact on the recruiting trail, retrieving multiple big-name recruits to play for Ohio State.
While these recruits will shape the future of the Ohio State program, what can fans expect from the current roster for next season?
Here are five bold predictions for the 2012 campaign.
2012 Recruit DE Noah Spence: Immediate Impact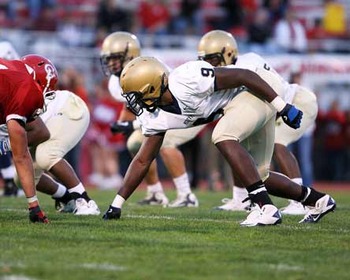 DE Noah Spence - Photo Courtesy MaxPreps.com
In a recent interview I had with Coach Meyer, when asked about the impact players of the 2012 recruiting class, Coach Meyer wasted no time pointing to the ability of DE Noah Spence:
"It's going to be a hard to keep Noah Spence off the field. He's one of the highest recruited players in the country and top five national recruit with speed," he said. "You can spot-play him (Spence)."
Noah Spence is a top-shelf defensive end from Harrisburg, PA. He's strong, quick and highly versatile playmaker that Meyer will most likely use all over the field. Spence can be used to pass rush or drop back to cover the flat or middle of the field.
Look for Noah Spence not only to be one of the best defensive players on Ohio State, but perhaps in all of the Big Ten.
Braxton Miller Will Prove to Be an Elite Quarterback in 2012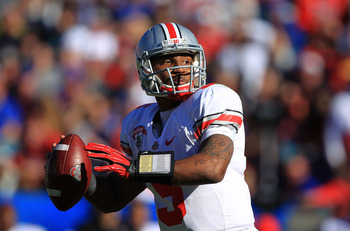 Scott Halleran/Getty Images
Coach Meyer has helped developed talent before. We've seen him do it with Alex Smith, Chris Leak and Tim Tebow. We will once again watch how he does it with Braxton Miller. The only difference here is that Braxton Miller may already have more athleticism than any of the quarterbacks Meyer has been around.
Meyer knows that Miller can be extremely versatile when it comes to running the ball. Miller finished with 715 rushing yards in the 2011 season. His numbers passing weren't all that great, but will improve under Meyer.
Not only will Miller's elusiveness and speed be utilized to create a dynamic rushing attack, but with Meyer as his mentor, watch for Miller to have a breakout season in the passing game as well, proving that he will be one of the elite quarterbacks in 2012.
The Buckeyes Will Win Their Division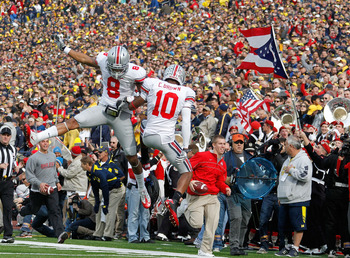 Gregory Shamus/Getty Images
The Big Ten Leaders division only had two teams that finished with a conference record better than .500 in 2011. Look for that to be a similar situation in 2012.
Wisconsin takes a hit losing QB Russell Wilson and WR Nick Toon.
Purdue is still trying to find an identity on defense. The Boilermakers recently hired Tim Tibesar to lead the defense, but they are trying to figure out if they want to run a 3-4 or 4-3 defense.
Illinois will be led by new head coach Tim Beckman after firing Ron Zook at the end of last season. Is Indiana ever a factor in the Big Ten race?
And finally, do we have to mention what Penn State has been through over the past six months?
Wisconsin looks to be the only divisional test for the Buckeyes in 2012. However, I don't see this one being close at all. If you remember anything about Urban Meyer, he takes things personally. Don't think for one second he won't take Bret Bielema's comments after Signing Day personally.
Ohio State will win this division in 2012.
Ohio State Beats Michigan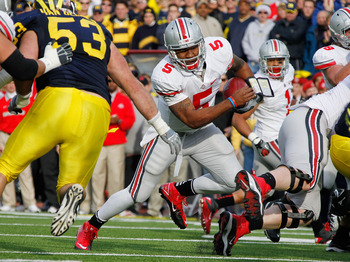 Gregory Shamus/Getty Images
If there is one thing Meyer understands about "The Big Game," he knows it's bigger than big.
Growing up in Ohio, Meyer watched this game every single year. After college, Meyer went back to work under former Buckeyes coach Earle Bruce at Ohio State. Meyer has watched this storied rivalry evolve throughout the years and knows this is a must win.
The loss to Michigan in Ann Arbor last season definitely left a sour taste in the mouths of Ohio State players and fans. This was the first loss to the Wolverines for every player on the roster after winning the previous seven matchups.
With the postseason ban assessed by the NCAA for the 2012 season, this game is Ohio State's bowl game. Ohio State will have the home-field advantage this year and the fans will be ready.
By the time these two teams meet in 2012, it's likely this will be a showdown between two of the nation's best quarterbacks: Denard Robinson and Braxton Miller.
Meyer Will Be Named 2012 Big Ten Coach of the Year
Jamie Sabau/Getty Images
According to CBS Sports, Meyer is the No.1 choice for best coaching hire. This is obvious and this year will prove why.
My final bold prediction for Urban Meyer and the Ohio State Buckeyes is that Urban Meyer will be named the 2012 Big Ten Coach of the Year.
Not the biggest bold prediction, but by looking at the schedule, the Buckeyes can easily win 10-11 games. This will be a huge turnaround from what the Buckeyes saw in all of 2011. Regardless of the postseason ban, this year will be one of the biggest turnarounds in college football.
Follow me on Twitter
Keep Reading

Ohio State Football: Like this team?