UFC on FUEL TV 1: Diego Sanchez vs. Martin Kampmann II Breakdown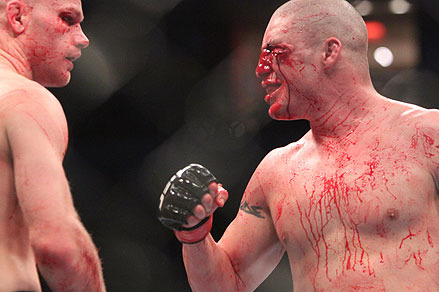 Diego Sanchez (right) with Martin Kampmann/ Ken Pishna for MMAWeekly.com
Come next Wednesday, Diego Sanchez will be taking on "The Juggernaut" Jake Ellenberger in what is likely a No. 1 contender battle for the welterweight strap, which will be hosted by the UFC's first endeavor on FUEL TV.
Sanchez earned his top-spot in the division with impressive decision victories over former contenders Paulo Thiago and Martin Kampmann.
The victory over the Dane was especially important, as both men garnered high praise for their all-out war, which had left Sanchez battered and visibly worse for the wear.
After three hard-fought rounds, Sanchez earned the contentious decision win, though many felt that Kampmann was robbed of the decision. Should Sanchez come out victorious, and Kampmann as well in his next tilt, how will a second bout between the two fan favorites pan out?
Diego Sanchez (right) with Martin Kampmann/ Ken Pishna for MMAWeekly.com
Begin Slideshow

»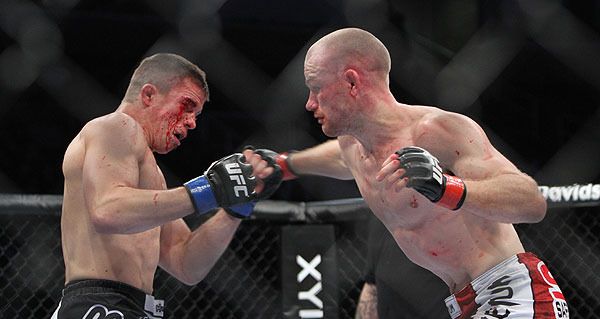 Kampmann (right) wading in against Rick Story/ Laron Zaugg for MMAWeekly.com
Sanchez has shown that, when he connects, he can pack a good punch.
However, his strengths have and always will lie in his grappling skills.
His deficiencies, meanwhile, have proven to be his technical prowess as far as striking is concerned. In his first endeavor with Kampmann, Sanchez was bloodied and battered worse than we've ever seen him before.
The Xtreme Couture product in Kampmann was able to score with jabs and straights in a reckless and open Sanchez, connecting time and time again before opening up several lacerations on the face of The Ultimate Fighter winner.
His background as a kickboxer has aided Kampmann well in his mixed martial arts career and has shown that he is efficient with both his punches, knees and kicks, making him every bit as dangerous so long as the fight stays on the feet.
Kampmann (right) wading in against Rick Story/ Laron Zaugg for MMAWeekly.com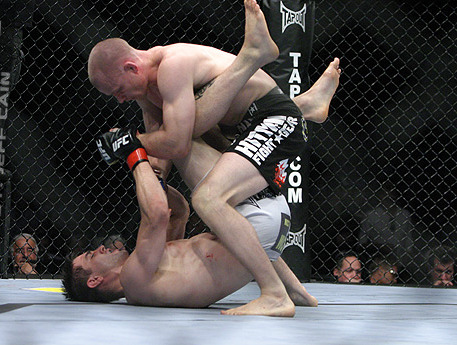 Kampmann (top) pounding away on Carlos Condit/ Jeff Cain for MMAWeekly.com
In their first endeavor, Kampmann showed that his takedown defense is among some of the best in the welterweight class.
Time and time again, Kampmann was able to shuck off all attempts from Sanchez in trying to bring the fight to the ground, though finally was taken down after being rocked against the fence.
If there's any issues with Kampmann, it's his inability to pivot away from the cage. Consistently, Kampmann backs straight up, which has cost him in his battles against Paul Daley and early on in his tilt against Rick Story.
As powerful and daunting a man that the "Horror" Story is, he too had a difficult time in taking Kampmann to the ground and instead was forced to stand and trade with the bruiser, who took home the decision win.
On the ground, Kampmann is no slouch, having earned submission victories over Drew McFedries, Jorge Rivera and Jacob Volkmann in the past.
Kampmann (top) pounding away on Carlos Condit/ Jeff Cain for MMAWeekly.com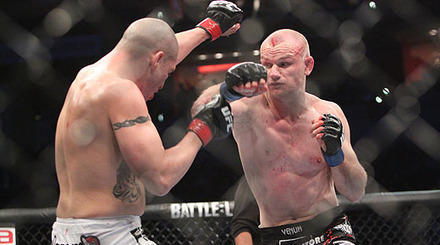 Kampmann (right) against Sanchez/ Ken Pishna for MMAWeekly.com
Sanchez has a chance should he be able to bring Denmark native to the ground, though Kampmann will not be finding himself on his back, not this time.
A frantic pace from Sanchez will eventually lead to his downfall, as Kampmann again employs his sprawl-and-brawl tactic on the Greg Jackson fighter, bludgeoning his face over the course of their welterweight tilt.
In a five-round battle, Kampmann could earn the stoppage, most likely by way of Doctor's stoppage after copious amounts of blood are spilled on the canvas, but in a three-round tilt, the budding contender would be more likely suited for the decision win, as he edges Sanchez again in another thriller.
Kampmann (right) against Sanchez/ Ken Pishna for MMAWeekly.com