New York Knicks: Stop the Linsanity
February 11, 2012

Chris Chambers/Getty Images
This is getting out of hand.
Faux video-game covers are one thing. Even hastily printed T-shirts can be excused.
But when the laundry tag of a player's jersey sells for $4,800, it's a clear sign that some of us have crossed over into the realm of the ridiculous.
Then again, should we be surprised? After all, everything is exaggerated in New York City—a metropolis known for building up stars just as quickly as it tears them down.
As many athletes can attest, the lights shine brighter on Broadway, and the latest person on center stage is none other than Jeremy Lin, starting point guard of the New York Knicks.
Long before "Linsanity"—an unimaginative term, to say the least—had yet to enter into our collective vocabulary, 60 names were called during the course of the 2010 NBA draft. None of those names belonged to Lin, a 6'3" point guard out of the basketball factory known as Harvard University.
According to Lin's profile on NBADraft.net, the Ivy League combo guard compared favorably to former Phoenix Suns guard Zabian Dowdell. If you don't know who Dowdell is, that's OK—very few people do. Simply put, Lin was projected to be nothing more than a player who—if everything broke just right—might get a couple of 10-day contracts thrown his way.
We're clearly way past that point now with Lin, who has averaged 29.7 points and 8.3 assists in his first three NBA starts—all of which have come in the past week.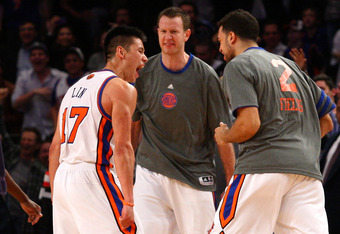 Chris Chambers/Getty Images
But back in November, those tempered pre-draft predictions seemed almost prescient: with the NBA in the midst of a lockout, Lin appeared headed to Italy after an uneventful season with the Golden State Warriors.
As recently as Christmas Eve, Lin was waived by the Houston Rockets—the second time that he was cut in the span of a month. But over the past seven days, not only has the 23-year-old point guard salvaged New York's season, he has probably saved the job of Knicks head coach Mike D'Antoni.
"Linsanity" swept the globe seemingly overnight. Knicks highlights quickly began to dominate SportsCenter. Jeremy Lin merchandise—which didn't even exist at the beginning of the month—started flying off of the shelves, single-handedly stimulating the New York City economy.
And, as if on cue, the inevitable Tim Tebow comparisons began.
To be fair, Lin added propellant to the flame by saying that he draws inspiration from the former Heisman Trophy winner. And the similarities are there, to be sure. Much like Tebow, Lin—who makes no secret of his Christian faith—is the embodiment of everything that is right with sports.
Everyone loves the underdog. Millions of us have dreamt about being that player who comes from nowhere to suddenly becoming the hero. Lin just happens to be playing out that dream on one of the biggest stages in the world.
But unlike the Denver Broncos quarterback, Lin is far more skilled at the basic aspects of his job than Tebow is at his. That said, none of us has any idea how either player's career will ultimately play out. As it stands right now, there's really only one thing that we can truly be certain of.
Tebowmania has taught us nothing.
At some point, the Jeremy Lin ride will end. Or, at the very least, it will slow down to a more manageable pace.
Lin won't go off for 28 and eight every night, the Knicks will go back to their losing ways, and the white-hot lights of Broadway will turn their focus towards someone else.
Stephon Marbury wasn't the answer to the Knicks' point guard woes. Neither was Steve Francis. And as good as Lin may be when he finally plateaus, he too will not be the cure-all for what ails the Knicks.
It's perfectly fine to just sit back and live in the moment until that day comes. But it's another thing altogether to build expectations up to a point where Lin—or anyone else for that matter—will be unable to meet them.
Just ask Tebow.
We can all turn the dial down a bit and still enjoy the story. That doesn't seem like too much to ask.
If we don't, the Lin saga might soon lose that quality that makes it so magical. Less than 10 days in, and we're almost to the point where it's enough to drive a normal man insane.
Or, rather..."linsane."