Player Profile: Whatever Happened to Fernando Torres?
February 11, 2012

Mike Hewitt/Getty Images
After moving to Liverpool from his boyhood club Athletico Madrid in the summer of 2007, the Spanish hotshot was quickly heralded to be one of the supreme strikers in the English Premier League. But, since joining Chelsea in January 2011, the striker has flopped badly.
Having scored 75 goals in 174 top-flight games for Athletico Madrid, the player became hot-property early on in his career—at the young age of 23. This prompted then Liverpool manager Rafa Benitez—a compatriot of Torres'—to bring the Spanish international striker to England for an undisclosed fee believed to be a club-record amount of approximately over £20,000,000 plus Liverpool player Luis Garcia.
Torres' time on Merseyside wasn't entirely for happy sailing as he managed to score 81 goals in 142 games for the Anfield club, but towards the end of his stay there he fell out of favour and was injury-ridden.
The player nicknamed 'el Nino', for his early prominence as a goalscorer in the Spanish league, has seemed to struggle with fitness since 2008, and this could be a major reason for his fall.
Even in the glory tournaments of the Spanish national side (at Austria and Switzerland's joint-hosting of EURO 2008 and the 2010 World Cup in South Africa) the forward failed to consistently impress and always seemed to be below the top pace of the game. Though he was man-of-the-match and scored the winning goal when Spain overcame Germany in the final of EURO 2008, his goal-scoring record at the international level is not up to par with his goals at Madrid and Liverpool; in 91 games he has managed to net 27 goals.
As aforementioned, Torres seemed to drop from 2008 onwards. He used to be about combining pace and strength, preying on defenders on the backline and being ready to trick them when a forward ball was played. He scored great solo goals and was a danger in any game.
What he suffered, though, seems to have set back his development by some distance. Injuries started to hit him from the start of the 2008-09 season, when he picked up hamstring, ankle and knee complaints over the course of two years. These setbacks meant that he was in and out of club and international football and couldn't get a good run together.
Since joining Chelsea, however, he has been phenomenally underperforming. Bear in mind that he joined the club for an English record fee of £50,000,000—an enormous sum of money in any sport—and his expectations have been to rejuvenate an ageing side and to fire the Blues back to their former glories that they experienced under Mourinho. Owner Roman Abramovich, and Blues fans too, must also have hoped that the Spaniard could lead the club to a first Champions League title.
His record at Chelsea thus far has been nothing short of atrocious. It took him 14 games to score his first (and only) goal for the club last season, and this football year he has only been able to achieve another four in 27 games in all competitions. If you were to work out his cost per goal, in terms of his transfer fee, you would come to the figure of £10,000,000 for each one. That's an awful stat for any sportsman.
Now Andre Villas-Boas coaches Torres, and the Portuguese seems to have full faith in the player's ability and potential. In a recent interview 'AVB'  has said that he is "not just looking for Fernando the goalscorer, but Fernando the team player." With Torres having a patient and faithful boss, his prospects of regaining the level and fame that he has had before seem to be realistic.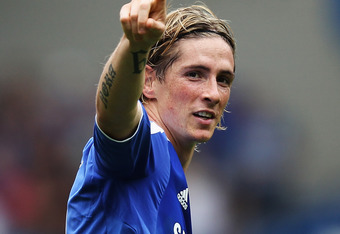 Clive Rose/Getty Images
And with his club side sitting precariously in 4th position in the Premier League, seven points behind 3rd-placed Tottenham Hotspur and one point ahead of 5th-placed Newcastle United, Torres' talent is wanted now—more than ever—to launch a late charge for honours.
It may be too late for a title challenge—with the Blues 15 points behind league-leaders Manchester City—but the club is still competing for the FA Cup and the UEFA Champions League. If Chelsea were to somehow win the ultimate European club competition, their domestic form would surely be forgiven.
It is not at all too late for Fernando Torres to regain control of his career and to reclaim his position as one of Europe's pre-eminent goalscorers. And with the player getting a good run of games, injury-free, under his belt and also having a manager that supports him through everything, he has a platform now to succeed again.
Torres could yet confound all of his critics.