New York Knicks: Why the Knicks Need to Trade Carmelo Anthony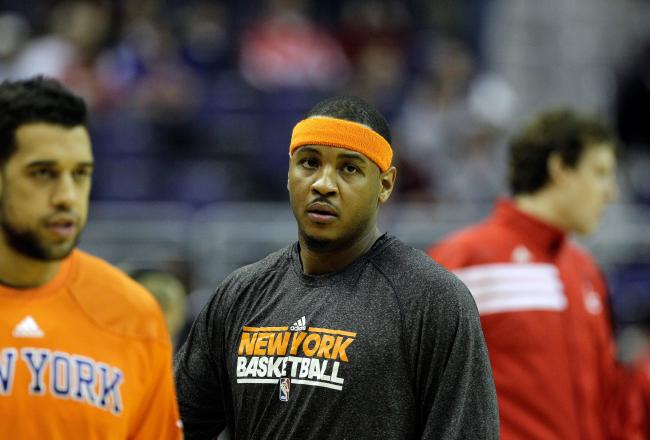 Rob Carr/Getty Images
In the midst of Linsanity, one guy seems to have gotten lost in the shuffle: Carmelo Anthony, the team's best player.
Melo got his wish last year when the Denver Nuggets traded him to New York just prior to the trade deadline, allowing him to team up with his buddy Amar'e Stoudemire. However, the results have been not what the Knicks were hoping for when they acquired him.
Since trading for Anthony, the Knicks stand at a 25-29 regular season record. It's hardly a surprise, as the Knicks had to strip their roster to get Carmelo. They lost talented players including Raymond Felton, Wilson Chandler and Danilo Gallinari. Losing that much talent for just one player will leave a very noticeable impact on a team, and the Knicks may have been better off with their old group.
In 53 games with New York, Anthony has averaged 24.5 points on 43.4 percent shooting—a far cry from just two years ago when he averaged 28.2 points on 45.8 percent shooting with the Nuggets. This is even more shocking when the fact that the Knicks' 'seven seconds or less' offense, which usually results in exaggerated statistics, is taken into consideration.
The Knicks had traded the barn to get Anthony, thinking that they had come away with arguably the league's best pure scorer. The Carmelo Anthony they got is not that guy. This season, Anthony is shooting under 40 percent for the first time in his career (.399). Before this season, he had never shot lower than 42.6 percent, which he did in his rookie year.
Now, the Knicks are sitting at a poor 12-15 record, well short of their expectations coming into the season. Everybody has left them for dead, and nobody takes their title chances seriously.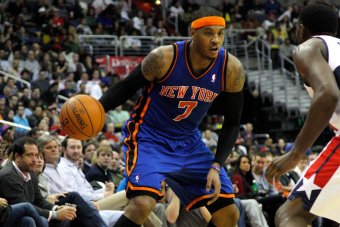 Melo's struggled this season. Maybe New York isn't the right place for him?
Rob Carr/Getty Images
With that said, Carmelo's impact on the Knicks has not been completely missing. Melo has been able to put up some pretty big point totals for his new team, and has at times carried them on his back. The problem is, that was supposed to be the expectation for Anthony, night in and night out. The Knicks wanted Anthony to pair up with Stoudemire to create a dynamic duo of players capable of leading the charge for their team.
This offseason, the Knicks added Tyson Chandler. That was a great addition for them, one that gave them much needed size and a guy who gives them interior defense, rebounding, and most importantly of all, energy at the defensive end. However, while Chandler has been a success this season, the Knicks have not. That's because Carmelo Anthony couldn't raise his play to the level it needs to be at.
If the Knicks want this core to accomplish what they wanted it to, they need Anthony to return to being the focused scorer he was in Denver when he averaged 26-28 points per game on 45 percent shooting. Some may point out that Stoudemire's play has dropped off as well, and while that can be partly blamed on Amar'e, some of it has to be attributed to Carmelo.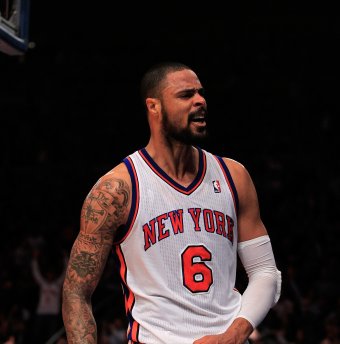 Tyson Chandler's played well this season, but he isn't the impact player the Knicks need.
Chris Trotman/Getty Images
The reason for this is that Carmelo Anthony and the Knicks (especially Amar'e in particular) are simply a poor fit. Even if Melo put up 30 points every night, the Knicks might not be as good as they could be. The reason for this is that Anthony's play style doesn't mesh with the Knicks' offense.
Head coach Mike D'Antoni, throughout his years as a coach for the Knicks, has always preached a high-octane offense where the ball gets moved around quickly and efficiently. Carmelo, however, is the complete opposite of the ideal player for this offense. He is an isolation scorer, a guy who needs the ball in his hands and takes his time breaking down his man.
Even if D'Antoni were to be fired, things wouldn't be fixed. No matter whom his head coach is, Carmelo Anthony will be a ball-dominant player. Amar'e Stoudemire similarly requires touches, as does New York's newest star: Jeremy Lin. With Melo around, those touches are much harder to come by. As much as they may want to make this work, this team can't play together if they want to be successful.
However, the Knicks do have a way out. With Lin's emergence, Carmelo becomes expendable. That's not to say that Lin is more talented a player than Carmelo. However, with Lin on the roster, the Knicks already have a go-to means of offense, meaning the latter's scoring is no longer needed.
Lin has shown that he is capable of scoring himself, and while there are sure to be a few doubters still (and for good reason), Lin's ability to get to the rack is not where his potential lies. Rather, it's Lin's ability to play the pick-and-roll with Stoudemire, something yet to be seen due to Stoudemire missing all of Lin's post-emergence games as he mourns the death of his brother. However, the upside can be seen between Lin and Chandler, an inferior offensive player to Amar'e Stoudemire but one that has shined alongside Lin.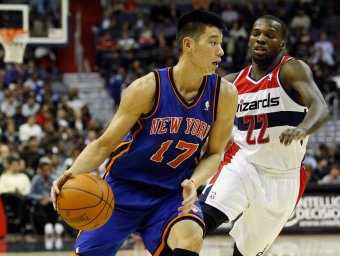 Can the Knicks put their faith in Jeremy Lin?
Rob Carr/Getty Images
Though it's a fact often overlooked, one of Lin's strengths include the knowledge to know how to abuse the pick-and-roll. Lin knows how to speed into the pick and slow out of it, and then read the defense and break it down from there on. He has the agility to get to the rim, and he has the court vision to make the pass to the cutter.
He's not Steve Nash, but Lin knows how to play pick-and-roll basketball as well as the best point guards in the NBA do. With a finisher like Stoudemire on the roster, there is huge potential there. Building around a Lin-Stoudemire pick-and-roll combination could work as a long-term gameplan for New York, especially since pick-and-roll basketball plays to the strength of Mike D'Antoni and the Knicks as an uptempo club.
If a talent like Carmelo became expendable, he would definitely be a trade asset capable of bringing the Knicks a couple of good players, players they can use to maximize the Lin-Stoudemire potential. For example, they could trade Carmelo (and perhaps one or two of Baron Davis, Toney Douglas or Iman Shumpert) to add talented starters at the shooting guard and small forward positions—ones who fit the offensive system.
An example trade that may work is Carmelo Anthony and possibly one of the aforementioned point guards going to the Indiana Pacers in exchange for Danny Granger and Paul George. The Pacers get a go-to scorer who can create his own shot and a backup point guard to shore up their depth behind Darren Collison, while the Knicks get a three-point specialist capable of being the primary scorer when necessary in Granger and a young kid with athleticism, range and potential in George.
With Lin's emergence as a legitimate starting caliber point guard in the NBA, and one who should be able to flourish with Amar'e Stoudemire, the potential is there for New York. They simply have to go out there and redeem it for all it's worth, and the first step of doing that will be to trade Carmelo Anthony.
Trading Carmelo will be hard to accept for everyone, from Melo's buddy Amar'e to the fans who have to come to terms with the fact that their organization may have made a mistake in trading for Anthony. It will be a tough adjustment for all of them. However, making the trade something that the team should strongly consider doing. If they can handle things properly, they may be able to turn this season around and revive their title chances for the long-term.
This article is
What is the duplicate article?
Why is this article offensive?
Where is this article plagiarized from?
Why is this article poorly edited?

New York Knicks: Like this team?