The John Calipari Era's Ultimate Kentucky Wildcats Team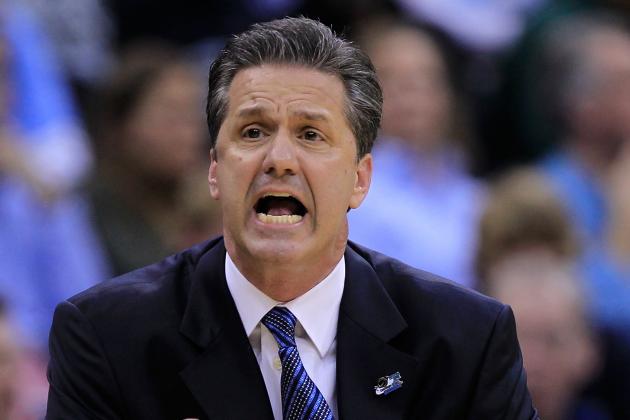 Chris Trotman/Getty Images
John Calipari is making his mark at Kentucky.
John Calipari is in his third season as UK's head coach, and already has an ultimate team.
In his first season, Calipari coached the first Kentucky player to be taken number one in the NBA draft—John Wall. Wall wasn't alone, as four of his teammates were drafted in the first round. Two joined Wall as a lottery pick.
In his second season, only four players were drafted—two lottery picks in the first round and two players in the second round.
Calipari has more stars in his third season, and he will certainly leave a legacy at UK when all set and done.
This is Calipari's ultimate team at UK.
Begin Slideshow

»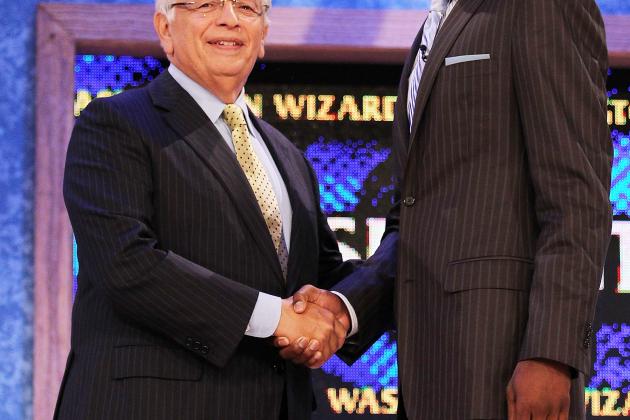 Al Bello/Getty Images
John Wall was the first Kentucky player to drafted first in the NBA draft.
John Wall started his legacy on day one, when he hit a buzzer-beater against Miami of Ohio.
Wall was the perfect point guard—he's 6'4 and can fly down the floor in transition. Wall can shoot the three and still have a pass first attitude.
Oh, lets not forget about his amazing ability to drive to the basket. Wall has been the best point guard I've ever seen at Kentucky. Wall may not be as good of a shooter as Knight or passer as Teague is, but he does have the best combination of the two. That's what I want out of my point guard.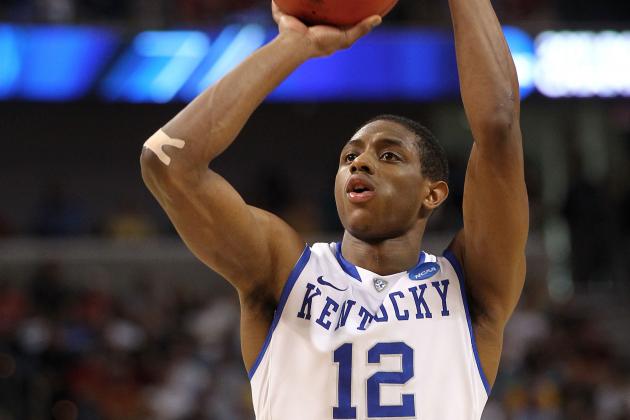 Mike Ehrmann/Getty Images
Knigh was a point guard but could shoot like he was at the two spot.
I know Brandon Knight is a point guard, but he can shoot the three ball. That's why Knight is a shooting guard in this case. He shot 37 percent from outside, but sometimes it seemed like it was better than that.
Knight was a leader—he took a team to the Final Four when they weren't supposed to be a factor in the NCAA tournament. You can't leave him out of the starting lineup.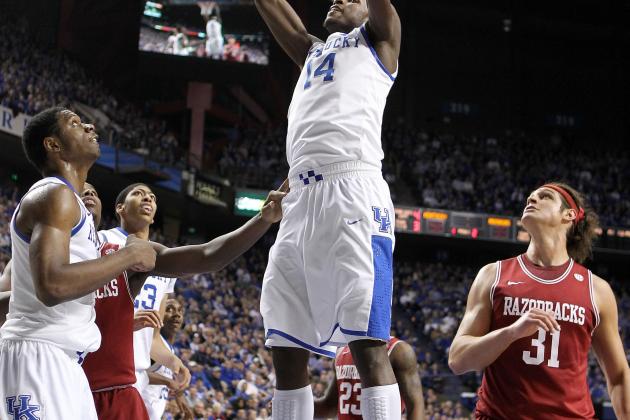 Andy Lyons/Getty Images
Kidd-Gilchrist is does the dirty work for Kentucky.
Kidd-Gilchrist is a hustler and does all the dirty work for Kentucky. He'll dive for the ball, grab rebounds, and do just about anything UK needs him to do.
MKG can pad his stats too. He averages 13.6 points and 7.8 rebounds a game. He's shooting 47.8 percent from the field and takes great shots. Every now and then, he'll take a shot from outside—he may not be a great three point shooter, but he's not afraid to take it.
Michael Kidd-Gilchrist can rebound when others aren't doing their job. He snagged 19 rebounds against Louisville.
You never know which side of MKG is going to show up, but it doesn't matter—he's going to do something right.
This is an example of a player who'll do everything to help UK win. He can do anything.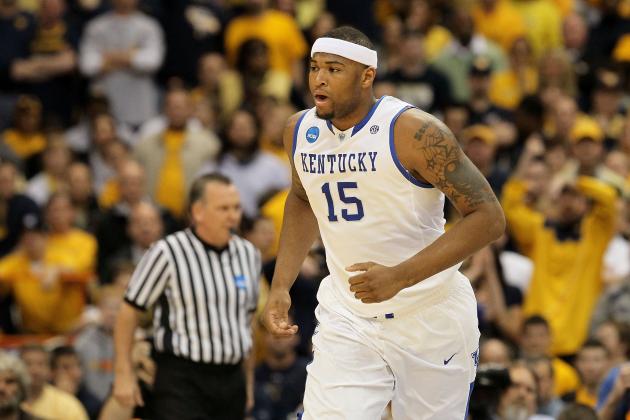 Jim McIsaac/Getty Images
Cousins may be inmature but the kid can play.
Forget about the attitude and immaturity. DeMarcus Cousins is one of the best power forwards I've ever seen. When he's not whining, Cousins is unstoppable.
In his one year at UK, he averaged 15.1 point and 9.9 rebounds a game while averaging just 23.3 minutes a game. If he didn't foul so much, he could've put up numbers that nobody would've imagined.
You've got to start him because of his talent. If he matures, this guy could be an NBA legend. You can't ignore the stats—he's my starting power forward.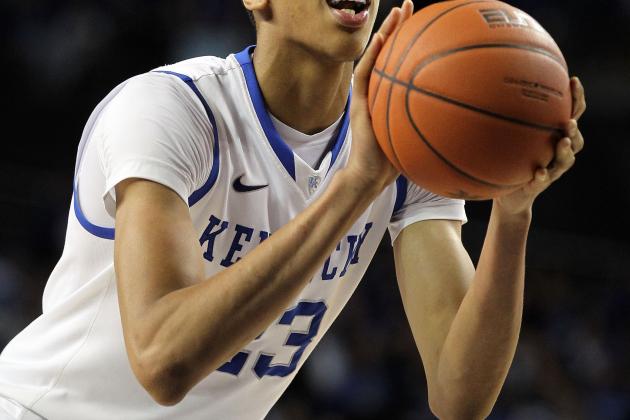 Andy Lyons/Getty Images
Anthony Davis may be one of the greatest shot blockers.
How can you not start Anthony Davis? The kid can play defense and offense.
Davis is setting records left and right. Halfway through the season, Davis owns the UK shot blocking record. You can't sit him.
Davis is averaging 4.8 blocks a game, and takes away the lane from everybody. Teams don't even try to go down the lane anymore because they know Davis is waiting for them.
Davis can also dominate on offense. He's averaging 14 points a game. His post game is great, but he also has a jump shot. If a team leaves him wide open, he can take the shot if there's not a better option.
Anthony Davis is an all around player. He would start on every team in America, even in the NBA.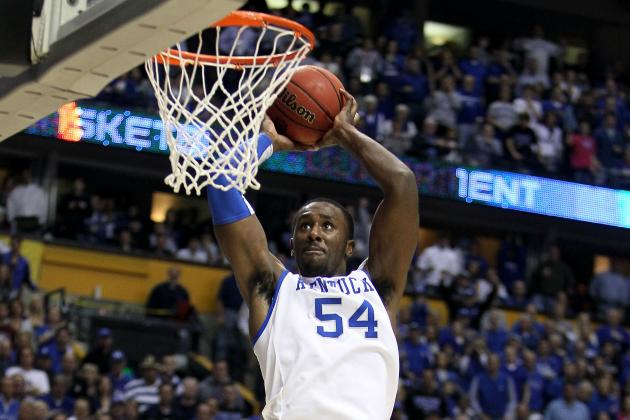 Andy Lyons/Getty Images
Patterson was a fan favorite and a leader.
This team is so good, that Patterson has to be the sixth man. He would start on most teams. There are just other UK players that have more talent than him.
Patterson had a great senior year, averaging 14 points and seven rebounds a game. He can step outside and shoot the three if he has to. Patterson is a hard player to guard because he can post up and shoot from outside.
Patterson doesn't take dumb shots either—he only takes the three if it's the last option. He shot 57 percent from the field during his senior year. Patterson may be one of the smartest players to ever play at Kentucky.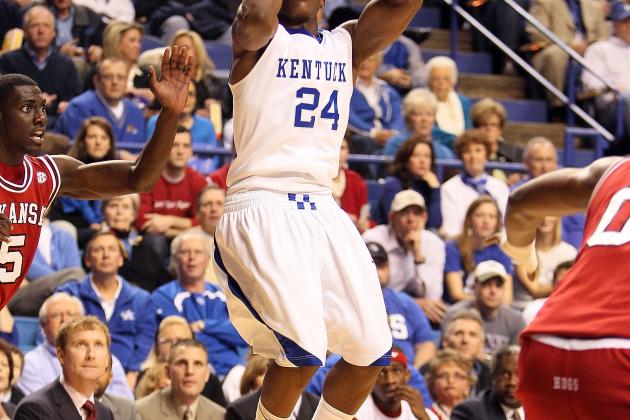 Andy Lyons/Getty Images
Bledsoe was a shooting guard at UK but his natural position is a point guard.
Eric Bledsoe shot 38 percent from outside and was one of UK's most consistent three point shooters. However, his height and passing issues landed him on the bench.
Bledsoe may be a point guard, but he fits the shooting guard position better. He did play the point some, but doesn't take care of the ball well there. He's a little slower than Wall and Teague too.
I also questioned his ability to play defense. My point guard should be a great defender. Don't get me wrong, Bledsoe can play solid defense—but he's more of an offensive player, so he gets to play at the two spot.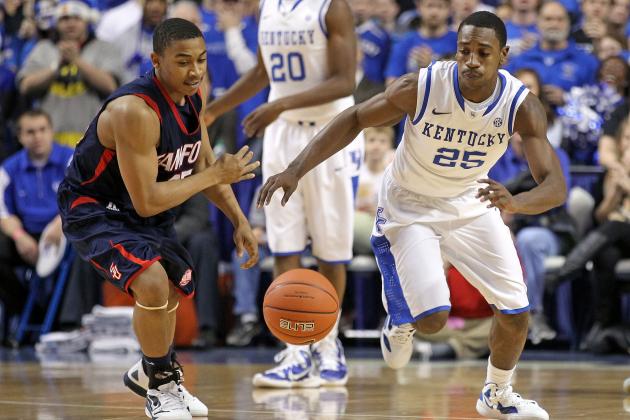 Andy Lyons/Getty Images
Teague is starting to heat up.
Teague is getting better, but he still upsets Big Blue Nation.
He's turning over the ball too much at times, and it's holding him back. Against Florida, Teague dished out 10 assists, which is a sign that Teague is learning. But, he still turned the ball over five times—until he takes care of the ball better, he's the eighth man.
Oh, and Teague needs to learn how to shoot the three. A point guard shouldn't be afraid to take a three-pointer. He has only taken 52 threes, but he's shooting 32 percent—John Wall shot the same percentage. He needs to take the shot when he's open.
He needs to get better if he wants to surpass Wall, Knight, or Bledsoe. That's going to be a challenge for Teague. He's still a talented point guard, though, because of his speed.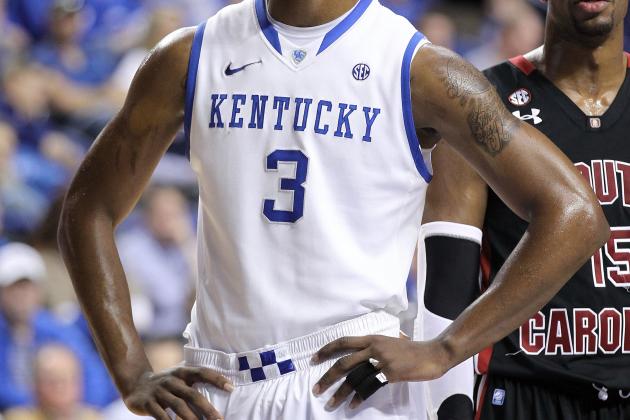 Andy Lyons/Getty Images
You never know which Terrence Jones is going to show up.
Terrence Jones should be a starter in this group but, we don't know which Jones is going to show up. One game he may get zero points and a rebound. The next game, he'll get 18 points, ten rebounds and five assists.
I can't start a guy whose not going to be consistent. He doesn't have the speed to start over MKG anyway. But when Jones is at his best, he can shoot the three and post up. He can be a beast on defense too.
This year he's averaging 12 points and snagging over six rebounds a game. Jones is shooting 49 percent from the field and 35 percent from three-point land.
You've got to love his versatility, because he can be a star when he wants too.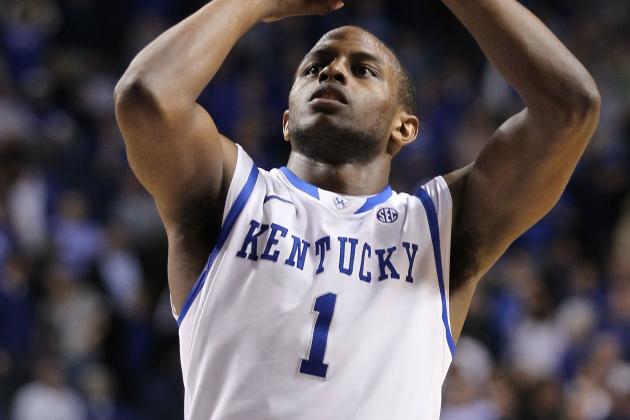 Andy Lyons/Getty Images
Miller is on a mission right now.
Darius Miller joins MKG and Jones at the three position. Unlike Jones, Miller can slide into the shooting guard position if needed.
The kid can shoot lights out when needed. This season, Miller is shooting 38 percent from outside, but he was cold to begin the season. He's now finding his stroke, so expect that percentage to go up.
This team needs another perimeter threat, so he gets the nod over DeAndre Liggins.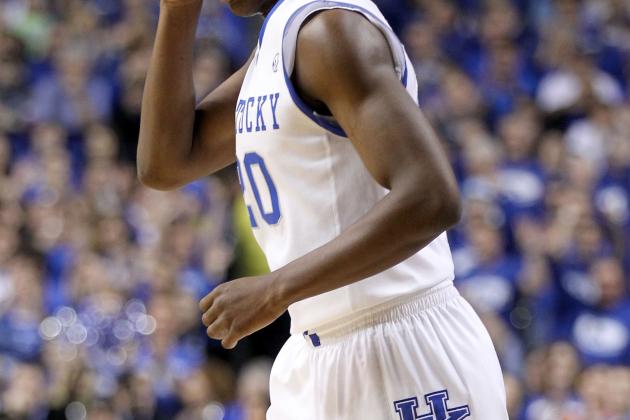 Andy Lyons/Getty Images
Lamb is Kentucky best three point shooter.
Doron Lamb has been Calipari's best three point shooter since he got here. This team needs a dependable three-point shooter, and Lamb is very consistent. On a team like this, he might only play five to ten minutes a game, but he can be a game changer.
In his freshman year, Lamb shot close to 49 percent from outside and this year he's shooting close to 50 percent from three-point land. Put Lamb out there, and he can be a part of a game ending run. Teams will want to close up the lane, but then Lamb will be there to drain a three. Either way, Lamb has to be a part of this team.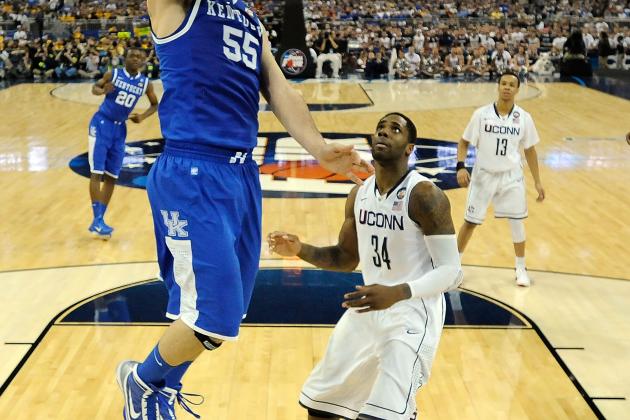 Pool/Getty Images
Jorts was a fan favorite.
You can't leave out the fan favorite—Jorts. It isn't only because of fan popularity, it's because of the way he helped his team. Jorts didn't play much when he was a junior, but that all changed senior year. Enes Kanter wasn't allowed to play, so Coach Cal looked at him and said, "it's up to you."
Jorts delivered and became a fan favorite. During his senior season, Harrellson averaged seven points and eight rebounds a game. He became a presence down low, and he didn't let opponents slide by. His heart and determination led his team to a Final Four.
This team needs a fifth post guy and there's no one better than Jorts to answer the call.
Josh Harrellson
—