2012 NFL Mock Draft: Full First-Round Predictions with Analysis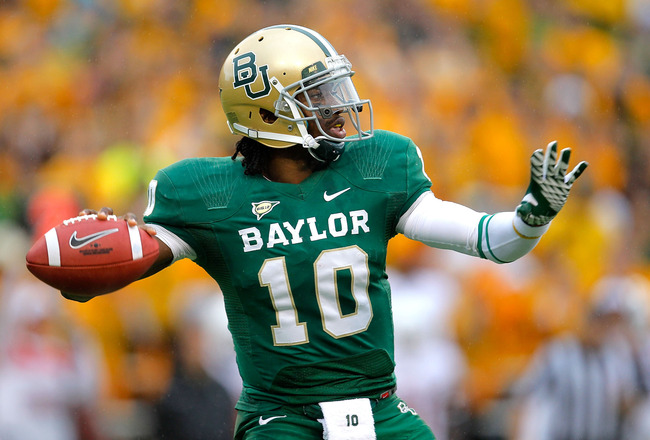 Sarah Glenn/Getty Images
Since February 5th, millions of Americans have experienced football withdrawals.
For the first time in 22 weeks, there was no football.
No fantasy lineups were set. No pre-game shows were filmed. No dramatic game-winning drives were engineered. There was nothing.
But with the finale of one season comes the beginning of another: draft season.
The 2012 NFL Draft season is about to kick into full gear. Sure, watching college prospects run around in compression shorts doesn't exactly compare to the gut-wrenching drama of your average NFL Sunday, but it does keep us entertained until training camps get underway.
So, here's a mock draft to help ease the pain of those withdrawals.
Stay strong, NFL fans. Stay strong.
1. Indianapolis Colts: Andrew Luck, QB, Stanford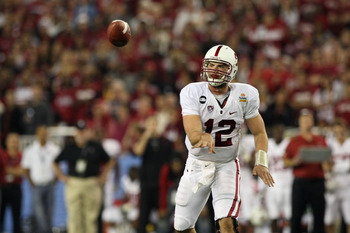 Donald Miralle/Getty Images
Cue the "Luck-y" headlines, Indianapolis.
There's no reason for debate here. The Colts have a chance to replace Peyton Manning with the greatest quarterback prospect of this generation.
Indy's entire front office should be institutionalized if they pass on Luck.
2. St. Louis Rams: Justin Blackmon, WR, Oklahoma State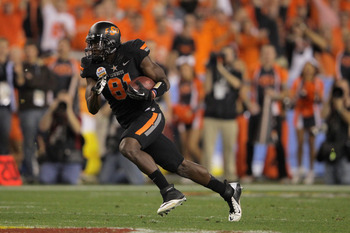 Doug Pensinger/Getty Images
The Rams' offensive line surrendered a league-worst 55 sacks last season. So they should use their first-round pick on an offensive lineman, right?
Wrong.
Both of St. Louis' starting offensive tackles—Rodger Saffold and Jason Smith—missed significant time due to injuries last season, and it's way too early to give up on them.
Instead, it's time for the Rams to give Sam Bradford a legitimate weapon. This team can't expect to go far with a staple of mediocre receivers. Justin Blackmon is an athletic freak who has superstar potential, and St. Louis shouldn't pass on such a talent.
3. Minnesota Vikings: Matt Kalil, OT, USC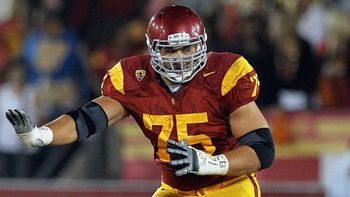 If there's one pick—besides first overall—that everybody seems to agree on, it's this one. Matt Kalil and the Minnesota Vikings have been attached at the hip ever since talk of the draft began, and they should be united on draft day.
The jury is still out on Christian Ponder, but if the Vikings don't fortify their offensive line, he will never reach his potential. Just ask busts like David Carr and Joey Harrington.
Kalil can be a cornerstone on Minnesota's offensive line for the next decade, and he can immediately help alleviate the Vikings' pass protection issues.
4. Cleveland Browns: Robert Griffin III, QB, Baylor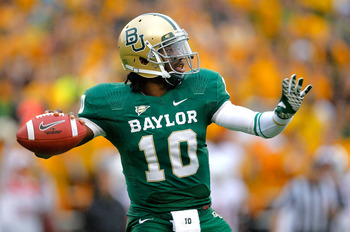 Sarah Glenn/Getty Images
When's the last time Cleveland had a star on its roster? Browns fans are probably going to clamor for Josh Cribbs, but let's face it: This team has been faceless and lifeless since it came back into existence 11 years ago.
Now, the Browns have a chance to draft the most exciting prospect we've seen in years. There's no way Mike Holmgren & Co. can pass on this opportunity. Yeah, Colt McCoy has looked decent at times, but Robert Griffin's ceiling dwarfs McCoy's.
RG3 would re-energize the most tortured fan base in the NFL and give the Browns a centerpiece to build around. Trading down is obviously an option as well, but it'll be really difficult for Cleveland to pass on Griffin.
5. Tampa Bay Buccaneers: Morris Claiborne, CB, LSU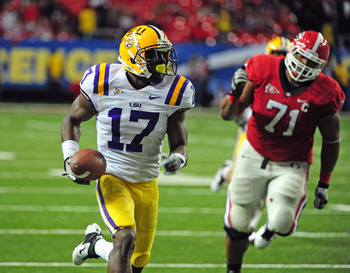 Scott Cunningham/Getty Images
Ronde Barber is pondering retirement, and it's tough to envision Aqib Talib returning to Tampa Bay next season. He can't stay out of trouble, and Raheem Morris is no longer around to vouch for him.
There's a good chance that the Bucs will lose both of their starting cornerbacks. Even if one—or both—stick around, Tampa Bay needs to patch up its pass defense, which ranked 21st in the league last year.
6. Washington Redskins: Riley Reiff, OT, Iowa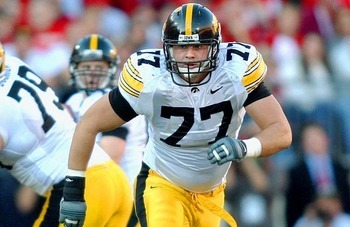 Unless the 'Skins sign Peyton Manning, they're going to be in play for a quarterback here. They could trade up for Robert Griffin, trade down for Ryan Tannehill or stay put and draft a stud offensive tackle.
The last option seems to be the most plausible—as of now, anyway. Redskins quarterbacks were sacked 41 times last season, and Mike Shanahan can't expect anyone to succeed under center until there's a reliable offensive line in place.
With Riley Reiff and Trent Williams sealing the edges, Washington's offense could be dangerous (assuming they get a quarterback).
7. Jacksonville Jaguars: Jonathan Martin, OT, Stanford

Ezra Shaw/Getty Images
How can anybody expect Blaine Gabbert to succeed when he's throwing to guys like Jarett Dillard, Jason Hill and Chastin West? Not only do the Jags have the worst wide receiver corps in the league (and possibly ever), but their offensive line is awful, too.
Gabbert doesn't have time to throw, but his receivers aren't open anyway. This leaves Jacksonville with a conundrum: Do they draft an offensive lineman or a wide receiver?
Well, there isn't an elite wide receiver on the board, but there is an elite lineman available. Jonathan Martin protected Andrew Luck's blind side for three seasons, and he can protect Gabbert's for the foreseeable future.
8. Miami Dolphins: Melvin Ingram, DE, South Carolina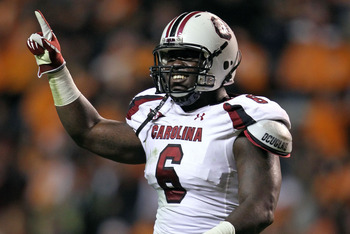 Andy Lyons/Getty Images
ESPN christened 2011 the "Year of the Quarterback," but in reality, it was year of the pass rusher. Jason Pierre-Paul, Aldon Smith and J.J. Watt stole the spotlight during the playoffs, and that should encourage other teams to start investing high draft picks into pass rushers.
Cam Wake is basically the only true pass rusher on Miami's roster, and he just turned 30. The Dolphins need to add another, and Melvin Ingram is the kind of high-energy, high-motor player this team needs.
Even though he's a bit undersized at 276 pounds, Ingram has plenty of time to thicken his frame and become a great complement to Wake.
9. Carolina Panthers: Michael Brockers, DT, LSU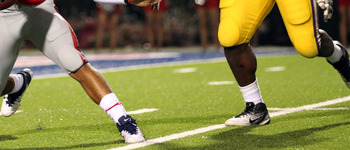 Joe Murphy/Getty Images
On average, the Panthers defense allowed 25 points per game last season. That's flat-out atrocious. Who knows how many wins Carolina's defense cost the team?
It'll take Carolina a few years to fully rectify their issues, but they can start by adding a dominant defensive tackle. Michael Brockers is a behemoth, and if he pans out, then the Panthers run and pass defenses will improve immediately.
10. Buffalo Bills: Quinton Coples, DE, North Carolina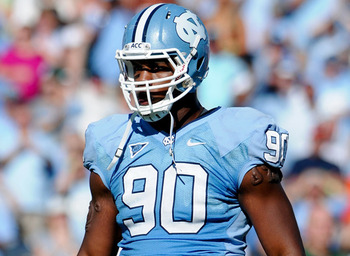 Buffalo's defense registered 29 sacks last season. That was the third-lowest total in the entire league. Only one playoff team (Green Bay) finished the season with less than 30 sacks.
Simply put, the Bills need to bolster their pass rush, and adding Quinton Coples would help catalyze that process. Pairing Coples with Marcell Dareus gives Buffalo a scary duo of defensive ends who can wreak havoc together for years.
The Bills should be concerned about Coples' drive and consistency, but he's worth the risk.
11. Seattle Seahawks: Courtney Upshaw, OLB, Alabama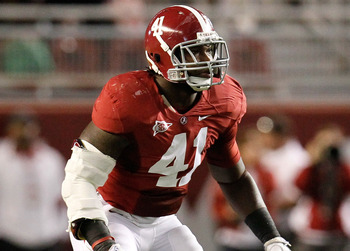 Kevin C. Cox/Getty Images
Outside of Chris Clemons, the Seahawks don't really have anybody capable of generating a pass rush.
That has to change.
Courtney Upshaw has been groomed as a 3-4 linebacker, but he can step down and play defensive end in a 4-3. Upshaw's versatility makes him a perfect fit for Seattle's hybrid defense.
12. Kansas City Chiefs: Trent Richardson, RB, Alabama
Chris Graythen/Getty Images
A few years ago, Trent Richardson would have been a sure-fire top-five pick.
But times have changed. Running backs are a dime-a-dozen, and their shelf-life has diminished. Why use a high first-round pick on a player who might only give you five or six solid years before he is completely worn out?
The Chiefs are in a great spot to draft a running back, though. They're getting amazing value here, and pairing Richardson with a healthy Jamaal Charles gives Kansas City (arguably) the best rushing attack in the league.
13. Arizona Cardinals: Luke Kuechly, LB, Boston College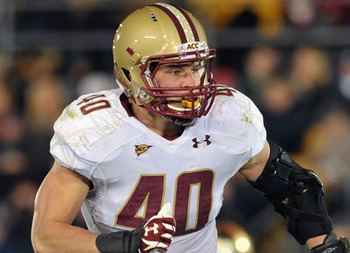 If the Cardinals want Kevin Kolb to succeed, then they need to surround him with a better supporting cast. Their offensive line is a train-wreck, and outside of Larry Fitzgerald, their wide receiving corps is dismal.
But both blue-chip offensive tackles are off the board, and there is no wide receiver worthy of this pick. Instead, Arizona must address its biggest defensive need: middle linebacker.
The Cards have struggled to replace Karlos Dansby since he left two years ago. Stewart Bradley was a huge disappointment last season, and Arizona would be wise to replace him with Luke Kuechly, who could become the centerpiece of this defense for years to come.
14. Dallas Cowboys: Janoris Jenkins, CB, North Alabama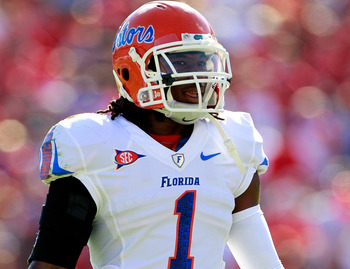 Sam Greenwood/Getty Images
This is a match made in heaven, isn't it?
Janoris Jenkins is a big-name talent with off-the-field issues. Naturally, Jerry Jones will be attracted to him.
It also helps that cornerback is Dallas' biggest need. Terence Newman will be 34 years old next season, Mike Jenkins hasn't panned out and the Cowboys' pass defense ranked 23rd in the league last season.
15. Philadelphia Eagles: Vontaze Burfict, LB, Arizona State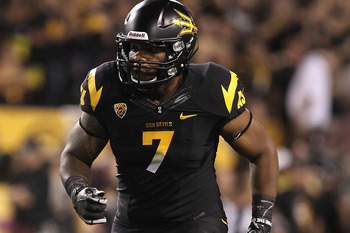 Christian Petersen/Getty Images
Draft "experts" Todd McShay and Mel Kiper both have Vontaze Burfict sliding all the way to the Ravens at 30.
There's no way that's going to happen.
Burfict has the kind of on-field presence that can't be taught. He is fierce, violent, intimidating and can play both the run and the pass extraordinarily well. Yet, off the field, he seems like a pretty humble kid (so let's put aside those character concerns for now).
Inside linebacker is easily Philly's most pressing need, and Burfict can step in right away and fill it. Plus, he can eventually fill the leadership void left by Brian Dawkins.
16. New York Jets: Mark Barron, S, Alabama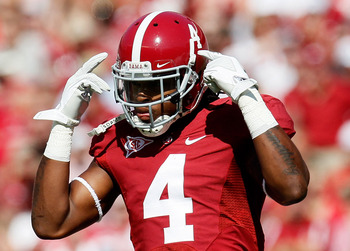 Kevin C. Cox/Getty Images
Patience is wearing thin in New York.
The Jets' locker room has become a toxic environment, and Rex Ryan's act has grown stale. If the Jets want to salvage the wreckage before its too late, they have to bounce back strong in 2012, and adding an upgrade at safety is imperative.
Eric Smith was a liability last season, and Jim Leonhard will be a free agent in March. Mark Barron has the potential to become a domineering player in this league, and who better to oversee his development than Rex Ryan?
17. Cincinnati Bengals: Dre Kirkpatrick, CB, Alabama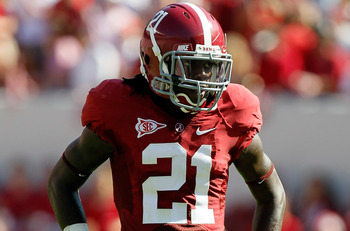 Kevin C. Cox/Getty Images
Look, another Alabama product in the first round. Give Nick Saban credit, the guy knows talent.
Anyway, this is another match made in heaven. Leon Hall will miss all of next season with a torn Achilles' tendon, Nate Clements turns 33 next season, and Pacman Jones is slated for free agency. The Bengals have to pick up a cornerback, and Dre Kirkpatrick is the best one on the board here.
And he'll fit right in to Cinci's locker room.
18. San Diego Chargers: Nick Perry, DE, USC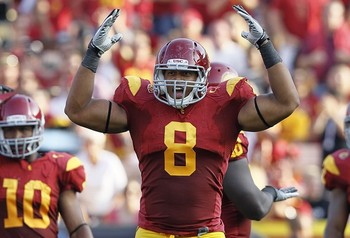 One year after boasting the league's top ranked offense and defense, the Chargers are suddenly unraveling. Last season was a monumental disappointment, and A.J. Smith and Norv Turner are now sitting on the hottest of hot seats.
San Diego's pass rush was horribly inefficient last year, and defensive end sticks out as their biggest need. It's time to slap the "bust" label on Larry English and move on to the next project: Nick Perry.
Perry played defensive end at USC, but his athleticism should allow him to play outside linebacker in a 3-4. Ultimately, it doesn't matter where the Chargers play him. Perry can be a difference-maker, and that's what this defense needs right now.
19. Chicago Bears: Alshon Jeffery, WR, South Carolina
Streeter Lecka/Getty Images
This Alshon Jeffery stuff is getting a little bit out of hand. Todd McShay and Mel Kiper have him falling all the way down to the tail-end of the first round, but Jeffery is far too talented to slide that far.
Even if rumors that he ran a 4.88 40 are true, Jeffery has plenty of time to get into shape. Plus, there's bound to be at least one team that is willing to roll the dice on him in the middle portions of the first round.
Chicago's refusal to invest in a big-time wide receiver is actually dumbfounding, but Jerry Angelo is gone and Phil Emery can't let this team go another year without one. Jeffery might be a gamble, but he could become what Brandon Marshall was for Jay Cutler in Denver.
20. Tennesee Titans: David DeCastro, OG, Stanford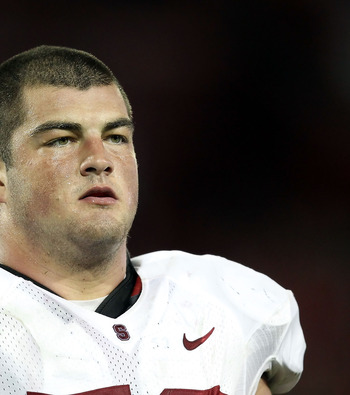 Christian Petersen/Getty Images
Hey, somebody had to inexplicably free-fall.
David DeCastro is the best offensive guard this draft class has to offer, and the Titans will be thrilled to get him this late.
Tennessee's offensive line was excellent in pass protection last season, but they could not open up holes for Chris Johnson. The Titans have so much money invested in Johnson that bolstering their run blocking should be a top priority.
DeCastro provides a substantial upgrade from LeRoy Harris and fills the team's most pressing need.
21. Cincinnati Bengals: Lamar Miller, RB, Miami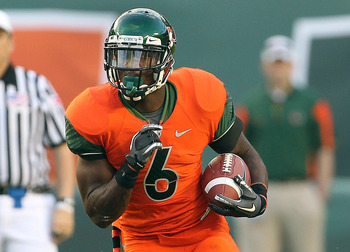 Mike Ehrmann/Getty Images
The Red Rifle (Andy Dalton) and A.J. Green might be the league's next prolific quarterback-wide receiver tandem, but they won't reach their full potential unless there's a reliable running back in place.
Cedric Benson is burnt out, and Bernard Scott hasn't materialized into anything special.
By drafting Lamar Miller, the Bengals have their own version of "The Triplets." More importantly, defenses won't be able to focus all of their attention on Green, and Cincinnati's offense could become fearsome.
22. Cleveland Browns: Kendall Wright, WR, Baylor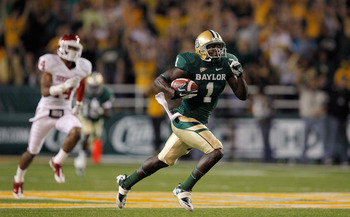 Sarah Glenn/Getty Images
With Robert Griffin on board, Cleveland's next priority is surrounding him with viable weapons.
Greg Little was a pleasant surprise last season, but he also dropped 12 passes (second most in the league). And, outside of him, the Browns have an embarrassing collection of wideouts.
Kendall Wright reeled in 108 passes from Griffin at Baylor last season, so they won't have to waste time developing chemistry.
23. Detroit Lions: Mike Adams, OT, Ohio State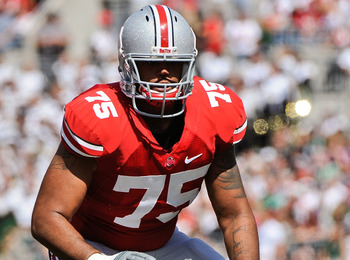 Jamie Sabau/Getty Images
If there's one team that follows the "talent over need" mantra religiously, it's the Lions.
But incumbent left tackle Jeff Backus is slated for free agency (and turning 35), so Detroit absolutely has to draft an offensive tackle. It is their biggest need, and they have to protect Matthew Stafford at all costs.
Mike Adams has run into some trouble in the past, but when he's on the field, he's dominant. He stonewalled Quinton Coples at the Senior Bowl and could become a franchise left tackle with proper grooming.
24. Pittsburgh Steelers: Cordy Glenn, OG, Georgia
Max Starks tore his ACL in Pittsburgh's playoff loss, and Chris Kemoeatu's inconsistent play might force the team to cut him. Even if both were healthy, the Steelers would still need to overhaul their offensive line.
When Big Ben injured his ankle late last season, Pittsburgh's offensive line was exposed. Roethlisberger has bailed them out with his ability to escape in the past, but the Steelers can't ignore the line's decline any longer.
Cordy Glenn has the size to step in as a starter from day one, and he might even be able to fill the void at left tackle left by Max Starks.
25. Denver Broncos: Ryan Tannehill, QB, Texas A&M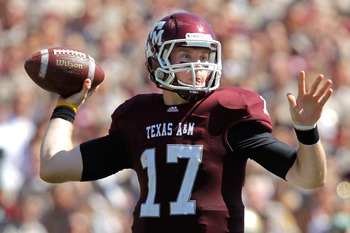 Sarah Glenn/Getty Images
Let's all be honest here. The Broncos are going to draft a quarterback. John Elway couldn't be more lukewarm about Tim Tebow, and he won't alter his plans because of the public's infatuation with Tebowmania.
There are two quarterbacks on the board who will draw Denver's interest: Ryan Tannehill and Brock Osweiler.
So why will the Broncos opt for Tannehill? First of all, Tannehill is an incredible athlete who has insurmountable room for growth. Also, won't Elway be inclined to draft the quarterback who reminds him more of himself?
26. Houston Texas: Michael Floyd, WR, Notre Dame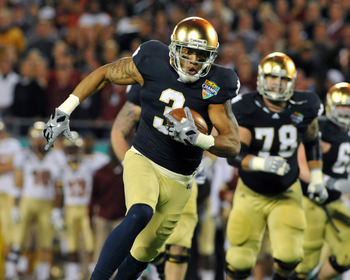 Al Messerschmidt/Getty Images
It has been fun, Jacoby Jones and Kevin Walter, but the Texans need to move on. Jones and Walter are perennially pinned as breakout candidates, but neither has managed to emerge as a reliable complement to Andre Johnson.
Plus, the Texans need to insure themselves because of Johnson's durability issues.
Floyd might be a steal this late in the draft, and that gives Houston even more incentive to draft him. Adding Floyd into the Texans' offense with a healthy Matt Schaub makes them a Super Bowl sleeper for next season.
27. New England Patriots: Whitney Mercilus, DE, Illinois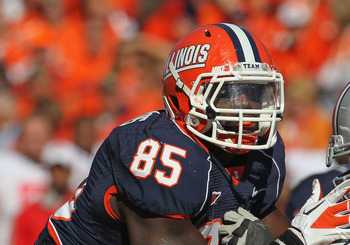 Jonathan Daniel/Getty Images
In retrospect, it's astounding the Patriots were able to make a Super Bowl run with such a horrendous pass rush. Granted, Andre Carter and Mark Anderson elevated their play down the stretch, but it is vital for New England to add multiple pass rushers this offseason.
With his first of two first-round draft picks, Bill Belichick will draft the highest-rated pass rusher on the board. In this case, it's Illinois' Whitney Mercilus, and he just happens to be a perfect fit.
Mercilus can play defensive end in a 4-3 and outside linebacker in a 3-4, and Belichick always values versatility.
28. Green Bay Packers: Fletcher Cox, DE, Mississippi State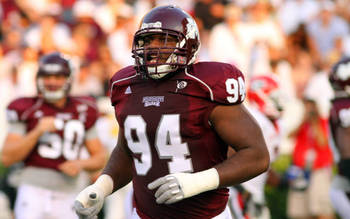 Two seasons ago, the Packers defense racked up 47 sacks—second most in the league. Last season, they registered 29 sacks—second fewest in the league.
What happened?
Green Bay lost Cullen Jenkins.
He was the anchor of their defensive line, and the Packers simply weren't prepared to replace him. Bringing in Fletcher Cox should help the Packers pass rush start the recovery process. He, like Jenkins, is a big-bodied defensive end who can get to the quarterback and stuff the run.
29. Baltimore Ravens: Peter Konz, C, Wisconsin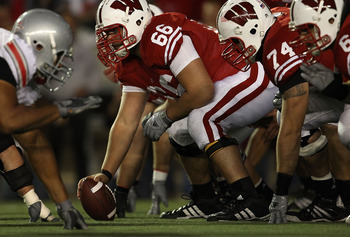 Jonathan Daniel/Getty Images
Matt Birk is contemplating retirement, and the Ravens need to prepare for life without him. Birk will be 36 by the time next season rolls around, so even if he chooses to return, it's time for Baltimore to draft a successor.
Peter Konz is the consensus top-rated center in this year's draft, and the Ravens should be able to grab him at the end of the first round.
30. San Francisco 49ers: Mohamed Sanu, WR, Rutgers
Elsa/Getty Images
Give credit to San Francisco's offense for proving their critics wrong during the playoffs, but the Niners can't continue to rely on such a rag-tag group of wide receivers. If Ted Ginn Jr. is an integral part of your offensive attack, something is wrong.
Michael Crabtree still hasn't lived up to expectations, and the 49ers should be prepared to accept that he might never do so.
Mohamed Sanu gives Alex Smith a legitimate No. 2 wide receiver and can help divert some attention away from Crabtree—which might be all he needs to breakout.
31. New England Patriots: Andre Branch, DE, Clemson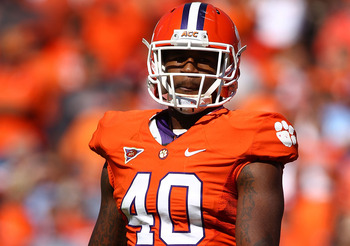 Scott Halleran/Getty Images
If Bill Belichick wants to rebuild his front seven quickly, then he should double-up on pass rushers in the first round. Belichick loves to rely on cast-offs and late-round picks, but look where that got New England's pass rush.
Adding Whitney Mercilus and Andre Branch gives the Pats a pair of versatile defensive ends who should provide an instant upgrade. Even if only one of them pans out, New England's abysmal front seven will be improved.
32. New York Giants: Dwayne Allen, TE, Clemson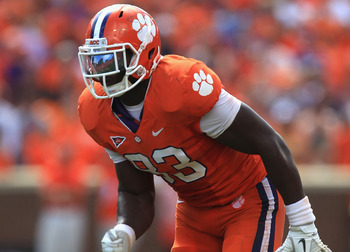 Streeter Lecka/Getty Images
Bear Pascoe might have the coolest name in the NFL, but neither he nor Jake Ballard are top-flight tight ends. Ballard made some huge catches down the stretch, but he also dropped countless passes.
The Giants need to replace Kevin Boss, and Dwayne Allen should be their guy. Allen has that unique combination of size and athleticism that tight ends like Jermichael Finley and Jimmy Graham have (just a physical comparison). Adding Allen into New York's passing attack could put them over the top.
How can you stop that offense with a dangerous tight end?
Keep Reading