First Impressions: The 10 Best Intros in Sports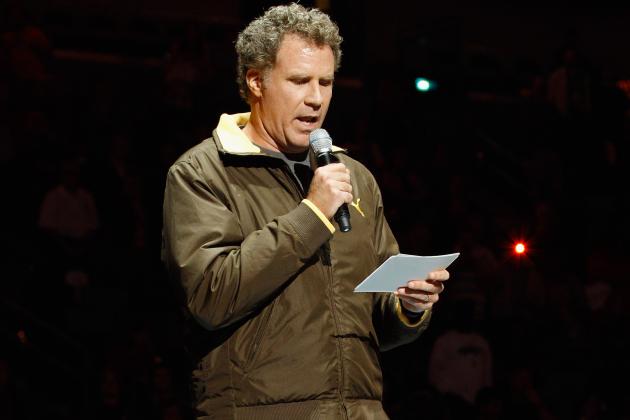 Chris Graythen/Getty Images
Does Will win the top spot?
Before a friend's wedding recently, I was asked what song I wanted to cut a rug to, during wedding party introductions. I had never been introduced like that to anyone before, and it gave me the same feeling athletes must get as they run out of that tunnel. Except, I was wearing a smart suit instead of sneakers. Read on to see which intros made my top ten list.
Begin Slideshow

»
Floyd "Money" Mayweather made his entrance to the squared circle with rapper 50 Cent by his side to fight Oscar De la Hoya. Live music puts a new spin on your hype song, and coupled with a backwards sombrero and Mexican flag robe, Money was certainly starting up his mind game against De la Hoya. I wouldn't fight a guy whose best friend survived nine gunshot wounds either, Manny.
Before the Colorado Buffaloes take the field, six students in cowboy gear run a massive bison for a lap to fire up the crowd. It's the only thing larger than Vince Wilfork that has ever run more than 40 yards on a football field. Watch closely though, as the sideline reporter tries to make the run with Ralphie and pays for it.
It's hard to rank this too high because it isn't even a sport, but Goldberg's WCW introduction is pretty intense. Anyone who can set off fireworks by flailing his arms deserves a spot on this list. Plus, he and I are practically twins.
There aren't many songs that build up like Metallica's "Enter Sandman" does, and the fans in Lane Stadium jumping and screaming only adds to that tension. By the time the players break through the tunnel, the crowd is rocking harder than James Hetfield ever dreamed of. But what else is there to do in Virginia, anyway?
This was the intro that really started the big-time shows for NBA teams. The voice is great, the Alan Parsons Project sounds cool and obviously the players involved are all-time greats. But they get sixth because they've all won enough, so just enjoy the intro.
If you grew up an Indiana basketball fan, this video has to give you chills. It's the greatest song ever written, and Martha sings it beautifully. This video ran back when Ted Kitchel had the call on WTTV-4 in central Indiana. Throwback!
I'm shocked that the kids in Hollywood could coordinate such a difficult chant. I thought all the brains went to Berkeley, but nonetheless, they put together an entertaining show that I did get to see in person at a Final Four game. And they all know it. I wonder if they vote in the leader each season.
Same song as another entrance on this list, but a much more dominant sports figure to go with it. I can't imagine how intimidating it must be to stand at the plate as that kick drum builds and you see Mariano Rivera, the all-time saves leader, trotting in from center field. Plus, I love the camera person's enthusiasm on this video.
My first thought is this guy is way too skinny to be a boxer, but then I saw the kid he almost makes out with during their tough-talk time. Watch the whole thing and see how well he does in the fight after all the hype. And while you're all doing the Dougie, I'll be in the club this weekend doing the Uzzy.
Right out of his forgotten movie "Semi-Pro," Will Ferrell did the intros for the New Orleans Hornets the other night and it was as hilarious as you'd expect. My favorite is probably Emeka Okafor majoring in Econ but minoring in love. Still prefer the intros from the movie though. And the broadcasters make an accurate prediction about Michael Jackson. Too soon?