Roger Federer: 20 All Time Best Shots from the Swiss Maestro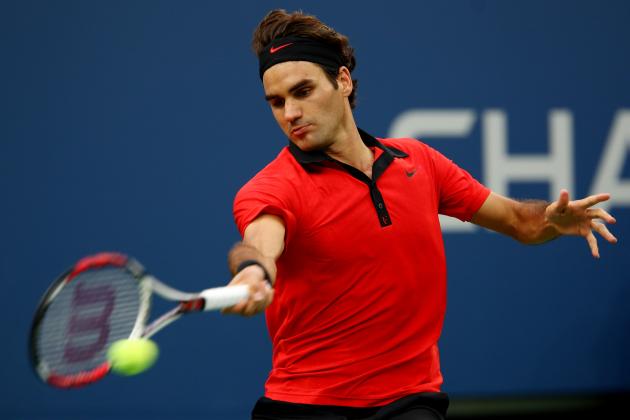 Clive Brunskill/Getty Images

During the span of his 14-year career, Roger Federer has concocted a "cookbook" of new shots. The most acute of angles, unthinkable dexterity, unprecedented racket manipulation, and inhuman spins are all characteristic of the shots Federer has created with his magic wand.
In this article, I am going to go through the top 20 shots that the Swiss connoisseur has ever hit.
Before delving into this article, please be aware that there are many shots on here that I have left out.
I ventured YouTube land for several hours before ultimately deciding which shots were ultimately the best. I sought to pick the shots that supremely reflected Federer's shot-making prowess, racket manipulation skills, improvisation ability and overall tennis IQ.
Begin Slideshow

»
In this superb point, Roger Federer demonstrates the tremendous transitional skills that allow him to so remarkably move from defense to offense.
The key shot in this rally besides the wonderful passing shot that Federer executes to end the point is Federer's second to last shot.
Take notice of how Federer, who is stretched well off the court, is able to beautifully dip the ball to the feet of Juan Martin Del Potro, who is then stretched wide into playing a defensive shot setting Federer up for the pass.
This point is a great demonstration of how the top guys are so capable of turning a bad situation in their favor.
This shot isn't the flashiest or the most exciting, but if you watch several times, you realize just how absurd Roger Federer's improvisation skills are.
David Nalbandian executes a well-placed underspin approach and forces Federer into a position where he is essentially moving backwards.
Federer moves quickly out of the way of the ball, and with a simple upward flick of the racket, he is able to redirect the ball right past Nalbandian.
You will often hear many tennis coaches advocating hitting an approach shot to the middle of the court because it cuts off the opponent's angle.
In this point, Roger Federer is engaged in the aforementioned situation, except he and Novak Djokovic are both at the baseline. Federer takes a ball that Djokovic has hit right up the middle of the court and hits a backhand winner through the creation of an almost impossible angle to play.
In this point, which is very similar to two other shots in this list, Roger Federer counteracts Novak Djokovic's overhead with an overhead of his own, clearing the reach of the Serb for the winner.
The amount of precision and feel required to pull off a shot such as this one is simply unreal.
All I can say here is that Roger Federer got bored.
After Radek Stepanek draws Federer in with an underspin shot, Federer poses as if he is about to hit one of his well-devised drop shots.
But just as the ball is about to hit the ground, Federer neatly pushes the ball pass Stepanek, fooling the Czech and the crowd.
A shot for the highlight reel, but a demonstration of Federer's tennis IQ nevertheless.
With the advancement of modern racket technology, a shot many players have been hitting lately is the squash shot.
This shot is commonly used when one is in a dire stretch and is forced to fully reach out for a ball. It is used in replacement for a regular forehand, which would not allow for such a range of movement.
The sheer amount of hand-eye coordination and racket head control needed to pull off a shot like this is simply unimaginable.
Describing it as "inhuman" as Jim Courier coined it is only appropriate.
To even see a 140 miles per hour serve go by you is impressive, let alone touch it.
Roger Federer went a step further and nailed the return right back at Andy Roddick's feet, leading to an error.
Roger Federer's potent movement is clearly demonstrated in this point.
He covers the entire court and pulls of a Rafael Nadal-like shot curving the ball right pass Andreas Seppi.
This point is a keen representation of Roger Federer's ability to manipulate his racket head in order to hit specific shots.
After Ivo Karlovic hits a decently struck lob, Federer realizes an overhead won't get the job done and is forced into hitting a knee-level backhand while running towards the baseline.
The racket head control required to pull off this shot is quite impressive as Federer's back was facing the net.
In this point, Roger Federer decides he has no other option but to go between the legs in what I'll refer to as a "reverse tweener," since most tweeners are executed with the player's back facing the net.
The amazing aspect of this shot is that if you look closely, Federer was well inside the baseline and took this shot out of the air, adding an extra degree of difficulty.
In this point, Roger Federer hits a jumping overhead that lands directly at the feet of Nikolay Davydenko and leaves the commentators in awe.
Keep this shot in mind as we have already seen one version of it, and you might see it another shortly.
Down the line pass, off the court, behind the baseline.
And, oh yeah, I forgot, Wimbledon match point.
While this shot isn't a tweener or a diving stick save, considering the magnitude of the point in the context of this match, it's absolutely incredible the poise and precision needed to pull off this shot.
Thought Roger Federer's squash shots against David Nalbandian were good?
Just wait until you get a look at this one.
Federer is just steps away from being in the photographers section of the court when he goes squash style to pass Nicolas Kiefer right up the line on a low bouncing ball.
In this incredible shot, Roger Federer comes up with one of the most unbelievable digs you will ever see.
The commentator's reaction says it all. Even Federer himself can't believe what he had just done.
Since Roger Federer has hit so many around the post shots, it was extremely difficult to pick the best one.
Fortunately, a compilation video has been made, so I decided it was just to include all of them in one package.
Could he do it again?
Of course.
After his 2009 tweener against Novak Djokovic, Federer reignited the New York crowd with another ridiculous tweener that was even farther behind the baseline than the Djokovic tweener and landed deeper in the court.
Since this is a shot that I try (and fail miserably at) all the time, I was in awe when I first saw the video of this shot.
It's difficult for me to comprehend how Roger Federer was able to hit this shot so deep into the corner using a reverse tweener. Just absurd. Nothing else to say.
What makes this tweener from Federer so special is the context of the match.
Federer pulls off this shot in the U.S. Open semifinals up two sets to love and two points from assuring himself a spot in the finals.
Even though Federer was ahead in this match by a comfortable margin, the last thing that he would want is to look back and hav the irreversible pain of regretting a tweener being two points away from victory.
Fortunately for Federer, he once again showed the magic that has catapulted him to 16 grand slam titles, passing the Serb and going on to break and secure the match in straight sets.
In what I consider to be the greatest shot that Roger Federer has ever hit, Andy Roddick thinks he has won the point on a routine overhead.
Roger Federer had other plans as he executes this inhuman jumping overhead passing shot miles behind the baseline threading the needle.
I mean, this looks like a shot that came straight out of a video game.
Thank you very much for reading and please leave a comment if you have any questions, comments, or concerns.