Chicago Blackhawks: 5 Forwards They Could Trade For
Rich Lam/Getty Images
It is getting very hard to watch the Chicago Blackhawks lately.
They are in the midst of an eight-game losing streak, and they have lost 11 straight on the road. Plus, they still have three games left on this nine-game road trip.
I would say things could get ugly, but they already are.
There are so many things currently wrong with this team that it is hard to put a finger on what the biggest problem is.
For this piece I will take a look at some forwards who might help this team because Brendan Morrison didn't solve any problems so far.
The need for a second-line center is no secret and neither is the need for some additional scorers who aren't afraid to block some shots.
So with the trade deadline approaching (Feb. 27), who are some guys that could possibly be on the market, and that the Blackhawks could use to protect the net as well as light the lamp?
Adam Burish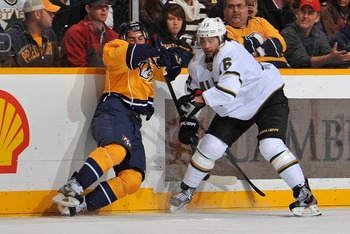 Frederick Breedon/Getty Images
Everyone wants Stan Bowman to bring back members of the 2010 team and here is one that could come back.
Adam Burish left the Hawks for a small raise and a chance to get more playing time.
He got both in Dallas but with his deal expiring at season's end he is the perfect target to return to the Hawks. Burish could help fill the void left by Dan Carcillo, who was only brought in to replace Burish.
Trading for Burish would allow the Hawks to send Andrew Shaw back down to Rockford. Let's be honest, Shaw's play has dropped; he is a minus-five during the current road trip.
Burish could slide right in next to Dave Bolland on the third line for maybe nothing more than Bryan Bickell. Sounds like a good deal to me.
Ray Whitney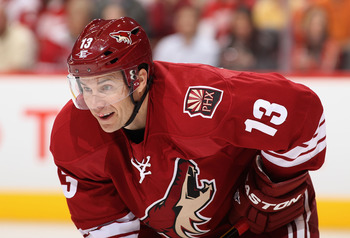 Christian Petersen/Getty Images
With the way Phoenix is playing this one might be a long shot.
Ray Whitney would look great opposite Marian Hossa on the second line.
Whitney would be everything the Hawks thought they were getting in Andrew Brunette. His cap hit is three million and his contract expires at the end of the season, which is perfect for Chicago.
He has 16 goals and 35 assists and would help the Hawks' power play greatly. He also comes with the cup winning experience as a member of the Carolina Hurricanes in 2006.
The Coyotes, who have no idea where they could be playing next season or who may own them, would probably like prospects and draft picks. Prospects is one thing Chicago has plenty of, maybe Jeremy Morin and Bickell would be enough if Phoenix falls out of the playoff picture.
Tuomo Ruutu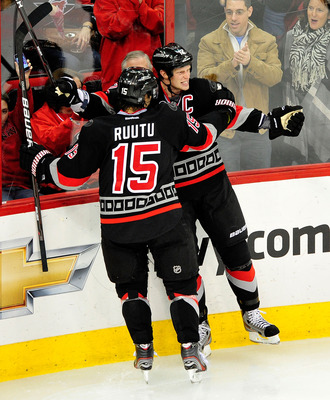 Grant Halverson/Getty Images
Here is the problem with Tuomo Ruutu being traded; Carolina really wants to re-sign him.
Carolina is in last place in the East and should be hosting a fire sale, but they aren't.
Tim Gleason was thought to be on my team's wish lists but then Carolina went and re-signed him to a four-year deal. Currently they have made it known they want to do the same with Ruutu.
Like Burish and Whitney his contract is up at the end of the season and his $3.8 million cap hit will fit on the team.
Ruutu is the type of player that Joel Quenneville likes because he can play either wing or center very much like Patrick Sharp. If no other option comes around he could fill the need for a second-line center.
Some Hawks fans may remember Ruutu wearing the Indian head sweater before the Kane and Toews era. He was traded during the 2007-2008 season for Andrew Ladd.
Ruutu is set to turn 29 in a few days and could come with a pretty hefty price tag. Maybe Brandon Pirri, Sami Lepisto and a draft pick could entice the Hurricanes if they are unable to re-sign him.
Andrei Kostitsyn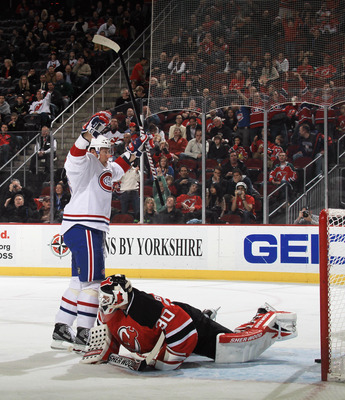 Bruce Bennett/Getty Images
While Andrei Kostitsyn doesn't block a lot of shots he does bring a physical presence, while also providing some offense.
He has 75 hits in 47 games which would be good enough for fourth on the Hawks and his 24 points would be good enough for ninth.
Just imagine what you want Bryan Bickell to be and that is what the Hawks could have in Kostitsyn. He does come with a much higher price tag than Bickell.
His $3.25 million cap hit is high for a player like him but he could help this team, but it does expire at year's end.
Also adding Kostitsyn would add to the rivalry with Nashville since his brother, Sergei, plays for the Predators.
Derek Roy
Paul Bereswill/Getty Images
If Stan Bowman is looking to make that big splash here it is.
Derek Roy could slide right into that second-line center spot and the Hawks would have nothing to worry about for the rest of this season or next.
The next is the only real concern with Roy since his contract doesn't expire at year-end. He comes with a $4 million cap hit and his contract doesn't expire till the end of next season.
With the uncertainty surrounding the CBA it is unclear if the Hawks will take their chances and go into next season close to the salary cap ceiling. Already for next season the Hawks are committed to over $54 million for 17 players.
Adding Roy would bring them a lot closer to $60 million with little spending room for the summer.
The question is, is he worth it?
The answer is probably yes. When healthy he is good for 60-plus points a season and he is more willing to block a shot than most of the Hawks forwards. His 29 blocks would be second to only Michael Frolik and just ahead of Dave Bolland.
Besides the hefty cap hit, the asking price for Roy will probably be high. I wonder if the Hawks would be willing to give up Marcus Kruger and Jeremy Morin?
With Bowman coming out giving the coaching staff and the goalies a vote of confidence this might be just the big move he needs to make to wake this team up.
Make sure to follow me on Twitter @dachicagofan, and check out my weekly Hawks podcast every Friday on my site The MG Experience.
Keep Reading

Chicago Blackhawks: Like this team?