Pro Wrestling: 10 Great Tag-Team Finishers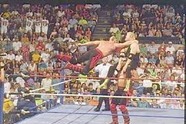 One of the best;The Doomsday Device
What makes a tag team great?
Is there some pro wrestling checklist to go off of and what would be the requirements of said list?
A great tag team to me is two men working together as a unit, effortlessly in sync and with the common goal of winning.
A team finisher also makes for a great tag team, and these 10 finishers are some of the best.
Begin Slideshow

»
The Motor City Machine Guns are one of my favorite teams in wrestling today.
It's hard to not like them. Both Alex Shelly and Chris Sabin are two of the best light heavyweights.
This sit-out Powerbomb/Sliced Bread No. 2 combo makes for a great finisher and would put any team down for the 1-2-3.
The Spanish Announce Team, also known as Los Maximos, or the cousins of Amazing Red, are a staple of the Indie scene and have worked for CZW, ROH and TNA's early years.
Their finisher is a top rope double-team take on the Moonsault Side Slam.
A big knee to the face from Punk and then a big Hooking Suplex from Cabana was the end for any team that went up against the Saints.
American Strong Style more than applies to the team of Homicide and Low-Ki, stiff doesn't begin to describe the strikes and kicks from these two.
Their Ghetto Stomp/Cop Killa combo is pure death.
What more can be said about Team 3D and the great run they had together.
I can't think of anything, and I'll just let this Flapjack/Cutter Combo speak for itself.
This Electric Chair/Top Rope Clothesline Combo summed up the brutality of the Road Warriors perfectly.
This Bearhug/Lariat Combo is perfect for the big man/small man team of the Hart Foundation and the Hart Dynasty.
What's worse than being slammed headfirst into the mat?
Being slammed headfirst into the mat a second time.
I had to watch this clip a couple times, and I kept asking myself, "What the hell just happened?"
A double 450 splash closes out this list.
So guys, what did I miss, who did I leave out and who doesn't deserve to be on this list?