Colorado Avalanche: Friday News and Notes
February 10, 2012

Doug Pensinger/Getty Images
The Colorado Avalanche got a much needed win on Tuesday against the Chicago Blackhawks.  They handed the 'Hawks their sixth-straight loss and snapped a five-game skid in the process. The Avs played an all-around good game.
After allowing two goals, Giguere shut the door and was perfect from that point on. The Avs offense finally came alive, netting five goals on the night. 
David Jones was the No. 1 star of the game with two tallies and a helper. It was his third goal and fourth point in the last two games. Jones' production after being a healthy scratch is a good sign for the Avs, whether they hope to trade him or keep him as a top winger down the stretch.
Gabriel Landeskog, who amassed an Avalanche rookie record of nine shots during Saturday's loss to Vancouver, only had three shots against Chicago, but scored the game-winning goal on a blistering shot that beat goalie Ray Emery early in the third.
His rookie season continues to be a very impressive one. Landy also joined Twitter on Wednesday (@gabelandeskog92) and has already accumulated 10,000 followers in less than two days.  He has quickly become an Avalanche fan-favorite, and this will only boost his popularity.
Tonight, the Avs will look to end their four-game homestand at .500 with a win against the Carolina Hurricanes. Despite the fact that the 'Canes currently sit in last place in the Eastern Conference, they are not a team to be taken lightly. They have gone 5-2-2 over their last 10 games and although their star players have not had their best seasons, they are still dangerous.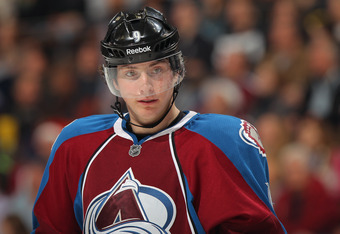 Doug Pensinger/Getty Images
Hurricanes captain Eric Staal is the catalyst of the team and has picked up his play of late after a dismal start to the season.  He leads the team in scoring with 39 points. Their second leading scorer is last year's Calder Trophy winner, Jeff Skinner, who was also a teammate of Gabriel Landeskog while with the Kitchener Rangers.
Their goalie, Cam Ward, is as capable as any netminder in the league when he's on his game—he also has a Conn Smythe Trophy and Stanley Cup win on his resume.
The Avs will start their own former Conn Smythe winner, Jean-Sebastien Giguere, tonight, and Semyon Varlamov will get the nod tomorrow when the Avs travel to St. Louis to face former Avs Brian Elliott, Chris Stewart, Kevin Shattenkirk and the St. Louis Blues.
The Avs currently sit in 12th place in the West, but with back-to-back wins tonight and tomorrow, the standings could dramatically shift in their favor.
Matt Duchene has skated on his own every day this week. While he's still officially listed out "indefinitely," his presence on the ice is a very good sign for both him and the Avs. Hopefully he will be ready for game action very soon.
Tonight is also Military Appreciation Night. Every Avalanche player will wear a special camouflage jersey tonight during warm-ups and then sign them for an auction that will be held during the game. The Avs Better Halves (the wives and girlfriends of the players and coaches) will be hosting the auction as well as selling limited edition autographed camouflage t-shirts.