2012 NBA All-Star Game: 5 Players Who Will Be Missed at All-Star Weekend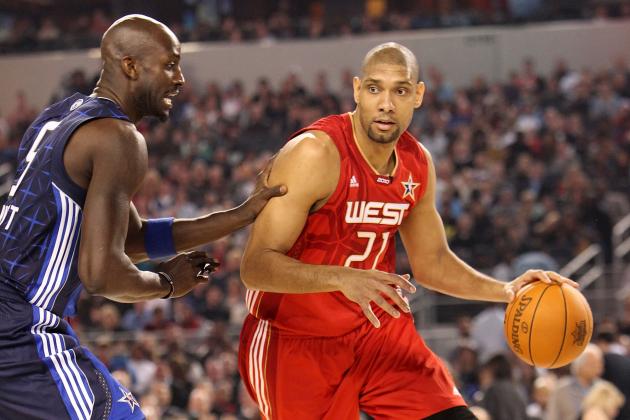 Ronald Martinez/Getty Images

The 2012 NBA All-Star Game starting lineups and reserves are finalized. Barring an injury replacement for 24 selected players, there will be no changes come February 26 when the game tips off.
It seems every season there are some snubs that cause discourse amongst NBA junkies, but this year, there are also a few stalwarts who finally had their long-standing streaks of appearances snapped.
Let's take a look at some of the players who will be missed at the midseason event in Orlando.
Begin Slideshow

»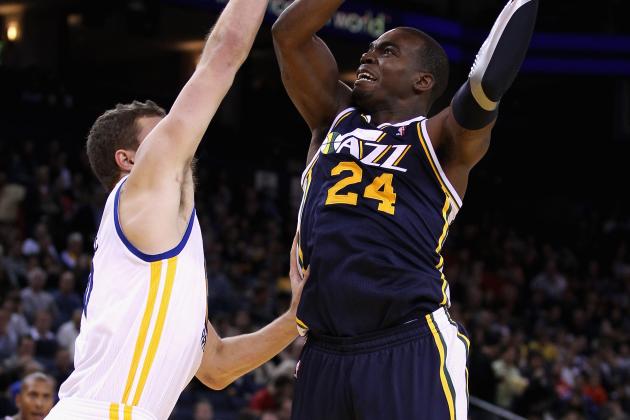 Ezra Shaw/Getty Images

This unsurprising snub was bound to happen.
It's impossible to make an All-Star Game start if you aren't a marquee superstar and it's extremely tough to make it as a reserve if your team isn't excellent.
The Utah Jazz are mediocre at best this season, but the severely underrated Millsap has been incredible for them and is a huge reason why they are still relevant.
He has been steadily improving each year since he was drafted in the second round of the 2006 draft out of Louisiana Tech.
Millsap had a chance to make a name for himself last year after the departure of Carlos Boozer and capitalized on it big time.
The undersized power forward is doing even better in his second year as a starter. He's averaging 16.5 points, 9.7 rebounds, 2.0 assists, 1.4 steals and 0.8 blocks per game on a 13-11 squad.
His player efficiency rating is an incredible 24.28, good for 11th in the league, which makes it a shame that Utah's best player will not be recognized.
Kevork Djansezian/Getty Images

Rondo made the past two All-Star Games and it's a damn disappointment he won't be appearing in this one.
He's an elite passer who prides himself on getting teammates involved rather than scoring his own baskets.
These types of players make the exhibition game come alive and a provide a real treat for fans who want to see highlight plays and awesome alley-oops.
Rondo is second in the NBA and first in the East in assists per game and watching him pass is just plain awesome. There is no one in the entire league right now better at making the crafty dish than this young man.
Starting Eastern Conference point guard Derrick Rose is a great player, but he has yet to embrace his role as a facilitator, often looking for his own shot rather than finding a teammate in perfect position.
We will certainly miss the Celtics' point guard this year, hopefully he makes it to Houston in 2013.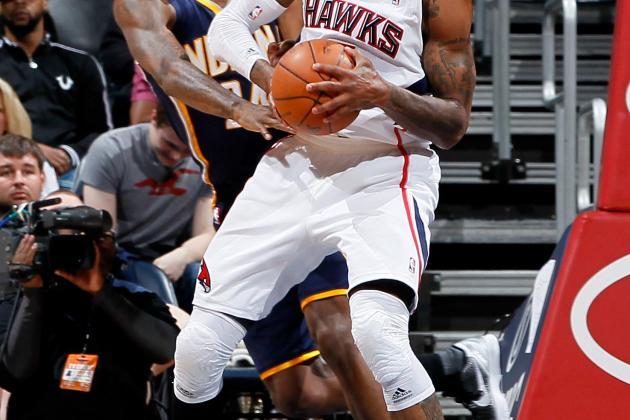 Kevin C. Cox/Getty Images

Somehow, Josh Smith has yet to make an All-Star Game in his eight-year career.
He's made an All-Rookie team, an All-Defensive Team and even won a Slam Dunk Contest, but he can't catch a break as an Eastern Conference forward.
This may be his finest season so far, especially when you factor in the Atlanta Hawks' major loss of starting center Al Horford.
Smith has stepped up huge, grabbing a career high nine rebounds per game while chipping in 15.6 points, 3.2 assists, 2.0 blocks and 1.5 steals.
He's also stopped shooting so many ridiculous threes, something he was never good at, which only hurt his standing in fans' eyes.
Smith is going to be an All-Star at some point in his career; it's just a bummer it won't be in 2012.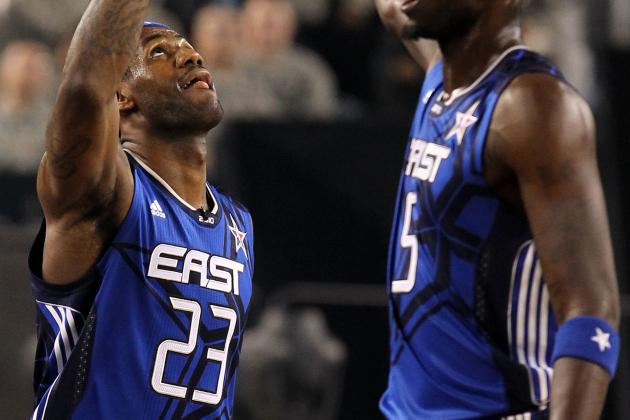 Ronald Martinez/Getty Images

Garnett had been tied with Kobe Bryant for consecutive All-Star appearances at 14, but Kobe Bryant will edge him this year as the Celtics' power forward failed to be selected as a starter by fans or as a reserve by coaches.
His numbers are way down this season and even more telling, his Boston team is no longer as dominant as they were in the past few years.
KG is still the emotional leader of his team and a defensive force, but so many young, upcoming forwards in the East were banging on the door for years and among them, Luol Deng finally busted through.
Reputation and defense can only take you to so many All-Star Games and eventually when your stats decline like Garnett's, you are going to miss the squad.
It's still sad to see an NBA legend fade out like this.
However, KG is cool with being left off for the first time in 14 years, according to Comcast SportsNet New England's A. Sherrod Blakely,
"I actually get to take a little vacation and see what that's like," Garnett said. "And actually rest these bones a little bit."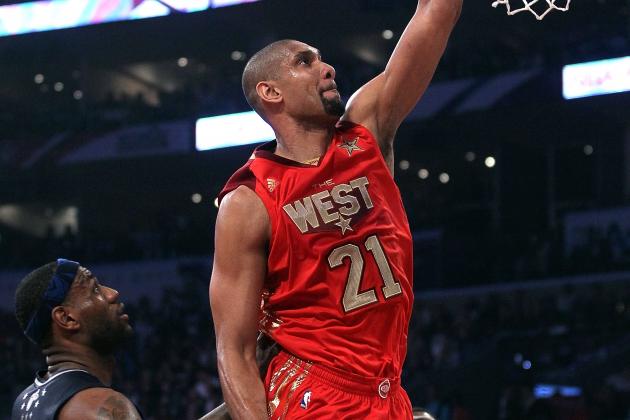 Jeff Gross/Getty Images

This future Hall of Famer made his first All-Star appearance back when President Bill Clinton was still in office.
It was 1998 and Duncan's rookie year.
He was honored 12 more times—there was no All-Star game in 1999, for those of you counting—and 2012 will be the first time in Tim's historic career that he will miss the event.
He was a fixture on the roster, either as a reserve or starter, and it was nice to see someone who played fundamental basketball at the highest level be rewarded.
At 35-years-old, with tons of regular season and playoff mileage on his legs, Duncan is still a great and effective player, averaging 13.9 points, 8.3 rebounds and 1.3 blocks per game.
However, those numbers can no longer justifiably put him on the team with so many emerging young power forwards in the West.
It's a sad end to a great era. You will be missed Timmy Duncan.