Predicting Starters at Every Position for Detroit Lions in 2012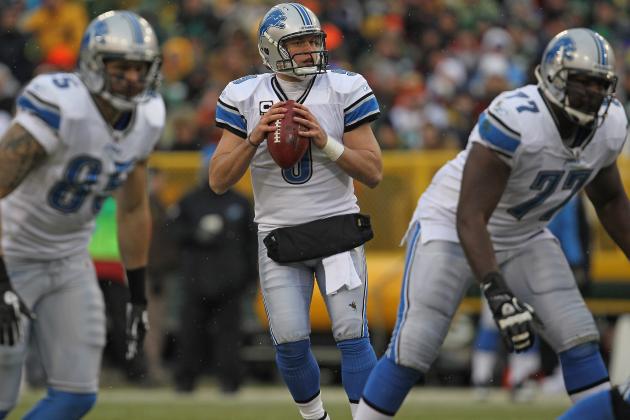 Jonathan Daniel/Getty Images

The Detroit Lions are, for once, succeeding in their rebuilding effort.
How do I know? A good sign of a stable, talented team is when it's easy to predict starters from one year to the next.
Three years ago, head coach Jim Schwartz took the Lions into training camp with the notion that every job on the roster was up for grabs. Not just the starters, all the jobs. Even Matthew Stafford was battling Daunte Culpepper for the starting quarterback job.
The Lions of then were coming off an 0-16 season. The Lions of today are coming off a playoff year. Schwartz hasn't committed to much regarding how he runs his team in the last three years, but he has committed to Stafford at quarterback (even through the injuries), and he knows who on his team he wants to play.
So even with the draft and free agency coming up soon, I don't expect the starting lineup to differ terribly from last year. But where will it differ, and how? Will those new roles be filled by a free agent or draft pick?
You know the drill, move on to find out.
Begin Slideshow

»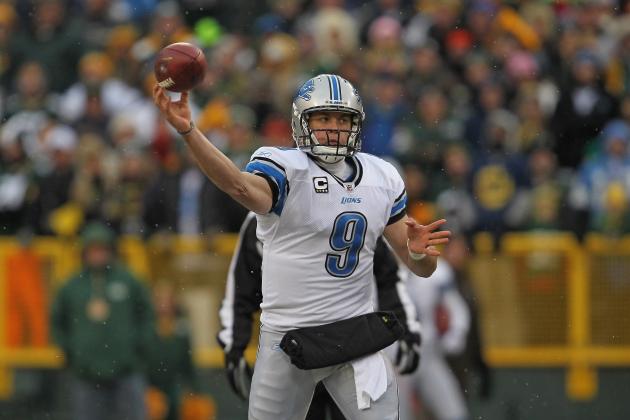 Jonathan Daniel/Getty Images

Starter: Matthew Stafford
If I need to explain this to you, you weren't watching last season. A 5,000-yard, 41-touchdown passing season is usually good enough reason to keep a quarterback hanging around.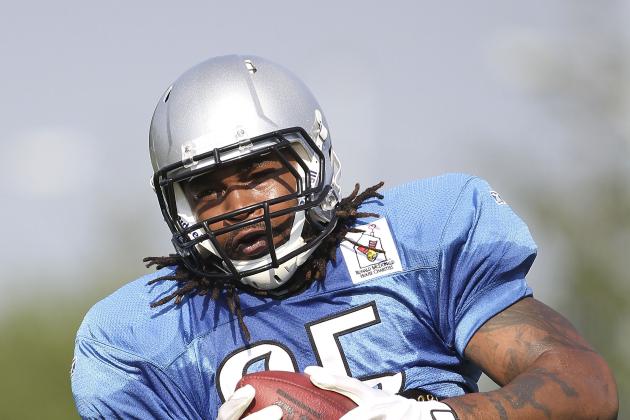 Leon Halip/Getty Images

Starters: Mikel Leshoure, mid-round draft pick
Call it a hunch, but I have a bad feeling about Jahvid Best's future prospects. The kid has a ton of talent, but it has been worst case scenario dealing with his injuries.
The Lions are already concerned with Best's health in the long term, and this looks suspiciously like Zack Follett's dilemma from last season.
Follett was dealing with a spinal cord injury, and he had a spot on the team pretty much reserved for him, provided he was physically able to come back. After a couple of practices, with his neck still bothering him, he decided his playing career wasn't worth potentially spending the rest of his life permanently disabled.
Best is dealing with concussion injuries, not spinal cord injuries. But the concern is the same. There isn't any player on the field that gets hit in the head more than the running back, and the concussions will only come faster with as many as he has suffered already.
Mikel Leshoure is recovering from a torn Achilles, and while there is some concern about whether he'll ever be quite the same back, there's no doubt the Lions want him to start and at least see what he can do.
Kevin Smith might be around, too, but I see him as more of a spell for Leshoure than a legitimate starter. The Lions are already talking to running backs early in the draft process, so it wouldn't shock me to see them spring for a Doug Martin or LaMichael James in the middle rounds.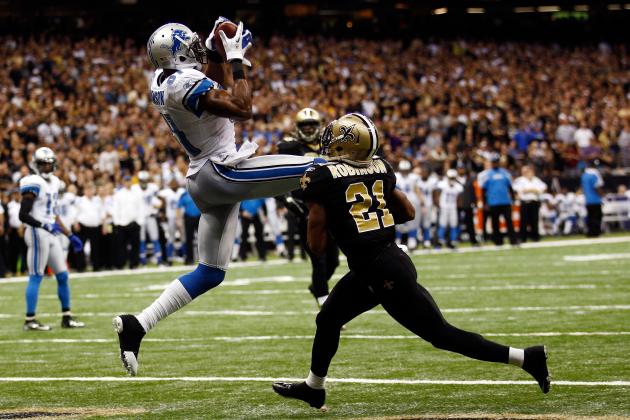 Chris Graythen/Getty Images

Starters: Calvin Johnson, Nate Burleson
I shouldn't need to explain why the best wide receiver in football gets the starting nod here. But if you need a hint, it's because he's the best wide receiver in football.
The only real question here is about Nate Burleson, who was outplayed at times last season by Titus Young. I do indeed expect Young to be the No. 2 target by the end of the season, but Young has to get a lot more consistent before that happens.
Neither Burleson nor Young were a model of consistency last season, but Burleson is an established team leader who isn't yet declining, and Young is a talented upstart entering his second year. Out of training camp, Burleson should be the guy, but I'd be very surprised if Young doesn't emerge as a star by the end of 2012.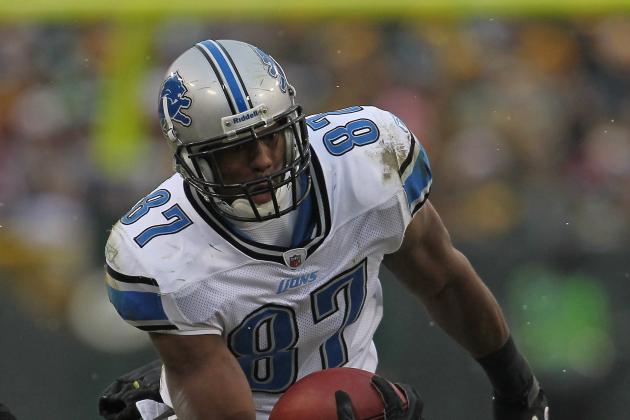 Jonathan Daniel/Getty Images

Starter: Brandon Pettigrew
In an NFL where the likes of Jimmy Graham and Rob Gronkowski are rewriting what it means to be a tight end, Brandon Pettigrew may be a little out of place.
After all, Pettigrew is a good receiving tight end, but he's no threat to be the Lions' leading receiver.
That said, I would gladly put Pettigrew's blocking abilities to the test against either Graham or Gronkowski. Pettigrew may not be as dangerous as a receiver down the field, but he is perhaps a more complete player than either of those emergent stars from 2011.
More importantly, he's better (and has more upside) than either Tony Scheffler or Will Heller, so this is a no-brainer.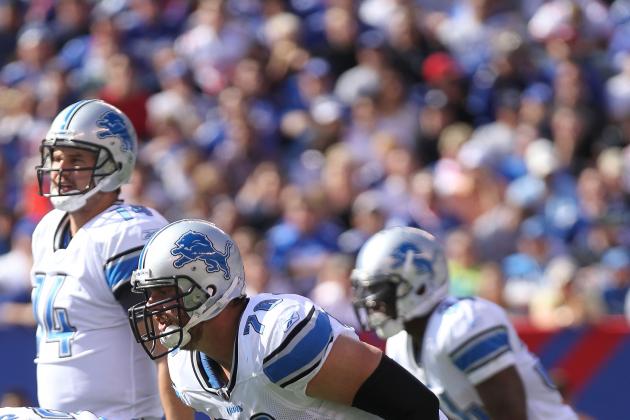 Nick Laham/Getty Images

Starters:
LT Jeff Backus
LG Rob Sims
C Dominic Raiola
RG Stephen Peterman/high-mid round draft choice
RT Gosder Cherilus
Look familiar? It should, but I don't want you to take this as the Lions refusing to address their offensive line issues.
I expect no less than two fresh faces to the Lions' offensive line this year through the draft. I just don't expect them to start immediately.
Offensive linemen don't get the credit they deserve for their intelligence. The fact is, the transition from college lineman to NFL lineman isn't easy to just step into, except for elite-tier prospects like Joe Thomas or Jake Long.
I fully expect the Lions to re-sign Jeff Backus for another year or two and stick with Dominic Raiola while the new kids learn the ropes.
Of course, if the Lions draft a top center prospect like Peter Konz, I wouldn't rule out the possibility of him getting some playing time at right guard. I also wouldn't rule out the Lions simply drafting a high tackle prospect. Backus is a free agent, Raiola is declining at an alarming rate, and Stephen Peterman is still the most likely replacement candidate for next season.
Peterman is in a contract year, is making a pretty sizable sum of money, has no upside, and didn't play particularly well last year. With the Lions in a difficult salary cap situation, I wouldn't rule Peterman out as a black horse candidate to get cut. But that's a different story.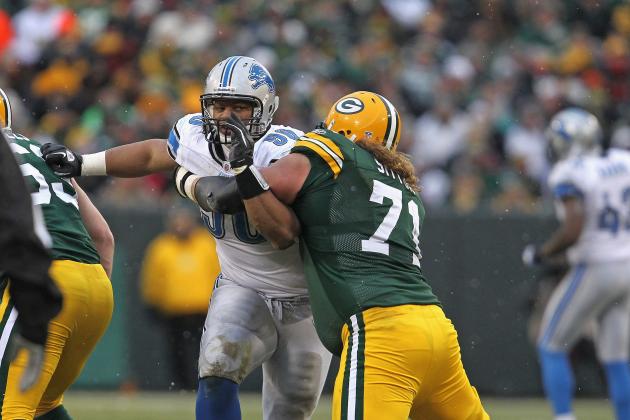 Jonathan Daniel/Getty Images

Starters:
LDE Cliff Avril
DT Ndamukong Suh
DT Nick Fairley
RDE Kyle Vanden Bosch
The only big difference you'll notice between this and the 2011 lineup is the addition of Nick Fairley in place of Corey Williams.
I don't see Williams going anywhere in the offseason, and I just think Fairley will benefit next season from the offseason development period he never had last year.
Besides, in Jim Schwartz's ideal scheme, starters and bench players are roughly equal in total number of snaps, but if I know the Lions, they're going to want the most disruptive pass rushers on the field first.
Which brings me to Cliff Avril. Now, Avril's contract situation is a tricky one, but Avril wants to come back, and the Lions want to bring him back. Has Martin Mayhew ever failed in a situation with mutual interest? If he can rope Steven Tulloch in for a season, he can bring Avril back into the fold.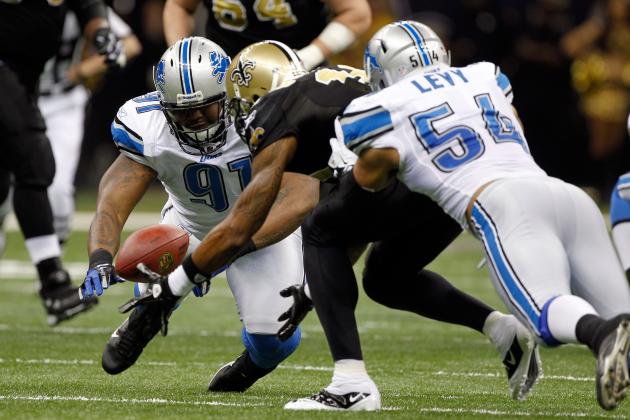 Chris Graythen/Getty Images

Starters:
WLB Justin Durant
MLB DeAndre Levy/high-round draft pick
SLB DeAndre Levy/Bobby Carpenter
The Lions' linebacker situation is one of the more unstable on the team. I see two basic ways it could go, but unfortunately, neither of them involve Stephen Tulloch.
Tulloch is probably going to fetch the high market price he was supposed to get last year. And considering the Lions have two players (Calvin Johnson and Cliff Avril) higher on the priority list than Tulloch—and they don't even really have the money for those two—Tulloch seems likely to be elsewhere next season.
Should the Lions choose to address the situation in the offseason, chances are it will happen through the draft, not free agency. The Lions can't afford the kind of free agent who could plug in and play immediately at middle linebacker. If they could, they'd re-sign Tulloch.
By the same token, if the Lions are going for a draft pick they can start immediately, they'll have to spring early for a Dont'a Hightower or Luke Kuechly.
Of course, should the Lions draft a lower-tier (not starting material) linebacker, or neglect the position entirely, DeAndre Levy will have to move back to the middle, with Bobby Carpenter taking over his starting role on the outside.
Regardless of your feelings about Levy as a MLB prospect, it's hard to see that as being an ideal situation if only because it will mean Levy has had to switch positions every year since the Lions drafted him.
Tom Pennington/Getty Images

Starters: Chris Houston, mid-tier free agent
Eric Wright had a pretty strong 2011 season, and I don't know that he'll re-sign for the same cheap deal he did the first time around.
It's entirely possible the Lions spring for a cornerback in the first two round of this year's draft. But Gunther Cunningham has something resembling a phobia or allergy to letting rookies start in his defensive backfield. As a result, I don't see even a first-round pick cracking the top two spots out of training camp.
After all, we're talking about about the same unit that started C.C. Brown for half a season before letting Amari Spievey play. That was different, since Spievey was both a rookie and adjusting to a position change, but it was C.C. Brown. How could anyone have been worse than that?
Aaron Berry and Alphonso Smith are inconsistent, and while both still have potential upside, neither is nearly ready for a starting job on the wing.
The only thing that makes sense under these circumstances is for the Lions to find another Wright: a mid-tier free agent entering free agency on a down year, looking for an opportunity.
That, or they could luck out with Cortland Finnegan, in a short-term deal similar to Stephen Tulloch's from last year.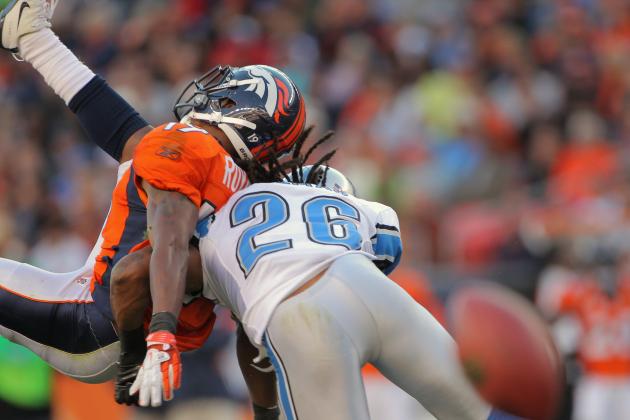 Doug Pensinger/Getty Images

Starters: Louis Delmas, Amari Spievey
For all the talk of Matthew Stafford, the 2009 draft pick who has had the most trouble with injury is Louis Delmas.
Delmas needs to prove he can stay healthy for a full season (unlike Stafford, Delmas still hasn't played a 16-game season), and he needs to show that he's learned a thing or two in his time in the NFL.
Delmas is still making some rookie mistakes. He's going for the hit when he should make the tackle (I still don't think I've seen him wrap up a ball carrier), taking bad angles, and blowing a bunch of assignments in coverage.
In the past, we've blamed Delmas' mistakes and limited effectiveness on a number of things. It was injuries, or youth, or poor linebacker play, or something else.
At this point, it's just him. Delmas is still young, and he's immensely talented. There's no doubt he'll start next season. There's almost no doubt he'll be joined by Amari Spievey.
But neither has quite developed into the star safety they were supposed to be. The Lions won't give up on them just yet, but they have five years of experience between them, and they haven't progressed much since they were rookies.
If the two of them don't step up this season, we might have to accept that they're never going to be any better than average.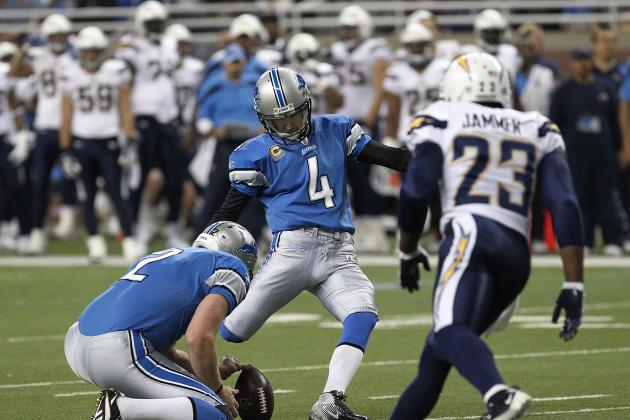 Dave Reginek/Getty Images

Starter: Jason Hanson
Jason Hanson is the kicker because it's the Detroit Lions and Jason Hanson is the kicker. Why are you asking me this?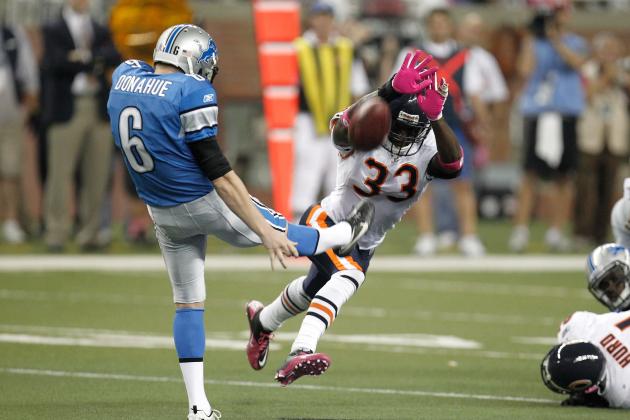 Gregory Shamus/Getty Images

Starter: Ryan Donahue
I know we didn't get a very good look at Ryan Donahue last year before he got hurt, and I know Ben Graham was awesome in relief last year.
I also know that Donahue is approaching his 24th birthday, Graham is 38, and the Lions had a reason to release Nick Harris that wasn't a 38-year-old Aussie rules punter.
The Lions made a commitment to Donahue when they kept him over Harris, and it will take more than an injury coupled with an admirable fill-in performance to change their minds.