Boston Red Sox: Josh Beckett Might Just Have a Point
February 11, 2012

The funny thing about the end of the 2011 Red Sox season is that there's never really been any sort of settled story about what exactly transpired as the Red Sox stumbled to a third place American League East finish. 
Beer? Chicken? A lack of conditioning? Discord in the clubhouse? Anger at the owner? All have been discussed in various formats and forums.
We know there was a mix of all of these aspects that probably contributed in some way to the team's poor performance. We don't know what that mix was though. 
We don't know if things would have turned out differently had one, two or all of these things not transpired. 
When Josh Beckett, a player whose name seemed to surface when any and all of these transgressions were brought up in the press, took to the airwaves earlier in the week to finally voice his own opinion on the accusations. There were plenty of people waiting eagerly to hear what he had to say
Apparently many were not pleased.
The Boston Globe seems to think he "missed the point."
In Western Massachusetts, the major sports columnists also seem troubled.
To quote Lee Corso, "Not so fast my friends."
Maybe Josh Beckett slacked off, ate bad food, got hammered and then showed up 10 minutes before first pitch with bloodshot eyes and got blitzed on the mound? I doubt it though. At this point none of it matters that much.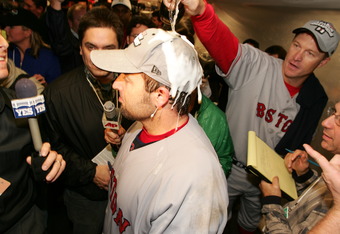 Doug Pensinger/Getty Images
Players make mistakes, people make mistakes and in the end as Beckett put it, "The biggest key was—we stunk on the field. That was the bottom line. If we would have pitched better, none of that stuff would have been an issue." 
On this point, Beckett is 100 percent right. No one would have cared if the Sox were all needing designated drivers to get home after games if they had gone 16-5 in September. In fact, if they had won the World Series there would probably be people debating the merits of excessive alcohol consumption all over New England.
Not too many people look back on David Wells' perfect game and think he was a bad teammate because he was apparently hungover or possibly still drunk that day.
Dock Ellis has chapters of books dedicated to reliving the no-hitter he threw in 1970, while under the influence of LSD.
The 2004 Red Sox, men who are basically heroes in the eyes of nearly every Red Sox fan, apparently did shots of Jack Daniels before games. Not just pitchers who were on their off days. Players who were playing baseball, big meaningful, historically relevant baseball games were doing pregame shots of whiskey in an effort to bond as a team.
It worked and they won and thus the story works too. It's a story of team closeness and companionship. It practically adds to the already legendary relevance of the story.
Not in 2011 though. 
No, in 2011 the drinking was bad and the fact that Beckett won't come on television and basically tell everyone what a bad teammate he was, as well as what a bad leader he was, just isn't acceptable.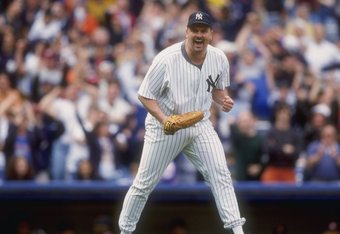 David Seelig/Getty Images
What's even more interesting is that Beckett is known as a player who does step up and take responsibility. 
"Love Beckett or hate him, he has generally been accountable during his time in Boston. Nobody beats himself up more after losses. Particularly during the early part of his tenure with the Red Sox, Beckett took credit for nothing, blame for everything. He embraced the responsibility that came along with his talent. Privately, Beckett spoke of his desire to win 300 games and treated his job with the utmost professionalism, an approach that earned him the respect of his teammates, coaches and bosses." - Boston Globe 2/10/12
So with that type of reputation, along with almost zero primary source confirmed information regarding what exactly went on behind the scenes and who it involved, then maybe Beckett is being made into a bit of a scapegoat? 
The odds are that a lot of whatever exactly was going on was going on before September. The Red Sox were doing pretty well up until that point. It might be a bit of a stretch to suggest that pitchers drinking in the clubhouse on off days automatically equals lots of losses. 
It also might be a bit of a stretch to suggest that Josh Beckett, all of a sudden, became a bad clubhouse presence, or that because he's recently married his ability to maintain his competitive edge has been compromised.
Josh Beckett was supposed to be a positive clubhouse presence last season, but he wasn't the only veteran presence there. There were managers, coaches,  former MVP award winners and a number of players who had been there in 2004—possibly drinking in the clubhouse, while winning the franchise's first World Series in 86 years.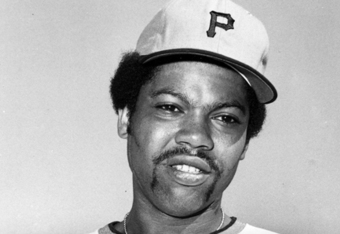 Beckett is also correct to be concerned with clubhouse leaks. The clubhouse is supposed be one of the few places that baseball players can chat and interact without the media, or cameras, constantly following them around.
Baseball players live most of their lives in the public spotlight. It's one of the things they sign up for when they become baseball players. The players are all very well compensated and in all likelihood realize that the constant media scrutiny is just part of the deal. No job is perfect—even professional baseball. Yet the clubhouse should allow for some modicum of privacy. There's nothing wrong with Beckett being concerned about leaks within it's confines.
Perhaps Red Sox fans should at least wait to see what happens in the upcoming season before declaring Beckett to be a negative influence or presence?
It's Truck Day so fans won't have to wait that much longer.