5 Breakout Candidates for the 2012 Buffalo Bills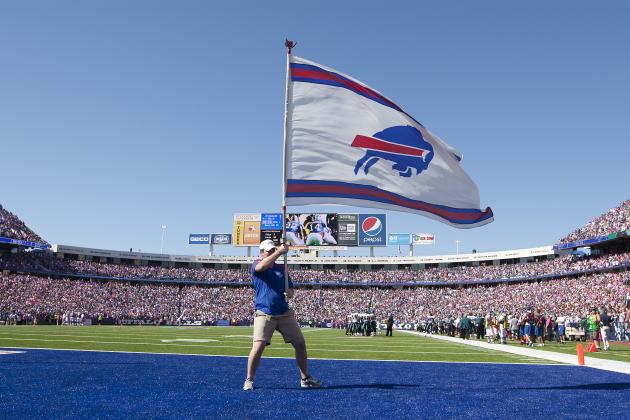 Brody Wheeler/Getty Images

I was walking my dogs the other day sporting my Buffalo Bills gear as usual, and a man pops up from his garden and says, "Buffalo Bills?"
"That's right," I say. He tells me he's a Dolphins fan, and I give him a little groan.
We exchange quick notes on our teams. For no more than 30 seconds or so, we share our common grief borne of struggling in the AFC East and express optimism that our teams are turning things around.
But that was about it.
I wanted to explain to this guy exactly why I think the Bills are on the verge of ending their playoff drought, but my dogs had other ideas.
This is the time of the year when football fans can only ponder, speculate, and hopefully get excited about what their teams are going to accomplish in the offseason that will set them up for success next year.
Certainly, the Bills have a lot of holes to fill and needs to address. But they're also strong in some areas and are starting to produce some excellent young talent.
In 2012, we will all expect big things from the big-name guys: Ryan Fitzpatrick, Fred Jackson, Steve Johnson and Nick Barnett, for instance. Behind each team's stars, though, are younger players who are ready to break through.
Here are five players on the Buffalo Bills who I think are breakout candidates for the 2012 season.
Begin Slideshow

»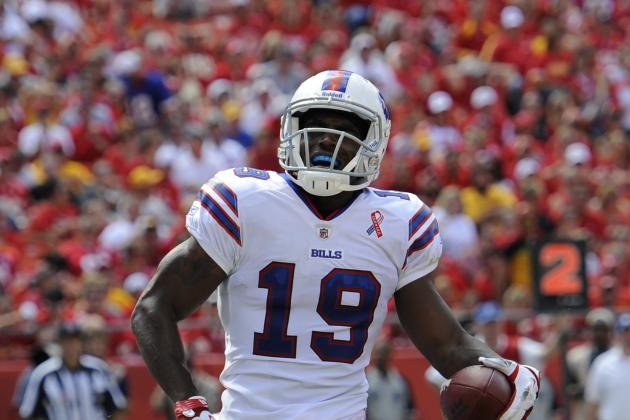 Peter Aiken/Getty Images

It's widely believed that the Buffalo Bills need another serious threat opposite Steve Johnson. GM Buddy Nix has even gone on record saying as much.
But that doesn't mean Donald Jones is going away.
Undrafted out of Youngstown State, Jones is a player that intrigues me. When healthy, he showed some positive signs in 2011, particularly his five-catch, 105-yard Week 3 performance against New England. However he also showed signs of his inexperience with inconsistency and drops.
Still young and raw, Jones is continuing to develop but has nonetheless earned praise from head coach Chan Gailey. According to Buffalo News, Gailey said of Jones, "'He's a very good football player and I think going to be a very good football player for a long time here.'"
Last week, when breaking down QB Ryan Fitzpatrick's top performance from the Week 3 game against the Patriots, Gailey mentioned how Jones has a "great feel for this kind of stuff," referring to his natural ability to set up the defender on a double move.
Obviously, the staff sees a lot of potential with Jones. After all, he is a deep threat—something the team desperately needs—and has proven he can produce at this level when he's on his game.
But the fan base won't have the patience to wait for this potential to develop if it doesn't start turning into consistent production soon.
The reason I believe Jones could have a breakout season is actually due to the fact that Buffalo will likely bring in another wide receiver this offseason. With a proven threat opposite Steve Johnson, the pressure will be taken off of Jones and he will be able to thrive in weaker coverage. If the Bills can't bring in a legitimate complement to No. 13, then Jones will need to step it up.
The production from the No. 2 WR position has been missing in Buffalo for quite some time now, but I think the solution to this problem is closer than most think.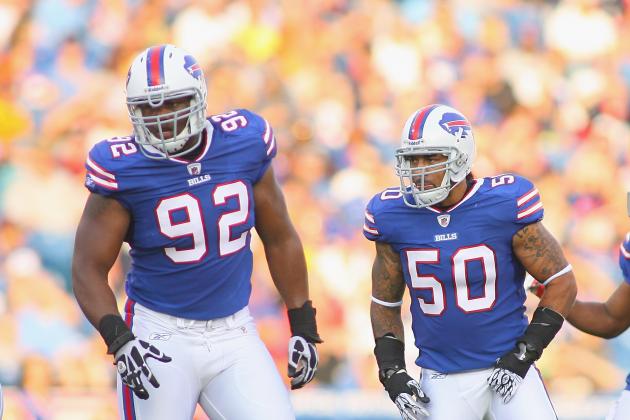 Rick Stewart/Getty Images

Many Bills fans have wondered about Alex Carrington over the past two seasons. Hand-picked by the Bills' new regime, Carrington fits the new-Bills mold of size, physicality, and tenacity on defense. He was selected out of Arkansas State with the 72nd overall pick in 2010, and at 6'5" and 284 pounds, the defensive lineman is actually quite versatile.
Chan Gailey's hands have been tied to some extent when it has come to using Carrington. Because of the team's initial plan to base their defense out of the 3-4, Carrington was fluctuating between DE and OLB, and even seeing practice time at ILB. Working to find the right combination of personnel, the staff bounced the big athlete around quite a bit.
That should change now with the transition back to the 4-3 and Dave Wannstedt running the show on defense. Bills fans should fret no more and instead expect some production.
He's got plenty of power power and could be a hidden gem as a pass-rusher. He's still under the radar only because he hasn't yet had an opportunity to showcase his abilities.
He'll have plenty of competition on the roster. Veteran Chris Kelsay is expected to move back to his natural position as a 4-3 DE. The Bills also currently have Dwan Edwards and Spencer Johnson on the roster, not to mention Shawne Merriman who, if healthy, could rotate in as an end on passing downs as well.
But if Carrington continues to impress as he has in the limited time he's seen, then Buffalo may already have part of the answer to their pass-rushing problem.
In 2012, I predict Carrington will have the system and experience he needs to succeed, and we will begin to see just how athletic this young man is. Whether it's lining up as a stand-up edge rusher or putting his hands down in the dirt on the line, this is a player who could surprise plenty of people next year.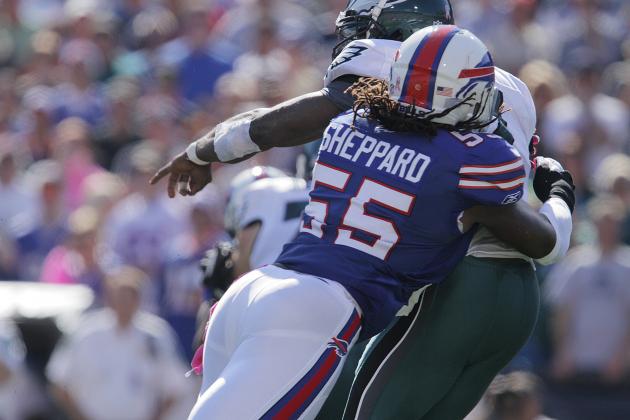 Brody Wheeler/Getty Images

Move over, Nick Barnett. This guy is going to take your position.
No, really.
Veteran LB Nick Barnett, who had a terrific first season with the Bills, is being moved to OLB with the switch to the 4-3. Second-year MLB Kelvin Sheppard will be manning the middle now, and both players will be on the field on nickel packages.
This move speaks volumes of Sheppard's abilities given the great year Barnett had in 2011 (130 tackles, 3 sacks, 3 interceptions). In fact, he might have been considered for the Pro Bowl if it weren't for the Bills' losing record and the internal politics of the selection process. Nevertheless, considering Barnett's productivity, Sheppard should be honored to be named the starting MLB.
A third-round pick out of LSU in 2011, Shep is a natural leader. He catalyzed the defense at LSU and immediately made his presence felt as a rookie for Buffalo. Confident and eager to learn, the young linebacker has benefited from the guidance of veterans like Andra Davis, Reggie Torbor and of course Nick Barnett.
Next year, Buffalo should actually boast one of the leagues better defensive lines. All-Pro NT Kyle Williams will be returning at full health, and rookie standout Marcell Dareus has already become a household name.
Outside, the Bills have a nice combination of veterans and young prospects (Edwards, Johnson, Kelsay and Carrington) who will likely welcome another rookie and/or free agent by next season.
Sheppard will benefit from the Bills' steadily improving defensive line as he continues to develop into a mainstay at the MLB position. He logged 70 tackles last year in a semi-limited role. His keen instincts and impressive lateral speed make him a solid all-around linebacker. And with Barnett still in his ear next season, Shep will continue to grow and learn how to read offenses.
I, for one, anticipate a breakout campaign in 2012 with Sheppard playing a much more consistent role. Deep-league fantasy footballers, don't sleep on this guy.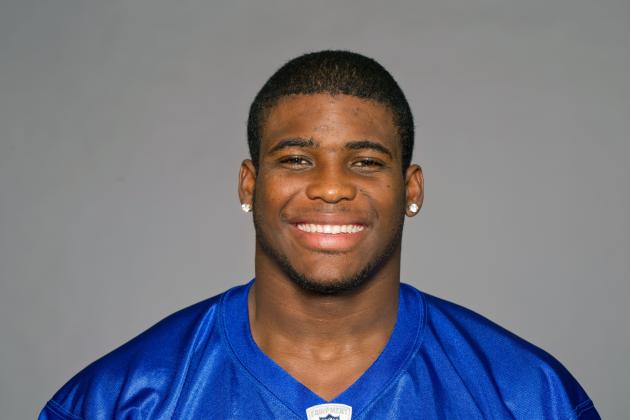 Handout/Getty Images

Selected with the 34th overall pick in last year's draft, CB Aaron Williams impressed as a rookie. Though he battled injuries and couldn't stay healthy for the full season, the playing time he did receive will only help him heading into 2012.
Head coach Chan Gailey liked what he saw out of the 21-year-old rookie from Texas. On BuffaloBills.com, Gailey expressed his confidence in the first-year cornerback. "'Aaron played fairly consistently for a rookie,'" he said. "'He showed potential to be a very good corner in this league for a long time. He matches up well size-wise.'"
Buffalo's secondary has a lot of talent, but their No. 1 CB, Terrence McGee, has been an injury risk the past couple of seasons. A superior corner, McGee has routinely been absent from the starting lineup. Of course, when healthy, he is a very strong asset for the Bills' secondary. McGee is signed through 2013 and is currently 31 years old.
The Bills have another dependable corner in Drayton Florence, but like McGee he is 31 years old. Florence was re-signed just last offseason to a three-year, $15 million deal. His biggest asset is his physicality, something that the Bills' younger corners aren't quite built for. These players include Leodis McKelvin (26), Reggie Corner (28) and Justin Rogers (24).
Aaron Williams, though, is a physical corner.
At 6'0", 204 pounds, Williams possesses the strength and agility to match up with the league's more aggressive wide receivers. He finished 2011 with 32 tackles, one interception and one forced fumble in nine games.
Considering the adequate depth at CB and the talent the Bills have in George Wilson, Jairus Byrd and Da'Norris Searcy at safety, Buffalo is in pretty good shape in the secondary.
Williams has already passed former first-round pick Leodis McKelvin on the depth chart. If he can stay healthy next year, he could have a huge season as one of the Bills' top three corners.
Presuming he plays at least 14 games next year, 50-plus tackles and 3 to 5 interceptions certainly aren't out of the question.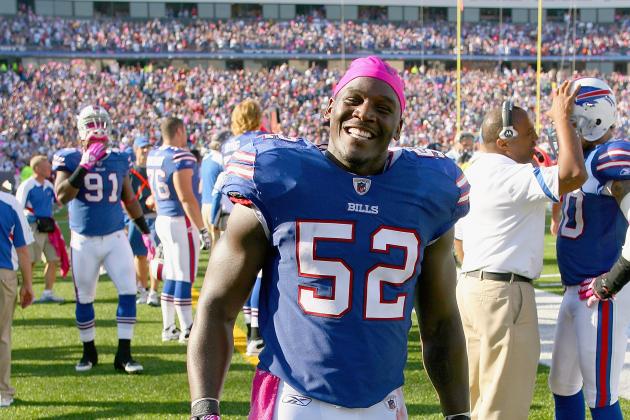 Rick Stewart/Getty Images

Arthur Moats is perhaps best known for his crushing hit on Brett Favre that ended the gunslinger's consecutive starts record. As a young, virtually unknown player, he swarmed in to end an untouchable record for a legendary quarterback. It seemed more than a little bit ironic considering Favre's decorated career and utter toughness.
But I don't think that play was such a fluke.
A 23-year-old pure motor out of James Madison, Moats has only registered 62 tackles in his first two NFL seasons. Even without having seen consistent playing time, those numbers aren't going to impress anybody.
But the 6'2", 250-pound linebacker has also notched 5.5 sacks during that span, which actually does stand out considering the Bills' utter lack of a pass-rush these past few years.
Moats might arguably be one of the most natural pass-rushers on the roster. Though he doesn't possess the prototypical size for that role, he has the quickness and technique to beat tackles off the edge.
Regardless of his build or what people think of his skill set, the fact is when he's on the field he's been able to pressure the quarterback.
Buffalo is sure to address the pass-rush this offseason, either through the draft, free agency or both. But I think Moats will settle in as an OLB in the 4-3 and will continue to do what he does best: disrupt the opposing quarterback.