Tim Thomas: Bruins Goalie Should Continue to Publicly Express His Thoughts
February 11, 2012
Gregory Shamus/Getty Images
In a sporting world that is filled with tight-lipped superstars afraid to say what is on their minds, it's refreshing to see someone like the Boston Bruins' goaltender, Tim Thomas, stay true to his feelings no matter what the repercussions are. 
Not Afraid to Speak His Mind
Thomas made waves in January when he refused to visit the White House and meet President Barack Obama with his teammates. This isn't something new; in the past, athletes from championship teams have passed on the traditional trip to the White House. 
However, Thomas took to his Facebook page to explain why he didn't make the trip, saying:  
I believe the Federal government has grown out of control, threatening the Rights, Liberties, and Property of the People.
This is being done at the Executive, Legislative, and Judicial level. This is in direct opposition to the Constitution and the Founding Fathers vision for the Federal government.
Because I believe this, today I exercised my right as a Free Citizen, and did not visit the White House. This was not about politics or party, as in my opinion both parties are responsible for the situation we are in as a country. This was about a choice I had to make as an INDIVIDUAL.
This is the only public statement I will be making on this topic. TT
Thomas is an American citizen who has the right to have his own views, and he took his thoughts to Facebook to voice his opinion. 
However, this wasn't the only time that Thomas took to the popular social networking site to express his opinions on the government. 
Earlier in the week, Thomas quoted Martin Niemoller, "an anti-Nazi and a German Pastor," to voice his opposition to the President's administration's directive that insurance plans provide women with free access to contraceptives saying:
Stand with the Catholics in the fight for Religious Freedom.

"In Germany they came first for the Communists, and I didn't speak up because I wasn't a Communist. Then they came for the Jews, and I didn't speak up because I wasn't a Jew. Then they came for the trade unionists, and I didn't speak up because I wasn't a trade unionist. Then they came for the Catholics, and I didn't speak up because I was a Protestant. Then they came for me, and by that time no one was left to speak up."
-- by Martin Niemöller, prominent German anti-Nazi theologian and Lutheran pastor, best known as the author of the poem First they came.... 
Personal Life Separate From Professional Life
When Thomas posted those two quotes—you can find more on his Facebook page linked above— the national and local media were all over the goaltender. However, according to The Boston Globe, Thomas refused to blend the two worlds together, saying:
"I say that's my personal life and that has absolutely nothing to do with the Bruins or hockey, and I'm going to use my right to remain silent.''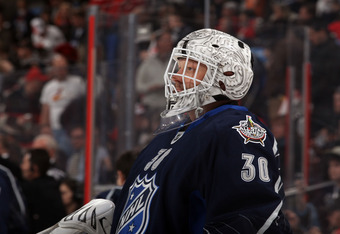 Christian Petersen/Getty Images
With Thomas' statement and his refusal to combine his private and his public life, he is implementing a very astute old saying: You should check your personal life at the door. 
Since he refused to go to the White House on January 23rd, Thomas has played in the All-Star Game and won two out of three games, in which he started and posted a save percentage of .938. 
The evidence shows that Thomas' private life doesn't interfere with his team reaching the Stanley Cup Playoffs to repeat as champions. 
Comments Not Dividing the Locker Room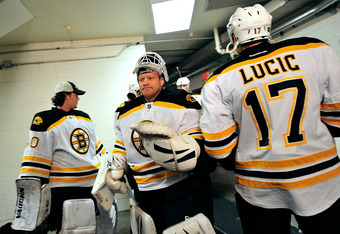 Grant Halverson/Getty Images
As you can see, Thomas is not shy about his political views, as he is a very right-wing conservative. But, what if there are some of Thomas' coworkers or bosses on the Bruins who may be opposed to Thomas' political views?
Bruins head coach, Claude Julien, squashed any rumors that Thomas' postings have affected his teammates saying: 
"I don't think I've heard anybody - starting from our owners to our coaches to our management - I don't think I've heard anybody support his opinions,'' Julien said. "But I've heard everybody say that we support him as a player - and we do."
The Bruins as a team do not have to support what Thomas says in his personal life. Think about some of the coworkers you interact with. Would you support them on everything they say? Probably not, but if they are doing their job right, then it would be clear enough that their personal life (i.e. political views) are irrelevant.
More Athletes Should Speak Their Minds
Recently, my wife and I were at the "Pepsi Fan Jam" concert for Super Bowl XLVI. During the show, they had a short interview with Rookie Defensive Player of the Year Von Miller of the Denver Broncos. One of the hosts asked Miller how he gets a sack on the quarterback. Miller gave a canned response of, "Oh it's all about my teammates, and you just have to get after the quarterback to make a tackle."
Yawn.
Why couldn't Miller have come out and said, "Because I'm the best at what I do, I eat quarterbacks up and make it look easy!"?
Thomas is a public figure that has ideas that he feels strongly about and takes them to Facebook. 
Thomas hasn't lost any endorsements, his job on the Bruins or his status as one of the best goalies in the NHL because of what he has said or posted. 
I am glad that Thomas expresses his views on his own time and not on his team's time. Hopefully, it leads to more athletes opening themselves up more and not being afraid of the public backlash if people disagree with their opinions.