USC Football: Game-by-Game Breakdown of the 2012 Schedule
Stephen Dunn/Getty Images

This is the year, if you're a USC Trojan fan. This program has been on probation and banned from postseason play for the last two years, but they can now compete for Pac-12 titles and BCS National Championships. And the good news is that they have more than enough talent to get the job done.
The Trojans are returning nearly every starter on both sides of the ball and have a favorable schedule that should keep them in the BCS picture throughout the entire year.
Last year's football season may have just ended, but it's never too early to make predictions.
Here are predictions for Trojans schedule next year.
Begin Slideshow

»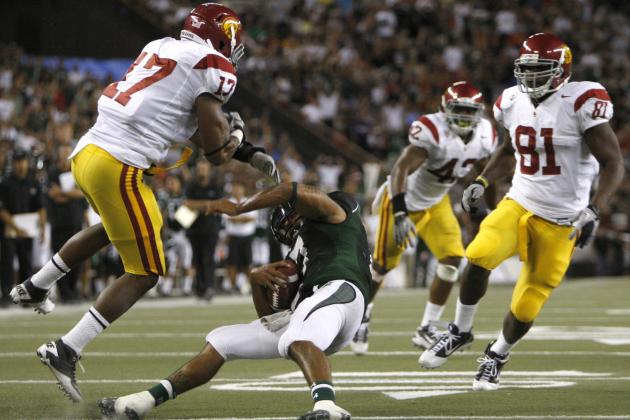 Kent Nishimura/Getty Images

The last time these two teams met, it was a very entertaining game that included a lot of points. But the bottom line is that the Warriors have yet to beat the Trojans in the five games they've played, and you shouldn't expect that to change. Hawaii simply doesn't have enough talent to actually pull off the upset.
USC wins: 43-21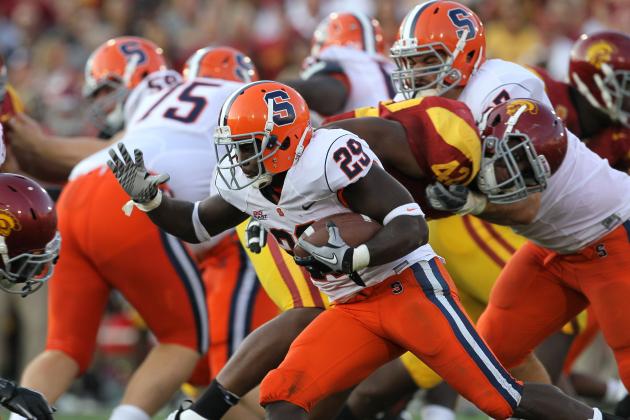 Stephen Dunn/Getty Images

This game is taking place in New Jersey, which does make me a little bit nervous, as the Trojans will have to travel across the country to play this game. We've seen several times where the traveling team does come out flat and doesn't really play the way they're capable of. But when we're talking about talent, I can't pick a team that went 5-7 in the Big East last year.
USC wins: 38-10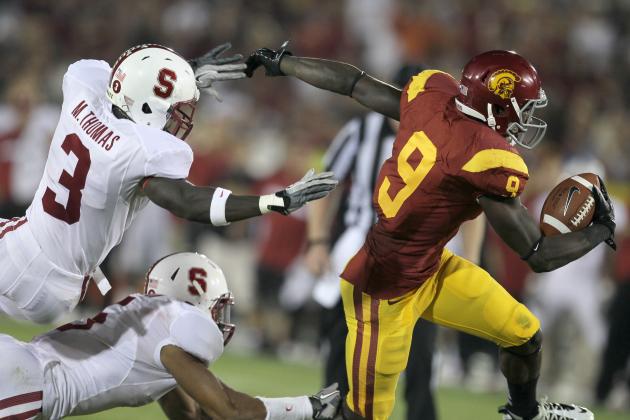 Stephen Dunn/Getty Images

This was a fantastic game last year, as it finished in triple-overtime. I don't think Stanford is going to fall completely off the college football map, but I do think the Trojans will win the game. The Cardinal are recruiting extremely well and should remain relevant, but not having Andrew Luck is really going to take time to get used to.
USC wins: 35-17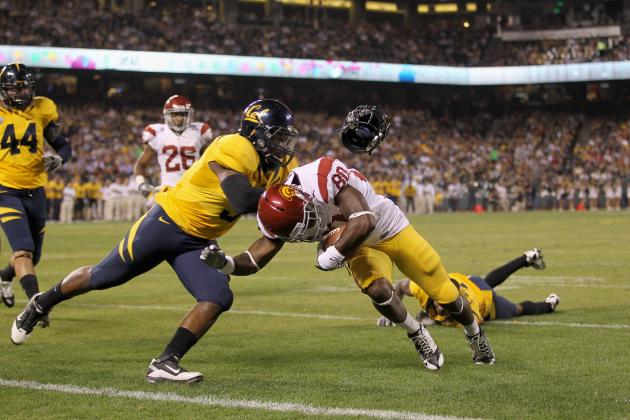 Ezra Shaw/Getty Images

California is one of my sleeper teams heading into the year. They're a very talented team that's returning several key players from an offense that averaged over 28 points per game last year. They also have a solid defense that was ranked 48th in the country in scoring defense. While I do think this game will be a lot closer than many think, I can't pick against the home team.
USC wins: 35-28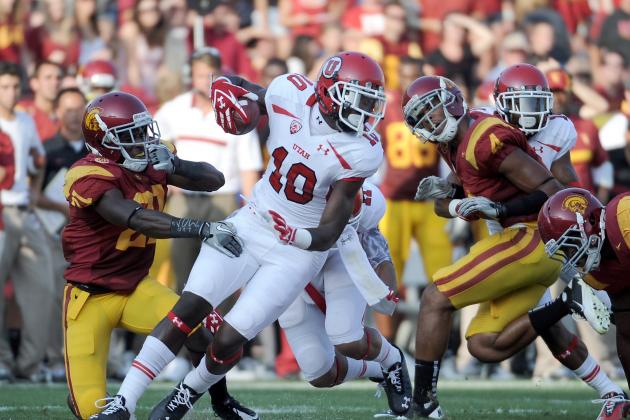 Harry How/Getty Images

Utah finished the year with a decent 8-5 record, but struggled to score points, as they scored 30 or more points only five times last season. That's not going to sit well with a team that's going to score at will in the Trojans.
USC wins: 40-17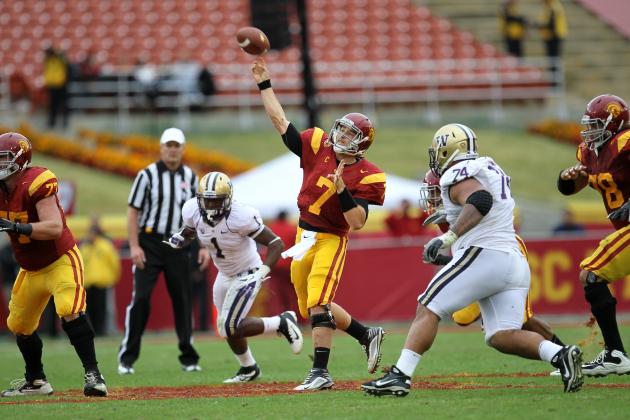 Stephen Dunn/Getty Images

Washington had proven several times last season that they're a much better team than the one that lost to the Trojans 40-17 last season.
With Keith Price running the show a talented recruiting class coming in, the Huskies are going to be very competitive. Although, I'm not sure exactly how well a defense that was ranked 108th in scoring defense is going to hold up.
USC wins: 45-28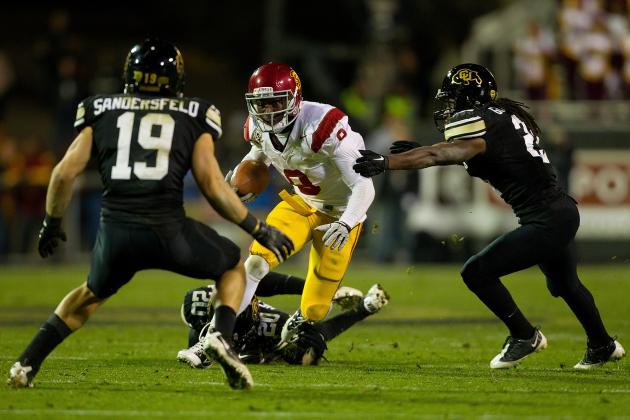 Justin Edmonds/Getty Images

There weren't many things the Buffalo's did right last year, and there's no way a team can improve so much to knock off the Trojans at home. We're talking about a team that didn't score, didn't run the ball well and couldn't stop a nose bleed on the defensive side of the ball.
Lane Kiffin and company win this game easily.
USC wins: 48-10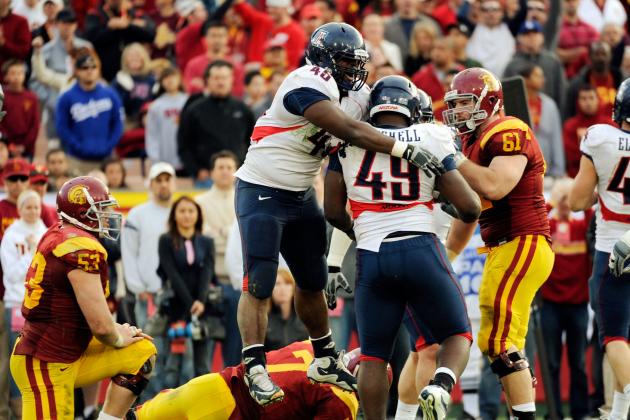 Kevork Djansezian/Getty Images

The Wildcats were able to give USC a run for their money last year, but don't expect that to happen again this season. Especially when you lose your starting quarterback in Nick Foles and a solid wide receiver in Juron Criner. The Trojans and that offense is nearly unstoppable, and Arizona will have very little answers for it.
USC wins: 39-17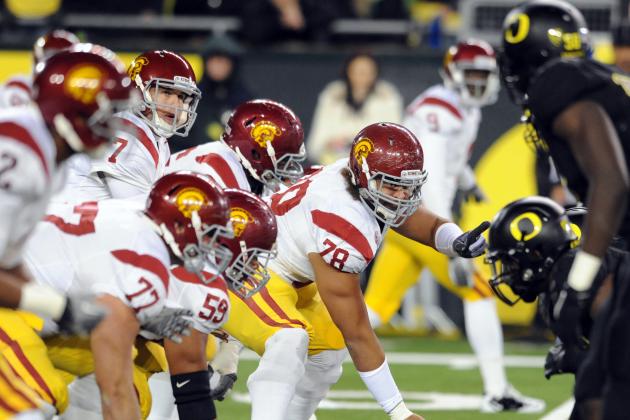 Steve Dykes/Getty Images

If there's any team on this schedule that can keep the Trojans from going undefeated, it's the Ducks. Oregon has just enough offensive weapons to keep up with the USC and their explosive offense. My opinion may change as we get closer to this matchup, but I once again have to go with USC.
The Ducks have lost their starting quarterback and starting running back and are playing on the road. I know Oregon is still a loaded team, but USC is returning nearly every starter on both sides of the ball. Not to mention, USC beat the Ducks last season in Eugene when they still had LaMichael James.
USC wins: 38-35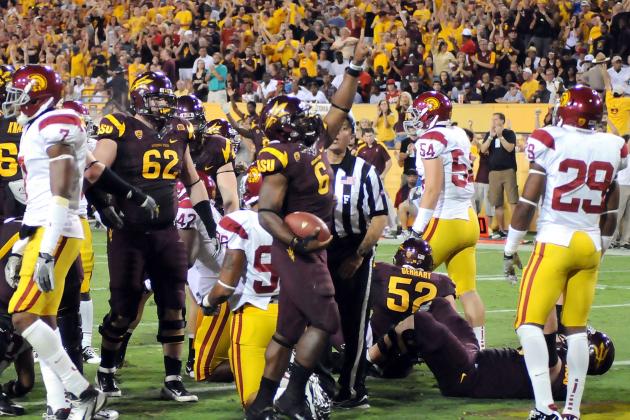 Norm Hall/Getty Images

Arizona State was one of the most inconsistent teams in the country last season, despite upsetting the Trojans last year. It's really difficult to get a feel for this team, but everything leans towards another Trojans victory. The Sun Devils are on the road where they haven't won since 1999, and they have a new head coach and lose leading wide receiver Gerell Robinson.
USC wins: 36-21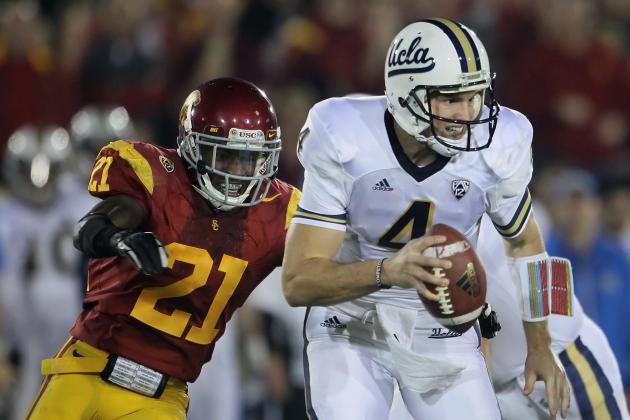 Jeff Gross/Getty Images

I know the Bruins are getting a lot of love for what they're doing throughout the recruiting process, but let's not forget how last year went down. This was a team that couldn't score and couldn't play defense to save their lives. They also have a new head coach that has never coached a college football game ever in his career. UCLA will likely begin winning in this rivalry soon, but I like the Trojans to win their 13th out of 14 meetings.
USC wins: 39-21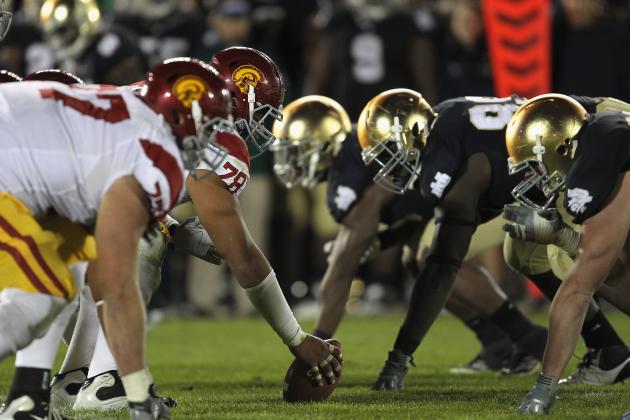 Jonathan Daniel/Getty Images

This game does not look good for Notre Dame at all.
The Trojans are absolutely loaded on both the offensive and defensive side of the ball and may be unstoppable next year.
Matt Barkley returned just to win a national championship, and he has tons of weapons to help get him there. This game will really probably expose the holes the Irish have on the defensive side of the ball.
With it being a rivalry game, expect the Irish to put up a fight, but I just don't see Notre Dame having enough firepower to keep up—especially with the game taking place at home for the Trojans.
USC wins: 38-21


Randy Chambers is a B/R featured columnist that covers college football and the NFL. You can contact him @Randy_Chambers or Randy.Chambers7@yahoo.com.